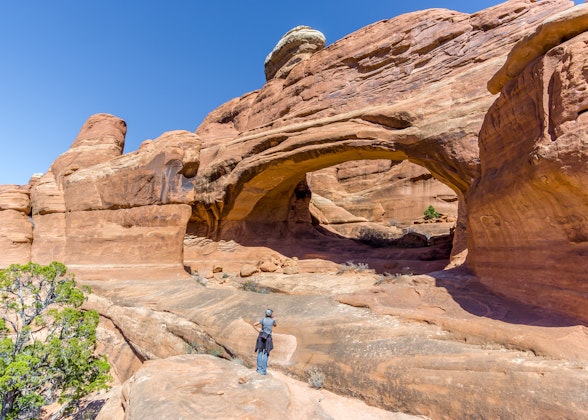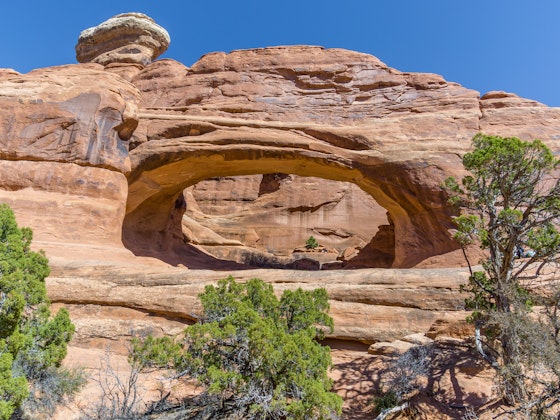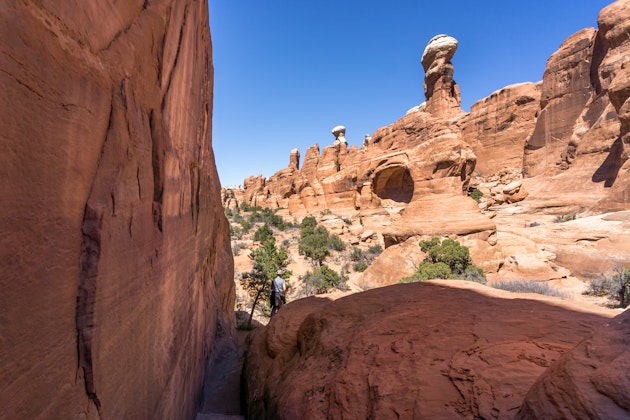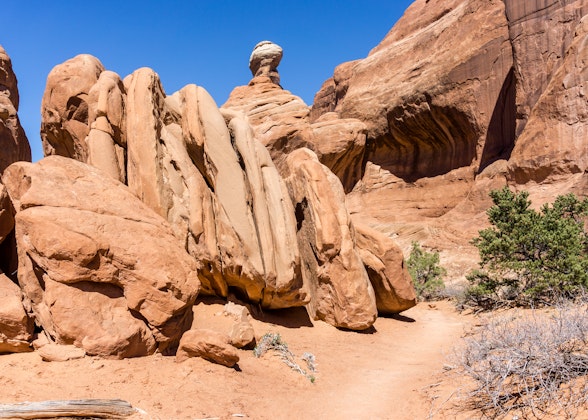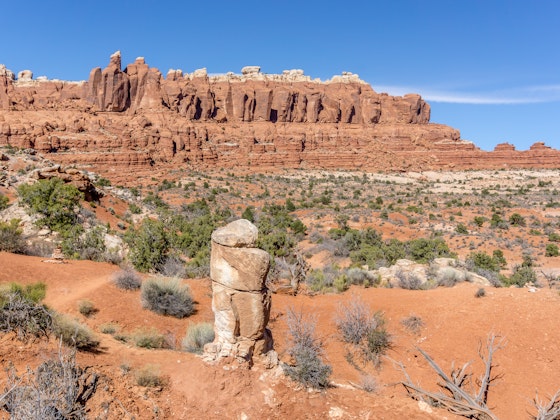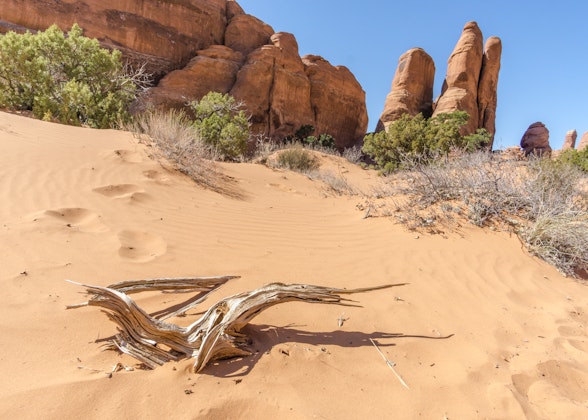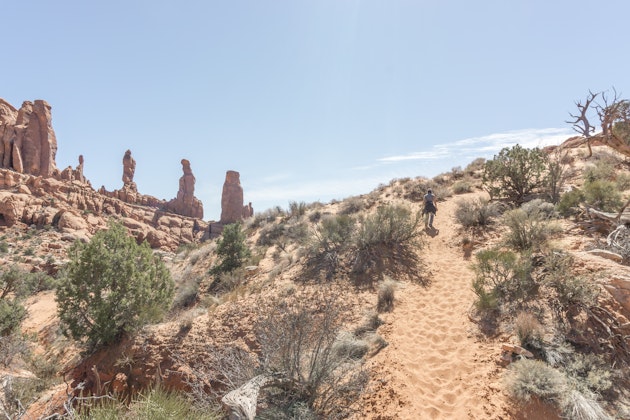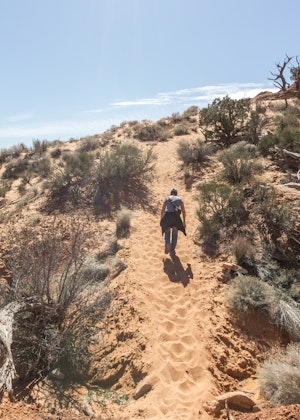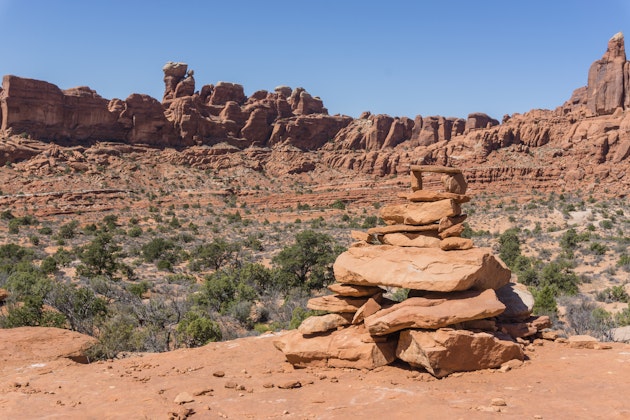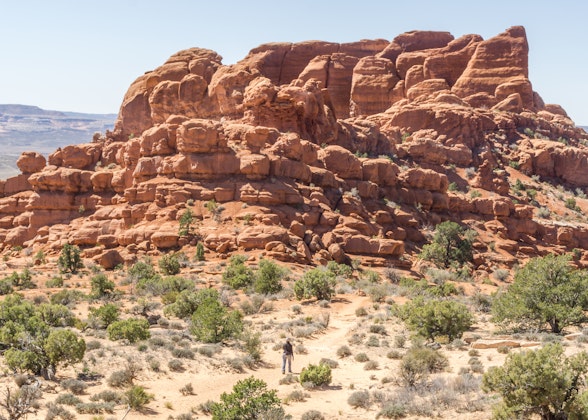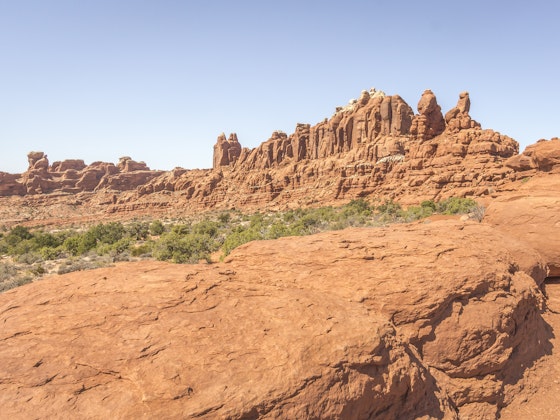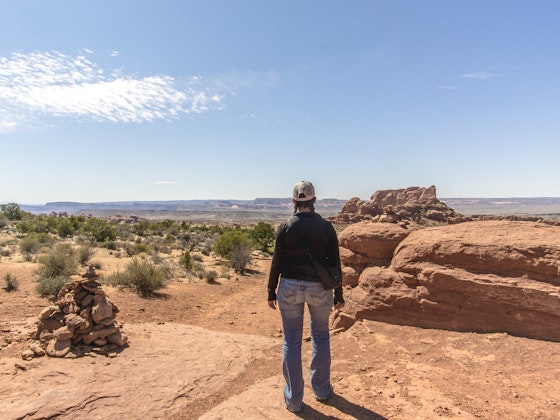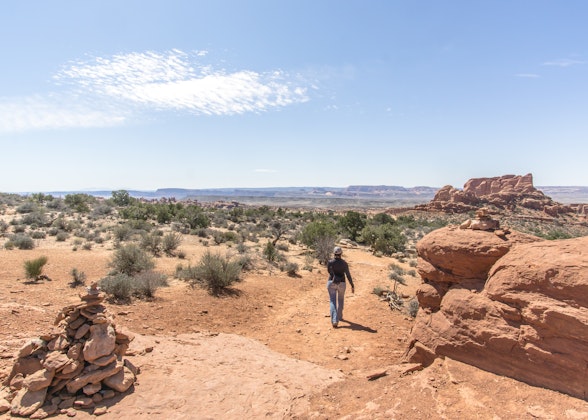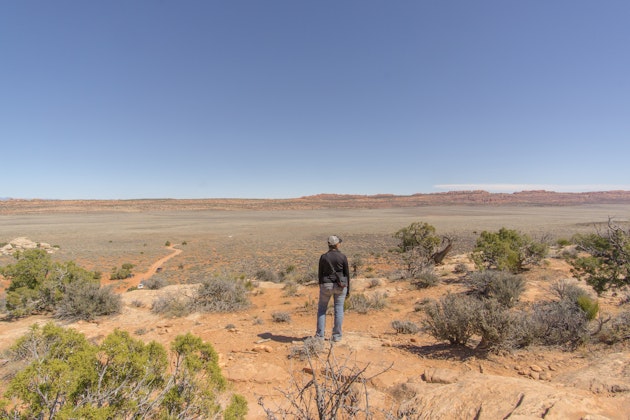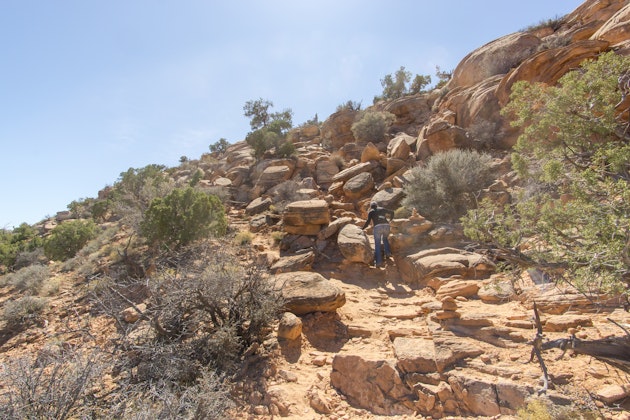 Added by Johnathan Valdez
A sparsely traveled trail to help you get away from all the crowds at Arches National Park. Take this short hike past The Marching Men to view Tower Arch.
Tower Arch is located in the remote Klondike Bluffs area in Arches National Park. If you're looking at the park map, you can see the unimproved Salt Valley Road that leads south then west from the main road towards Klondike Bluffs. The road is rough in a few places, but can easily be traversed in any passenger car (do not attempt to drive this road in wet weather, the sand washes make this road impassable when they get soggy). The great thing about the Klondike Bluffs, other than the spectacular Tower Arch, is that most park visitors don't bother heading out to this seldom visited area. If you're looking for a respite from the Arches crowds, then drive the 7 miles on Salt Valley Road to reach the trailhead.
The trailhead has a small parking area, a vault toilet, and an interpretive sign that will educate visitors about the Klondike Bluffs. The trail is primitive and marked by cairns the entire way, so keep your eyes peel for the stone markers to keep your way (please don't build new rock cairns). Almost immediately, hikers will have to scale a short and steep section of slickrock and boulders. Some moderate scrambling is required, but the section is not very long and should be easy for healthy hikers. Most of the elevation gain on the hike will come from this section. After ascending to the mesa top, you will be treated to fantastic panoramas over Salt Valley and the rock formations of the now distant Devils Garden.
The trail will travel steadily downhill and take hikers into a valley lined by cliff walls, steep spires, and thin towers. About a mile into the hike you will come into view of the Marching Men, a line of tall spires that stand atop a rock fin in a row much like soldiers in formation. From here, you will encounter a steep section of soft sand dunes. Once you reach the dunes, Tower Arch is only a short hike away.
Tower Arch features a large opening of 92 feet from base to base. While not the largest arch in the park, the size and immensity of the arch makes it an awe-inspiring sight. A short scramble over slickrock will take you into the opening of the arch, if you packed a lunch, now is a good time to have a seat, enjoy the view, and have a bite to eat.
For the history buffs, look for Alex Ringhoffer's inscription near the arch's base that celebrates the arch's discovery. Ringhoffer was a prospector and early explorer of the Klondike Bluffs area and one of the principle advocates for national park designation in the Arches region. Please do not touch the inscription and do not create new inscriptions of your own (take care to leave the area as you found it for future visitors to enjoy). Feel free to explore the area, but take care to avoid areas of cryptobiotic soil.
Pack List
Hat for shade
Sunscreen
Enough water for 2 to 3 hours of hiking
Snack
Route finding is easy and mistakes in navigation are easy to overcome, a GPS unit would be overkill.

Great Napping Arch Away From Tourists
Great arch, perfect for napping if you start and arrive after Noon. You'll come back with dirty, sandy trail runners and a thirst to crack climb in the Klondike Bluffs. Also find a reprieve from all the tourists who love to block a true view of the arch.
Added by Johnathan Valdez
I'm a Colorado native that's passionate about photography, exploring nature, live music, and craft beer. On my free days you'll most likely find me on the trail and behind my camera. Life is short, get out there and explore! Follow my adventures here on The Outbound and on Instagram @capulinflicker.
Follow
Activities:
Photography, Hiking
Season:
Spring, Summer, Autumn
Are we missing something?
Suggest an edit
More Adventures Nearby

Hike Mount Ellen in Utah's Henry Mountains
Utah / Mount Ellen Peak Trail
Mount Ellen is considered an Ultra Prominent Peak. What's that you may ask? Well, Ultra Prominent Peaks are determined by how high the summit rises above its surroundings.

Camp at McMillan Springs In The Henry Mountains
Utah / McMillan Springs Campground
McMillan Springs Campground is south of Hanksville, Utah and within the Henry Mountains, which run north and south between Canyonlands, and Capitol Reef National Parks.