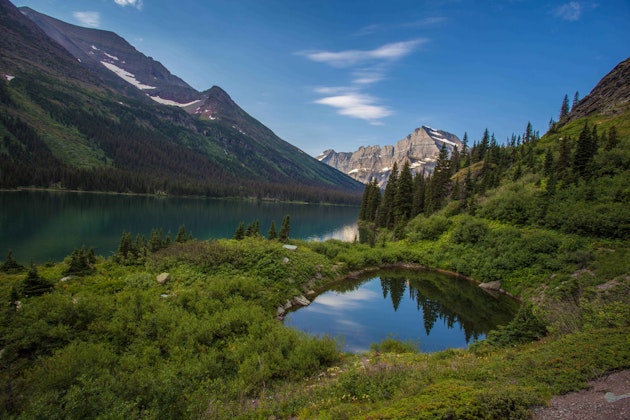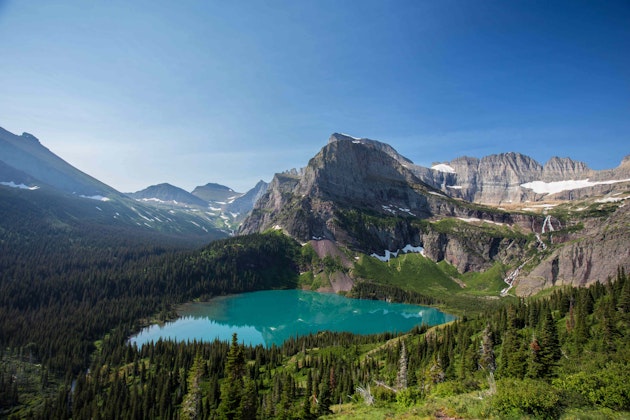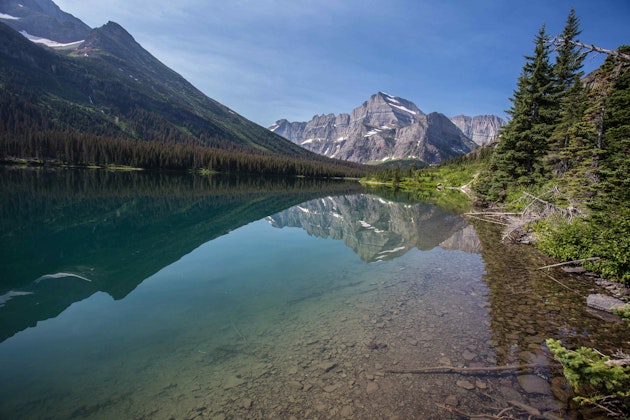 Added by Michael Johnston
See beautiful views of Grinnell Glacier and several alpine lakes. Jump on the trail early to get this trail to yourself. If you have extra time, bring your fishing pole for Swiftcurrent Lake.
The Grinnel Glacier Hike begins at the Grinnell Glacier Trailhead just past the Many Glacier Lodge. A fee of $25 is required to enter Glacier National Park for a seven-day pass. The Many Glacier region is entered from the east side of the park from the Blackfeet Indian Reservation.
The Grinnell Glacier Hike is one of the most beautiful hikes in the world with beautiful views of the glacier, as well as the views of Swiftcurrent Lake, Lake Josephine, and Grinnell Lake. If you leave early enough, you'll get there before the crowds. The glacier itself is absolutely breathtaking with views of the falls, and the lakes on the way.
Parking is located near the Many Glacier Hotel located on Swiftcurrent Lake. Parking can be very limited in the summer, so arriving earlier in the day is highly recommended. There are many hikes in the area, so be sure to follow the signs designating the trail to Grinnell Glacier so you don't get lost. There is an optional boat that crosses Swiftcurrent Lake and Lake Josephine for a fee.
Once you're done, head to the bar and restaurant located at the Many Glacier Hotel with beautiful views of Swiftcurrent Lake. This is the perfect place to stop after the grueling yet beautiful hike to the lake.
Pack List
$25 to enter the park
Camera
Swimsuit
Fishing pole

Classic Glacier NP Hike!
We got an early start to avoid crowds and were treated to lots of wildlife sightings -- including multiple moose and mountain goats. We ran into a few rangers on our way back to the trailhead who had just encountered a grizzly, but we didn't see any (be sure to bring your bear spray though, as grizzly sightings are common in Glacier National Park). Views from the trail are STUNNING with the aqua blue water below. Unfortunately we did this hike in early June and due to snow and ice we couldn't quite make it to the Glacier -- crampons and ice axes were recommended.

Beautiful hike! One Of My Favs
My fiancé and I hike a lot and this one has been on my bucket list for a while. We finally made it over and did it this past weekend. Gorgeous hike. We didn't take the boat and I think that's the way to go. Views start early and never stop. I didn't find it challenging physically; there is very little elevation gain and it's gradual up hill. There are tons of picture perfect moments and I would definitely give this hike 2 thumbs up. But go quick, there isn't much glacier left to see.
Brilliant Hike (bear encounter included)
Amazing! The day we hiked it, the west side of Lake Josephine was closed due to bear activity. We decided to hike it taking the east trail. At the switchbacks that start your climb above lake Josephine we came across about 15 people walking back down the trail telling us they were being followed by a bear. We turned and hiked back down several yards and got several views of what later was recognized as a blonde haired black bear by a park ranger. He continued straight at one of the bends and we were able to complete the hike without any other encounters.
The Epitome of Glacier
When I think of Glacier I think of this hike, it has everything: lush forests, stunning alpine lakes, plenty of wildlife, and of course, glaciers (what is left of them!). I would recommend skipping the boat, it is expensive and depending on the time you arrive doesn't actually save you any time and the only hiking it does save you is level and easy.
To the top...
of your list this hike should go. Grinnell Glacier is rapidly disappearing, so don't waste anymore of its precious time. The hike itself is beautiful and the end result is worth every little struggle you might deal with. For instance, my uncle and I were behind a family of 3 ascending the mountain when the mother accidentally released the safety on her bear spray canister with her elbow, firing off a wee puff. Now, I had not shaved in about 6 weeks, so I could understand the confusion of me possibly being a bear, and my growls that came when breathing that stuff in certainly would've been even more convincing, but I had taken a photo of them not more than a 1/2 mile down the trail prior to this incident. Regardless, we recovered and I can definitely say standing next to Grinnell Glacier is worth getting shot in the face with bear spray. 5 stars!
A great hike in the Many Glacier area
The Many Glacier area has so much to explore. This is a manageable hike that will take you to outstanding views of the park. If you're planning on taking the boat across the lake, make sure you leave early enough to catch the last trip back!
My Favorite Location in the Glacier
We have stayed at Many Glacier Hotel several times and the Grinnell Glacier Hike is one of the best of in the area. Incredible views, great wildlife - bring bear spray - we have taken the boat across Swiftcurrent Lake too and had a grizzly right on the other side. Moose will also sleep right off the trail, so keep an eye out for them and try not to spook them - ran into one right next to a trail in Many Glacier. The hike and views are beautiful and well worth the many other visitors enjoying the same area. Highly recommend this hike and also a night or two at the hotel. The sunrise here is amazing as well!

Huge views, big wildlife.
Hikers get to enjoy HUGE views and big wildlife on the way to Grinnell Glacier. Mountain goats, moose and grizzlies all made an appearance in one afternoon. Remember to bring your bear bell and spray!

Added by Michael Johnston
Instagram: @michaeljamie Photographer from Springville, UT. Lover of kayaking, hiking, backpacking, camping, and mountain biking.
Follow
Activities:
Fishing, Photography, Hiking
Skill Level:
Intermediate
Season:
Spring, Summer, Autumn
Are we missing something?
Suggest an edit
More Adventures Nearby

Hike to Two Medicine Pass
Montana / Two Medicine Lake
Starting at the South Shore trailhead on Two Medicine Lake (parking available), you'll follow the lake through alternating forest and meadows and eventually cross a small suspension bridge.

Kayak to Wild Horse Island
Montana / Dayton Boat Launch
There are many boat ramps to access Flathead Lake, but the closest location to Wild Horse Island is Dayton, MT.