Graham, North Carolina is a great place to explore top outdoor attractions and activities. From scenic trails to must-visit spots, there are plenty of enticing adventures to be had in and near the area. Popular attractions include the Graham Historic District, the Alamance Battleground, the Haw River Trail, the Grandfather Mountain State Park, the Pilot Mountain State Park, and the Jordan Lake State Recreation Area. Each destination offers its own special experience, from hiking to fishing, and more. Whether you're a nature enthusiast or an outdoor explorer, you'll discover something to enjoy in Graham, North Carolina.
Top Spots in and near Graham
Camping and Lodging in Graham
Greensboro, North Carolina
Greensboro KOA offers easy-on/easy-off access from I-40, I-85 and other routes passing through the transportation hub of Greensboro. The ...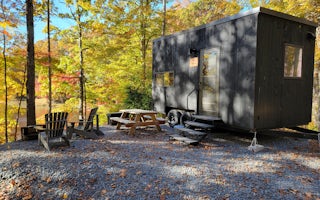 Asheboro, North Carolina
Escape the city and embrace the quiet at our Outpost in Asheboro, NC, with rolling hills, nature trails and a pond with views of the moun...
From $149 / night
Guides, Insights and Stories from Graham