Burlington, North Carolina
Burlington, North Carolina is a great destination for outdoor adventurers. With its scenic views, lush forests, and numerous trails, there are plenty of opportunities for exploration and adventure. From hiking and camping to fishing and kayaking, there is something for everyone. For those looking for a more leisurely experience, there are plenty of must-visit attractions in and near the area. Visit the Alamance Battleground State Historic Site, a Revolutionary War battlefield, or the North Carolina Zoo, one of the top zoos in the country. For a more adventurous experience, explore the Haw River State Natural Area, a great spot for kayaking, fishing, and birdwatching. Whatever your preference, you're sure to find the perfect outdoor experiences in and near Burlington, North Carolina.
Top Spots in and near Burlington
Camping and Lodging in Burlington
Greensboro, North Carolina
Greensboro KOA offers easy-on/easy-off access from I-40, I-85 and other routes passing through the transportation hub of Greensboro. The ...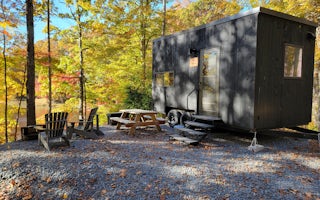 Asheboro, North Carolina
Escape the city and embrace the quiet at our Outpost in Asheboro, NC, with rolling hills, nature trails and a pond with views of the moun...
From $149 / night
Guides, Insights and Stories from Burlington