Chapel Hill, North Carolina
Chapel Hill, North Carolina is home to some of the best and most exciting activities and attractions. From scenic trails to unforgettable outdoor adventures, there are plenty of places to explore in and near the area. Hike the trails of the Eno River State Park or explore the Carolina North Forest for a unique outdoor experience. Enjoy a picnic at the Occoneechee Mountain Natural Area or take a kayak tour of the Jordan Lake State Recreation Area. For a more adventurous experience, try mountain biking at the Umstead State Park or take a zip-lining tour at the Treetops Adventure Park. For a more relaxing experience, take a stroll along the American Tobacco Trail or visit the Duke Gardens. There are plenty of top activities and attractions to discover in and near Chapel Hill, North Carolina.
Top Spots in and near Chapel Hill
Camping and Lodging in Chapel Hill
Greensboro, North Carolina
Greensboro KOA offers easy-on/easy-off access from I-40, I-85 and other routes passing through the transportation hub of Greensboro. The ...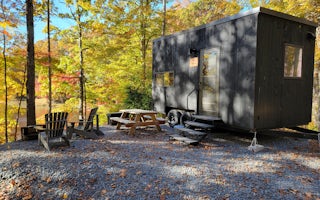 Asheboro, North Carolina
Escape the city and embrace the quiet at our Outpost in Asheboro, NC, with rolling hills, nature trails and a pond with views of the moun...
From $149 / night
Guides, Insights and Stories from Chapel Hill