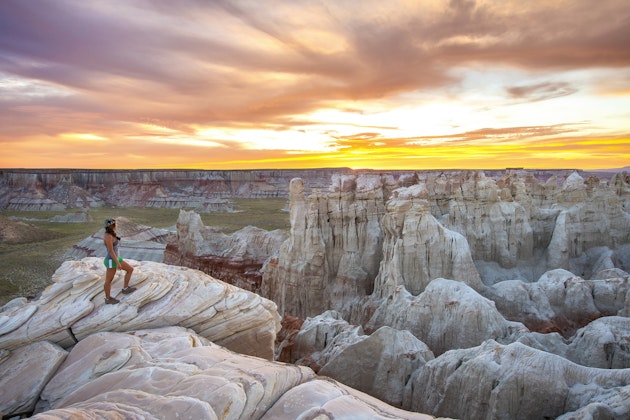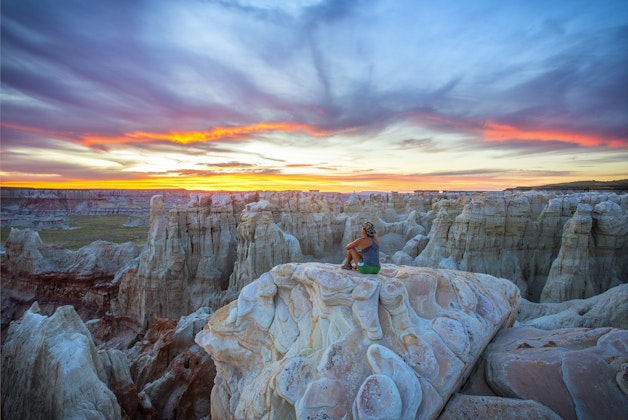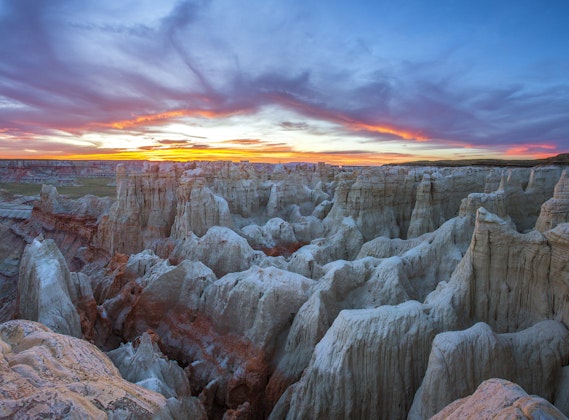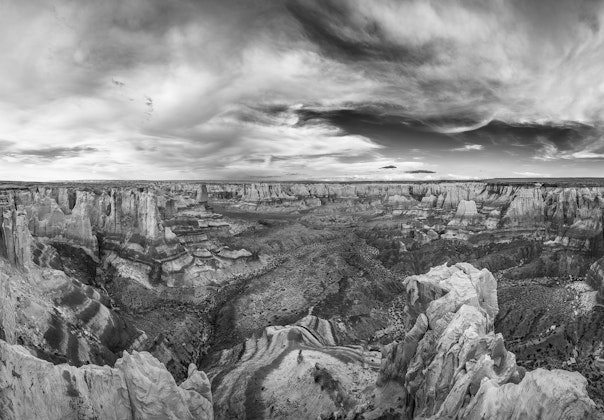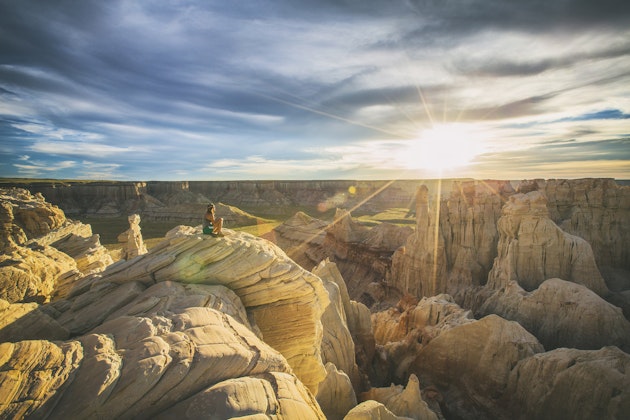 Added by Kevin Kaminski
Explore amazing rock formations, hoodoos, and enjoy great photography opportunities. This hike can be as little as 1 mile and up to 3 miles. The trailhead elevation is 5820 feet and the canyon floor is 5456 feet.
Coal Mine Canyon is a remote gem of the southwest that borders the Hopi and Navajo Indian Reservation. Coal Mine Canyon is located about 15 miles from Tuba City Arizona, The access to the canyon is off of Hwy 264 between mile marker 336 and 337. Once you make the turn off you will be on a dirt road the rest of the time, no need for four wheel drive vehicles. Once on the Dirt road you can drive to a parking area that passes a windmill and water tank, ending at a parking area near some picnic tables. I ended up not driving to that area, rather I just parked off to the side of the road and went exploring to the right and left sides of the canyon. Once you reach the Canyon rim you are introduced to the array of eroded spires, hoodoos, gullies, cliffs, of every color imaginable. Coal Mine Canyon gets it's name because of the coal deposits spread throughout the canyon, the rim of the canyon is soft and crumbly with thin layers of Dakota sandstone. The red, white, black and gray colors found in the canyon are from the Entrada Formation, the red layers are from coloration of shale due to partial burning of the underlying coal.
Hiking at Coal Mine Canyon can be done but theres no direct path into the canyon, faint trails lead east and west along the rim and to some ridges that project outward "these have the best views". You can see some trails on the canyon floor from the rim but again finding the route down can be hard, and also a permit may be requited to hike down into the canyon. Coal Mine Canyon is a great place to explore with virtually no crowd at all, its also an amazing opportunity for photography, and a place you can spend the night camping. For camping or hiking into the canyon permits you may need to contact Navajo or Hopi Nation, hiking along the rim requires no permit. Call +1 (928) 679-2303 for more info.
Pack List
Water
Day backpack
Snacks
Camera
Car camping equipment if camping
Permits for hiking into the canyon and camping

Untouched!
I lived in Tuba City for 6 months as a Mormon missionary and went to Coal Mine canyon a few times. It's amazing. There is rarely anyone else around, there's no signage/booth/gate/designated entry point. It's just...there. Other than the picnic tables and trails in the bottom of the canyon it feels like you're discovering something totally new. I was honestly really surprised that it popped up on The Outbound. Every time I've gone into the canyon I've gone down a really steep hill (30-40 degrees?) right near the picnic tables. It's a little slippery, but it is doable. Once down the initial hill the trail is great, and you can walk around exploring for a few hours. It's worth driving out of your way to get there--if you're driving between Page and Flagstaff or Grand Canyon (or especially if you're headed across 160 to Monument Valley or Four Corners) and have a couple hours, do it! When I took my wife to show her some of the places I lived as a missionary, Coal Mine Canyon was high on the list of places to visit. The turn-off from the highway just looks like any other driveway with a cattle guard. When you see the windmill to north-east of the highway take the road that looks like it leads to the windmill, follow it around the windmill, and you'll reach the picnic tables and the canyon rim.
Awesome spot
This is a really beautiful canyon and definitely off the beaten path.

Hidden jewel, indeed !!!
Yes, this place is really amazing and you literally can enjoy the canyon by yourself. It is very easy to access. I wish there are clearly marked paths and signs so everyone doesn't explore his or her own way and end up destroying the fragile environment.
Added by Kevin Kaminski
It is my goal to build a life I don't need a vacation from." I am an architecture photographer based in Phoenix, Arizona, and my current job takes me around the world to photograph hotels and resorts. While I love having the opportunity to travel and experience differen
Follow
Activities:
Chillin, Camping, Photography, Hiking
Features:
Easy Parking
Family Friendly
Picnic Area
Scenic
Are we missing something?
Suggest an edit
More Adventures Nearby

Camp at Lake Havasu State Park
Arizona / Lake Havasu State Park
Lake Havasu is a premier lake dividing California and Arizona along with the Colorado River.
Photograph a Grand Canyon Sunset at the Desert View Watchtower
Arizona / Desert View Watchtower
25 miles east of the Grand Canyon Visitor's Center is Desert View, here you will find the Desert View Watchtower and plenty of space to set up a tripod to photograph the sunset.