Hike to Gothics Mountain, Pyramid Peak, and Sawteeth Mountain via Beaver Meadow Falls
Rate this Adventure New York › Ausable Club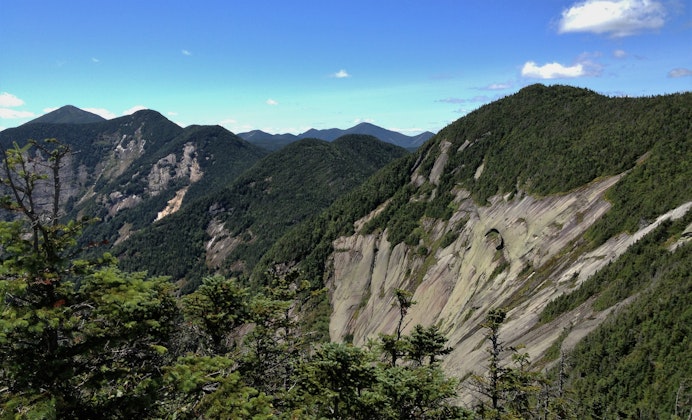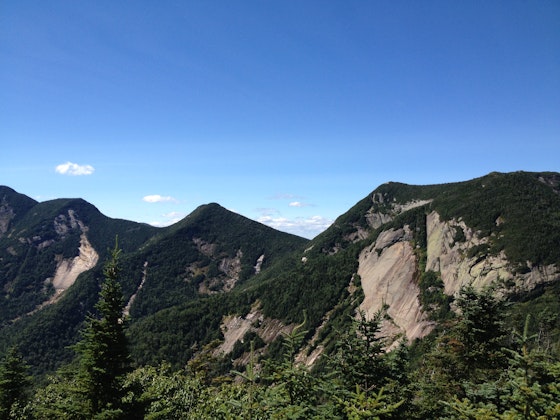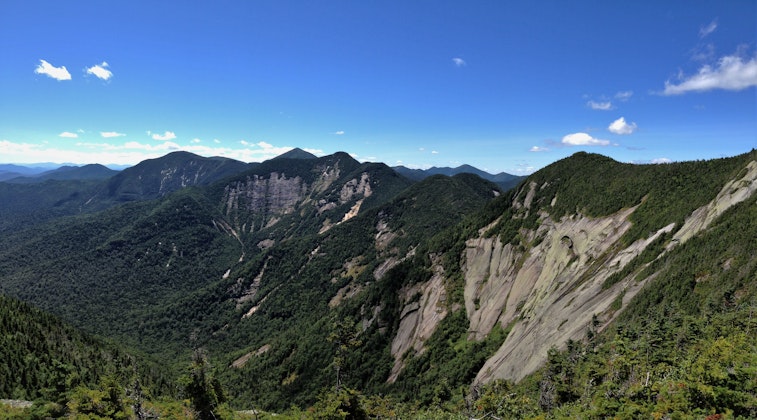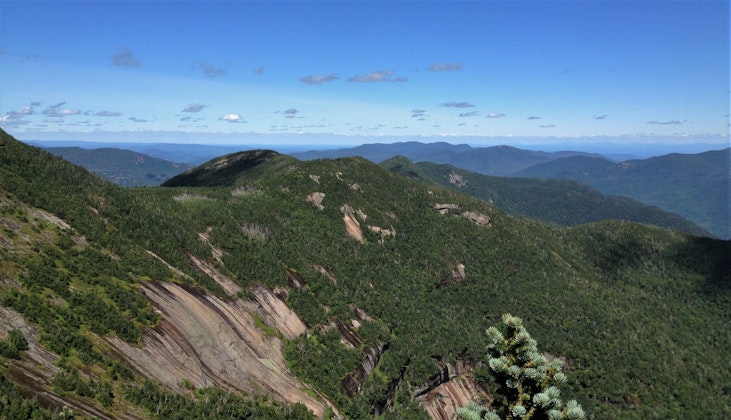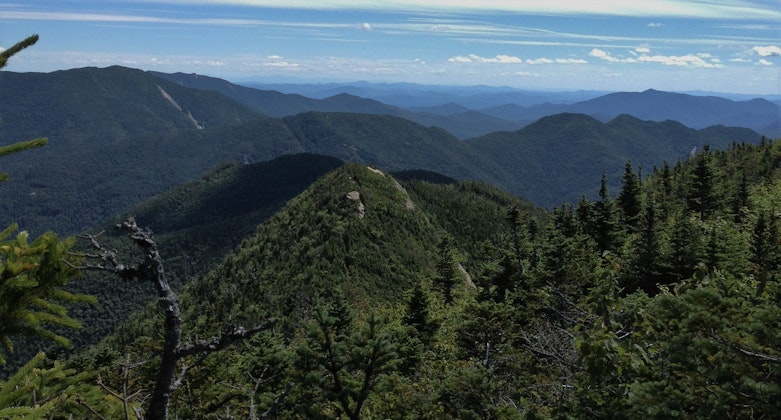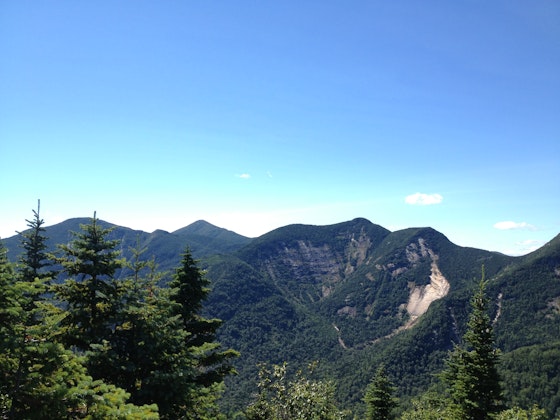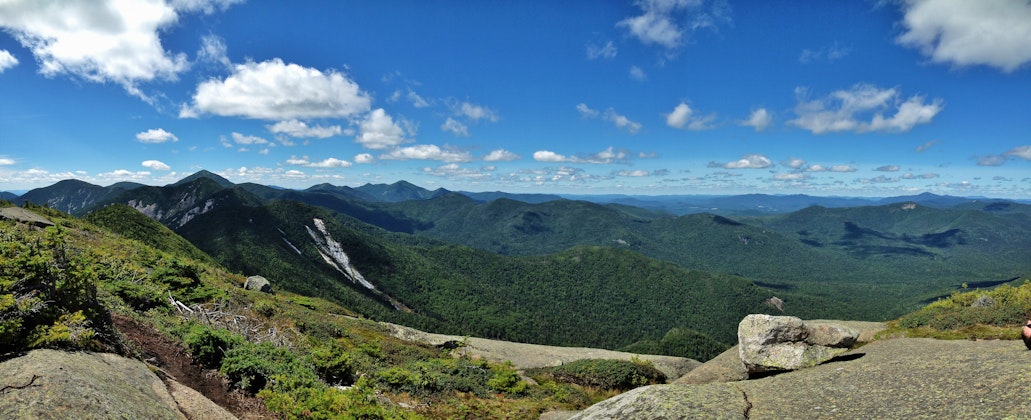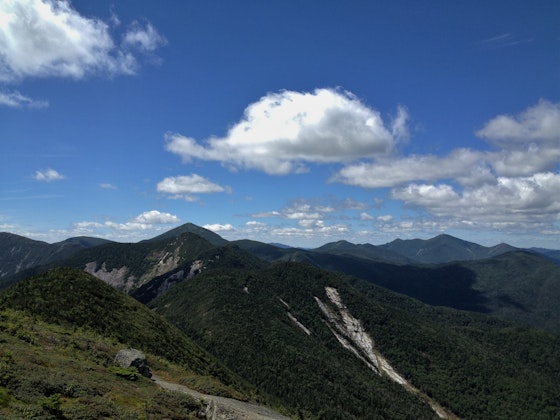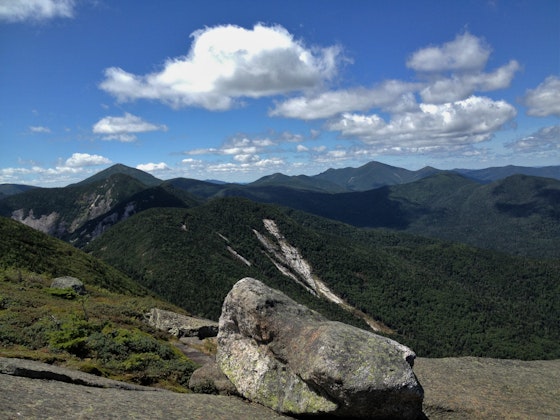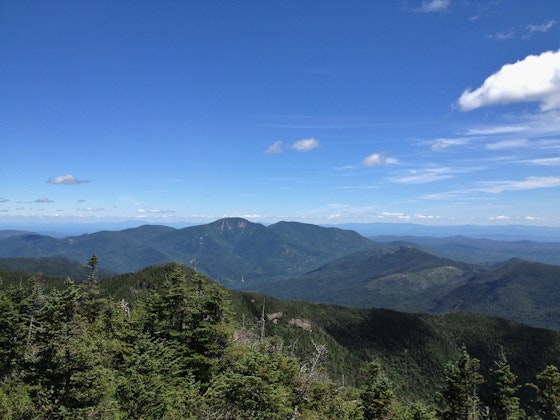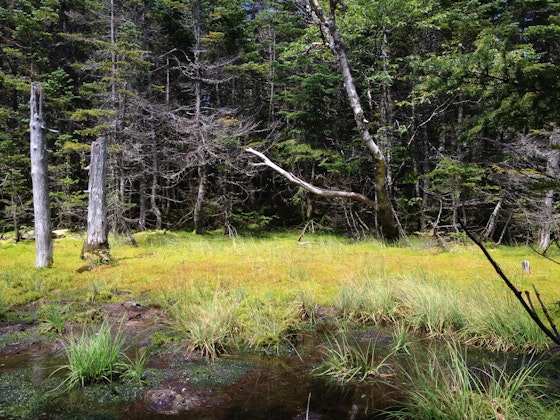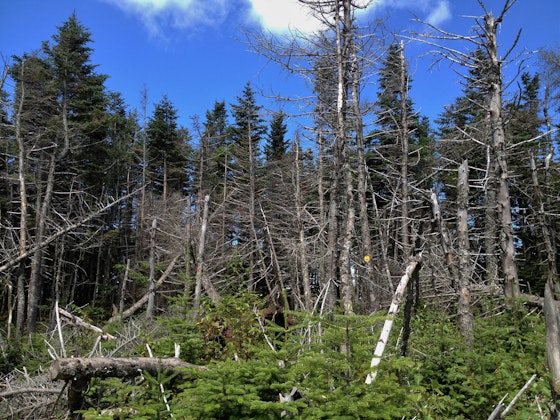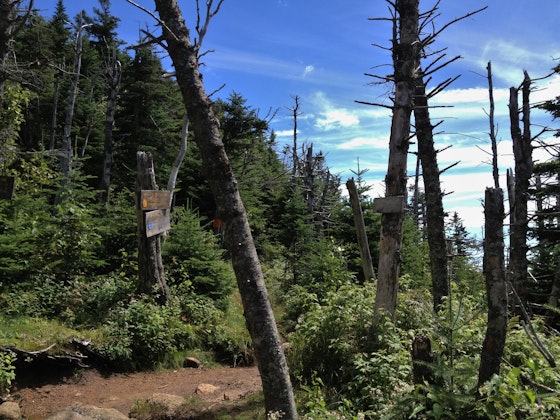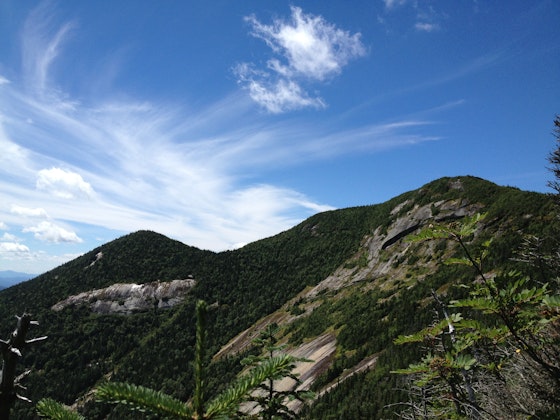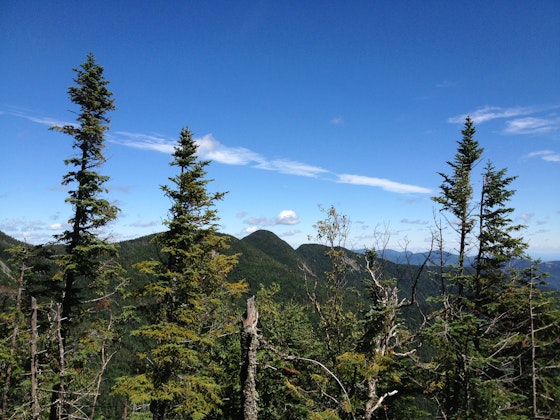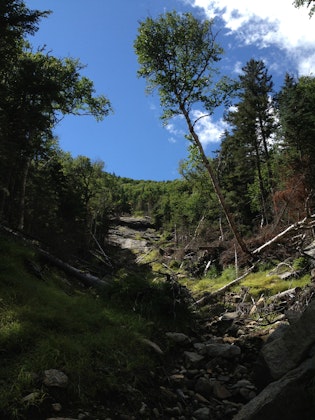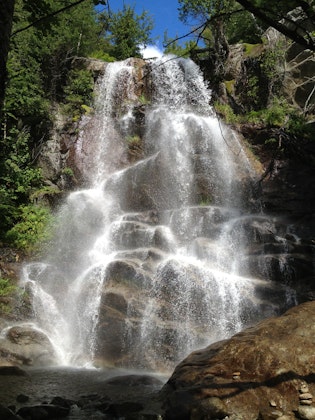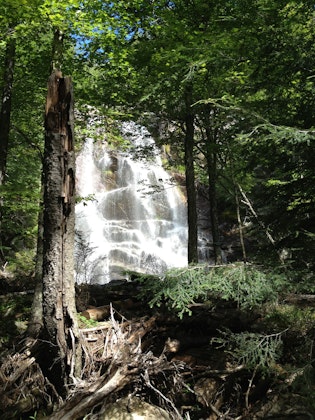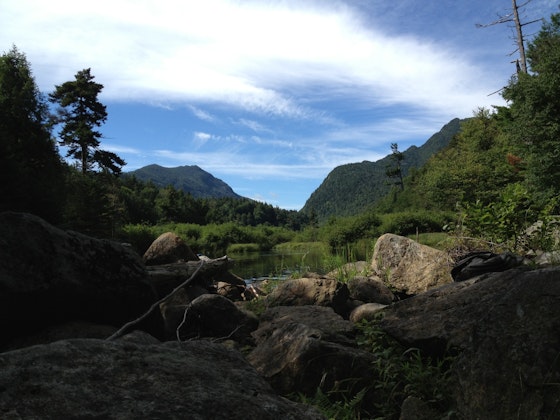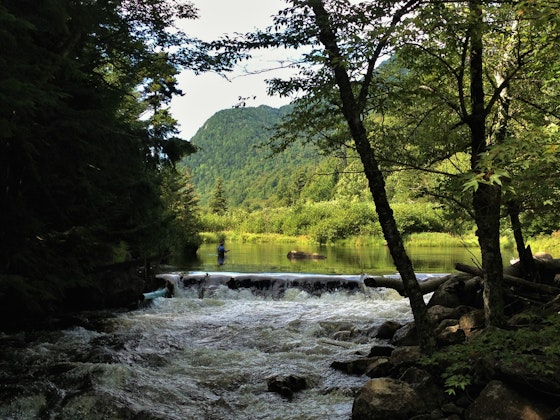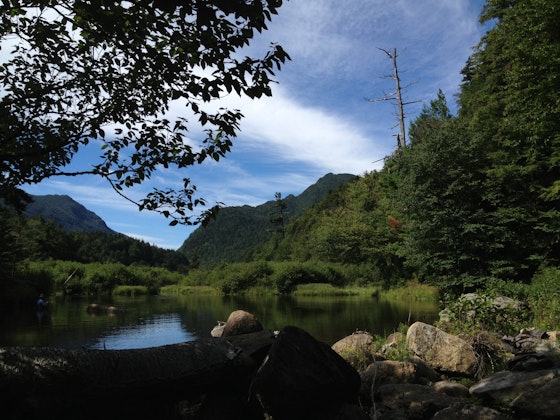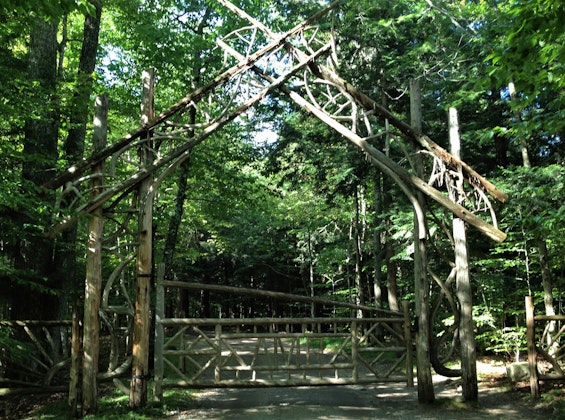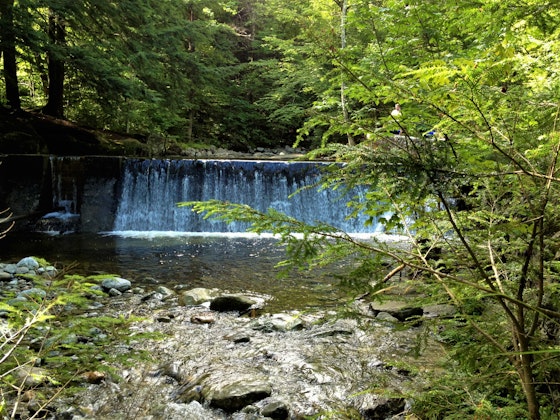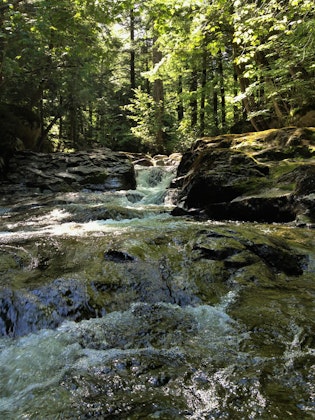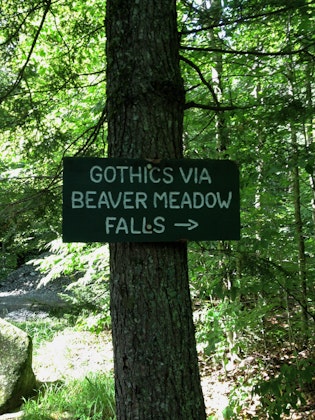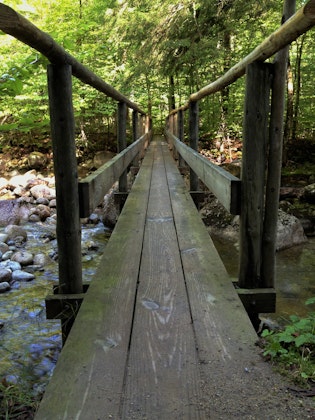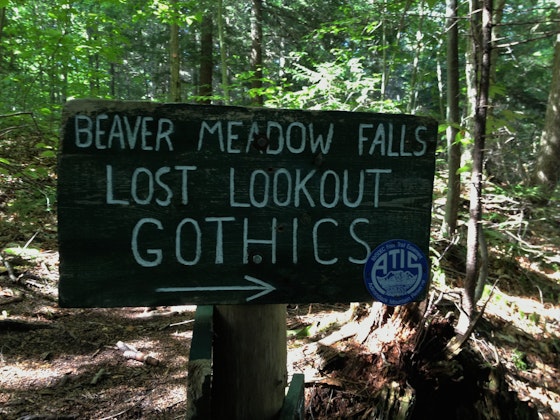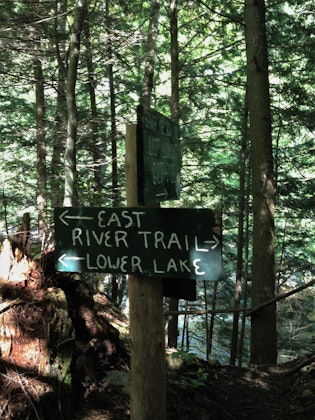 Added by Janet Thomas
This is an amazing hike traversing three peaks above 4,000 feet, with breathtaking views of the Adirondack Great Range and Ausable Lakes from the summits and several lookouts along the scenic trail descending Sawteeth. A stop at Beaver Meadow Falls will surely get you excited as you begin the climb!
Gothics Mountain is number 10 in height on the 46ers list, standing at 4,736 feet. Pyramid Peak stands at 4,550 feet, but because of it's location and closeness to Gothics, it is not considered one of the 46ers. Sawteeth is number 35 in height on the 46ers list, standing at 4,100 feet.
This is a 14.3 mile round trip loop hike from the St. Huberts parking area. The parking area is located across the road from Giant Mountain, Roaring Brook Falls parking area, and fills up quickly on nice days. Side note, dogs are prohibited on Adirondack Mountain Reserve (AMR) land so this is not considered a dog friendly hike. Lake Road is a private road and only public foot traffic is permitted through here.
You will begin the hike from the St. Huberts parking area at the Ausable Club, along a gravel road through the Ausable Club Golf Course. From the golf course, there is nice view of Giant Mountain. This view never gets old! At 0.5 miles you will turn left onto Lake Road (look for the hikers sign), passing between the tennis courts, which brings you to the Wooden AMR Gate and trail register at the gatehouse, at 0.6 mi. from the parking area. Once you sign the register and pass through the gate, you will continue along Lake Road road for approximately 2.4 miles before taking a right at the Beaver Meadow Falls Trail. This trail starts (right) just past the reservoir. There are nice views from Lower Ausable Lake here.
The trail starts out moderate for 0.5 miles until it joins the East River Trail (left). Follow this trail (blue AMR trail) for about 0.1 miles until you reach the Beaver Meadow Trail (right) which you will follow down, crossing the bridge, until you come to the jct. at about 0.6 miles at Beaver Meadow Falls. The falls are absolutely beautiful and worth the time to stop and check them out!
After checking out Beaver Meadow Falls, take the West River Trail (blue trail) to Gothics Trail. There is quite a bit of blow down on this trail. The climbing will become steep now and you will climb up a ladder before you reach the jct. at 0.8 miles for Lost Lookout trail on the left. The trail is fairly moderate with some ups and downs as you cross over a couple of streams. At about 1.8 miles, the trail heads left and continues to become more steep and rugged. You will come to a large boulder on the right of the trail - a good photo op here, and maybe a quick break because the climbing isn't done yet!
Once you pass by the large boulder, the trail continues to the the ridge near Armstrong Mountain at approximately 2.8 miles. There are several great views here of Gothics, Pyramid and surrounding peaks. There's a few ladders through the steeper sections to climb up. At 3.0 miles, you will come to the jct. of the ADK Range Trail (left). The trail (yellow trail) is more moderate through here, with a lot of blow down. It's actually quite pretty. Once you pass through this section, you will begin climbing steadily again. You are near the summit and will pass by the east peak of Gothic's here as you reach the arctic alpine zone. At 3.4 miles you are at the summit of Gothics Mountain and awarded breathtaking views of the Great Range, Lower Ausable Lake and neighboring peaks. On a clear day, you can see several peaks and ranges from the summit of Gothics. This is a popular hike, so it can be pretty busy at the summit on a nice day.
To get to Pyramid Peak from Gothic's, you will continue beyond the summit for 0.1 miles and take the ATIS trail on the left. Distance from Gothics to Pyramid Peak is 0.4 miles from the ADK Range Trail jct. on the left (yellow trail) which goes down the south ledge of Gothics. The descent into the col of Gothics and Pyramid is very steep, and equally as steep climbing up to Pyramid Peak. Pyramid Peak sits in between Gothic's and Sawteeth and has some of the best views I have seen in the high peaks, with views of Gothics and the Great Range as well as the slides of Basin, up close! The view is really amazing!
From Pyramid Peak, the trail descends 0.6 miles, very steeply again and through rugged terrain into the col of Pyramid and Sawteeth. You will reach the jct. in the col to Sawteeth (right). The trail begins moderately but only for about 0.1 miles before it becomes very steep and very rugged as it continues to the summit of Sawteeth at 0.5 miles from the junction. Sawteeth offers nice views of the Great Range from a lookout a few yards from the summit.
From Sawteeth, you will take the Scenic trail descending down to Lower Ausable Lake. It's a longer route down vs. descending back to the col of Pyramid and Gothics and down to Lake Road, but it offers five nice lookouts along the way, as you follow many switchbacks and ladders down along the "teeth."
At about 0.5 miles from the summit, you will reach the first lookout before descending down steeply, with a couple of ladders to assist, into a col, for about 0.3 miles. Once through the col, you will come to a jct. after 0.1 miles. At the jct. continue descending on the yellow trail for another 0.2 miles before reaching Lookout Rock at 1,300 feet above Lower Ausable Lake. The views here are beautiful!
After taking in the views from Lookout Rock, follow along the trail as it continues to descend steeply, and down another ladder. After the ladder, the trail follows left and is more moderate, leading you to another lookout after about 0.4 miles from Lookout Rock. The trail again descends steeply to the next lookout which goes out to a side trail after about 0.3 miles. Continue along for another 0.1 mile where you will reach the last lookout. This offers a nice view of the Lake from a large boulder, before finishing the descent down. After the last lookout, the trail descends down to the lake for about 0.4 miles where the trail then levels out as you continue for 0.6 miles following alongside the lake to the bridge, which you will cross over to Lake Road. From here you will take Lake Road back to St. Huberts Parking area, and if you're in the mood for a good Adiraondack style meal, The ADK Cafe is only 15 minutes up the road, in Keene! Great food and atmosphere here!
5.8 miles to Gothics from St. Huberts parking area0.5 miles to Pyramid Peak from Gothics1.1 miles to Sawteeth from Pyramid Peak6.9 miles from Sawteeth to St. Huberts parking area14.3 Miles Total Round TripApprox. elevation gain 4,900 feet.
Pack List
Water
Water Filter if you don't plan to pack extra water
Food
Map
Compass
Camera
Backpacking First Aid Kit
Headlamps and extra batteries
Extra Layers, Socks, Wind and Rain Shields
Microspikes (fall through spring)
Crampons (fall through spring)
Snowshoes (winter)
Hat and Gloves
Sunscreen
Bug Spray (spring and summer)
Snow gear and boots (winter and colder months)
Have you done this adventure? Have something to add? You could be the first to leave a review!

Added by Janet Thomas
Hi, I'm Janet! I am an avid outdoors enthusiast with a love for the Adirondack Mountains! You can find me outdoors in my free time doing epic, outdoorsy things with my adventurous little boy, from hiking mountains to mtn. biking and paddling all around New York!
Follow
Features:
Easy Parking
Forest
Lake
Scenic
Waterfall
Wildlife
Are we missing something?
Suggest an edit
More Adventures Nearby
Hike Strawberry Fields Nature Preserve
New York / Strawberry Fields Nature Preserve Trailhead
This preserve consists of 118 acres of protected land including the preserve, a family homestead and working farm.

Hike Billy's Bald Spot
New York / Trailhead to Billy's Bald Spot
Trailhead The trailhead for this rather basic hike is located on the northwest side of Martin Road near Big Moose Lake. To get here, one first must venture to Eagle Bay, near Old Forge.