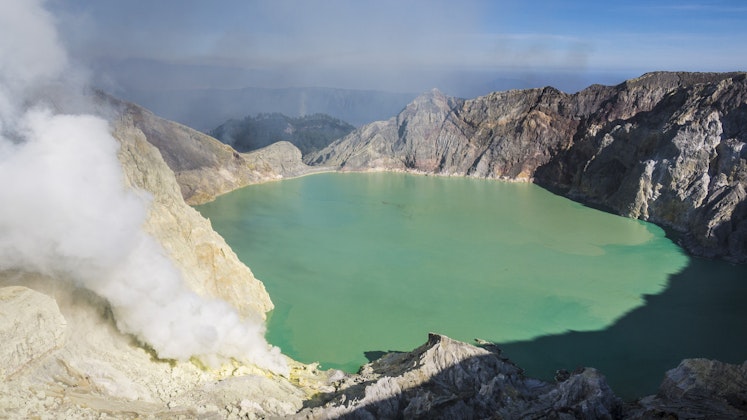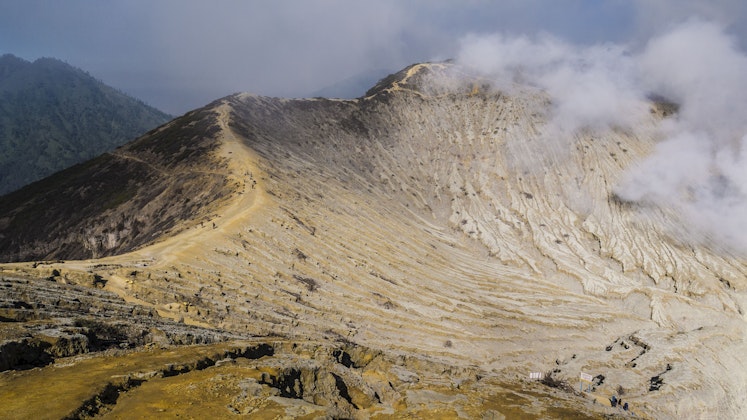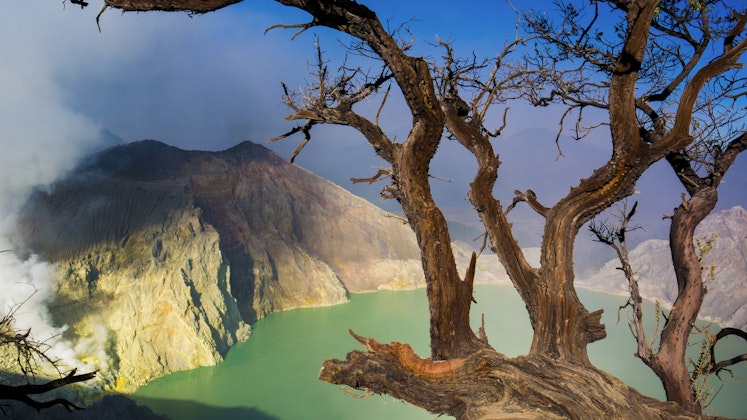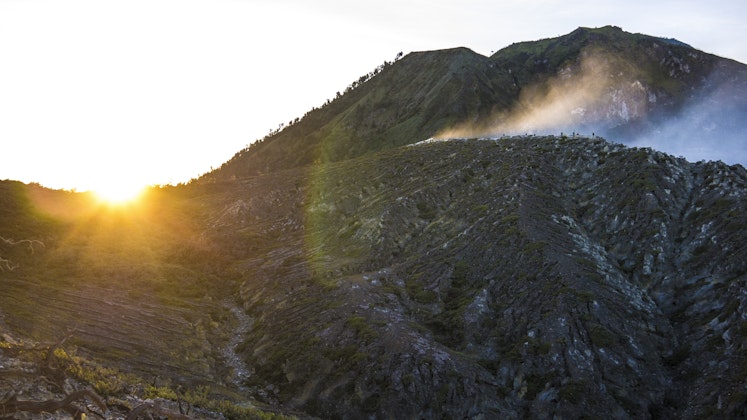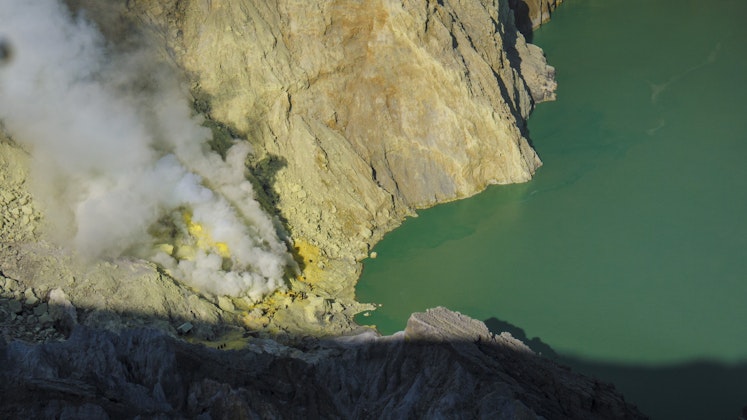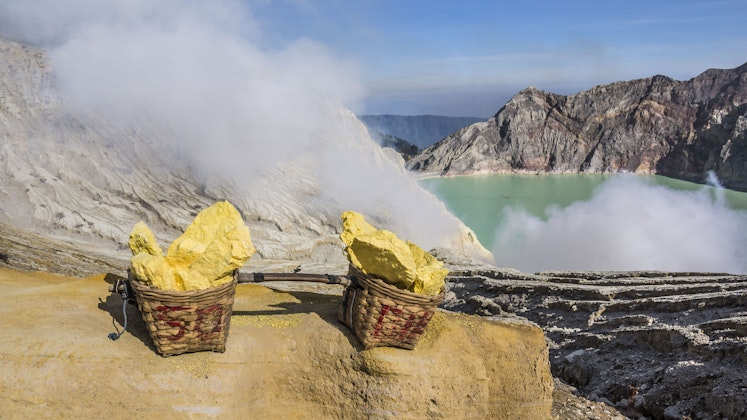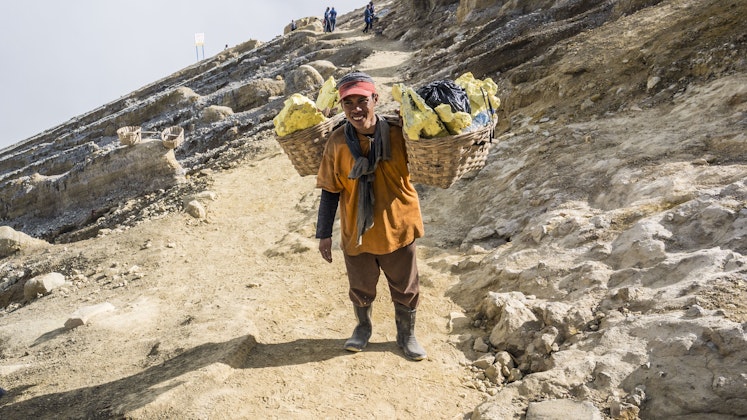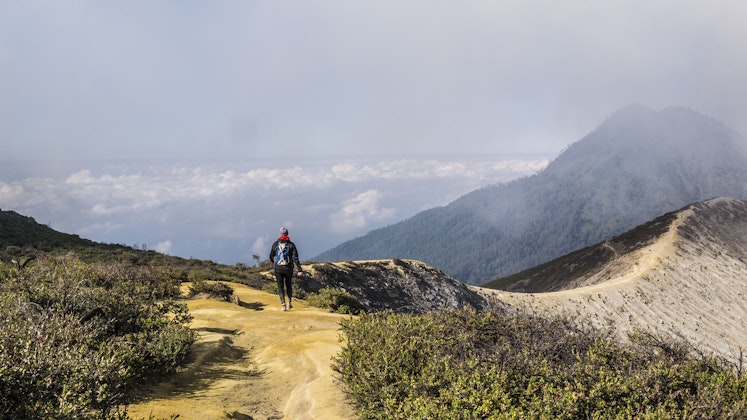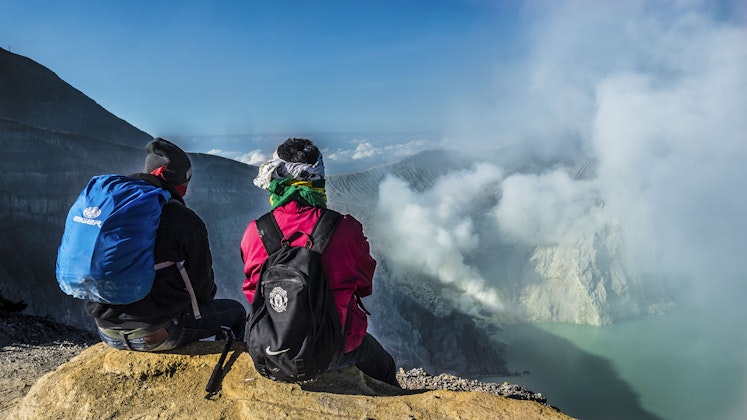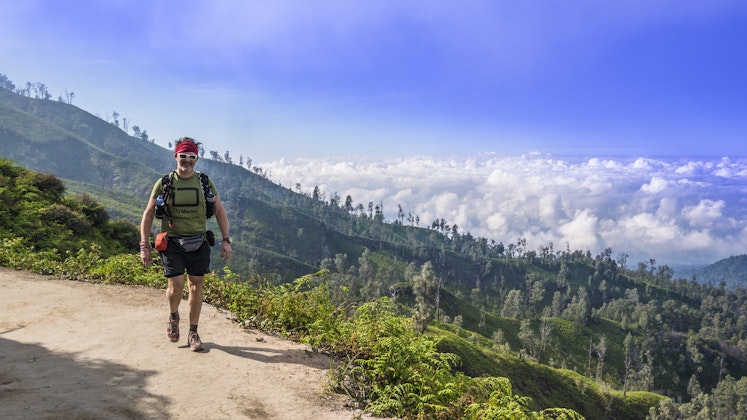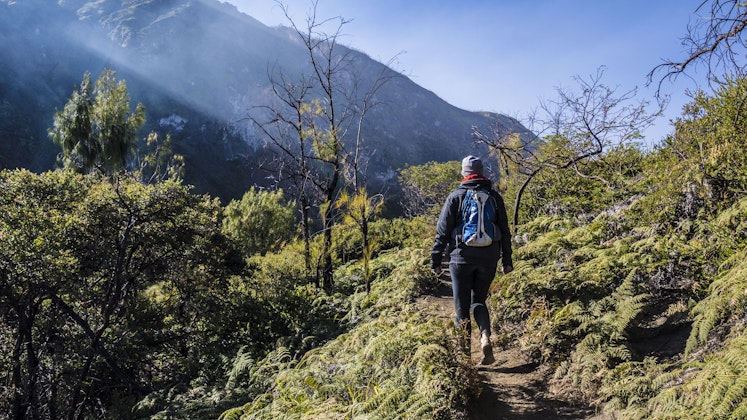 Added by Sputnik Sputnik
Distance: 14km round trip hike. Duration: 3 to 5 hours. Elevation gain: 992m. Amazing views inside live volcano. Witness the 'Blue Fire' at night. Marvel at the local miners doing their back-breaking work.
The initial hike up from the start point to the rim of the crater takes 60 to 90 minutes at moderate pace to cover the 3km distance reaching an elevation of around 2,300m. The Paltuding Trailhead can be found at the Paltuding Trekking Camp, which is a good launching point as well as possible accommodations and last minute supplies.
The path itself is in good condition and in most places is quite wide and smooth. It takes an extra half an hour to descend into the crater via a much more technical and mostly single track to the lake's edge where you can see the sulfur mining operation. If there's a few people around, you can likely follow the torch light trail, otherwise it can be a bit tricky to find your way in the dark so a local guide (which you will need to arrange before you start) for safety and peace of mind may be well worth the extra money.
The lake inside the crater is the world's largest highly acidic crater lake, and many people hike down into the crater at night to see the 'blue flame' escape through cracks in the crater. You'll need to have a great camera and/or be a very handy photographer to get any decent shots of this in the dark. The flames are ignited sulphuric gas and if you get up close, be wary of the noxious fumes – some sort of face mask is recommended and even if the fumes are blowing in the opposite direction, a quick wind shift can mean you are very quickly engulfed by throat-burning fumes in zero visibility so be very careful.
The locals recommend going up at around 3am but if you're happy to crack a fair pace on your hike up, you can probably go closer to the 4am and still have time to see the 'blue fire' in the dark. The earlier you go, the longer you'll have to wait for sunrise and it can be quite cold while you're sitting around. So take warm clothes and time your hike well to keep your cold downtime to a minimum.
Once you've reached the rim, you can hike a further 1.5kms north along a narrow trail through low bush land along the crater rim where you can watch the sunrise and take in some amazing views – including another view of the lake and surrounding area outside the crater which is relatively lush and forested compared to the more barren areas of the crater itself.
On most days of the year, the sulfur mine will be active, with locals carrying loads of sulfur of up to 100kgs in baskets on their shoulders. Given the strenuous nature of the hike under normal conditions, seeing these 'miners' carry these loads 300 meters up the technical single track to the crater rim, then back down and on to a nearby town to sell their sulfur will blow your mind. You can also buy small pieces of sulphur carved into various ornamental shapes which make a nice souvenir – but more importantly supplements the miner's incredibly low income.
NOTE: Sulfur smells. Bad. So you will stink when you're done. You have been warned.
Pack List
Hiking boots
Warm clothes for the top (especially if hiking at night)
Food & Water (there is one small shop part way up with limited options)
Head torch (if hiking at night)
Camera (with tripod for low light shots)
Face mask (if you get up close to the sulfur mining area)

Great review
Brilliant review and very true to the facts :) would recommend using if you were planning on visiting the area

Added by Sputnik Sputnik
Chief Swashbucklers at SwashbucklersClub.com - author, speaker, trail runner, MTBer, adventure tour operator.
Follow
Activities:
Photography, Hiking
Skill Level:
Intermediate
Are we missing something?
Suggest an edit
More Adventures Nearby

Climb Gunung Api in the Banda Islands
Indonesia / Gunung Api
Gunung Api (translation fire mountain) is a 666m high active volcano in Indonesia's Banda Islands.

Relax at Nyang Nyang Beach
Indonesia / Nyang Nyang Beach
Nyang Nyang Beach is one of those secret-feeling beaches that we all want to find. Once you get to the parking area you walk down a steep dirt road for about a half mile.