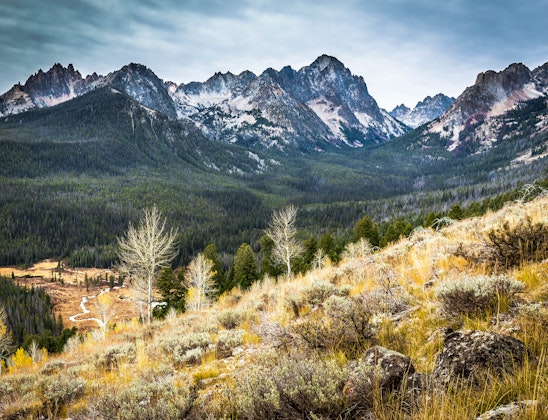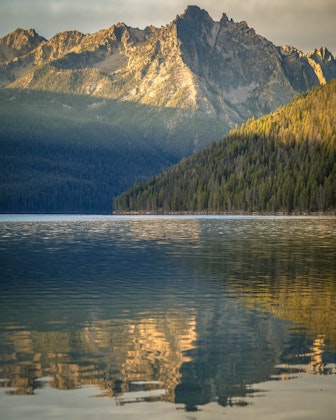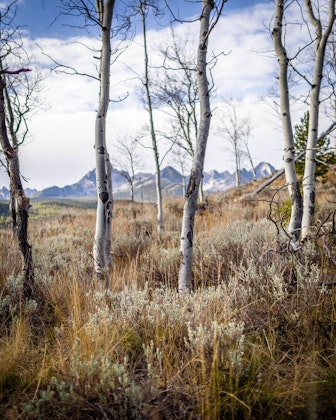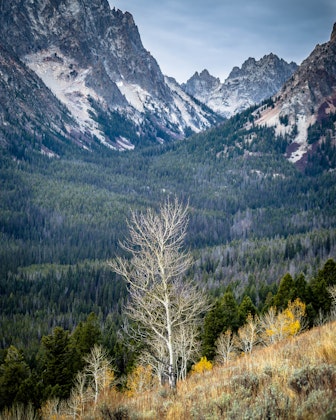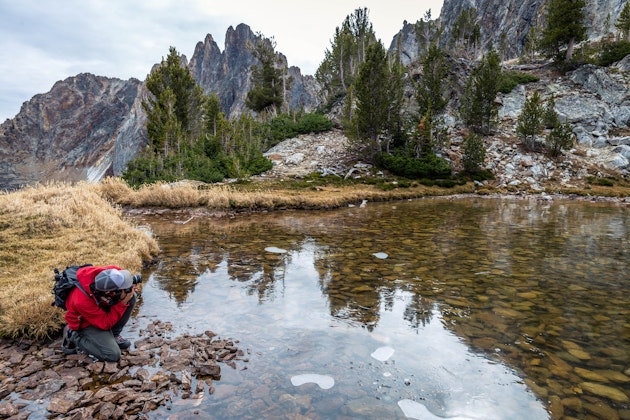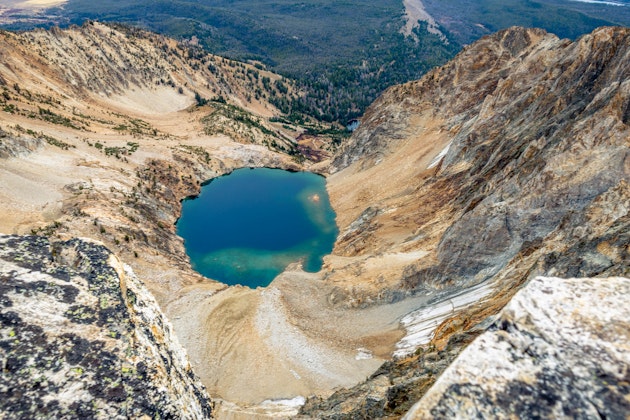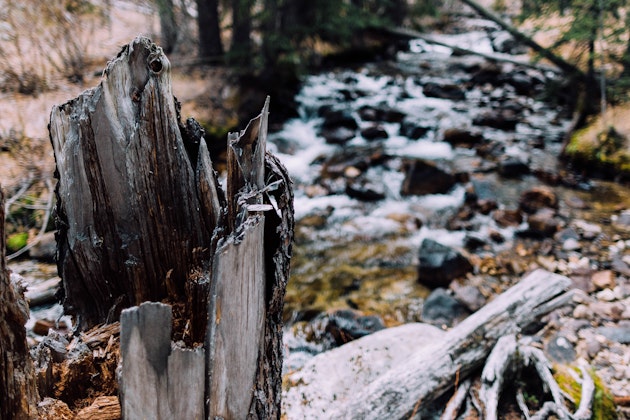 Added by Dusty Klein
Earn mega views by climbing 4,200' to the tallest peak in the Sawtooth range. Absorb some Idaho magic along this beautiful 13 mile out-and-back trek.
The Sawtooths are known for its craggy shapes protruding from central Idaho. Although the hike to Thompson Peak isn't necessarily a rare or tremendously physical feat, it's a proud, boastful moment bagging the tallest peak in the range. Here's the scoop:
To reach Redfish Trailhead, head south of Stanley for about 6 miles and follow signs for Redfish Lake. Just before the lodge there is a parking lot dedicated to hikers and backpackers. Nothing is more of a buzzkill than returning from a hike to a parking ticket, so make sure you've acquired a forest pass prior to the journey. Insider Tip: catch a world-class sunrise near the Redfish Lake Lodge before setting off on the hike. Bring your camera and thank me later!
The hike to Thompson begins from the parking lot. Follow the trail across the road and begin hiking along Fishhook Creek. Take a right (north) at the first junction .8 miles into the trek and head toward a grove of aspen trees. The trail will lead to a ridge above the aspens and run in the direction of a few photogenic mountain peaks. The next couple miles of hiking provides crazy views that'll make you wonder why you've never been there before. Pass through the wilderness boundary (be sure to sign a free permit) and hike until you see the next fork in the road. Continue left. Many times there will be a log in the direction of Thompson Peak. The other, more popular trail (to the right), leads to Marshall Lake.
Shortly after stepping over the log, the trail starts climbing until it unofficially stops in a hanging meadow. Continue through and above the meadow and you'll reach an intensely blue lake at the base of Thompson. This lake would make a good destination for hikers not wanting to scramble up to the summit as it provides vast views and the water is so blue it looks fake, like it came from a mini-golf course. Scramble up to the saddle and follow the faint trail over rocky terrain to reach the peak at 10,751'.
After conquering Thompson, hit one of Stanley's many local hot springs and be sure to stop by The Stanley Club for a post-hike pint. You earned it.
Pack List
Plan for cold temperatures, especially if you plan to backpack. Here's a quick gear checklist for hikers:
Comfortable pair of hiking boots
Lunch and a few extra snacks
Plenty of water
An extra layer of clothes for the summit
First aid kit
Camera
Garmin Fenix 3 GPS watch to track distance and elevation
A hiking buddy!
Please respect the places you find on The Outbound.
Always practice Leave No Trace ethics on your adventures. Be aware of local regulations and don't damage these amazing places for the sake of a photograph. Learn More
Activities:
Backpacking, Hiking, Photography
Features:
Forest
Lake
River
Scenic
Wildlife
Are we missing something?
Suggest an edit

Arduous Hike
My hardest hike I've probably ever done is Cactus to Clouds up the side of Mt San Jacinto, and I was not able to complete this hike. Additionally, I've never had to turn around on any hike and I did in this instance. BRING A WATER PURIFIER!! Additionally, this is not a sanctioned hike so the trail is not denoted on the sign at the trail head. Don't go by "at the .8 mile mark, take the trail to the right). There's several forks off the trail and trying to gauge .8 miles and trusting your GPS could put you off on a side horse trail instead of where you want to be. At the beginning trail head (super easy to find), there will be an initial fork, one leading into dense trees by the creek. Turn right and you'll come around the side of the hill. Continue down the trail as if Marshall Lake is your destination. There is a sign for Marshall Lake, though it fell down between the time I started and the time I finished. Once you get to that Marshall Lake sign, hang a right. You'll continue through a field and get your first real elevation climb of the hike. This does take you to a ridge as mentioned, however, the trail is on the side of the ridge where you can't readily see the beautiful views without stepping off to the side of the trail. Continue on this trail for a good amount of time. The wilderness permit box had no permits inside and was not checked in recent history based off the stash and dates of the filled out permits, so don't count on anyone to save you if you get stuck up there. I was hiking solo so I was a little more cautious than usual. There will be several times where you'll have to go around fallen trees. No, those aren't the forks mentioned in this article. The fork that is mentioned is very obvious. There are two logs spaced 5 feet apart to the left that lead to an open clearing with a decent amount of elevation gain, that's the left fork you want to take. Continue through the meadow and start climbing. You'll end up on the side of a steep hill with a still noticeable trail and a decent drop off to your left. Follow this for a good chunk of time in an exposed area. Eventually, you'll come across a bunch of rocks where the trail is not noticeable at all anymore. There is a small creek flowing down the side of the hill, follow that to the top to get the hanging meadow mentioned in the article. Again, the trail becomes impossible to find once you get through the grassy area. It becomes a ton of rocks up the side of a decent grade hill and strenuous. I just pulled up Google maps (download the offline version) and pointed it toward the peak and walked that direction. There is actually a faint trail that leads left if you can find it and orient yourself toward the last pine tree on the edge of the ridge to help you out. I made it from there up to the saddle, assessed my 2 liters of water was not enough to ascend the peak and come back down, and then laid next to the lake to relax a bit before descending. My GPS said this was 6.5 miles in (I had a slight detour on the horse trail) when I turned around, so I would venture to say this trip is longer than 13 miles considering it appeared to be a good 2000 ft more to the top and no discernible trail. That's my two cents at least! I hope other people who attempt have better luck.
More Adventures Nearby

Hike to Corbus Lake and Bald Mountain
Idaho / Corbus Lake Trailhead
Soon after driving past James Creek Summit while heading towards Atlanta, a sign with 'Corbus Lake' written on it should appear on the uphill side of the road.

Scenic Autumn Drive through Palisades Reservoir
Idaho / Palisades Reservoir
If you're heading to Grand Teton National Park from Idaho Falls and are looking to take the most scenic route, make sure to take US 26 E through Palisades Reservoir.