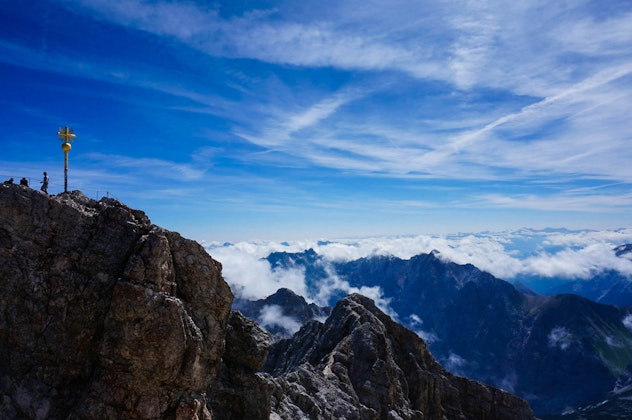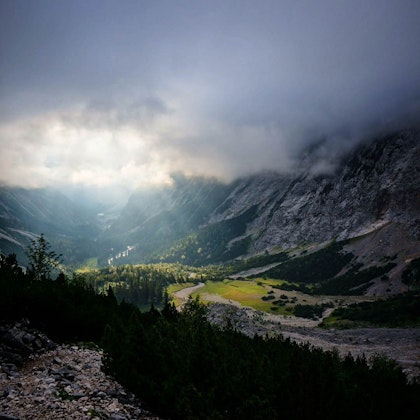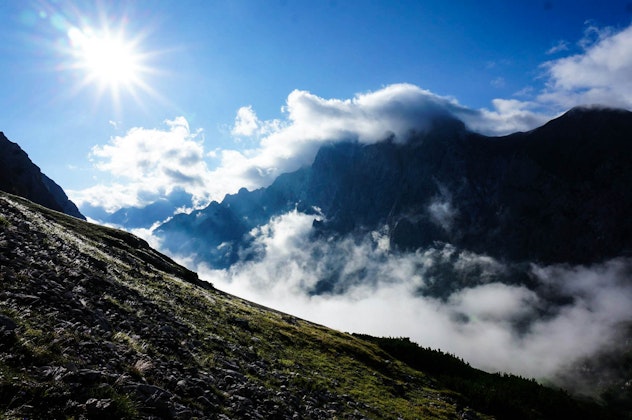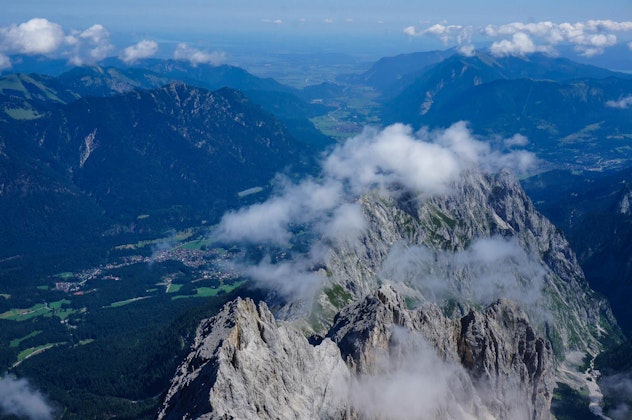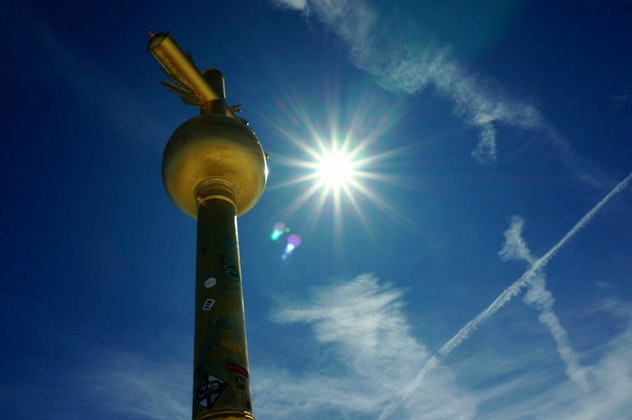 Added by Claudia Dennler
Distance: 42 kilometers (23 miles) roundtrip. Elevation gain: 2270 meters (7447.5 ft). Duration: 6-11 hours one-way. Can be done in one day, multi-day is probably better. Summit Germany's tallest peak, Zugspitze (2962 meters). Stunningly beautiful trek through the Bavarian Alps. Partnach Gorge, Partnach River, and Partnach Waterfall along the way. Many scenic outlooks. Food and drink available along the way at two huts and at the ski lodge on the summit. Option of one-way ticket for tram down from the peak.
Starting at the Olympic Ski Jump in Garmisch-Partenkirchen (708 m), walk toward the mountains along Wildenauer Strasse and follow signs to the Partnach Gorge (Partnachklamm). There is a fee of 3 Euros per person to enter the gorge, but it is definitely worth seeing (and hearing.) If you arrive at the entrance prior to 6 a.m., there is usually not anyone manning the gate. Alternatively, you can follow a path over the gorge that will add some time to your hike.
At the end of the gorge, continue straight and cross the bridge; you will now be on a service road. Follow signs for Reintal, Reintal Hütte, and Zugspitze. You will eventually pass a small parking lot and enter a path into a beautiful section of trail. The trail meanders through the forest lining the banks of the Partnach River, which has this incredible ghostly-blue appearance contrasting the surrounding greens and earthy oranges.
As you continue meandering through the valley, the Partnach Waterfall eagerly shoots through a small entrance above to the valley floor. Continue along the path and you will end up next to the small gorge/river feeding it. Not far from here, you will reach the Reintalangerhütte (369 m, 14.5 km).
Continuing onward, the path becomes very steep, very quickly. However, the views achieved are more than enough reason to climb. You will hike through rocky fields to the sounds of bleating sheep and their clinking bells, look back on the most incredible valley, and eventually, reach the second hut, Knorrhütte (2051 m). This section of trail, both preceding and after this hut, can be difficult to find; look for other hikers and painted red and white markers.
After the hut, you will be on some very rocky terrain. To stay on the path, relying on the red and white markers, orange spray-painted arrows (only available after the Zugspitze ultra-marathon,) and look for poles marking the winter skiing trails. Mainly, migrate towards the really large peak. In early August, we still walked across several snowfields in this section.
You will eventually arrive at the base of the final push; this will be the steepest and most challenging part. The first section involves scrambling/crawling/climbing up a large shale field. Beware of people above and below you, as rocks may fall. As you get a little higher, a network of cables and small steel pegs provide footholds and handholds. Gloves may be nice to have here; the cables can be covered in ice depending on the time of day and the weather.
Once you get to the main area of the summit (2962 m,) you will encounter tourists who took the tram up, unless you arrive early in the morning. You can then climb up to the gold cross marking the tallest point in Germany. This requires several steel ladders, more steel cables, and no fear of heights. Use caution if you choose to do this part; it can get really crowded on a nice day and there is only one cable for bi-directional foot traffic. The views at the summit are absolutely incredible and pretty much indescribable; viel Glück!
From here, you can choose to either hike back down or pay 30 Euro for a one-way tram ticket down to Eibsee (Germany) or Tirol (Austria.) Note, however, you must buy the ticket from the correct provider. There is an additional option that will take you back to the base of the shale fields for 9 Euro.
Even with a good description, the trail can be rather hard to find (especially if one starts in the dark as we did.) Thankfully, you can download the gpx data and overlay it with the Bavaria region of maps.me on a mobile device. Our GPS signal worked throughout the hike and kept us on track. In addition, for the region between huts, we actually used a different path than the one in the data. We just followed the signs for Zugspitze and several other hikers.
When we did this hike, we started in Garmisch at 3:30 am, 5.2 km from the trailhead. We managed to summit at 10:15 am, but did not stop at either hut and only took 3-4 water breaks plus some slight pauses on the last section. I highly recommend taking more time for this hike if weather/travel plans allow for it - it's beautiful and quite challenging, although one of my favorites!
Pack List
Raincoat
Sturdy hiking boots
Clothing for a variety of conditions
Sunscreen
Money for food/drink from huts and tram tickets
Change of warm clothes for the top (often Winter conditions, often freezing)
Water (3 liter/person if a day hike, one direction)
Food
Gloves

Amazing Olympic Village
Best time in years

Skill Level:
Intermediate
Features:
Adult Beverages
Food Nearby
Forest
River
Scenic
Waterfall
Wildflowers
Are we missing something?
Suggest an edit
More Adventures Nearby

Hike the Heimgarten/Herzogstand Trail
Germany / Herzogstand Bahn Parking Lot
The Heimgarten/Herzogstand trail is a famous one and there's a reason why: a great hike with outstanding views! Its close vicinity to the Kochelsee and Walchensee only make it even more attractive, s.

Hike to Neuschwanstein Schloss
Germany / Hohenschwangau
To reach Neuschwanstein Castle, travelers will have to park below at Hohenschwangau after arriving in Schwangau, Germany.