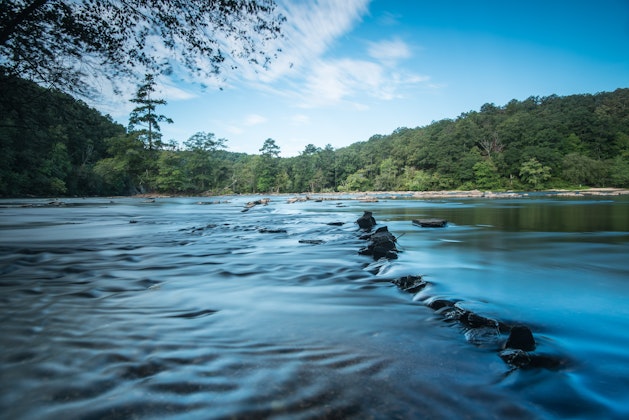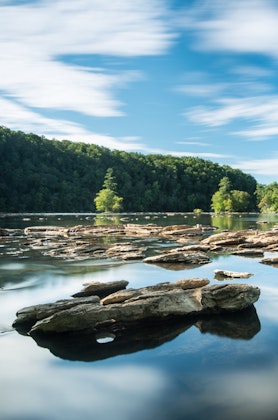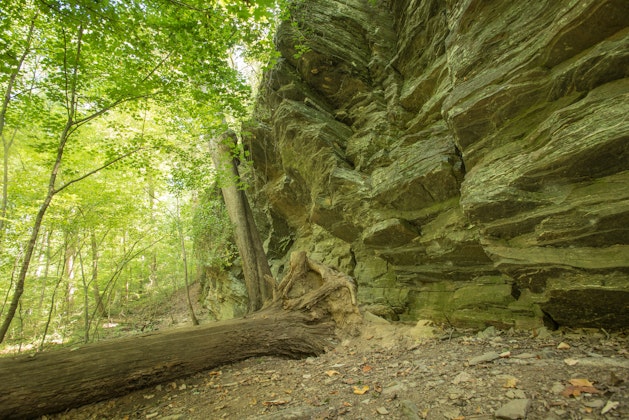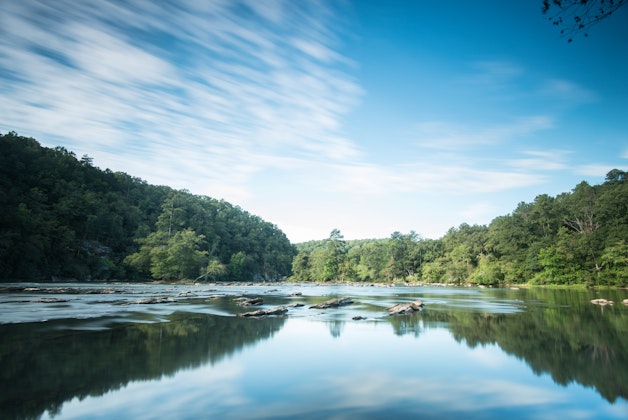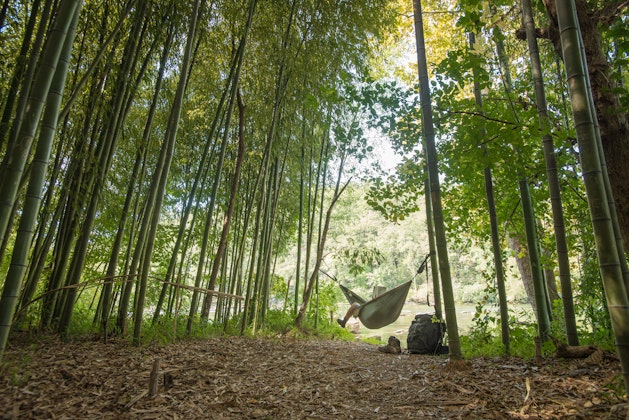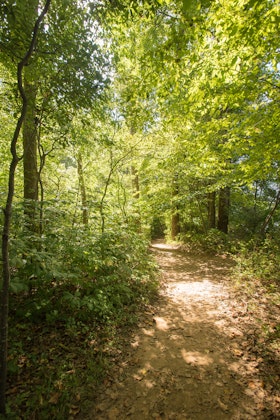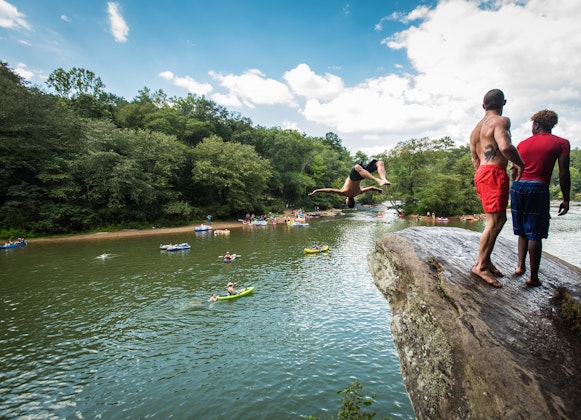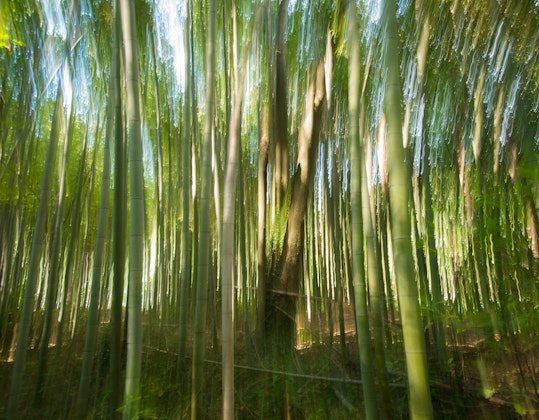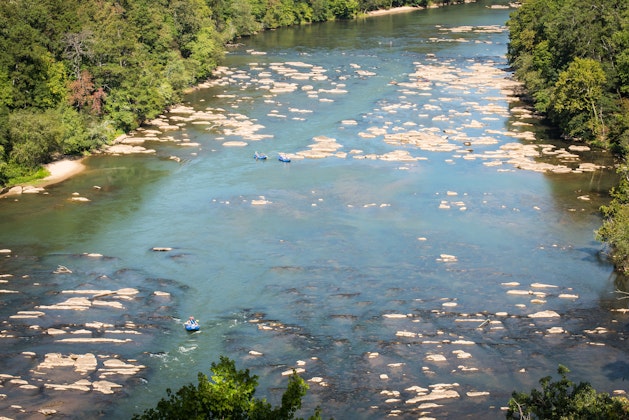 Added by Christian Murillo
The East Palisades Trail is simply the best hiking trail within Atlanta's perimeter.  This loop trail passes along the picturesque Chattahoochee river and beautifully untouched forest.
The East Palisades trail is one of the only real hiking trails within Atlanta's perimeter.  Although it boasts surprising beauty and great trails, relatively few people in the city are aware this trail even exists.  As part of the Chattahoochee National Recreation Area, this section of forest is very well preserved and boasts some of the best views along the Chattahoochee river.  
Even though this is technically a loop trail, there are many forks in this trail, leaving a lot of opportunities to customize this trail to your desired length.  The longest loop you could possibly take on this trail is about 4.5 miles, and the shortest loop would be a short 2.5 mile hike.  Although there are many ways to do this trail, it is surprisingly easy to navigate with a trail map at just about every intersection. 
Some features you might want to check out on this trail are the ground-level river views between EP16 and EP26, the Bamboo forest near EP26, the birds-eye river outlook EP10, and the cliff-jumping rocks that are actually off-trail, just North-West of EP30.  The EP markers that I mentioned are all very clearly marked on the trail maps at each intersection of trail.  The ground-level river views provide an excellent opportunity to see river fowl, rafters/kayakers, and the angled protruding river rocks up-close and personal. The Bamboo forest section might be the most serene area in the whole city.  Thick Bamboo trees guard the banks of the Chattahoochee river for about 50 yards as their narrow trunks bend back and forth in the wind.  Bring a hammock and just lounge in the thick shade for a perfect mid-hike break!  The river outlook is a bit of a climb to get to, but the view is definitely worth it.  You get to see all of the rafters and kayakers navigating around the hundreds of rocks jutting out of the river.  You are also quickly reminded that you are still in the city, as some buildings rise out of the forest on the horizon.  "Diving Rock" is where many river-goers take their breaks on the west bank of the Chattahoochee and swim their way across the river to jump off of the 25-foot granite cliff into the 15-foot deep river water.  Getting here definitely takes some tricky rock scrambling and is only for the most adventurous.  If you do go and choose to jump, note that although many people (including myself) have jumped safely, a few people have also died in the surprisingly strong current of the river.  Don't let me discourage you from a good adrenaline rush, just be informed, careful, and honest about your swimming abilities.  
The interior of the loop passes through beautiful hemlock and pine forests.  If human history is your thing, there is also a rocky overhang about halfway between EP25 and EP24 where Native Americans called home for thousands of years.  There is also a small beach area by EP1 where many dog owners let their dogs run freely and play in the shallows of the river.    
Come and check out this incredible natural escape from city life in Atlanta. Bring your dog, kids, and friends and see just how nice a walk through the woods beside the Chattahoochee river can be.
Pack List
Hiking Boots or comfortable trail shoes
Day Pack
Camera
Water
Snacks
Bathing suit (optional)
Hammock (optional)

Best Hike In Atlanta!
My favorite hike in Atlanta. If you hike from Whitewater Creek Parking lot to the overlook and bamboo forest and back it is 4.2 miles! A great hike for a beautiful day all year long. Great for dogs! Everyone's dogs are so friendly and the dogs can enjoy running around without leashes as well.
Escape From The City
This is a trail that isn't too far from the city at all. The hike is easy with no incline since it's following along the Chattahoochee River. Which makes it a great for bird watching, plant observations, macro photography of insects, waving to passing kayakers and tubers, occasionally splashing in the water, and more. I recently went a few weeks ago to photograph birds with a friend. My friend got an amazing shot of this blue heron that is often in the shallow areas of the river along the trail. Now that it's warmer, we will probably go back soon to capture more birds!

Wooded Loop; Good Quick Trek
Went on this hike with a friend of mine while it was raining a. It. This trail is easy to follow and there are map markers every quarter mile of so. It was raining a bit so the trails were quite muddy and at an angle at a couple sections but it was still a good little trek. Multiple areas where the surrounding trees open up to larger rocks or ponds as well so a couple picturesque areas as well. A good little loop with some up and down movements to get out, get moving, and not spend a ton of time working through it. Note: $3 (cash) parking at the main "lot" through the Parks Service.
Added by Christian Murillo
My love for natural landscape photography is what first got me outside. Now, I can hardly stay indoors. My sense of adventure has led me to travel all over the US (mostly in the SE), and also drove me to complete a +42,000 mile trip around the world.
Follow
Activities:
Running, Hiking, Fitness
Season:
Spring, Summer, Autumn
Features:
Dog Friendly
Easy Parking
Family Friendly
Forest
River
Scenic
Wildflowers
Cliff Jumping
Are we missing something?
Suggest an edit
More Adventures Nearby

Hike the Trahlyta Lake Trail to Trahlyta Falls
Georgia / Trahlyta Lake Trailhead
Lake Trahlyta in Vogel State Park offers a truly unique combination of natural beauty and opportunity for recreation.

Backpack the Appalachian Trail from Blood Mountain to Cowrock Mountain
Georgia / Byron Reece Memorial Trailhead
North Georgia is packed with awesome mountain trails, but few boast the beauty and magnitude of the Appalachian Trail.