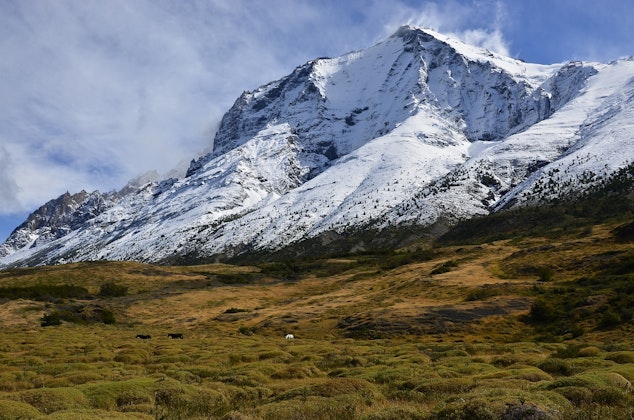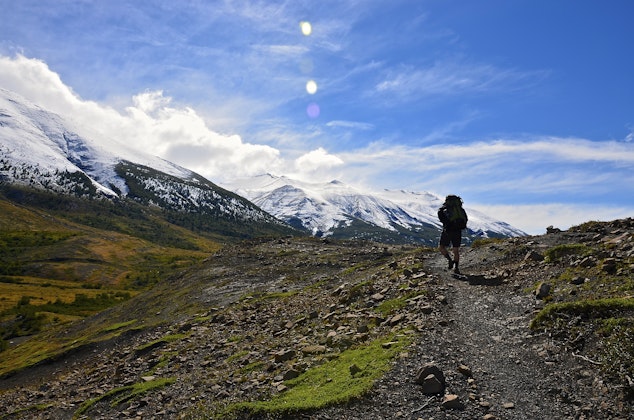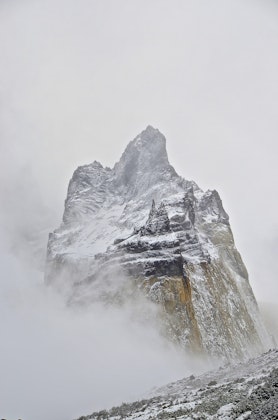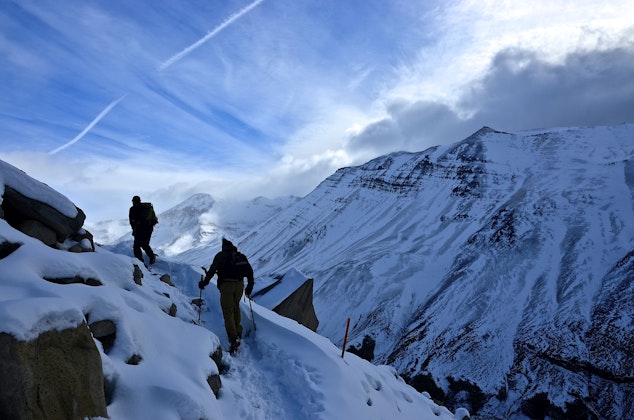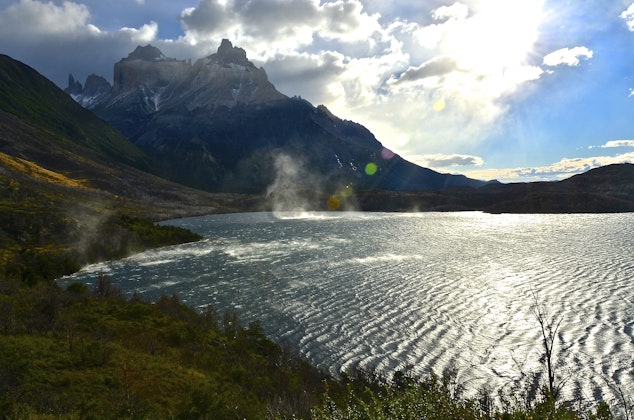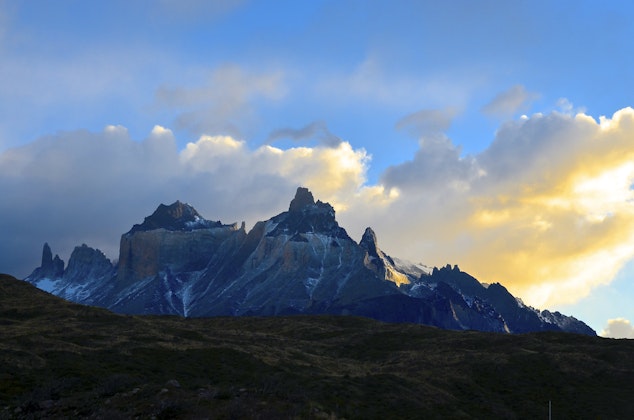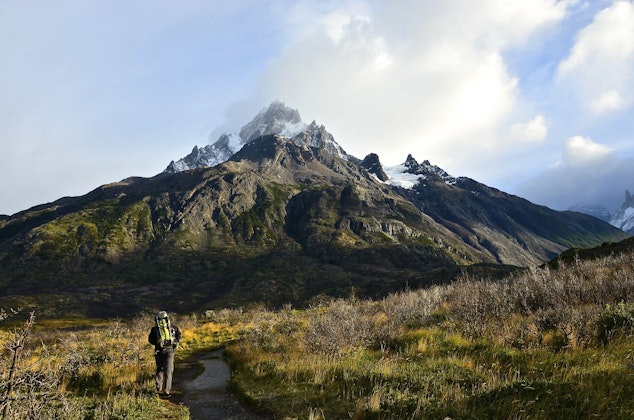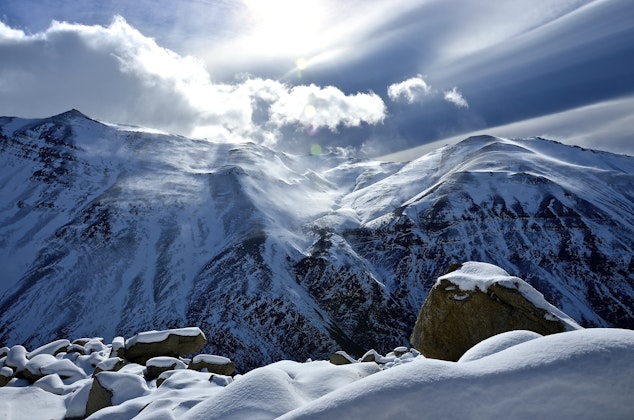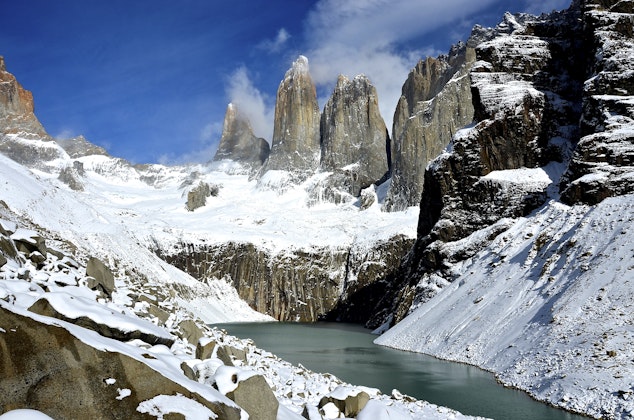 Added by Rob Feakins
Of all the hikes I have ever done, this is perhaps the most scenic and dramatic. A top five worldwide trek in my book. 
The W Trek is a five day, 70k trek through the highlights of Torres del Paine National Park in Chile's Patagonia region.
The W is a good alternative for those who don't have the time, or perhaps stamina for the 11-day Paine Circuit Trek. For those up for the Paine Circuit it does include the W portion in its overall trek. 
No, the "W" doesn't stand for Patagonia's famous winds. The "W" stands for the visual the hike makes when looked at on a map. 
I chose to do this trek with Southern Explorations who had been recommended in National Geographic Adventure magazine. Southern Explorations began their explorations in South America and has extensive background and knowledge of the area. 
First, you must consider which direction you want to do the W trek in. With Southern Explorations, they start by exploring the Grey Glacier and end the trek by visiting the highlight of the trip, the famous towers which the park is named after. Others start the first day with the towers and then head the next few days to Grey Glacier. There is no right or wrong, and one route isn't easier than other but it is important consideration. Personally I preferred ending the trip with the highlight. 
Quickly air travel. From New York I flew overnight to Santiago. From there it was a three hour flight to Punta Arenas (home of the Magellan Strait). From Punta Arenas you take a three hour bus ride to Puerto Natales. 
Day One:
With Southern Explorations, our first day had us hoping on board a boat and heading up the fjord where we jumped off beneath Mt. Balmaceda and hiking into Bernardo O'Higgins National Park to the scenic Serrano Glacier. From there we hopped on zodiac boats and headed up the Serrano River and into Torres del Paine National Park. The night is spent camping on the banks of the Serrano River. 
Day Two:
A boat takes you to Grey Glacier where you begin the upper left tip of the "W". You hike along the lake and up to the mirador of Grey Glacier (where we experienced 90 mile an hour gusts, an introduction to infamous Patagoina weather) and down the valley past scenic Paine Grande to Lake Pehoe. The campground at Lake Pehoe is where you will spend the night. It has full facilities and there is a refugio there. Winds 
Miles 6.1. Elevation gain 500 feet
Day Three:
Today you hike beneath the Paine Grande to scenic Lake Nordenskjold (where the wind whipped water spouts 80 feet into the air). And up the scenic French Valley. This is a steep hike up into the granite amphitheater and you have a choice how high you want to go. We encountered horizontal rain and sleet and had a sloggy hike down to the Cuernos Campground and refugio set below the Horns of Paine. 
Miles: 14 miles (9.3 mi without reaching upper Britannica); 1,700 ft elevation gain reaching Camp Britannica /600 ft elevation gain without reaching Camp Britannica.
Day Four:
Today's hike takes you along the foothills of the Horns of Paine with the shores of Lake Nordjenskold on your right. The view of Mt. Almirante Nieto which towers above you is spectacular. There is a choice to be made half way through the day. Ascend and spend the night camping next to Refugio Chileno or hike down to the campground at Las Torres. Chileno makes sure that the fifth day up to the towers is shorter. The Las Torres refugio is nicer. The choice is yours. 
Miles 7.8 miles to Chileno; 1345  ft elevation gain.
6.8 miles, 800 ft. elevation gain to Las Torres

Day 5:
This is the day you've been waiting for. Hopefully you will have clear weather for the towers but it isn't always guaranteed, this is Patagonia. The good news is weather changes rapidly. One minute the towers can be shrouded in cloud and five minutes later they can be seen clearly. This is the most difficult hike of the W Trek. Today's route is arduous but rewarding as you climb to the Towers. Be prepared for snow even in March. This day is a roundtrip hike. You will climb up into the Ascending Valley and through old growth beech forests to a rock moraine just under the towers. A steep climb over the moraine reveals one of the most spectacular views in the park. While you take photo after photo of the towers keep in mind the view back across the valley is equally spectacular.  From here you hike back down to Las Torres Refugio and have a celebratory beverage. 

Miles:  9 miles from Chileno Campground: 1,810 ft elevation gain.
12.5 miles from Las Torres, 3291 ft elevation gain


Pack List
Most people do this trek from December through March (keep in mind that is summer through fall in Patagonia) I chose March because of the golden fields that occur in Patagonia during their fall. Keep in mind in March you can encounter snow at altitude. 
Weather is unpredictable in Patagonia
Above all have a highly rated rain proof windbreaker and rain pants.
Goretex hiking boots
Tent that can withstand strong gusts
Synthetic sleeping bag
Cold weather gear: try to find a jacket and sleeping bag without down. 
Backpack with weatherproof cover
Camera, this is one of the most scenic treks you will ever take.
Incredible
I was a little skeptical of the W Trek due to the increasing popularity and hype but it far exceeded my expectations. Everyone talks about the first (or last if you come west to east) leg where you climb Mirador Las Torres but this was actually my least favorite part due to the easy access and crowded trails. Once you leave this section, you wander through the wilderness past insane aqua lakes, waterfalls and towering mountains. This is the part of the W trek that I loved. You feel completely disconnected from the rest of the world and the natural beauty is jaw-dropping. Two things to note. 1) Starting with 2016-2017, Torres del Paine is now turning away people who do not have refugio or camping reservations ahead of time so make sure to book well in advance. 2) It is really easy to do this trek self-guided if you have any camping/backpacking experience. Self guided allows you the opportunity to do everything at your own pace and I was really happy I chose to do it without a tour. It's easy to meet people as everyone is following the same path and setting up camp at the same few spots, so you'll never feel alone.
Added by Rob Feakins
A man in his 50s who ditched his career to get in as much travel and adventure while I still can. Visit my website at farandwidemedia.com, my instagram feed @rfeakins, and view my Steller stories at steller.co/rfeakins.


Follow
Activities:
Camping, Photography, Backpacking, Hiking
Skill Level:
Intermediate
Season:
Spring, Summer, Autumn
Trail Type:
Point-to-Point
Are we missing something?
Suggest an edit
More Adventures Nearby

Explore Salto del Claro
Chile / Salto del Claro
Seven kilometers from Pucon, el Salto del Claro can mostly be reached by car.  From the parking lot, a poorly marked trail drops quickly to the base of the waterfall.

Hike to the Top of Cerro San Sebastian
Chile / Entrada Parque Nacional Huerquehue
Technically the park does not open until 8:30.  This, however, only means that there is nobody in the office to collect the entrance fee (5,000 CLP for foreigners, 3,000 for Chileans).