Backcountry Hike and Hut Camp the Northern Portion of the Sunshine Coast Trail
Rate this Adventure Canada › Sunshine Coast Trail at Dixon Road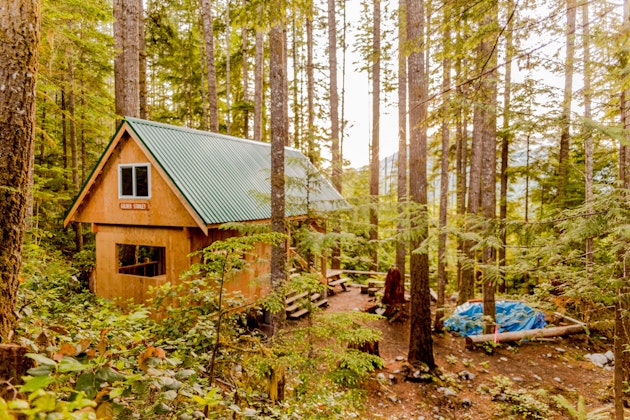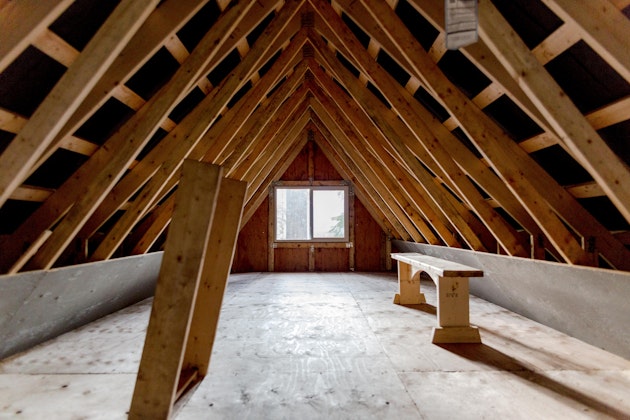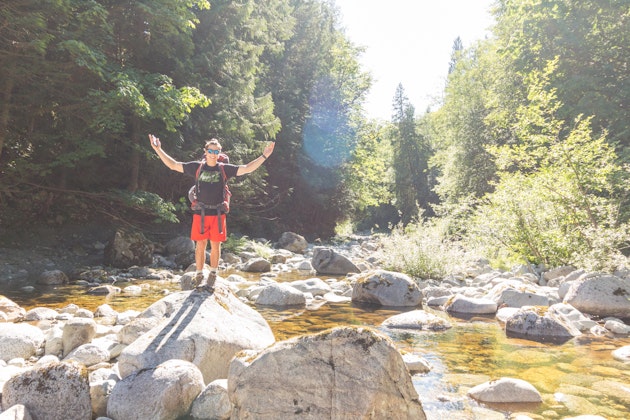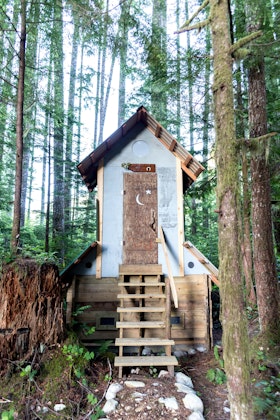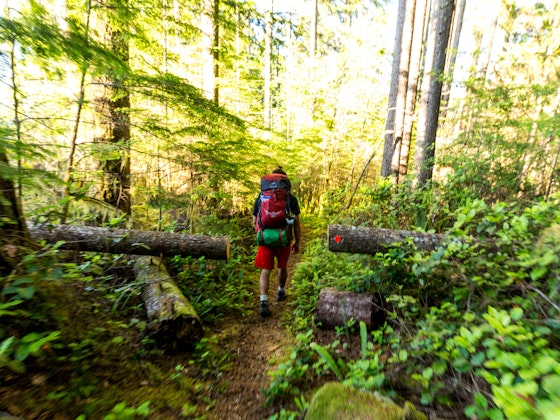 Added by Rory Court
Summit the Highest Peak on the Sunshine Coast.Hut camp for free.50km of isolation. 
This adventure is a 50km backcountry hiking and camping trip and should not be attempted without prior backcountry experience.  It is recommended you attempt this trail in a group.  Below is a detailed description of how to get to the trail and your options for huts while on the trail:
The Sunshine Coast can only be accessed by ferry despite actually being a part of BC's mainland.  In fact, you will have to take two ferries to get to the Sunshine Coast Trail (SCT) if you are coming from Vancouver.  You will have to take the first ferry 40 minutes from Horseshoe Bay to Langdale on the Sunshine Coast.  Once arriving at Langdale, you will have a roughly 75 minute drive on the Sunshine Coast Highway to Earls Cove to catch your next ferry, which departs Earls Cove to Saltery Bay on a 50 minute cruise.  Make sure to check the ferry schedules to plan your trip, otherwise you may be stuck waiting.
The SCT ends at Saltery Bay, we left a vehicle in a dirt lot by the ferry terminal, to get to the lot, turn right as soon as you exit the ferry terminal, and the lot will be very close on the left hidden by some trees.  You can see a house and the (tiny) town of Saltery Bay from the lot, be sure to pay for your parking by leaving CASH in the cash box.  Catch the Route 12 bus towards Powell River, you have to call in advance to book the bus as it doesn't usually come to Saltery Bay, from BC transit's website: "Serves Saltery Bay on request. Call 604-483-2008 to arrange your trip."  The bus will pick you up right across from a local food stand and Lang Bay is only about a 10 minute ride, make sure you tell the driver where you are getting off or they will blow right past and go all the way to Powell River (they won't turn around either).  
To access the trail from Lang Bay, you need to head North (right coming from Saltery Bay) up Dixon Road which intersects with the highway.  The trailhead coordinates are 49.796551, -124.327304.  Maybe pick up a couple extra snacks from the LangBay Store before heading up.  You'll walk over two km up Dixon Road before finding the trail, make sure you take the SCT trail that exits off the right side of the road and is marked SCT NORTH, otherwise you'll be in it for a lot longer that 50km.  Both the North and South Trailheads are within 50m of each other, but the North one comes first and is a little more hidden.  Be sure to take a picture of the trail map at the South Trailhead for reference, it has a lot of good detailed information.  I made the picture my phone background so I could quickly check the map and save battery.
The trail is marked really well, you should almost never have an orange marker out of sight, which is nice because you may not see another human outside of your group while hiking the trail.  I'd recommend only attempting to get to the Golden Stanley hut your first night, as you'll probably be starting relatively late.  Golden Stanley is located about 10km from the time you hit the trail off of Dixon Road.  Much of the trail follows along Lois Lake, there are a bunch of floating homes on the lake (for the loggers I presume) and it's a cool chance to see how some people live out here.  Much of the area has been logged, despite the trail being forested.  Golden Stanley is one of the newest huts and even has an neat outhouse.  There is a barrel that catches water since the actual hut is located pretty far from the water.  The sleeping area is located in the attic and is fully enclosed, it can rain quite often so this is a great bonus. There is also firewood and a fire pit.
The next day, where you aim to finish depends on how many nights you have to complete your trip, if you have 3 nights you should probably only hike up to Mount Troubridge Hut, this is the nicest hut on this portion of the trail and even has a fireplace inside.  It is literally a log cabin.  The trail to get here is quite intense, you will climb 14 km and 1100 meters.  The trail starts up immediately through some logged out areas and then follows an old logging path for a while, eventually you continue heading up the mountain and through some thick forested area the entire distance to the hut.  If you only have two nights for your trip, sorry, but you'll need to do another 12km down the mountain to one of the next huts, as you'll miss the ferry if you have to get all the way to Saltery Bay the next day, you should probably stop at the hut anyways to eat and warm up if it is raining.
From Mount Troubridge Hut (log cabin!) you actually climb a little more to the true summit, there is an emergency shelter at the summit and you will have 360 degree views of the entire Sunshine Coast, that is, if you aren't fogged out like we were.  Apparently the view is pretty spectacular.  
Heading down from the Summit, continue to follow the trail (by following the orange diamond markers).  The trail follows a series of switchbacks down the mountain through some thick forested areas.  Be careful coming down, especially if it is raining as there are some very steep areas on some very slippery ground, the descent is a rough one on the knees.  One thing I forgot to mention earlier is that the SCT signs mark every km of the trail, for the most part.  It would be good to note what km mark each hut is at so you are aware of your situation.  You have two options for what hut to stop at next, they are Rainy Day Lake hut and Fairview Bay.  Rainy Day Lake hut is located at the 170km mark on the trail and is a little closer than Fairview, which is located at about the 173-174 mark.  We stayed at the Rainy Day Lake Hut because we ran out of light, the hut is a little older, you sleep in the attic but it is not completely enclosed (air flows up from under neath the edge of the roof but you won't get wet).  If you have the time and energy, try to go all the way to Fairview, you'll have a veiw of the ocean and apparently the hut is much nicer.  If you're lucky and have four nights, stay at Rainy Day Lake the first night and take a maintenance day doing the short trek to Fairview for your next night.  
The trail from both huts to Saltery Bay will be easiest portion of your hike and is about 12km.  The trail is wide and smooth for the most part, with one steep elevation that will take you to a final view point of the region (if you are coming from the Rainy Day Lake Hut).  You'll cross and old and sketchy wood bridge of a rushing creek near the end of your trip and pass through a logging area near the very end.  The trail officially ends at the road connected to the lot you parked your car and it is only another couple minutes to your car.  If you attempt all 50km in 48 hours like we did, you will be so thankful to reach your car and rest your feet.  
This will be a good time to get in line for the ferry and check out the local food stand previously mentioned, they serve some killer breakfast, which you can enjoy while taking in some killer views on the ferry.
Pack List
Trailhead Coordinates at Dixon Road: 49.796551, -124.327304
Ten Essentials
Backpack
Rain Jacket
Rain Fly for Backpack
Emergency Tent
First Aid Kit
Sleeping Pad
Sleeping bag
Sat Phone if you have
map
More than enough food
Water purification tablets
Fuel
Stove
Pot for boiling water
Camera
Good company
Book
Matches
Lighter
Fire Starter
Beverages
Air Tight Bag for Food
Garbage Bags (pack in pack out!)
Have you done this adventure? Have something to add? You could be the first to leave a review!

Activities:
Camping, Photography, Backpacking, Hiking
Season:
Spring, Summer, Autumn
Trail Type:
Point-to-Point
Are we missing something?
Suggest an edit
More Adventures Nearby

Hike to Bonnell Creek Falls
Canada / Bonnell Creek Falls Trail
This trail isn't much to look at but it's all about the destination here as you will stumble upon scenic waterfalls nestled in the quiet Nanoose Bay area.