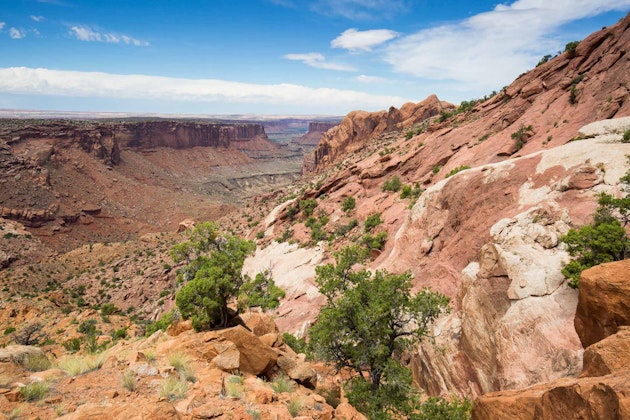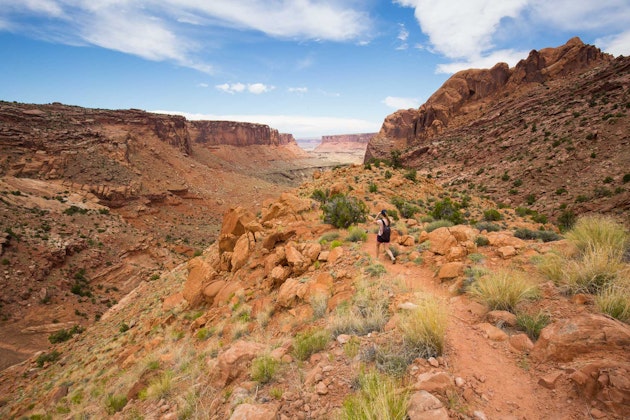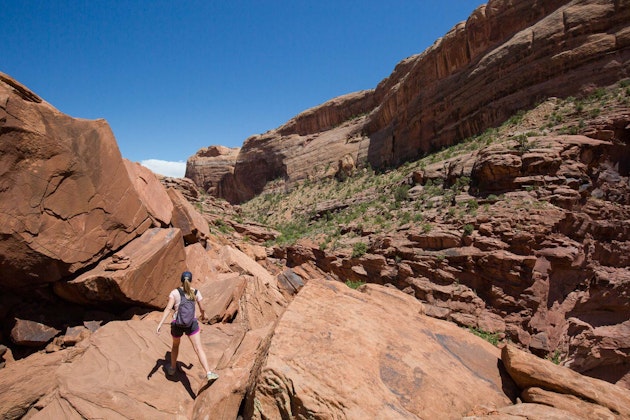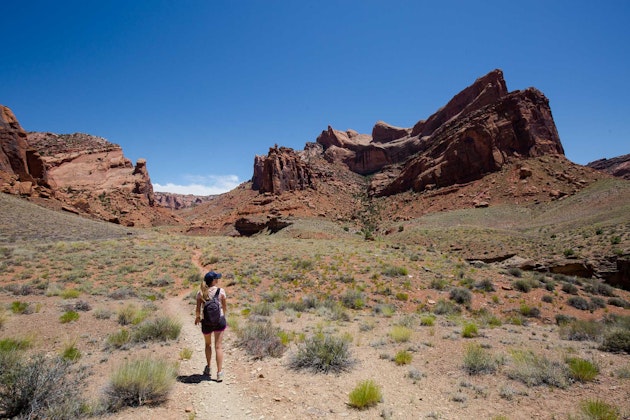 Added by Andrew Slaton
This is an unmaintained, difficult trail that gives hikers a unique perspective of and challenging hike around Upheaval Dome.
Be advised, the NPS signs and maps that warn of a very difficult hike ahead are not hyperbole, as I thought at first. This hike is a loop around the famous Upheaval Dome on an unmaintained trail that leads you down over 1500 feet into the canyon, close to the Green River, then climbs back up 1500 feet and out. 
We did it in Summer, not knowing anything about it, and I would recommend going in a different time of year, or at least bringing a gallon of water per person. 
The trail conditions range from easily identifiable single track and well-built (though steep) stone staircases to completely unmaintained routes through desert washes and canyons marked only by cairns, and even sections that require some scrambling/ bouldering. This trail is not for the casual hiker.

When at the trailhead for Upheaval Dome overlook, you have the option to go left or right on the Syncline. I recommend going left, as the descent here is very steep, and the ascent at the end is a bit more gradual. However, both ways are challenging. Give yourself at least 4-5 hours to complete.
A good map and navigation skills are very important!
The views are amazing, and the adventure is worth it though, if you are properly prepared and in good shape!
If you're planning to stay overnight in the Synchline Campground, make sure to get a backcountry permit. Check here for more info: https://www.nps.gov/cany/plany...
Pack List
1 Gallon of Water per person
Good Map (not the standard NPS issue park map)
Camera!

Tempo run. Technical and challenging, with very rewarding scenery!
I did this loop as a training run on Sunday, May 14, 2017. The temperature was around 80 degrees. When doing it as a tempo run as I did, you really have to keep your eyes open wide and on the trail at all times, as there are many hops, skips, slick rock sections, jumps, and terrain variations to navigate tempo speed. There are definitely a few sections where you are not running, but rock climbing and bouldering. In these sections there's also some exposure, with steep drop-offs, so if you have acrophobia these will be sections where you'll have to face that fear. ;) Also, since I was running tempo, I really had to pay attention to the cairns, as there are many places where you can go off trail, or in the wrong direction, as there are quite a few gullies and dry stream beds, especially in miles 4-6, that run into the trail route. I ran up a these from time to time when my mind wandered and had to backtrack. Some guides say to take a map, but if you keep your eyes peeled, you will always be able to spot a cairn, as there are hundreds of them, yes hundreds, along this loop. HYDRATION!! Even though it was only 80°, I went through my gallon of water very, very quickly. This arid climate it really sucks it out of you....fast. In Kansas where I live, an 80° run up to 10 miles or so usually doesn't require a water stop, whereas on this loop I'd consumed my gallon by the fifth mile (with 3+ miles and 1000+ feet of elevation gain to go!), and was completely parched by the time I finished. This is a trail where people get lost and off-trail often, so this makes having plenty of water even more important. All in all, this is a wonderful loop, with lots of variation and scenery. Don't expect to set an 8 mile tempo run PR here though...lol. I did this loop in 2:26, and I'd say I was pushing it at 80-90% of my physical ability. In addition, I would definitely recommend wearing a trail-oriented shoe. If you wear a road running shoe, your grip and stability will be greatly compromised without off-road tread and a footbed designed to absorb rock impacts. #getouside!

Great Tough Hike
This hike is great. Water and sunscreen are essential because there is no cover for most of the trail. Because of the length and difficulty the trail was empty. Great workout, lovely cliff faces, and plenty of wilderness!
Added by Andrew Slaton
Andrew is a commercial landscape and active lifestyle photographer living on the road full-time with his yogi wife, Ellen, dog, Islay Blue, and stud cat, Colonel Bubba. Based wherever the wind takes them, and teaching workshops along the way. www.slatonworkshops.com
Follow
Activities:
Camping, Photography, Running, Backpacking, Hiking, Fitness
Season:
Spring, Autumn, Winter
Are we missing something?
Suggest an edit
More Adventures Nearby

Hike Mount Ellen in Utah's Henry Mountains
Utah / Mount Ellen Peak Trail
Mount Ellen is considered an Ultra Prominent Peak. What's that you may ask? Well, Ultra Prominent Peaks are determined by how high the summit rises above its surroundings.

Camp at McMillan Springs In The Henry Mountains
Utah / McMillan Springs Campground
McMillan Springs Campground is south of Hanksville, Utah and within the Henry Mountains, which run north and south between Canyonlands, and Capitol Reef National Parks.