One of the best trails and outdoor activities in San Ramon, California is hiking the Las Trampas Regional Wilderness. This must-visit trail offers a challenging hike with a scenic view of the rolling hills and the San Francisco Bay. The trail is 5.7 miles long and is known for its steep, rugged terrain and rock formations. Along the way, you'll see the tranquil Madrone and Chamise creeks, which are home to various wildlife species. For a more leisurely outdoor adventure, visit the Memorial Park, a top spot for picnicking and bird watching. Nearby, you can also find the Iron Horse Regional Trail, a multi-use trail that's perfect for biking and walking. These outdoor attractions in and near San Ramon provide a great way to enjoy California's natural beauty.
Top Spots in and near San Ramon
Camping and Lodging in San Ramon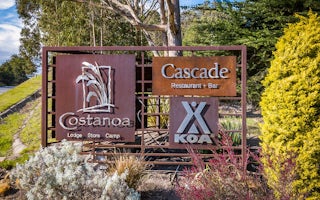 Pescadero, California
Santa Cruz North/Costanoa KOA is an eco-adventure campground designed to encourage exploration of the protected California coastline. Th...
Guides, Insights and Stories from San Ramon