From Alabama to Zion: 5 Photos from a Night Hike to Angels Landing
From packing the bags to arriving at Zion. Oh yeah, there will be photos :)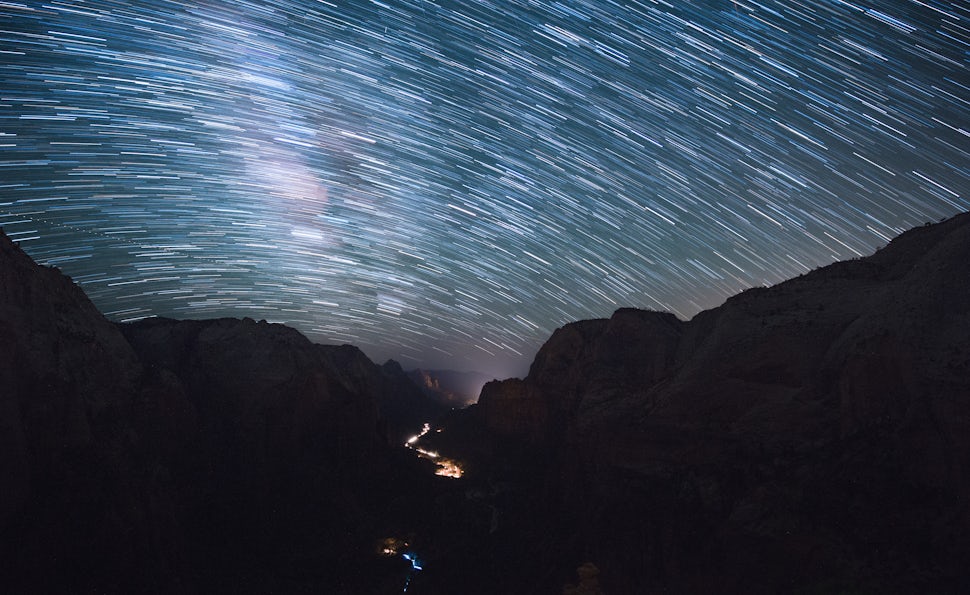 It finally was happening. I was packing my bags for Utah. This was my second biggest trip this year, the first being Oregon and Washington State.
I get a few small trips in every couple months, and do two big trips a year...well, I try too.
Being from Alabama, this is a must for me. You may have seen my last story featured here on The Outbound. If not, it has to do with what I am able to shoot here in Alabama. I don't get to see mountains often here unless I travel to the northern part of the state, which I have done multiple times and decided it was time for something new.
Our trip begins with my girlfriend driving my good friend, Justin, and I to the Atlanta airport, from which we departed and arrived in Las Vegas some time later.

From there we picked up the rental, hit the Wheel of Misfortune on the way out and were off to Zion. I strongly recommend seeing the Wheel, except on a day when its 115 degrees...just bring water if you're stubborn like us.
Anyway, this is where the story of Our First Night in Zion begins...
We get to Zion around 7:45pm.
Get our campsite and set up around 9 pm.
Drive to the shuttle pick up closest by at 9:15 pm.
Realize that the poor planning on our part and the sheer negligence that these shuttle bus drivers have lives too and stopped running at a certain point AND meant we were not getting dropped off at the trailhead.
But, we don't get defeated so easily. We begin walking to the trailhead instead.
About 3/4 mile up, we are stopped by an outside shuttle looking for two guests of theirs. Luckily, he offered us a ride to the trailhead if we helped look for them at each stop. Luckily, they were found at the Angels Landing trailhead, which is where we wanted to get off actually.
SO now you know what were planning on doing right? If not, we were planning on doing Angels Landing at 10pm.
Because when you only have 12 days for your trip, your first day isn't a get settled in day, but a push yourself to your limits, while you run on a few hours of sleep. The first day is the "who gives a rip if you've been in the car and plane for hours, climb this mountain and shut up."
This is all only multiplied when your from the lovely state of Alabama. (I hope your can sense my sarcasm, but I do love my state and glad to have grown up here.)
So, here we are. It's 10pm. Packed with all the finest things money can buy: lots of water, Clif bars, a single can of Arizona Green Tea, and our 20+ pounds of all the most necessary cameras and lenses. Yes, every single lens was necessary.
At this point in the story, we're passed the first set of switchbacks. Panting like a dog. Thanking god its actually cooling down and for the limited amount of traffic of people coming down. I think we passed two groups of 3 people.
"You guys are going up? You know what time it is right?" "Oh yeah." They probably heard our southern accents and were either impressed some Alabama boys were about to attempt this or thought we were extremely stupid and the accent just verified that. You can choose.
Either way, we're now at the part where you really begin your summit and aren't suppose to look down. Well you can if you're us, cause it was completely dark and you can't see anything but what your headlamp is shining on.
We didn't stop until we got to the top...Well, we stopped once for a clif bar and water, once cause we saw a scorpion, once again for water, and then once again just to catch a breath.
We finally make it to the top. After about 2 and a half hours of what felt like us running up a never ending treadmill that featured a cool scorpion at the top, we made it.
Here's the part of the story where you look away from the screen, rest your eyes, and then look back at what we were able to capture that night...so look away and rest them eyes for a sec.
First up, here're my first 7 shots merged into a panorama. This was actually my first time being able to do a Milky Way pano.
Second, my most liked photograph on Instagram. For this shot, I simply zoomed in during a 15 second exposure to create a "warp speed"(?) look. This took 3-4 tries in order to get the steadiest shot and not shake the camera when twisting the zoom ring.

Next, a 3-shot pano on a 50mm 1.4. Shooting on a longer focal length really gives the Milky Way some size. Honestly this shot is more about the valley than the MW.
Lastly, this photo shows where we were in reference to the end of Angels Landing. Nothing special, just some rocks, the cliff, and the Milky Way.
So, at this point its 4 am, we have only had the sleep we managed to get on the plane and realize we need to head back down.
After almost a fully memory card, an empty Arizona Green Tea, and somewhat rested legs, we head back down. This time the switchbacks were much easier, haha.
A rather quick descent managed to get back to the shuttle pick up by the trailhead around 6:30 am.
What now, you may be wondering...We slept. Right then, Right there. In those park benches. Did we sleep well? No. Was it one of the most memorable moments of my life? Yes.
Zion, day one was complete.
Feel free to see more of my work or Justin's on IG.
@thetreywalker @justins_self.
All images were shot on Nikon Df and a Tamron 15-30 2.8, Sigma Art 35 1.4 and Nikon 50 1.4. Settings Vary.
We want to acknowledge and thank the past, present, and future generations of all Native Nations and Indigenous Peoples whose ancestral lands we travel, explore, and play on. Always practice Leave No Trace ethics on your adventures and follow local regulations. Please explore responsibly!
Do you love the outdoors?
Yep, us too. That's why we send you the best local adventures, stories, and expert advice, right to your inbox.