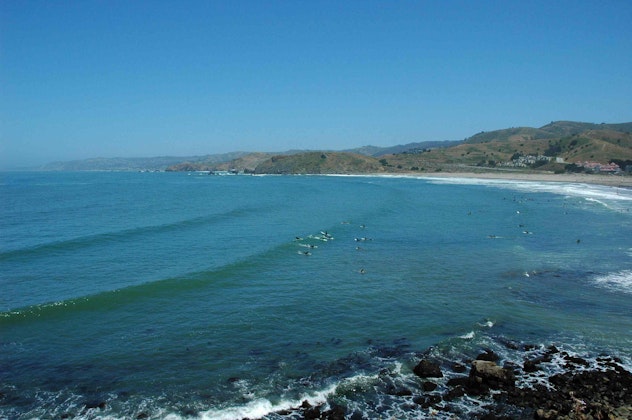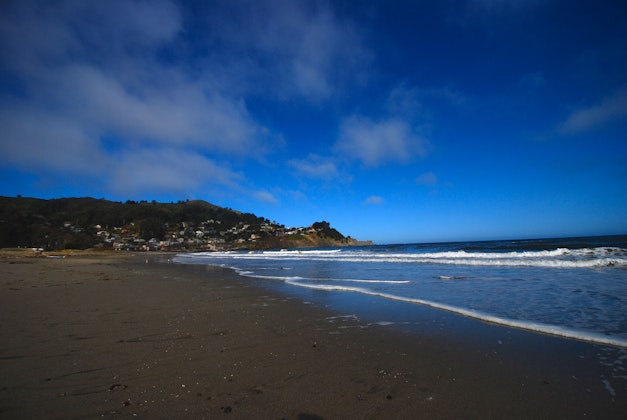 Added by Austin Brizgys
This is a more user-friendly spot than Ocean Beach with an easier paddle out. There is easy parking and beach accessibility. The break is usually more wind protected and has an easier begginer break toward the south end of the beach. Duration: 2 hours.
If you're looking for a place to surf and Ocean Beach isn't quite your speed or Santa Cruz is too far, head to Pacifica, specifically Linda Mar. Linda Mar is usually more wind protected and user-friendly than ocean beach. Break out your longboard or hybrid board and head to this beach. There is easy parking, bathrooms, and showers. Beginners should look toward the south end of the beach for an easier paddle out. Bonus: there's a taco bell on the beach.
If you're looking for something more substantive than the bell, head to Colombo's Delicatessen afterward or grab it beforehand and spend the day at the beach!
Pack List
Longboard
Wetsuit and booties
Towel
Warm water to rinse off with afterward

Easy surf, but crowded
It's nice to have a spot for beginners that's so close to the city. That is also probably why it can get insanely crowded. Definitely go on the weekdays or very early in the morning to enjoy a little space.
Fun and crowded...
I love this spot for mid week early evening sessions after sitting at a desk all day. This is a quick drive from the city and it takes less than 20 minutes from SOMA which is faster to get to than Ocean Beach. This is a very convenient beach as it has plenty of parking (paid), showers, bathrooms and a taco bell. However, as a result, this draws a large crowd hence the 4 stars. Beginners can score with longboards at the South end of the beach. The more experienced will find further North up the beach more desirable and slightly less crowded.

Fun for beginners. Can be but crowded
This is more of a beginner spot. Some days it picks up and can be more critical for experienced surfers, but typically this wave is mellow and a fun wave to grab your longboard and head out. Most surf rules still apply, but folks are understanding that they are among newcomers. Don't be intimidated while trying to learn to surf here.

this place is great for learning to surf! As you head north on the beach the waves become stronger and a bit more powerful! get here early in the early AM if you want no crowds!

Super chill and fun beach for surfing but after 10am on the weekends, it gets pretty crowded. The surf school teaches its classes on the far end of the south side, so best to move a little north if you see the yellow shirts.

Linda Mar can be fun, but it can also get crowded. It is more gentle than Ocean Beach and better for learning. Also good for SUP surfing. Just be nice and share the waves!
Pacifica is fun if ocean beach is a little too steep or if you prefer riding a longboard. The break is typically a more wind-protected as well.

Activities:
Chillin, Surfing
Features:
Bathrooms
Beach
Dog Friendly
Easy Parking
Food Nearby
Are we missing something?
Suggest an edit
More Adventures Nearby

Hike the Tabor Nature Trail
San Francisco / Taber Nature Trail, Standish-Hickey State Recreation Area
Signs at the trail head for the Tabor Trail state it is 1.1 miles long. That is much shorter than the actual 1.8 miles my GPS put it at. The trail sign also claims it is wheelchair accessible.

Hike through the Founder's Grove in Humboldt Redwoods State Park
San Francisco / Founders Grove Nature Trail
The Founder's Grove is easily accessed from Highway 101 in northern California. The grove is also on the Avenue of the Giants Scenic Highway.