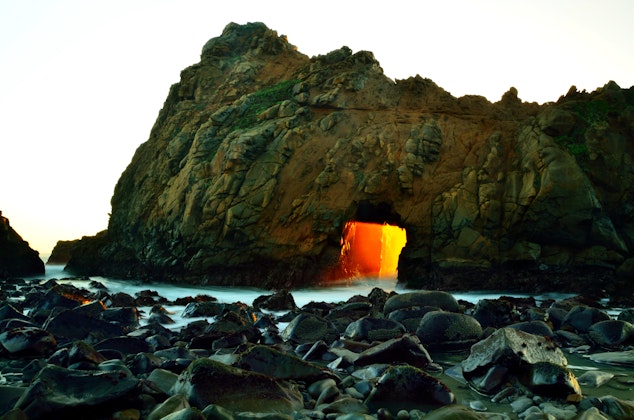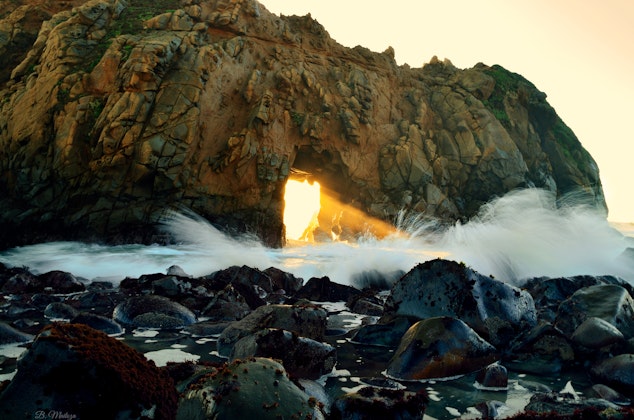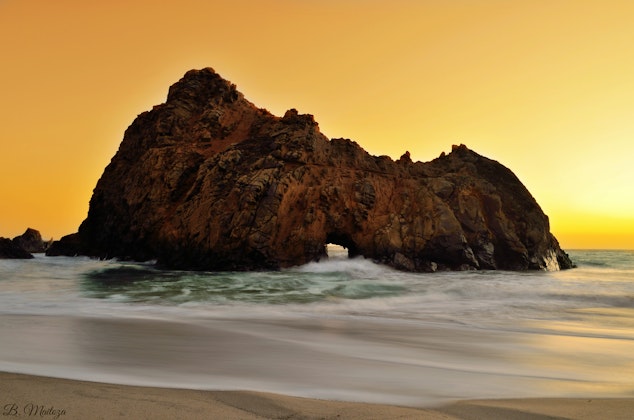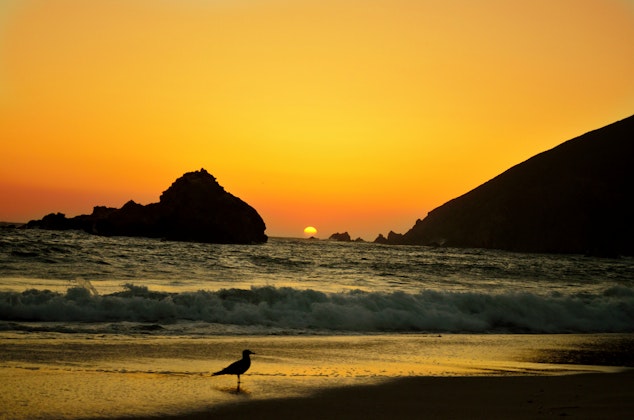 Added by Blake Maitoza
Pfeiffer Beach in Big Sur is a photographer's paradise! See the sunset through an amazing rock formation and glisten on the purple sand. 
Pfeiffer Beach located in Big Sur may truly be one of the most awesome beaches in California...if you can find it. I lived within 40 miles of this beach for over 20 years and just discovered it recently. This beach is located on an unmarked road called Sycamore Canyon Road. On Highway 1, this road is about a mile south of the Big Sur Station on the right. Once you are on this road, you wind back and forth for 2 miles until you come to a ranger station, where you pay $10 to park and use the beach. The beach is well maintained and kept very clean, mostly because many people have trouble finding it.
As you approach the beach, you will notice incredible rock formations. Photographers come from all around the world to photograph this location in Winter. This time of year the sun sets directly behind the hole in the formation leaving an incredible beam of light shining through. If you are here in winter to shoot this incredible site, make sure to get here early as crowds of photographers will all be trying to get the same shot. This location is primarily a perfect sunset spot to photograph.
If the jaw dropping rock formations weren't enough, then you will notice the purple sand all over the beach. There will be many patches of purple sand from manganese garnet in the surrounding hills being eroded onto the beach. The best time to view this is after a winter storm when much eroding has occurred.

More Adventures Nearby

Hike to Black Mountain and Stevens Creek Canyon
San Francisco / Monte Bello Open Space Preserve Parking Lot
This hike can be done during any season, but for the creek to be running and for more comfortable temperatures, it is best to go on a cool winter or spring day.

Hike the Steep Ravine and Bootjack Trails Loop
San Francisco / Bootjack Campground
This hike is best done in the winter and spring in order for the creeks and waterfalls to be flowing. Park at the Bootjack Campground in Mount Tamalpais State Park.