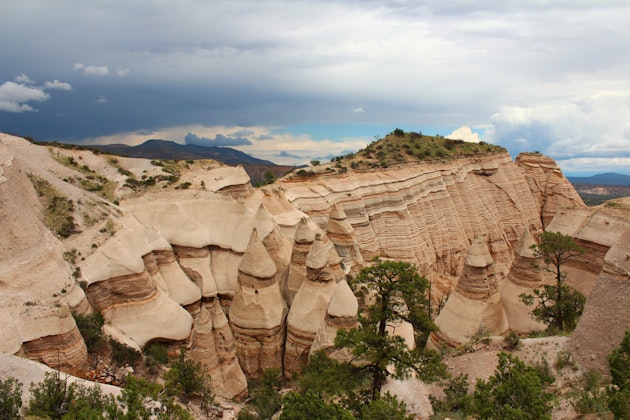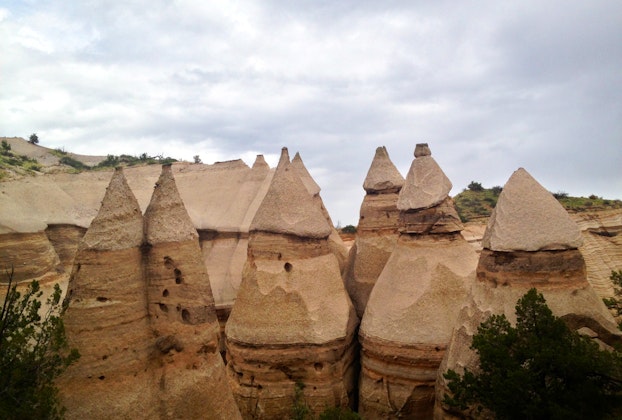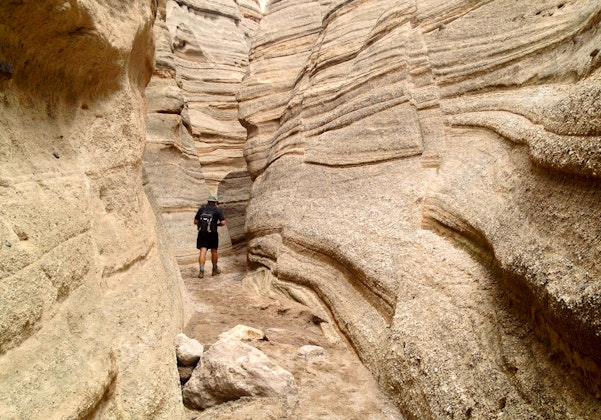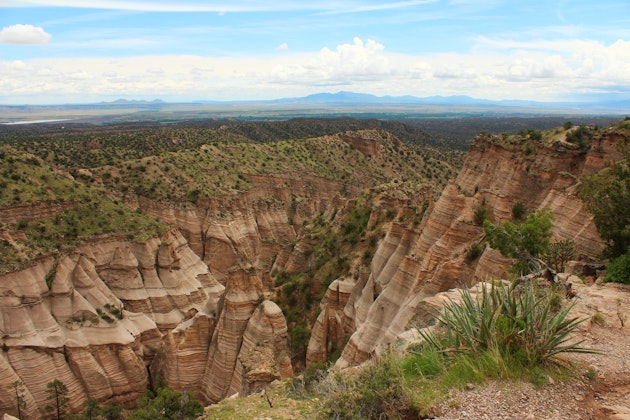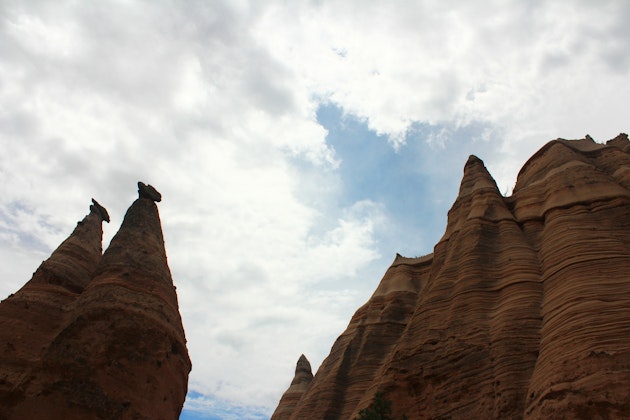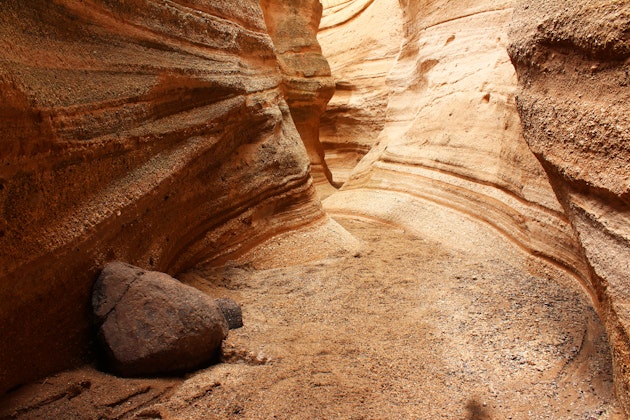 Added by Gemina Garland-Lewis
This 3-mile hike with minimal elevation gain lets you explore Incredible desert hoodoos and beautiful slot canyons. Take in expansive views from the mesa top.
Hiking at Tent Rocks is a must-do for anyone in the northern New Mexico area. It's an accessible trail that gives you incredible rewards with little effort. The cone-shaped "tent rocks" are the result of erosion following a volcanic explosion 6-7 million years ago, making for some incredible and unusual hoodoo formations.
The trail starts out at a well-marked parking lot. There are restrooms and picnic tables here should you need them. There are two trails - a shorter loop that stays at the base of the rocks and a longer one-way route that will end with huge views from the mesa top over Tent Rocks and the surrounding area. To take this route, stick to your right and follow the clearly marked signs.
The trail will meander through an arroyo with beautiful old trees dotting the landscape here and there, with the canyon walls rising up above you on either side. You'll soon come to a narrowing of the trail where it twists and turns through the narrow slot canyon. Be very mindful of thunderstorms when hiking in monsoon season (mid-June to mid-September) and do not hike if there is any danger of flash floods in the slot canyon. Exiting the slot canyon the area will open up more and you'll get closer to some massive hoodoos. The trail starts to climb from here for a short while until you reach the mesa top, dotted with gnarled old juniper trees.
Take a break and enjoy the view up here before heading back the way you came. If you're heading north to Santa Fe, stop by Second Street Brewery for a great beer and green chile cheeseburger.
Getting there: From Santa Fe, take the Cochiti Pueblo Exit 264 off I-25 onto NM 16. Turn right off NM 16 onto NM 22, and follow the signs to Cochiti Pueblo and the National Monument. The parking lot is on your right about five miles after the fee station. Note that this is a day use only site and the gate closes at 4pm during winter and 6pm during summer.
Pack List
Lots of water
Sunscreen
Hat
Snacks
10 essentials
Camera
Money for entrance permit at the gate ($5/vehicle)

Beautiful Scenic Hike
I drove four hours to hike here and it was 100% worth it. Very easy hike along slot canyons. Great for all ages! I went during a weekday and there were a lot of people so I expect it can get crowded on the weekends. Especially since there are portions in the slot canyon where only one person can go through at a time. No dogs allowed and they only accept cash at the entrance gate!

Worth It!
Our group of outdoor-toddlers, very inexperienced and advanced adult hikers all enjoyed this one! The hike to the top becomes substantially more difficult about 2/3 the way- hiking poles are useful, and be sure to bring plenty of water! That said, you are rewarded with an unmatched view at the top. A complete 360 of mountains, dessert, and nearby towns!

Awesome Hike For Kids
This was one of our first hikes as a family in the Albuquerque area, and it did not disappoint! It was awesome being able to see my 2 year old run the the slot canyons and not worry about her running over a ledge or getting into any dangerous plants!

Awesome dusty views
I went on this in July. It was super hot but not very crowded. Definitely worth walking up to the very top. You get an amazing view of the surrounding area as well as the tent rocks. Bring water! No pets allowed unfortuntaly :(

Incredible View!
My husband and I are in Albuquerque. It was definitely worth the drive out. Its good for beginners, the rocks are absolutely gorgeous and it was a lot of fun climbing through the narrow formations. No dogs allowed though

Stunning Hidden Get
How it took me so long to get over to this haven perched in between Albuquerque and Santa Fe I have no idea. Beautiful slot canyons, the crazy looking hoodoos, and the wide open mesas all come together a beautiful outing. It's not long, but it does have a short section of steep hiking, enough to get your heart rate up at least a little. Be ready for the $5 entry fee and they close the top climb much earlier then the park closing time. Great day trip that's not actually as far from either city as you would think.
Intriguing landscape
This was definitely a beautiful place and the view from the top of the Mesa was stunning. I'm subtracting 1-star for not being open for sunrise or sunset, eliminating my chances for a shot with great lighting.
Great hike, but prepare for the heat
This is an amazing hike that will give you some spectacular views near Santa Fe, the trail isn't too long so you can easily bust it out in half a day and on to your next adventure. One thing to definitely consider is the heat. The New Mexico sun can really heat up the area in the summer and I would suggest doing this early in the morning or in the shoulder months. Otherwise, it's definitely worth checking out!
Great Family Hike!
I was surprised how many people we saw at 4pm on a Thursday on this trail. Lots of parents with kids coming out of the slot canyon as well. Great views from the top for sure! We also completed the cave loop after coming down out of the canyon. Great afternoon!

Great Hike All Year
DON'T BRING YOUR DOG. Dogs aren't allowed and unfortunately we took ours the first time we tried to go. We went back, a week later and it was well worth the trip! The rock formations are amazing and seeing the cave where people once lived gives you the ability to transport back in time to what life must have been like. By far the best part is the longer hike to the top. Hiking through the rock formations and climbing 600ft in elevation is well worth the look out on top. Great day trip!

It was awesome with snow on the ground and crystal blue skies. No crowds in January.
Love this hike
Went to Santa Fe for the first time over Memorial Weekend, 2015 and we were looking for somewhere to hike. Found this and had no idea there was such a sweet place nearby for a day hike. The scenery is incredible and really unique - love the slot canyons. It was very crowded when we went. One of the most crowded hikes I had done in a long time. Maybe avoid holiday weekends.

Great day trip if you're not used to Santa Fe's high altitude. It's lovely in the colder months, too—just be careful of ice on the way up to the mesa.
Great Hike! Hiking in the slot canyon was very cool, definitely a good place to learn how to hike in slot canyons.
Activities:
Photography, Hiking
Features:
Bathrooms
Easy Parking
Scenic
Are we missing something?
Suggest an edit
More Adventures Nearby

Climb Mount Wheeler
New Mexico / Mount Wheeler Trailhead
Mount Wheeler is the highest peak in New Mexico at 13,161 feet and is considered the 8th highest state peak. The hike begins just over 10,000 feet near the Bavarian Restaurant.

Dip into Spence Hot Springs
New Mexico / Spence Hot Springs
Exit Interstate 550 and head North on Highway 4 heading towards Jemez Springs. The Spence Hot Springs Parking Lot and Trailhead is about 25 miles North off Highway 4.