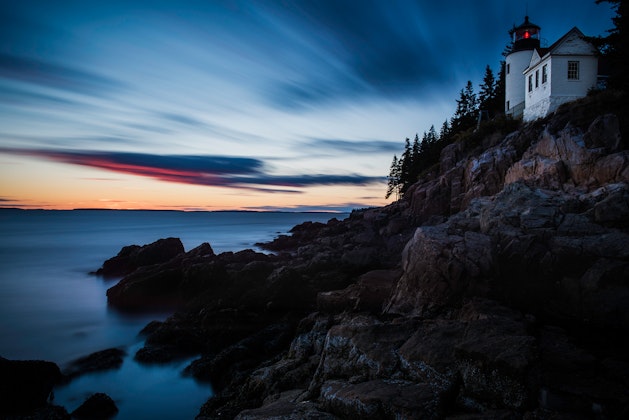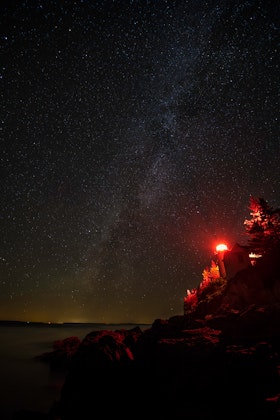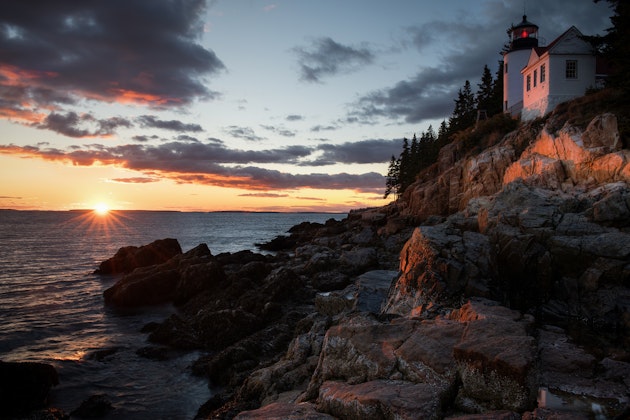 Added by Ross Kyker
No matter the time of day this picturesque coastline is one you surely won't want to miss on your trip to Maine!
The skill level can vary on photographing this picture perfect location but no matter your skill level be sure to arrive early to scout out your best composition and be prepared for the swarm of other photographers at sunset!
All photos were taken the same day at different times throughout the day so you can see how dramatic this coastline can be and hopefully help determine which look and feel your trying to achieve!
Daylight Hours - (Beginner)
While not recommended if this is the only time you are able to take pictures one thing to remember is to change your cameras meter to "Spot Metering" and place the meter somewhere in the blue sky away from the sun. This will give you a correctly exposed blue sky (instead of a white washed sky) and allow you to keep detail in the clouds, on the flip side this will make anything that is in the shadows slightly darker but thats ok! Lightroom or Photoshop can easily bring detail back from the shadows much easier then recovering detail from a "Blown out" or white sky. 
Sunrise/Sunset - (Intermediate) 
The most ideal time to shoot any landscape photo is an hour before to an hour after sunrise/sunset. Once the sun has fallen just below the horizon don't leave just yet! This is often when the best light show and colors happen but be ready for this moment because the colors don't last long! If you're shooting in automatic mode at these hours you can usually set your cameras meter to Matrix (Nikon), Evaluative (Canon) or similar for other models because the light in the sky compared to the light in your foreground will be much closer to one another. 
Twilight Hours - (Advanced)
Acadia National Park is one of the most desolate places in the Eastern United States and with a very low population there is not much light pollution from the surrounding cities which allows you to see many more stars and if you time it right the Milky Way swirling overhead! To best view the Milky Way try to plan your trip when it is a New Moon (no moon visible) and the later the better. Generally around 1:00 am to give the sun plenty of time to work its way out of the photo. 
In order to get the Milky Way and Lighthouse pictured above a 3 stop neutral density filter was used. In order to capture the Milky Way you generally need a high iso (3200-6400) and long exposure (about 20-30 seconds) but because of the light on the lighthouse it would have been way too bright and washed out most of the sky with that long of an exposure. So the dark part of the filter was placed over the light of the lighthouse to darken it and allow the camera to capture the stars that weren't covered by the filter. 
Pack List
Tripod is a MUST for sunrise, sunset and twilight photos
Camera
Good Footwear! it is a rocky terrain that you will need to walk over so wear good gripping shoes. 

Added by Ross Kyker
September 2015 I made the decision to walk away from my career in Marketing to pursue my dreams. I sold most of my belongings, bought a motorhome, married my best friend and here we are today traveling across America sharing our journey I hope you'll join us and enjoy!
Follow
Activities:
Chillin, Photography
Features:
Beach
Easy Parking
Family Friendly
Romantic
Scenic
Are we missing something?
Suggest an edit
More Adventures Nearby
Photograph Screw Auger Falls
Maine / Screw Auger Falls
After parking in the allotted parking area at screw auger, make your way down to the falls to explore! There are several "smaller waterfalls" that the river flows over before making its way to the 27.

Camp at Acadia National Park's Duck Harbor
Maine / Duck Harbor Landing
Introduction Didn't think there was backpacking to be done in Acadia National Park?  Think again!  Isle au Haut (pronounced "isle ah ho") is a little island off of Stonington, Maine.