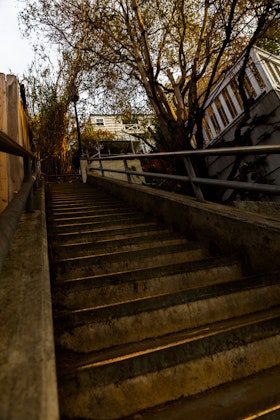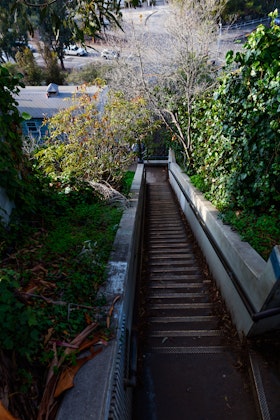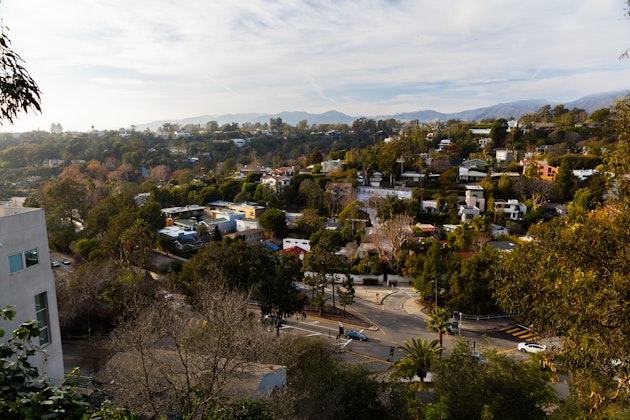 Added by Lucas Pols
Great workout with an even better view of Santa Monica Canyon.
The concrete Santa Monica Stairs are a great way to get in some intense leg burning cardio. There are around 170 steps that are wider and easier than the Santa Monica wooden staircase.
This place has been a hot spot in the Santa Monica fitness scene for some time so it is also a good place for meeting new, like-minded people, but because of this parking can be challenging. Best advice is to go early in the morning or closer to sunset!
Best way to get to the stairs is to enter off of 4th street and San Vicente and you'll basically run into them!
Pack List
Water (there are no drinking fountains nearby)
Good running shoes

Perfect workout in preparation for the real hikes
It's just stairs, but stairs are a great exercise to get in shape for the challenging hikes you want to do. While here you can see the Palisades and Pacific Ocean, I can think of worse places to be while training! It can get crowded on the weekend, you'll have to maneuver around others. In the end, this is not an adventure, it's the preparation for one.
Super Crowded on the Weekend
I tried on Saturday morning (rookie mistake) to take a nice little run up the stairs. However, it was incredibly crowded and I ended up having wait for space to open up on the stairs. These are great stairs, and an awesome place to work out, but definitely better on the weekdays.
Added by Lucas Pols
Photographer with a passion for culture, travel, and exposing those who do good in the world LucasJPolsPhotography.com
Follow
More Adventures Nearby

Climb Black Mountain on Santa Rosa Island
Los Angeles / Ventura Harbor
Words fail in describing the beauty of the Channel Islands National Park and Santa Rosa Island, the second largest of the Channel Islands and perhaps the most diverse in terms of terrain, flora and f.

Hike to Glendale Peak via Henry's Trail
Los Angeles / Griffith Park & Southern Railroad
While not really a full hiking trail and more of a small detour, Henry's Trail is worth the small uphill climb to Glendale Peak.  The trail is accessed via the East Ridge Trail, about 2.