Wavyleaf Retreat
Pigeon Forge, Tennessee
Wavyleaf Retreat features magnificent views such as you would expect from a fabulous lookout! With two covered decks, Wavyleaf Retreat provides the perfect atmosphere to relax and take in the sunsets or stars from country porch rockers.
No need to send out a scout to find the perfect vacation spot. Wavyleaf Retreat has exactly what you need!

The Space

No need to send out a scout to find the perfect vacation spot. Wavyleaf Retreat has already been established for you. And this particular "retreat" has impeccable taste! Your personal retreat is actually a gorgeous and spacious Pigeon Forge cabin in the Great Smoky Mountains. Nearly every window offers a spectacular view, but it's still only minutes away from all the attractions of Pigeon Forge and Gatlinburg.

With your modern needs taken care of, "Wavyleaf Retreat" features cable TV, DVD players, free long distance, and free Wi-Fi Internet. And for your gaming enjoyment, "Wavyleaf Retreat" includes a pool table, air hockey table, and home theater ready to indulge you. And don't forget to just put your feet up and relax together in the great room with a cozy fire roaring.

With accommodations for up to 12 people, you and all your favorite peeps can enjoy the southern hospitality. Split evenly with two bedrooms on each level, there is room for everyone to have their own space. Knowing a great night's sleep awaits you, the relaxing soak in the hot tub on the private deck will be just what you need to prepare yourself to meet the sandman!

Honeysuckle Meadows pool and deli are available. They offer fishing, seasonal outdoor pool, a pavilion for cooking out, and a deli. Open May- October. The fishing pond is catch and release. Pole rentals are only $5 and bait as well is available. You will enjoy a picturesque view from a comfortable lounge chair, swimming from 10 am – 9 pm daily in the large, sparkling clean pool, and some fabulous food selections from the deli and grill. Bathrooms, tables, and a kiddie pool are also available for enjoyment. Located less than 3 miles away from your cabin. Entry to the pool, pond, and pavilion are free for guests.
Nearby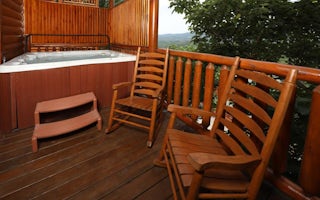 Pigeon Forge, Tennessee
"Majestic Mountain Lodge" features stunning top-of-the-mountain panoramic views, two master bedroom suites with stone fireplaces and whir...
From $614.50/night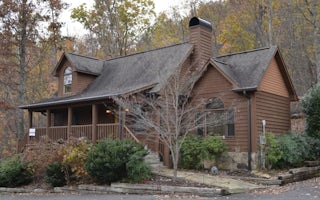 Pigeon Forge, Tennessee
Enjoy a warm soak in the Jacuzzi when you return from your day's outing in the park watch the sunset from the porch or dream by the fires...
From $210.50/night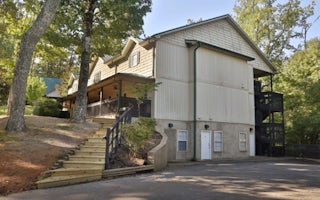 Pigeon Forge, Tennessee
Simply decorated you will find all the creature comforts of home and this will soon become your haven from the cares and worries of the w...
From $1,687/night
See more