Nebraska Tailwaters
Crofton, Nebraska
Overview
Nebraska Tailwaters Recreation Area, nestled along the Nebraska bank of the Missouri River, is a fun-filled camping destination just downstream of Gavins Point Dam. 

The 31,400-acre Lewis & Clark Lake and Gavins Point Dam are nestled in the golden, chalkstone-lined valley of the Missouri River growing into one of the most popular recreation spots in the Great Plains. Gavins Point Dam was authorized by the Flood Control Act of 1944, commonly called the Pick-Sloan Plan. Ground was broken at the damsite on May 18, 1952, in a ceremony attended by Lieutenant General Lewis Pick, then Chief of Engineers, and the Governors of South Dakota and Nebraska. Construction began immediately and in September 1956 the Powerplant began producing electricity for customers. The total cost of the dam totaled just under $50 million. Yearly benefits from the dam are estimated at $35 million dollars. Below the dam is Lake Yankton and the Missouri River. Each of these bodies of water provides excellent fishing, boating and numerous other great outdoor recreational opportunities.
For more information, please visit the Gavins Point Project Website or call the Lewis & Clark Visitor Center at 402-667-2546.
Recreation
Located just below Gavins Point Dam in the dam "Tailwaters" provides exceptional access to the Missouri River. A large 2-lane boat ramp, large parking area is available, along with an accessible fishing pier and many areas for bank fishing. The Lewis and Clark Lake area attracts more than 2 million visitors each year to its shores. Recreation opportunities around the lake include camping, fishing, hunting, hiking, boating, sailing, swimming, bird-watching, and photography.
For the biking and hiking enthusiasts, three trails are available in the area. They include a paved trail that runs from Yankton to the Gavins Point area, a multi-use trail in the Gavins Point area and the Calumet Bluff hiking trail located near the visitor center. Wintertime activities include ice fishing, cross-country skiing, snowmobiling and sledding.
Developed public parks and recreation areas surround the lake above and below Gavins Point Dam. Camping facilities provided by the Corps and the States of South Dakota and Nebraska include boat ramps, picnic areas, campsites with electricity, modern restrooms, playground equipment and trailer dump stations.
Facilities
Nebraska Tailwaters offers 42 campsites, 31 of these campsites have electric hookups and 11 of the campsites are non-electric and are for tent camping only. Amenities include modern shower facilities with flush toilets, river access with shore fishing, handicap accessible fishing pier, boat ramp, fish cleaning station and RV dump station. There is also a Group Camping Area with electric hookups, picnic shelter, fire pit, grill, and vault toilet. 
Natural Features
The campground sits on the south bank of the Missouri River, along the tailwaters of Gavins Point Dam. Surrounding the area is the golden, chalkstone-lined Missouri River Valley. Nebraska Tailwaters is known for its exceptional Bald Eagle viewing year-round, along with many other birds of prey. 
Nearby Attractions
The Lewis and Clark Visitor Center is located just south of the campground off Highway 121. Stunning views of the Missouri River Valley along with exhibits showcasing local history including the Lewis and Clark Expedition. The visitor center is open daily from Memorial Day Weekend through Labor Day Weekend and open weekdays during other times of the year. For more information, please contact the visitor center at (402) 667-2546.
Gavins Point Dam Powerhouse Tours are available on weekends, contact the Lewis and Clark Visitor Center at (402) 667-2546 for more information.
The Gavins Point National Fish Hatchery, located just east of Gavins Point Dam off SD Highway 52 is open daily during summer months and features an aquarium, hatchery facility and nature trail open to the public. 
Visit nearby Yankton, South Dakota - the historic capitol of the Dakota Territory.
Nearby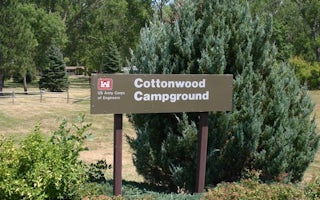 Yankton, South Dakota
Overview Cottonwood Recreation Area is located just downstream of Gavins Point Dam and Lewis & Clark Lake along the western shore of ...
See more
Adventures Nearby
Clay County Park Nature Trail is located in Vermillion, South Dakota and includes a 2.1 mile loop hike that runs along the river. At the trailhead, you will find a lookout and picnic area, along with public bathrooms. The trail itself winds throug...
Spirit Mound Historic Prairie is located outside Vermillion, South Dakota and consists of a 1.4 mile hike up to the top of a prairie mound. Lewis and Clark made the trek years ago, making it a historical marker to visit and see. Beautiful wildflow...
Ponca State Park Trails is a 5.6 mile loop hike that takes you by a river located near Ponca, Nebraska.
Unfortunately, we don't have up-to date pricing data for this listing, but you can check pricing through Recreation Gov.
Book Now