East Fork (Wv)
East Lynn, West Virginia
Overview
East Fork Campground is located on the shores of East Lynn Lake on the East Fork of Twelvepole Creek, near East Lynn, WV. Visitors come to East Fork for camping, boating, water-skiing, fishing, hiking, hunting and picnicking.
Recreation
East Lynn Lake stretches 12 miles up Twelvepole and offers 44 miles of shoreline. It provides many recreational activities, including boating, water skiing, canoeing and swimming.

Anglers fish for largemouth, smallmouth, and striped bass, black crappie, red-breast sunfish, walleye, channel catfish and muskellunge. 29 species of fish have been found in the lake.

Several miles of hiking trails thread through the wooded hills on the lakeshore, including the 1.5-mile East Fork Trail, which begins within the campground. Other trails in the area include the Damsite Trail, Overlook Trail and Lakeside Trail.
Facilities
The campground offers 167 sites with electrical and/or water hookups. Amenities include flush and pit toilets, showers, drinking water, and a dump station. A boat ramp, amphitheater, playground, and basketball and volleyball courts are on-site.
Natural Features
The lake is situated among rolling hills forested with a mix of upland hardwood trees. A variety of wildlife makes its home around East Lynn Lake, including black bears, white-tailed deer, grouse, rabbits, raccoons, squirrels, turkeys and waterfowl.
Nearby Attractions
The East Lynn Lake Wildlife Management Area is nearby with 25,000 acres of public lands open to hunting, fishing and hiking.
Nearby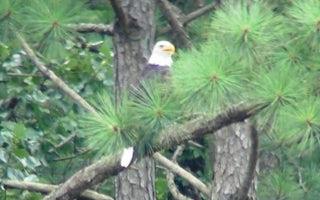 Prestonsburg, Kentucky
Overview Dewey Lake Shelters offer a day-use area on the shores of Dewey Lake in eastern Kentucky. Located just west of the Appalachian M...
See more
Adventures Nearby
Located about 30 minutes from Huntington, the Overlook Trail gives hikers an overlooking view within Beech Fork State Park. Maps and brochures can be obtained at the park entrance. Admission is free. Upon entering the park, the trailhead is locate...
Located just outside of Charleston the Kanawha State Forest is a great to experience West Virginia. This hike in particular gives you a taste of the mountains as well as a look into the deep history of coal in the area. This hike allows encounters...
The Grayson Lake State Park has two trails – the Lick Falls Loop Trail, and the 0.8 mile Beech-Hemlock Forest Trail. Lick Falls is best done after a rain, to make sure the falls are flowing. A trail map of the park can be found here.
Unfortunately, we don't have up-to date pricing data for this listing, but you can check pricing through Recreation Gov.
Book Now