San Augustine
Bronson, Texas
Overview
San Augustine Park is set along the Ayish Bayou tributary on the shores of Sam Rayburn Reservoir.

In spring, take advantage of excellent birding opportunities as neotropical birds like warblers and vireos pass through the lake en route to the Gulf of Mexico.
Recreation
The lake is a highly popular destination for boating and fishing. Game fish include largemouth bass, bluegill and channel catfish, but it is the abundance of bass, which inspires more than 500 annual tournaments.
Facilities
San Augustine features 100 sites with electric and water hook-ups. Among the many amenities are a group shelter, swimming beach, volleyball, boat ramp and an interpretive trail.
Natural Features
With more than 114,000 surface acres, Sam Rayburn is the largest man-made lake that is completely within the boundaries of the state of Texas. The reservoir is fed by the Angelina River, a major tributary of the Neches River.

The piney woods region boasts native flora like orchids, insect-eating plants and scores of animal species.
Nearby Attractions
From the eastern edge of the lake, hikers can embark on a 28-mile trail that heads east to the Toledo Bend Reservoir.
Nearby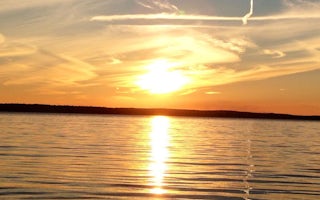 Brookeland, Texas
Overview Mill Creek Park is a large, comfortable campground on the Sam Rayburn Reservoir, also known as Lake Sam Rayburn, tucked in the p...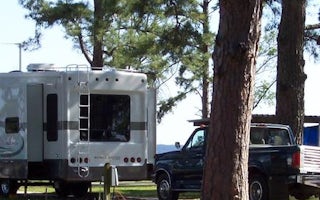 Broaddus, Texas
Overview Rayburn Park lies on the north shore of Sam Rayburn Reservoir, a popular family destination with boating and fishing and access ...
See more
Adventures Nearby
Beaver Pond is a 6.3 mile loop hike where you may see beautiful wild flowers located near Brookeland, TX.
Park in the circle in the Boykin Springs Recreation Area (see map) to access the trail. This is a dog-friendly trail that doesn't get crowded.
Walnut Paddling Trail is a 3.11 mile loop hike that takes you past a lake located near Jasper, TX.
Unfortunately, we don't have up-to date pricing data for this listing, but you can check pricing through Recreation Gov.
Book Now