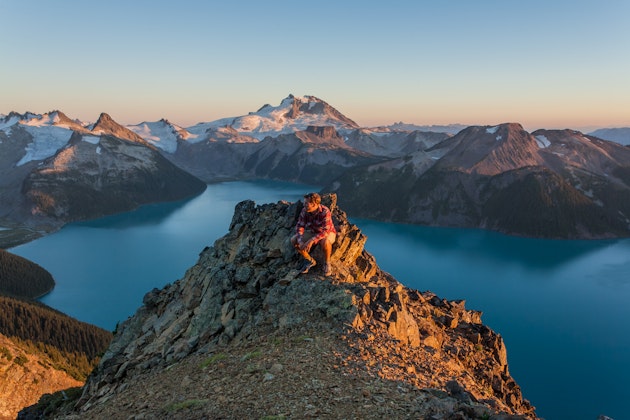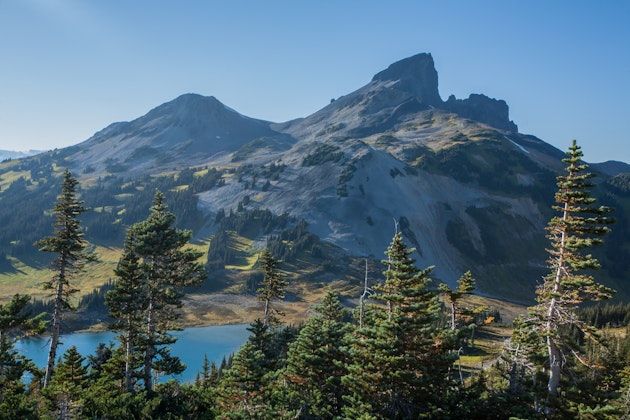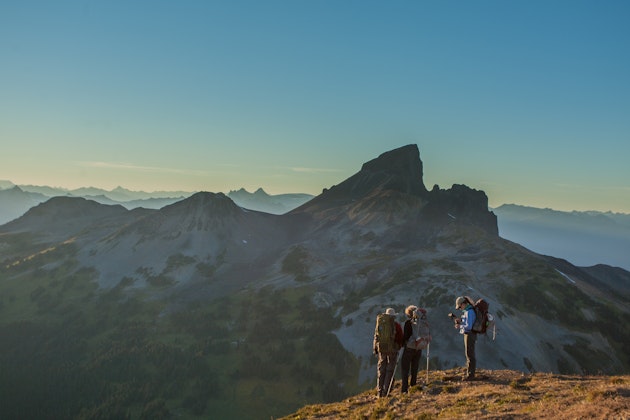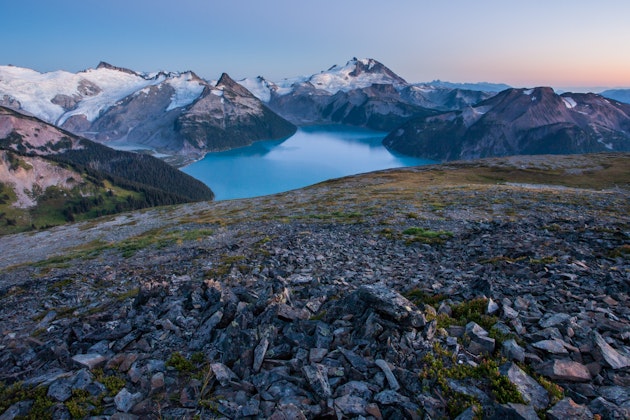 Added by Matt Hosford
Great views throughout this backpacking trip in Garibaldi Provincial Park. Hike up Panorama Ridge for a sunset to yourself. 
Take the Sea to Sky Highway (HWY 99) north from Vancouver up towards Whistler. Turn off the highway about 30 minutes before Whistler Village onto Daisy Lake Road. There are signs along the highway indicating the Garibaldi Lake turn off. The trailhead is located at the end of Daisy Lake Road. There is day and overnight parking available here ($10 for overnight parking).
The trail is very well marked and graded. On a sunny weekend expect lots of other campers. It is advised to leave early in the morning if planning to stay the night as spots are limited and fill up quickly on most weekends. There are no reservations.
The first 1.5 miles / 2.5 km of the trail follows the river valley at a consistent uphill gradient. From here, the trial climbs up at a steep gradient over a series of 20+ switchbacks. At the 6 km (3.7 miles) marker, the trail flattens out and you reach a fork.
From here you have the option to hike (1.9 miles / 3 km) to Garibaldi Lake Campground to have lunch and a swim before reconnecting with the Panorama Ridge trail. This adds approximately 1.25 miles / 2 km to the trip.
The fastest way up Panorama Ridge is to take a left at the folk and head towards Taylor Meadows Campground (1.5 miles / 2.5 km). At Taylor Meadows, drop your pack and set up camp. You'll want to stake out a spot and have it ready for when you return that night. Pitching a tent is not as fun in the dark. You also have the option to set up camp at Garibaldi Lake Campground.
Having set up camp, continue towards the Black Tusk – Panorama Ridge Valley. The thick forest opens up into the alpine meadows. The views of the Tusk, the mountain flowers and Tantalus Range will have you wondering if the hike could get any better than this. Well, it does.
There are a number of forks between Taylor Meadows and Panorama Ridge but each fork has a post with arrows pointing which way to go and the distance remaining to each destination.
Finally after 7.5 miles / 12 km you'll find yourself at a fork at the foot of Panorama Ridge. Take the right and follow the ridge line to the top of Panorama Ridge. The gradient is relatively steep, climbing 1100 ft / 340 m over 1.9 miles / 3 km. Be sure to follow the beaten trail on your way up as there are steep drop offs to the climbers right.
Once at the top, there are plenty of places to explore and find a secluded spot. The views are incredible! The massive glacial fed lake lies below you and the iconic Mt. Garibaldi towers in the distance.
As the sun starts to set you'll want to find a good spot to frame your shots. There are limitless options here. The cairns and little rock outcrops are great to add for foreground compositions. Point your lens towards the sun for some coolsilhouette shots. The light during the golden hour are best for landscapes and will leave you with unreal shots. Make sure to stop and soak it all in every once and a while…maybe even enjoy a beer with the view.
Depending on your energy level (and warm clothes) stick around for the stars to come out. The city lights from Vancouver are visible in the sky and can give your night shot some interesting color. If not, pack up your gear and carefully make your way back down to Taylor Meadows. A head lamp is essential for the hike off of Panorama Ridge. Make your way back to camp and pat yourself on the back for being awesome.
Safety Note:
During winter months and sometimes later on in the year there is snow on Panorama Ridge. The terrain along the ridge and at the top is very exposed and steep in some areas. During these conditions, crampons and an ice axe are recommended to summit the ridge.
Pack List
Camera, Tripod, Polarizer, ND filter
Camping Essentials (cooking gear, tent, sleeping bag etc.)
Small day Pack for the hike up Panorama Ridge
Head Lamp
Sun screen
A tall one

Stunning but challenging
This hike is absolutely stunning - assuming the weather cooperates! Absolutely worth the trek, but not a very "beginner" hike. The switchbacks are very steep and quite a challenge - throw in the actual hike to the ridge and your work is really cut out for you. I split the hike into two days (did the hike to camp for the night, and hit the ridge the next day) and it was still tough. But if you are physically able - absolutely do it!!!

Fantastic Hike
Best trip i have ever done
Beautiful View!
We just did this hike on a Sunday-Monday overnight, they have changed their policies for the backcountry campgrounds during peak summer season that you now must have a reservation completed online to camp. As for the hike, it was amazing. The final scramble to the top is as Matt said very steep, however we did find another way we could have taken that was not as exposed to drop offs and not as steep. Once you are at what seems to be the last stretch, part of the beaten trail goes right, and part goes straight/left. Following to the straight/left at this option is the safer choice. Also a couple snow packs to cross during the ascent to the ridge in mid August so best to just expect snow whenever doing this hike :)

Nice write-up
Can you camp up there or just at the campground?

Must do.
Made this trip from Seattle last year and was amazing! The ridge has some of my favorite views to date.
Probably one of my all time favorite places. If you want to see some mountain magic, this is the place. Highly recommended!

Hey Peter, I have a Canon 5D Mark ii. 17-40 mm 4.0f. I used a polarizer and ND Grad filters too. Cheers!

Great pics. What camera set up do you have? Are the HD shots?

Added by Matt Hosford
Travel, Photography, Camping, Skiing, Environmental Consultant, Guitar, Beers, Friends.... Life's good : )
Follow
Activities:
Camping, Photography, Swimming, Backpacking, Hiking
Season:
Spring, Summer, Autumn
Are we missing something?
Suggest an edit
More Adventures Nearby

Hike to Bonnell Creek Falls
Canada / Bonnell Creek Falls Trail
This trail isn't much to look at but it's all about the destination here as you will stumble upon scenic waterfalls nestled in the quiet Nanoose Bay area.