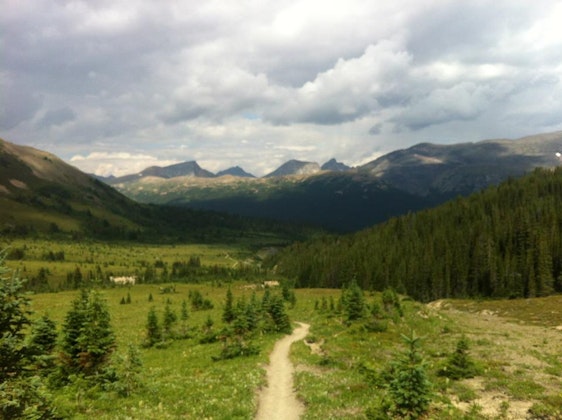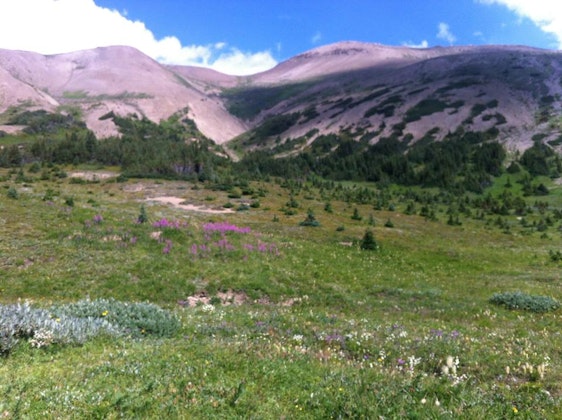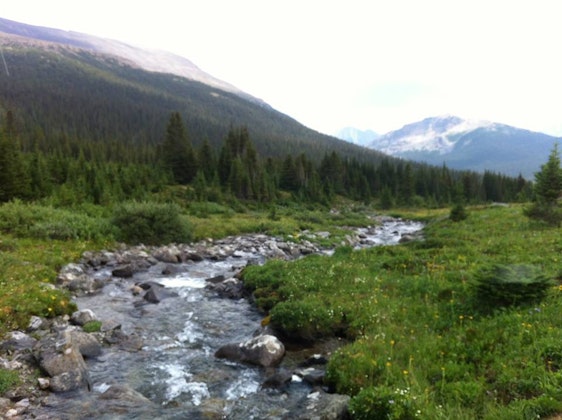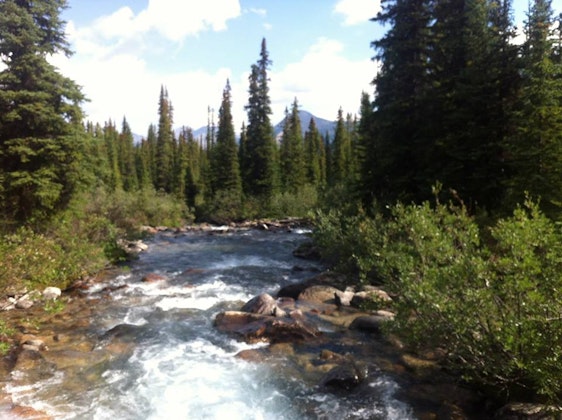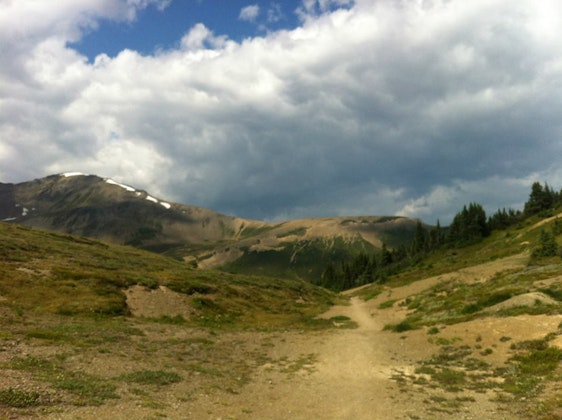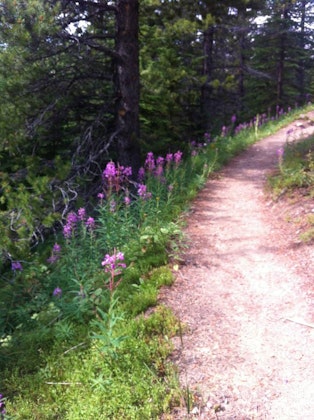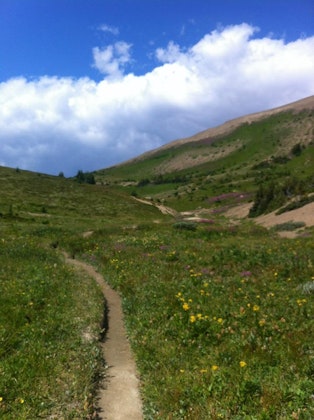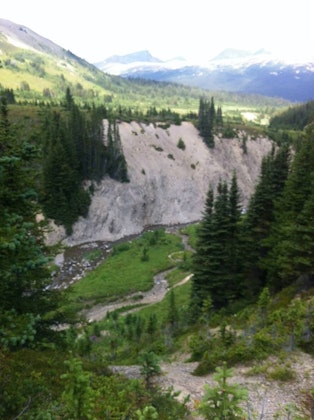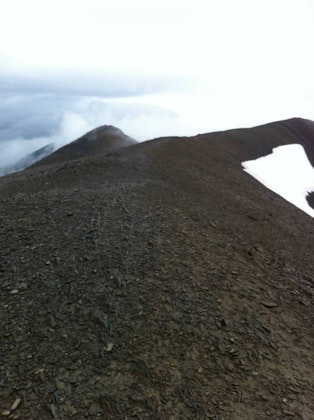 Added by Ann Conrod
Known as one of the premier backpacking trails in the Canadian Rockies (Jasper National Park), the Skyline trail is a 45 km backcountry hike. With over 25 km of it being above the tree-line, it deserves the name "Skyline".
This hike can be done from either end, but the most popular route is starting from south side (Malign Lake trailhead), and I would recommend starting it from this trailhead to avoid a long climb up the fire road at the other trailhead. If you don't have a car, you can take the Malign Shuttle from Jasper Town for around $25, and then either hitch back to town or get picked up. 
Be prepared for parts of this hike to be strenuous, as you hike over three mountain passes - Little Shovel, Big Shovel and the Notch. And before you tackle the notch (the highest point on the hike), be ready for all types of weather, as you are completely exposed to all the elements on the ridge. During my hike I was given every type of weather possible (apparently pretty common) - sunshine, hail, snow, and pouring rain - all in two days. (Pack extra socks.)
There are lots of places to camp along this trail, so you can truly make this hike as long or as short as you want. All campsites have bear poles to store your food. Backcountry campsites: Evelyn Creek (km 5.2)  Little Shovel (km 8.1) Snow Bowl (km 11.8)  Curator (km 20.4)  Tekerra (km 30.1) Signal Mountain (km 35.7)
I camped at Curator, which is a little over 20 km into the hike, and finished with longer and tougher day two (25 km). A few km from Curator is the Shovel Pass Lodge, where you can book to stay if you prefer not to backpack. I picked Curator to camp at because it is positioned just before the Notch, so I was able to tackle that part of the hike fresh after a full nights sleep and a big breakfast!
The Notch is the highest section of the trail. As you can see from my pictures, the weather was not great during this part of the hike. After descending the notch, the hike evens out and is fairly easy for most.
Pack List
Trail map
Flashlight
Food (depending on how many days you are planning on hiking)
Tent
Sleeping bag
Water bottle and water filtration system (there are lots of lakes and streams to fill up at)
Bug spray
Bear spray (you're in Grizzle Bear territory)
Med Kit
Clothes: layers, extra socks, light rain jacket
Toilet paper
Please respect the places you find on The Outbound.
Always practice Leave No Trace ethics on your adventures. Be aware of local regulations and don't damage these amazing places for the sake of a photograph. Learn More
Activities:
Backpacking, Hiking
Skill Level:
Intermediate
Trail Type:
Point-to-Point
Features:
Forest
Groups
Lake
Scenic
Wildflowers
Wildlife
Are we missing something?
Suggest an edit

Epic Views, Solid Workout, Lots Of Marmots
This trip was Fantastic. My best friend, his dad, and I all took off the first day from Maligne lake off the shuttle and hiked up to snow bowl campground. The scenery was lovely and the trails were fairly wet, the gaters were a lifesaver. The second day was more cloudy but it opened up later, hiking through plains, up through a small pass, and into a completely different change of scenery. A long Rocky trail greeted us with sightings of a few mountain sheep and many, many, many marmots. The hike was long all the way to the curator sign post above the lodge, and we took off straight up to the notch. Travelling at about 1.2 km/h up to the notch it was gruelling, hard work and lots of heavy breathing, watching our steps in the muddy spots. But the view from the pass was unbelievable. You could see all the way back the the first pass in one direction, and Marmot Basin ski resort in the other direction. We took a rest at the top for some water and snacks, then off along the long mountain ridge for many more spectacular views of the Jasper valley and other valleys besides filled with snow caps and glittering blue lakes. We took a long switchback trail down into the valley to the Tekarra campground. A full 18km day and we were dead on our feet. Each of us carrying 40lb packs, it was a long day. That evening it poured for about an hour but the sky opened up right as the sun went below the peaks. The next morning we shipped out across the river and had a lovely long hike, relatively flat, along and around the mountains till was faced Jasper once more. Then we hit the fire road. The fire road was 9 long km of steady decline and if your shoes aren't great, then your toes may be hurting, set to the example of my hiking partners who ached all the way down. But in the end we were content and the finish line was much worth it. To finish this off, the hike was amazing. Beautiful. Quiet. And not super busy. We all enjoyed ourselves, and I look forward to taking the trek again in the future.

Skyline
My husband and I completed this trip last summer. We teamed up with another couple to coordinate car placement - we drove they drove our car to trailhead at Maligne Lake, and we parked theirs at the trailhead in the canyon. Our one friend had not backpacked in years, so my husband and I opted to hike in the "wrong" way (canyon to lake). This made for a fairly uneventful first few kms in the trees. Once we broke out into some open space, we were able to take in some spectacular views. We continued our hike past Tekarra campsite through the Marmot-rich valley and onto the spine. It was a particularly cold and windy day, so unfortunately we boogied toward "the Notch" and off of the spine as quickly as possible. Once we reached the bottom, we were very near Curator campsite (alas, not our end destination for the day) and continued along the trail to the intersection of Watchtower. Due to the popularity of Skyline Trail, it can be difficult to get the sites you want along the trail (especially when you are hiking against the grain). My husband and I, booked a site off of the main trail along Watchtower. After a slog over a ridge and down into a marshy valley, we were ready to call it a day. The positive? The campsite was very private, in fact I think we were the only people in the valley. The not so positive? The mosquitoes set a new standard for "worst I've seen". Hungry and tired, my husband and I contemplated just going right to sleep rather than venture out of our tent to eat among the mosquitoes. In the end hunger won, but the bugs certainly took a toll on our morale. The next morning we slogged out of the valley early in anticipation of meeting our friends along the trail. A few hours in, we met them. They had eaten lunch at Evelyn Creek campsite (our destination for the night) the day prior and told us the bugs had been pretty bad. My husband and I opted to alter our plan and to hike out that day and get a campsite at Wapiti where we could have a fire instead. Overall, it wasn't a bad trail, but I wouldn't hike the whole thing again. After some discussion, we decided that if we were to hike the Skyline again, we would still hike it in reverse (Canyon to Lake) and would stay a couple nights at Tekarra. From there we would surge out on a few day hikes further along the trail. Happy hiking!
More Adventures Nearby

Snowshoe to Johnson Lake
Canada / Johnson Lake Parking
This is a well-traveled hike, so if you stay on the path, you'll likely need only a good pair of boots.

Snowshoe Mount Tyrwhitt
Canada / Mount Tyrwhitt Parking
Describing snowshoeing trails is always a bit difficult, but luckily the way up Mount Tyrwhitt gets used heavily by people going to Pocaterra Cirque - first thing to remember is to take the first for.