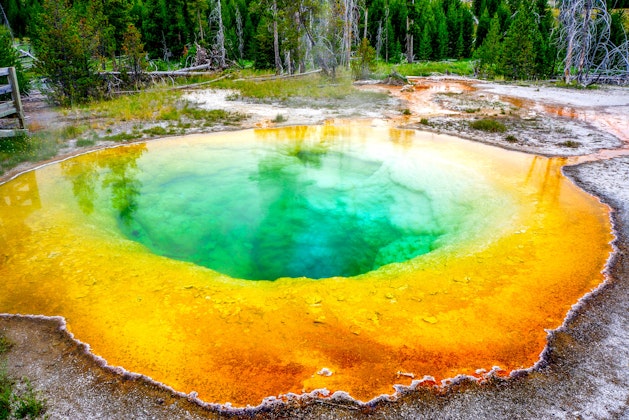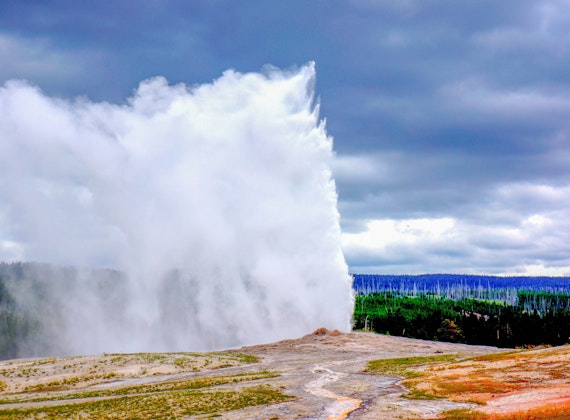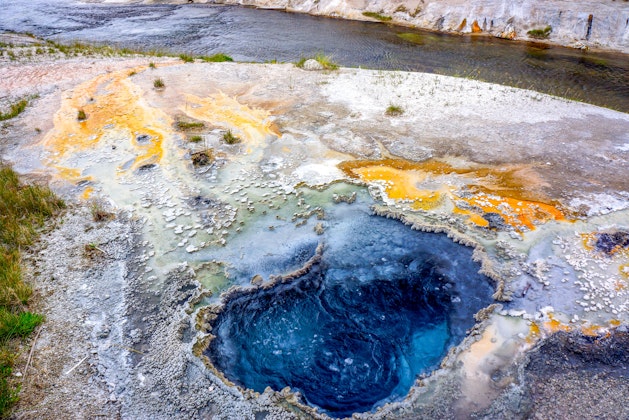 Added by Danny McGee
Want an adventure that will make you realize just how alive this earth truly is? Hiking through the Old Faithful Area in Yellowstone National Park will do the trick. Numerous trails wind through the the area, past hot spring pools, geysers, and thermal vents. The crystal clear blue water and explosions of steam that happen at regular intervals is surreal, and undeniably beautiful.
Starting at the Old Faithful Lodge, which is a sight to see in itself, several trails start out heading away the actual Old Faithful geyser. You can take either one as they form a loop so you will eventually end up back where you started. It is a combination of dirt trails and wooden walkways that crisscross and zigzag throughout the different areas.
There are numerous thermal pools and geysers that go off at regular intervals. Signs posted lead you in the direction of whichever spring you choose. By each spring there are signs that provide names and information.
Some notable things that I wouldn't miss are the Morning Glory Spring (pictured above), Old Faithful itself (obviously) and the Beehive Geyser.
There is so much to see you could easily spend an entire day exploring the area.
Make sure to stay on the marked paths so you do not disturb the environment. 
Pack List
Good walking shoes
Camera
Water bottle

Go for sunrise
Park regulars who were camped near us recommending getting the Old Faithful for sunrise. Made for a really early morning as we had to drive from the opposite side of the park, but so glad we heeded the advice. While Old Faithful is usually surrounded by crowds, we witnessed the world's most famous geyser in relative solitude. The light at sunrise made from some great pictures as well.
It's Not Yellowstone Without Old Faithful
Old Faithful is a must if you are going to Yellowstone NP. Perfect day trip for the family. Easy drive from West Yellowstone.
Worth It
A short walk to the viewing platform surrounds you with thousands of other people ready to view the geyser. Every park ranger as well as signs within the information centers have a prediction of the next rupture (it's usually very close to this time). If you want a good view without heads in your way I would get there a bit early to get the front row.
Have to see Old Faithful once in your life...
It's pretty incredible to watch, I have been to Yellowstone twice. After the first time seeing it, it's not as exciting in my opinion. If you have never seen it, go see it.
Iconic
The old standby. Must do for every Yellowstone visit.
Avoid The Middle of Summer.
Old Faithful is definitely something you must see at least once in your life, but try to avoid the summer at all costs. You might as well go to Disney World. I understand it's a very popular place because of its beauty, but it seems like people lose their minds and all common courtesy. Don't expect the normal like minded hiker you meet on trail. During the summer, the park is packed with people who don't respect the outdoors. I strongly encourage you to go, but just know what you are in for.

Perfect for everyone
I think the best part of Old Faithful is that it's accessible for everyone - I went with my family and my 73 year old grandmother had the same experience as her 16 year old granddaughter. We arrived about 4 minutes before it erupted (AFTER the predicted time) and still had perfect vantage points, so don't stress out if you're running late. There are plenty of boardwalks around the area with different geysers and formations allowing you to explore more than just the main viewing platform.
Classic Yellowstone adventure
In an attempt to get away from the crowds, I hiked the short trail to Observation Point to watch the eruption. It was cool to see it from above, but afterwards I wish I would have seen it from ground-level instead (even with all the people). It's remarkable how well-timed the eruptions are. Certainly helps with planning the day!
bucket list adventure
Visiting Yellowstone and Old Faithful is simply put a bucket list adventure. The park has endless scenery and Old Faithful surprisingly lived up to it's hype. Watch it go off with thousands of others waiting on the boardwalks then be sure to check out the Old Faithful Lodge before leaving.
Underwhelming
I visited on a long road trip, mid summer afternoon, expecting magic. The crowds were ridiculous and frustrating. Old Faithful was a bit of a letdown for me - most likely because I had too high of expectations and it was in the mid afternoon light instead of around sunset. I thought the surrounding geysers and thermal area were far more fascinating. There is so much more to see and do in Yellowstone that I think would be a better experience. Old Faithful is something I would only recommend if you have some free time rather than planning your day around it.
Prepare For Crowds
Obviously Old Faithful is a must-see when visiting Yellowstone. Because of that-there will likely be at least 1,000 other people watching the eruption with you (if you're there during the summer). To avoid some of the crowds, take a short hike up to Observation Point to watch Old Faithful erupt from atop a hill. Remember to always stay on the boardwalks and never touch the thermal features.

A Classic
Must see to appreciate. I recommend a hat, rain coat, comfy walking shoes, water bottle, bear spray and sunglasses. Maybe even a seat cushion. A plus is the ice cream that is sold at the General Store across the parking lot, by far the best ice cream at Old Faithful, locally made, creamy and not like that frozen swirls.

Activities:
Chillin, Photography, Hiking
Features:
Bathrooms
Easy Parking
Family Friendly
Food Nearby
Groups
Hot Springs
River
Scenic
Wildflowers
Wildlife
Are we missing something?
Suggest an edit
More Adventures Nearby
Hike to Glory Peak
Wyoming / Glory Peak Trail
This hike starts at a very high elevation, and the incline is steep! The views make the elevation worth it. This trail is best used in the summer or early autumn.  Photos: Dave Thomas and Antoine
Hike to Lower Sheep Canyon
Wyoming / Lower Sheep Canyon Trail
The trail is moderate in difficulty and is used primarily for hiking. There's a smaller game trail along the ridge line that should be avoided.  Photos: Alan English and Robert