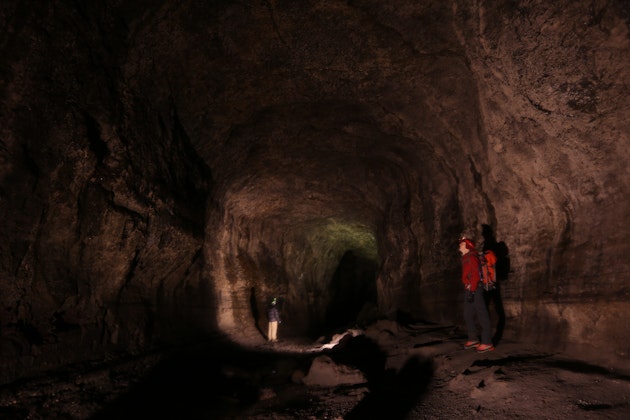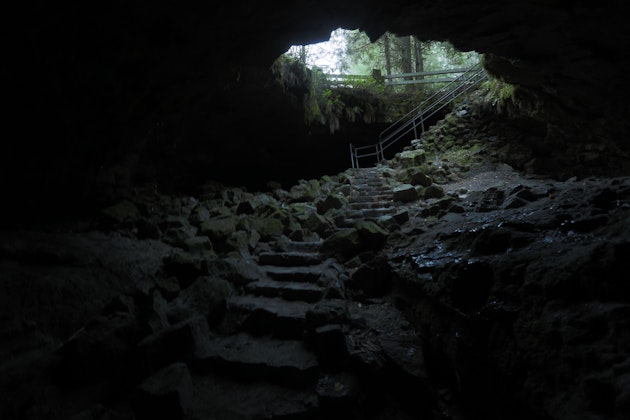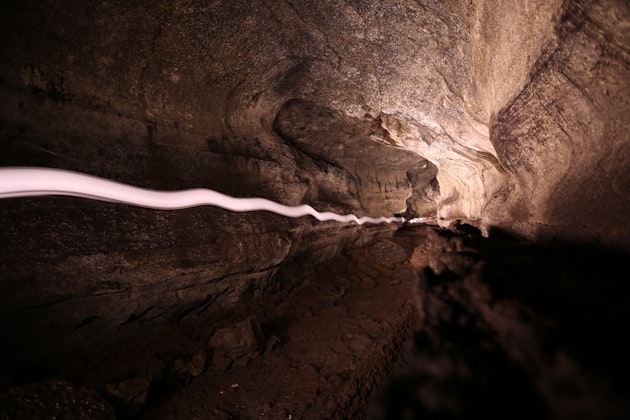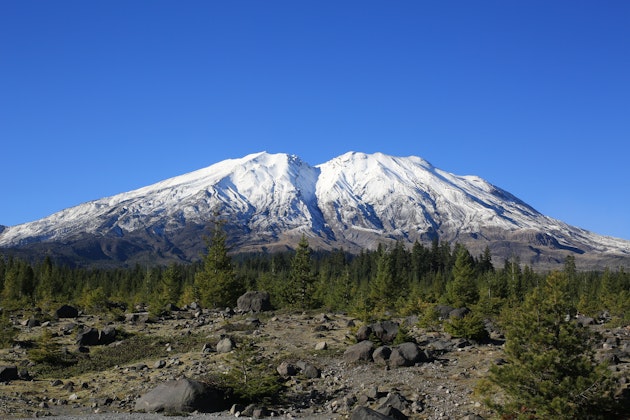 Added by Mitch Pittman
Walking around in lava tubes. The darkest dark you've ever experienced. Many other adventures nearby. Options for many skill levels. Explore in any season.
As if erupting volcanoes weren't awesome enough, ancient lava flows also left behind these giant, hollow tubes as they cooled. Spend all day exploring deep underground in this 2.5 mile cave.
To get there, head to the SOUTH side of Mount Saint Helens. You must pass through the town of Cougar to get here, DON'T go to the Johnston Ridge Observatory.
Now, let's explore some caves! It's a short walk from the parking lot to the main cave entrance. Take time to read about how the caves were formed, how they were discovered, and why they're called the 'Ape' Caves. I won't ruin it for you, but it's all interesting!
Descend into the lava tubes first down a stone staircase then a metal one. Make sure you have multiple light sources with fresh batteries. It is extremely dark down there and you don't want to run out of light down there.
The cave is divided into the upper and lower portions. The lower is easier, shorter, and must be done as an out-and-back. Follow the tube as it wiggles deeper into the ground, and pass features such as 'The Meatball' and the 'Railroad Tracks.'
The upper cave is more difficult to negotiate, with large rock piles to scramble over and an 8' lava wall to deal with. There is also a skylight and another entrance/exit at the top of the cave, with a path back to the main cave entrance.
This is an exciting adventure that can be paired with others in the southern Mount Saint Helens area, such as the Lava Canyon, Ape Canyon, or a hike up the south side of the mountain.
Pack List
Headlamp
Backup headlamp
Warm, waterproof clothes
Boots
NW Forest Pass for parking
Pretty cool caves!
The Ape Caves are such a perfect example of lava tubes in the Cascades, and they're pretty family-friendly to explore. We stuck to the shorter of the two having just climbed St. Helens, but it would be neat to take the longer cave and pop out the far exit in the forest somewhere.
Fun Adventure
Did the easier of the two and had a good time. It's a fun place to do some long exposure photography with your lights. Definitely bring a jacket and good lighting you can depend on.

Rad Tubes
This was a wonderful cave experience to say the least. It's super dark which is amazing for those of us that love that adrenaline rush. The easy lower section was a nice walk, but if you want a real hike I definitely suggest tackling the upper section too. There's quite a bit of scrambling throughout! Major downside is that there's quite a bit of trash in both sections and human feces in the upper, along with some graffiti which takes some of the fun out of it.

Explore the Darkness!
This adventure is something else and I think everyone should give this a go as I would describe it as an enlightening of the mind. Just like any place where your sight is hindered it enhances the other senses. Explore every corner and crack. There are beautiful rock formations including the meatball and train tracks. Also, if you look into the cracks you can see the red rock! Really encourage that you to go on this one! Ohh and start from the top of the upper part then go down from there.

Creepy and Cool
I'm kind of in love with the Ape Caves. Being a person with an active imagination, being in basically a natural subway tunnel of darkness and silence, my mind was blown. And my little headlamp was not enough...next time I'd go with a bit brighter than the average headlamp.
Pretty neat cave system
I went here on a high school field trip with my geology class and it was epic. It was the first time I had ever been in any caves. Well worth it.
One Time Thing
Make sure you bring a BRIGHT lantern of some kind; it was super cool, but very hard to see. Definitely worth seeing, but I'd say it's a one time thing. We had the misfortune of going on a day when a junior high field trip was also exploring the caves, which made it a bit crowded than it might've otherwise been.

This is very cool! We did the easier cave; next time I'll do the more adventurous one.
Added by Mitch Pittman
I live in Seattle, but my life happens in the mountains. My hobbies include long walks in the woods, whiskey in hot springs, and carrying skis up long slogs for a few turns in late summer.
Follow
Activities:
Photography, Hiking
Features:
Bathrooms
Easy Parking
Family Friendly
Are we missing something?
Suggest an edit
More Adventures Nearby

Hike Mailbox Peak New Trail
Washington / Mailbox Trailhead
*Disclaimer this article is in regards to the newly built trail.* For the old trail, head to Hike Mailbox Peak.  Just off of exit 34, Mailbox Peak offers a birds-eye view of the surrounding area.
Hike to Grand Valley via Grand Pass
Washington / Grand Pass Trail
Camping is available around Grand Lake, Moose Lake, and Gladys Lake. Camping / backpacking requires permits from May 1 - September 30th.  Photos: Sean Munson, Sankara Subramanian, Wild Trees