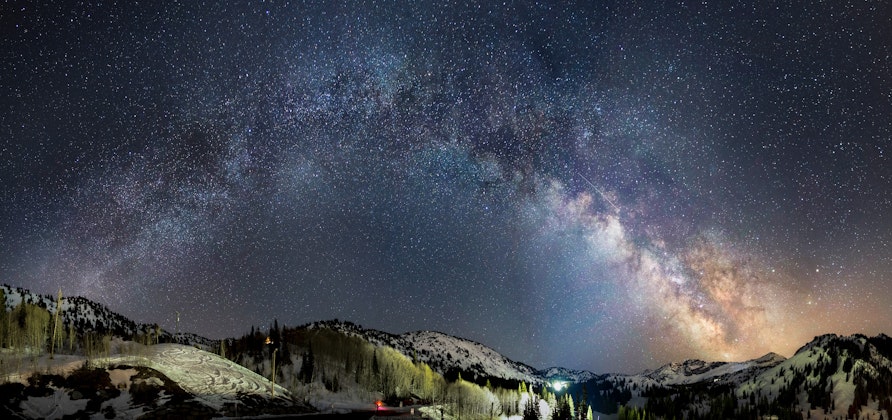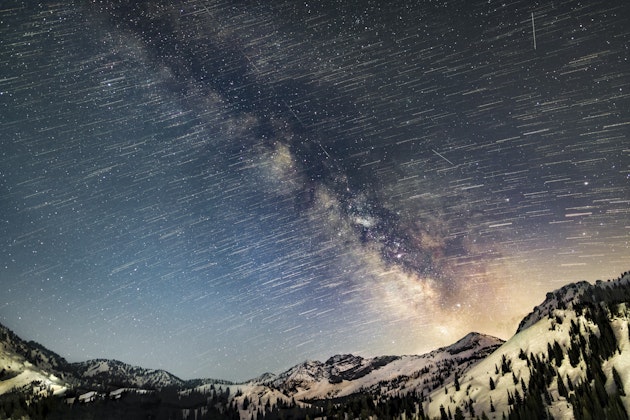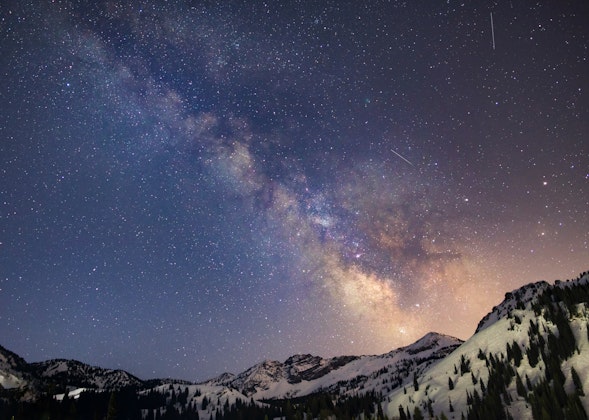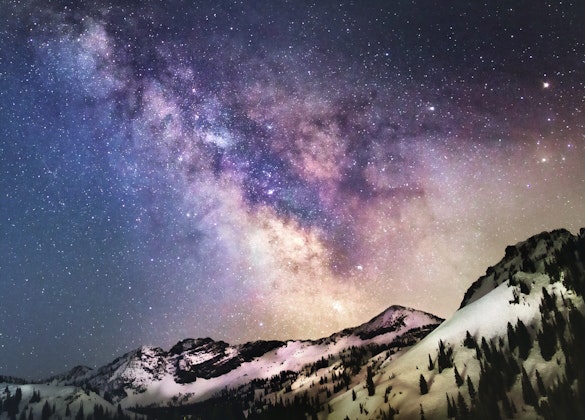 Added by Bryony Richards
Photograph the dynamic springtime Milky Way arc over the Wasatch Mountains.One of the most easily accessible areas of 'dark' skies anywhere in the USA with beautiful views of the Wasatch Mountains, and no hiking necessary! The Milky Way is visible and photographable from the parking lots!
Early spring is a unique time to photograph the Milky Way due to its low angle and the distinctive perspective of its galactic core. The low angle position of the Milky Way arc during the early morning hours, prior to dawn, allows for some striking panoramas, with the still snow-covered Wasatch Mountains providing a dramatic foreground.
To photograph the Milky Way arc during the springtime, you need a vantage point with view north-south, dark skies, i.e. minimal light pollution and little moonlight (the week before and after new moon are best!) and of course the ability to get to an area with these features between 4 am to 6 am. Ideally, you also want the north-south view to have an interesting foreground, something that can give an astrophotograph a unique perspective. Within approximately 30 minutes of Salt Lake City, few places boast these qualities (especially accessibility) better than the parking area close to Grizzly Gulch and Albion Basin!
To reach the parking lot, drive up Little Cottonwood Canyon, following signs to Alta/Snowbird. The Grizzly parking lot is the last area before the summer/main road, which is closed while the ski resorts are open. The Albion Basin parking lot also has good view of the mountains and a similar north-south vista, but has the drawback of early morning traffic. When here, set up your camera on a sturdy tripod, facing Devils Castle, in a southeasterly direction. From here the Milky Way arcs from south to north, with its galactic core rising above the peak of Devils Castle!
For the single Milky Way images featured in this article, a Canon 5D Mark III with a Rokinon 24 mm (f/1.4) lens was used, with the following settings:
ISO2000 to ISO2500
Shutter speeds/exposure times: 12 to 20 seconds
Aperture: f/2.0
Other settings of note: Evaluative metering, automatic white balance
For the panoramic Milky Way image featured in this article, 16 images were taken rotating the camera at a stationary mark and subsequently stitched together. For each frame of the panoramic image, a Canon 5D Mark III with a Rokinon 24 mm (f/1.4) lens was used with the same following settings:
ISO2000
Shutter speeds/exposure times: 20 seconds
Aperture: f/2.0
Other settings of note: Evaluative metering, automatic white balance
Astrophotography tips and tricks: Closing the aperture from f/1.4 to f2.0 reduces the vignette effects of the frame!
Be aware of local information, including any road closures, and early spring avalanche danger.
Be aware that local wildlife often roams the canyons at night when there is less traffic, including moose and elk!
Pack List
DSLR camera
Wide angle lens
Tripod
Remote
Red-light headlamp
Warm clothing
Features:
Easy Parking
Family Friendly
Food Nearby
Romantic
Scenic
Are we missing something?
Suggest an edit

Night Photography
The lights from the construction site were a little bothersome with the long exposure but otherwise beautiful view and very peaceful and quiet. Virtually empty lot!

Added by Bryony Richards
British (with a touch of American, South African, and European) wilderness and landscape astrophotographer, geologist, and research scientist based in Salt Lake City, Utah ↟
Follow
More Adventures Nearby

Camping at Yant Flat
Utah / Yant Flat Parking
Though only a few miles from civilization as a bird flies, this trailhead is only accessible via a dirt road (that can be quite bumpy - high clearance vehicles recommended though I did it in a car).

Camp at Sand Flats Recreation Area in Moab
Utah / Sand Flats
The rock domes and slickrock around the campsites provide fun for young and old to scramble on, or simply enjoy the sunrise or sunset.