Avalon, California is a great place to explore activities and attractions. There are plenty of scenic trails and must-visit locations for outdoor adventurers. The Catalina Island Conservancy offers guided hikes, kayaking, and more. The best trails to explore include the Airport in the Sky, Little Harbor, and Black Jack Mountain. For those looking to relax, Descanso Beach offers stunning views and a calm atmosphere. If you're looking for a unique experience, the Wrigley Memorial & Botanic Garden is the perfect spot. It features a variety of plants and trees, plus a stunning view of the harbor. No matter what type of activity you're looking for, Avalon has something for everyone.
Top Spots in and near Avalon
Camping and Lodging in Avalon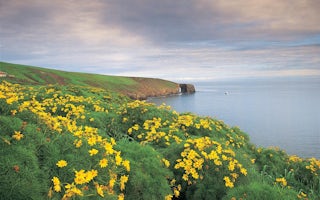 ,
Overview Once visitors have scaled the rugged cliffs using the steep trail from the Landing Cove, they will be rewarded with a campground...
Guides, Insights and Stories from Avalon