The Ultimate Adventure Guide to California's Highway 395
Explore California's hidden gems!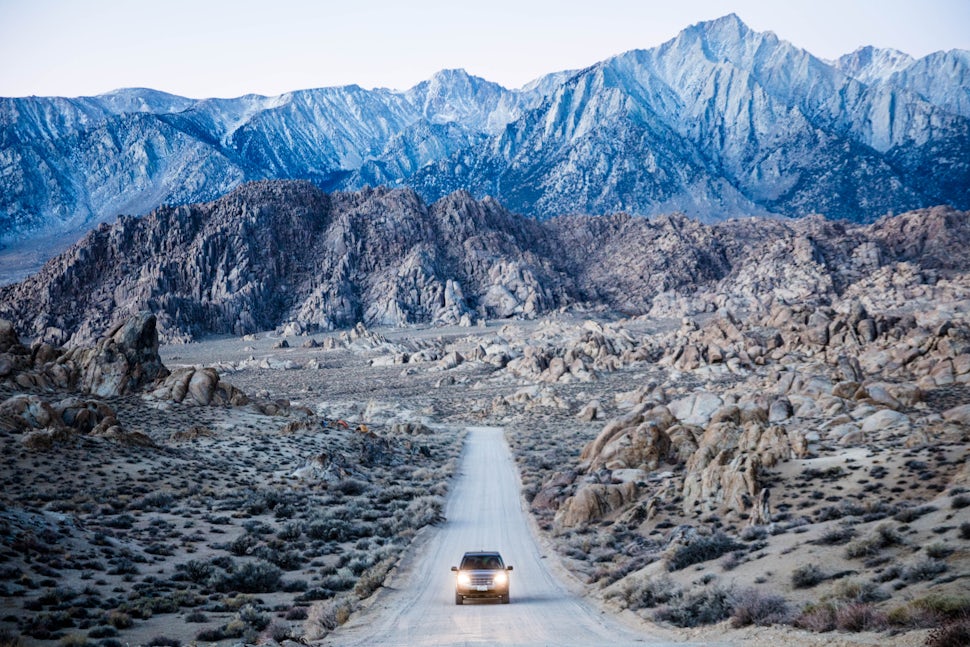 California's highway 395, running from the Mojave desert to desolate Modoc County, is a hell of a road. As far as north-south highways go, the 395 is often forgotten. Everybody takes the photogenic Highway 1, or the painful-but-fast Interstate 5. But the 395 is a real state gem, offering 557 miles of high-desert adventure. Here you'll find lava formations, abandoned mining towns, hot springs, and beautiful views.
First Stop: Death Valley National Park
Death Valley is comprised of 3.3 million acres of dry, unforgiving desert, decaying mines and rich geological formations. Scientists recorded the highest temperature in our planet's history here (134 °F, yikes). But winter in this underworld is more than bearable, and the temps hover at 65 F. In summary, it is the loveliest hell-scape you'll ever visit.
Once in the park, stop at the Mesquite Flat Sand Dunes. The area is filled with crescent, linear, and star-shaped mounds and where the sand is sparse, you can see slivers of polygon-cracked clay, which is all that remains of an ancient lakebed. Also, the mesquite trees have created large hammocks that provide stable habitats for wildlife, and if you climb the dunes at night like we did, you will probably see bright red eyes around the mesquite trees, blinking back at you.
The next morning you must catch a sunrise over the golden-colored badlands at Zabriskie Point, which proves Death Valley, in spite of its morbid name, is actually teeming with vibrant beauty. Once the waking sun beams through the rocks, you can venture down into these crumbling valleys by following wispy trails carved in by decades of explorers. And if it does get too hot for you during the day, you can head up Dante's View for a while. It's usually 10 or 15 degrees cooler up there, and the view is out of this world.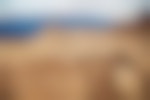 Zabriskie Point.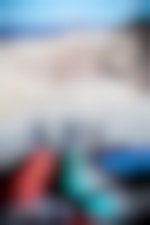 Zabriskie Point.

Mesquite Flat Sand Dunes: 36.615363° N, 117.112951° W

Zabriskie Point: 36.4201° N, 116.8122° W
Dante's View: 36.220893° N, 116.726274° W
Second Stop: Alabama Hills
The Alabama Hills are one of the 395's best kept secrets. You'll know you're there when you head down Whitney Portal Road and pass by this graffitied, gender non-conforming rock, which I have dubbed Grumpy Rock. I've done a lot of research trying to learn the origin story of old Grumpy, but so far my efforts have been fruitless. Anybody know anything about this rock? Please let me know in the comments - I'm starting to lose sleep wondering about our mysterious friend.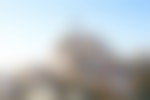 Grumpy Rock.

The Alabama Hills have been Hollywood's catch-all location for filming westerns and desert scenes: namely Django Unchained, Rawhide, Hell Bent For Leather, How the West Was Won and…Godzilla? I feel like Wikipedia might be lying to me about that last one. These hills are a solitary hiker's paradise with their vast network of unmarked dirt roads, delicate rock arches, RV encampments and uncanny piles of stone.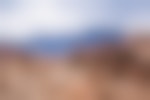 Arch Loop Trail.

Besides Mobius Arch, all of the arches are unmarked, so it's a delightful and dizzying scavenger hunt to track down the various formations. You will get lost. But you'll like it, you know?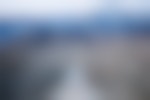 Movie Road.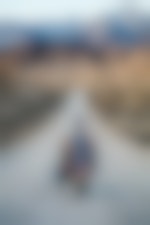 Movie Road.

Most importantly, all of this saccharine desert is BLM land, which means you can camp anywhere as long as you poop responsibly and pick up your trash! There are plenty of informal established campsites with little blackened rock circles for campfires and flattened portions of dirt that are perfect for pitching your tent.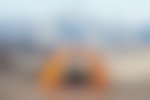 BLM Land.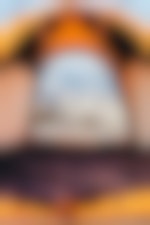 BLM Land.

Movie Road: 36.5957°N 118.1079°W
Mobius Arch (Arch Loop Trail): 36.3649 ° N, 118.0733 ° W
Third Stop: Mammoth Hot Springs
Mammoth's volcanic valley floor is peppered with these natural steamy tubs with panoramic views of the Eastern Sierras. It's pretty damn whimsical.
My personal favorite is the Hilltop Hot Tub, which is a man made stone pool fed by a bubbling, steamy creek. Fair warning, it is customary to wear your birthday suit, so expect to share the tub with a lot of old naked cowboys and tourists en route to Reno. But be warned, going nude can get you a ticket, because sometimes Mammoth County is an uncanny, contradictory place.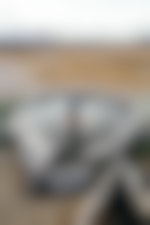 Hilltop Hot Springs.

Also, one more PSA: there have been reports of a brain-eating amoeba floating around in that steamy water. No joke. Apparently it's no big deal as long as you keep the water away from your eyes, nose, and ears. That's what we do anyway. But if you are smarter than us, which you probably are, you may want to skip this one.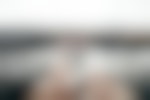 Hilltop Hot Springs.

There are two other prominent hot pools in the area. First is the Crab Cooker, notorious for being broken; and then there is Wild Willy's Hot Spring, which we haven't visited yet. Probably because its name scares us a bit. We see enough willies at the Hilltop Hot Tub, and we'd be happier if they didn't get wild.
Hilltop Hot Tub: 37.662634° N, -118.789267 ° W
Fourth Stop: An Abandoned 1800's Brothel
The high desert region of Lassen County was once known as Secret Valley, and we sure found a secret of our own there. Yes, it's an old brothel (according to Atlas Obscura). Yes, it's really creepy. And yes, it's definitely worth checking out.
Driving through this dry, sparse landscape, you'll see a peppering of decaying old buildings. Most of the time it is hard to tell which have been outright abandoned and which are functional junkyards that are still occupied by tired nomads.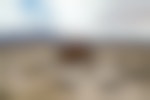 Spotted along the 395.

Once we spotted the old manor (possible brothel?) along the road, we tucked our bright red truck behind a small thicket of trees and withered sagebrush. Without much regard for self preservation (as per usual) we may or may not have hopped over a barbed wire fence (don't do this). As we explored the collection of ramshackle buildings we found discarded food cartons and decaying farm machinery.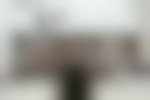 Outside the old manor.

We went about exploring the charming old ruin, carefully tiptoeing over rotting floor boards and sifting through rusty relics. The house is littered with filthy, disintegrating mattresses in almost every room, peeling wallpaper, threadbare velvet furniture and china cloaked in layers of dirt.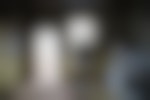 The kitchen.

Urban decay looters seem to have picked the brothel clean, even down to the doorknobs. Then a large tree seems to have recently crashed through the roof and opened up an unsightly but magical sky light.
Brothel Coordinates (that sounds weird): 40.5838 ° N, 120.2502 ° W
Fifth Stop: Lava Beds National Monument
Lava Beds National Monument sits right on top of the Medicine Lake Shield Volcano, where eruptions over the past half-million years have formed over 700 tunnels from old lava tubes. Inside the tunnels you'll find Native American rock art and millions of rare bats.
Lava. Tunnels. Art. Bats. What better way could there be to wrap up your journey northward on the glorious 395? The majority of the developed caves are outfitted with stairways and ladders, and are located along Cave Loop, a 2-mile road near the visitor center.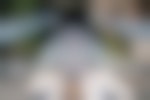 At an entrance along Cave Loop Road.

My brother and I were the 5th and 6th visitors of the day. At the end of our adventure, when we said farewell to the chatty park ranger, we learned that no one had showed up after us.
Also, unlike other parks you can't skip the ranger station and head straight into the caves because you need to fetch a permit and get tested for White Nose Syndrome (which is a nasty disease that humans can carry and give to those sweet little bats).
When we descended into the first cave, the winds started to kick up. As we weaved and crawled our way through a two mile tube, we would pass under massive skylights leading to the surface, bursting with lights and sprinkling snow onto the cave's floor.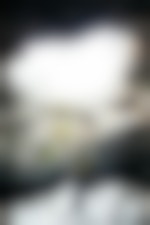 A cave skylight.

Lava Beds Ranger Station: 41.714296° N, -121.509591 ° W
Cave Loop Road: 41.714927° N, -121.511811 ° W
There you have it! Five stops along Highway 395 that you shouldn't miss. So get out there, walk underground through miles of lava tubes, scamper up some rocks, wander through some creepy buildings and keep your fingers crossed you don't get a ticket for hot tubbing in your birthday suit.
Looking for the perfect road trip fuel? Check out one of our favorites from our friends at Chowhound: Why Foil Packets Are Your Camping Best Friend
We want to acknowledge and thank the past, present, and future generations of all Native Nations and Indigenous Peoples whose ancestral lands we travel, explore, and play on. Always practice Leave No Trace ethics on your adventures and follow local regulations. Please explore responsibly!
Do you love the outdoors?
Yep, us too. That's why we send you the best local adventures, stories, and expert advice, right to your inbox.