An Overlanding Adventure Down Baja
Starting From
$1,900/person
Start Location
Loreto, Mexico
End Location
San Diego, CA
Add your business today to reach The Outbound's audience of adventurous travelers.
This February, we're partnering with our friends at Pacific Overlander for an adventure down the Baja Peninsula, Mexico's most rugged, scenic stretch of coastline. This isn't Cabo; we'll be traveling through remote stretches of Baja rarely accessed by visitors. Take the wheel of a Toyota 4Runner or Jeep Wrangler over rough dirt roads, empty highways, and expansive stretches of coastline, or hang in a passenger seat and enjoy the scenery.
Additional Information
THE VEHICLES - FULLY KITTED OUT TOYOTA 4RUNNER "TRD OFF-ROAD" AND JEEP WRANGLER RUBICONS
In a challenging environment, you need to be able to count on your equipment. That's why we teamed up with the best for this adventure. Pacific Overlander's Jeeps and Toyota 4Runners are capable, agile machines designed for demanding travel. Each vehicle features a rooftop tent, AC/DC power, and space to store your gear. Additionally, our support vehicle will provide supplemental storage, an on-board air compressor, recovery equipment, galley kitchen, heated outdoor shower, and restroom facilities for the duration of the trip.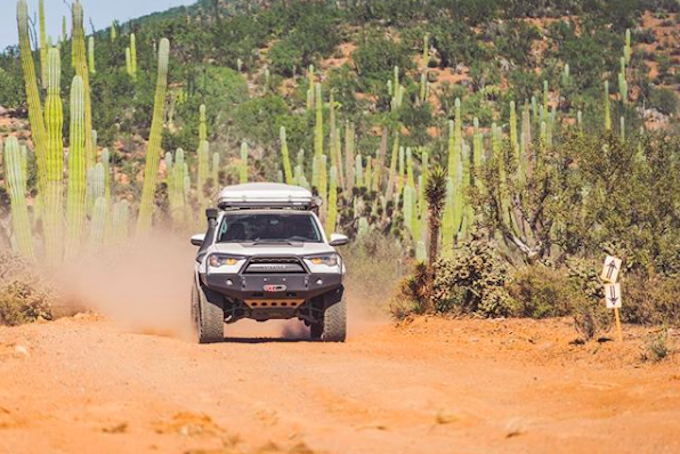 SEA OF CORTEZ - WORLD CLASS KAYAKING, SNORKELING, AND BEACHES
One of the most diverse seas on the planet, set aside Baja, the second-longest peninsula in the world, the Sea of Cortez features 4,000 kilometers of coastline, each cove, beach, inlet, and sand spit distinct and in a world of it's own. A thousand shades of blue set against a backdrop of stark desert cacti gives you an idea of the area we'll explore. Camping right on the beach, we'll fall asleep and wake up to sunrises and sunsets off the warm water. During the day, enjoy an assortment of gear allowing you to make the most of the adventure, including kayaks, snorkel, and Spikeball sets for the more competitive amongst us.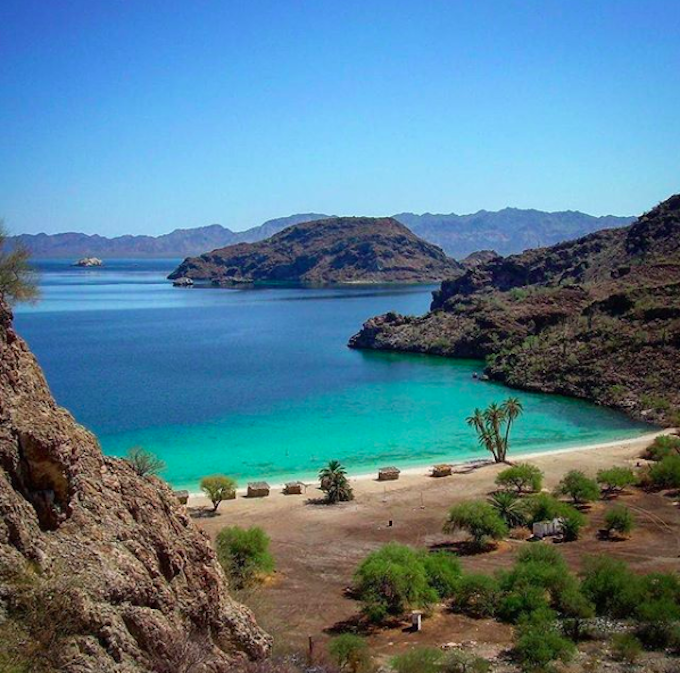 AN EVER-CHANGING LANDSCAPE AS WE EXPLORE DOWN THE COAST
Baja is one of the most unique landscapes on Earth, in large part thanks to its unique geography, planted between the Pacific Ocean and the Sea of Cortez, the range of volcanoes running the length of the peninsula, and the vast expanse of open, undeveloped space, much of it protected by the El Vizcaíno Biosphere Reserve, the largest protected habitat in Latin America. These forces working together create scenes almost from another planet, from lush tropical greenery to dramatic desert to towering mountain spires. The wonder doesn't end at water's edge; this trip is timed for the peak of grey whale season, with a stop in internationally renowned Guerrero Negro for a morning of whale watching. Famously, the whales in this area are known for their curiosity, to the point of inviting human touch, creating opportunities for legendary and life-changing encounters.
DESERT OASES, HOT SPRINGS, PALM TREES AND WATERFALLS
Right there in the middle of the desert, where you never would have expected to see it: a lush, green, tropical paradise, with a series of cascading waterfalls, natural pools for swimming, and gorgeous hot spring soaks dialed in at 102 degrees. Coming either at the beginning of the trip or the end, depending on the leg, this is the perfect place to relax and leave the stresses of life behind.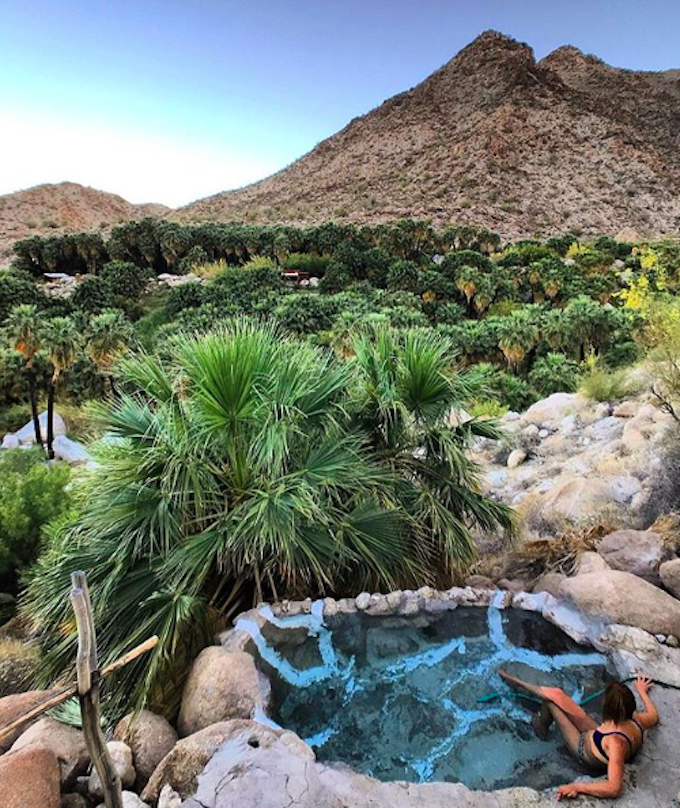 CULTURE AND HISTORY DATING BACK THOUSANDS OF YEARS
From Meso-American rock wall painting to Spanish colonial architecture, Baja offers interesting history, art, and culture across a wide range of time and place. We'll have plenty of time to explore ancient cave dwellings, long-ago Franciscan missions, and vibrant present-day towns, connecting with locals over hearty meals and interesting conversation.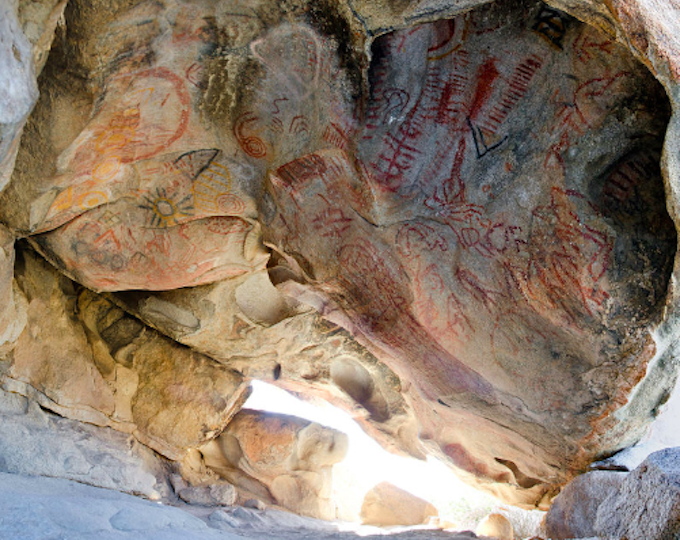 CAMPFIRE GOURMET - FRESH LOCAL FARE, FIRESIDE COOKOUTS, AND SMALL GROUP CAMPING
Enjoy a selection of the best local foods and catered menus during your trip shared around the campfire. Daily prepared meals will be provided or cooked collaboratively, depending on the day's schedule. All meals will be shared in a group format with plenty of time for a sundowner, though guest are also afforded plenty of time for private dining as desired.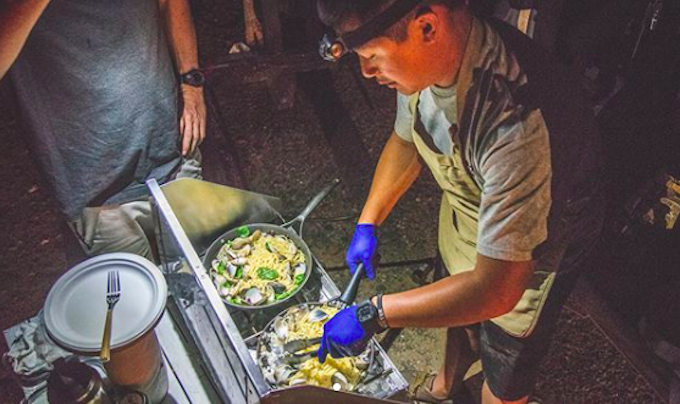 OVERLAND TRAVEL - WE'LL DRIVE FOR THE EXPERIENCE, NOT JUST THE NEXT DESTINATION

This is not your typical road trip. Along our route we will spend a fair amount of time traveling along dirt roads and playing in the sand. While the majority of the miles driven will be on pavement, there will be plenty of opportunity to learn basic off-road driving techniques and brush up on your overlanding skills. Whether you are interested in learning more about navigation and route planning, the use of variable tire pressures to maximize your vehicles performance, or just looking for adventure, this trip offers something for everyone.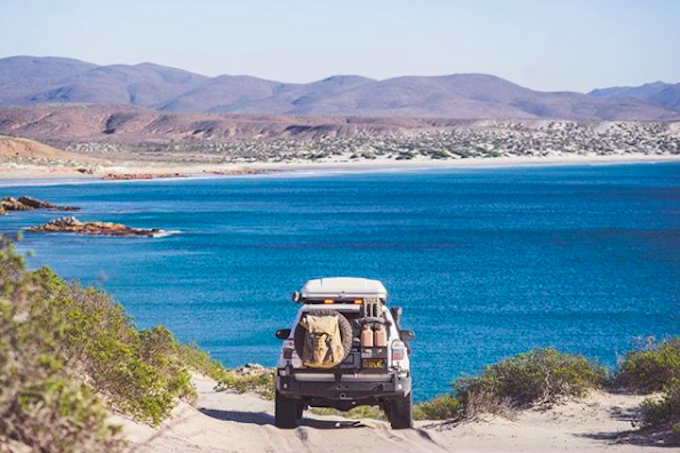 Note that the pace of this trip will be mixed, with quick starts and stops, time devoted to relaxation, extended driving (at times), and early starts to make the most of the day. Driving times per day will range from 2-5 hours in more extreme conditions, and our route and points mentioned above could change due to circumstance, road conditions, and weather. We'll be traveling in a caravan, keeping the vehicles together at all times, and we'll stay in touch via both radio communications and satellite phone.
Nearby Adventures
0.5 Miles Round Trip - 200 ft gain
6 Miles Round Trip - 1900 ft gain