Iron Roads: Hiking and Via Ferrata in Italy's Dolomite Mountains
I wanted to go to Japan, eat sushi, see weird stuff and take a squillion photos. My wife wanted to go to the mountains of northern Italy, breathe fresh air, hike trails and climb mountains. I'm glad she got her way.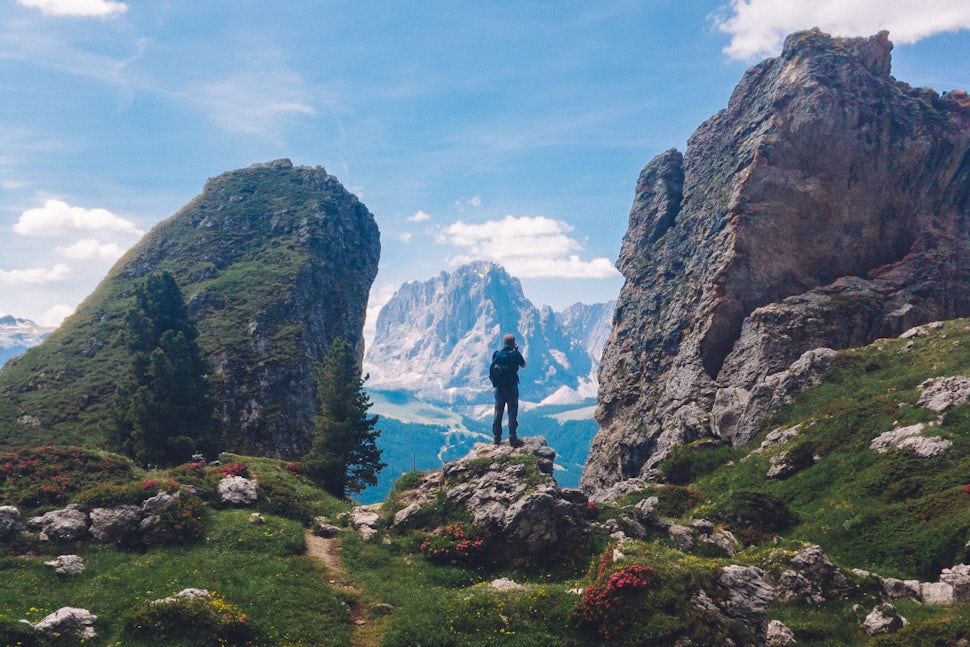 A BELATED HONEYMOON
Life had conspired against us, and almost a year after Lucy and I were married, we still hadn't properly been away together.
We decided to fix that.

⇡ Part of the Rosengarten Group ⇡
I'm getting ahead of myself, but I can't help it. Sometimes it's hard to truly get an idea of scale with such huge vistas, but if you zoom in on the right hand side, you should be able to see a couple of hikers on the orange dirt path cutting through the grass.
It's sobering to see how small you really are.
But, back to the beginning…
❂
I wanted to go to Japan, eat sushi, see weird stuff and take a squillion photos.
Lucy wanted to go to northern Italy, breathe fresh air, hike trails and climb mountains.
I'm glad she got her way. And I got to take a squillion* photos anyway.
*Not actually a squillion. More like 2500. Ish.

London City Airport to Venice Marco Polo Airport

Ever since my wife's friend Vicky conned her into believing that flying was dangerous (according to The New York Times, a traveler could fly every day for 123,000 years and still be safe) she's been convinced that whilst airborne, every noise, bump or turn is a sure sign of impending disaster, and thus the best course of action is to grab onto the nearest thing with a cold, clammy hand, which is usually me.
Naturally, I try to distract her, talking in ridiculous voices, ruminating on the number of Haribo jelly babies I could fit up my nose, poking her in inappropriate places and generally acting like a five year old.
A short while after takeoff, she was going through one such episode, when the head of the cabin crew popped over and asked:
"Are you celebrating something?"
Surprised, I stopped the poking and replied that yes, we were, it was our honeymoon.
"Oh, that is so sweet. I could tell because you look so in love. I'll get you some champagne. Complimentary, of course."
Note to self: Inappropriate poking = free booze.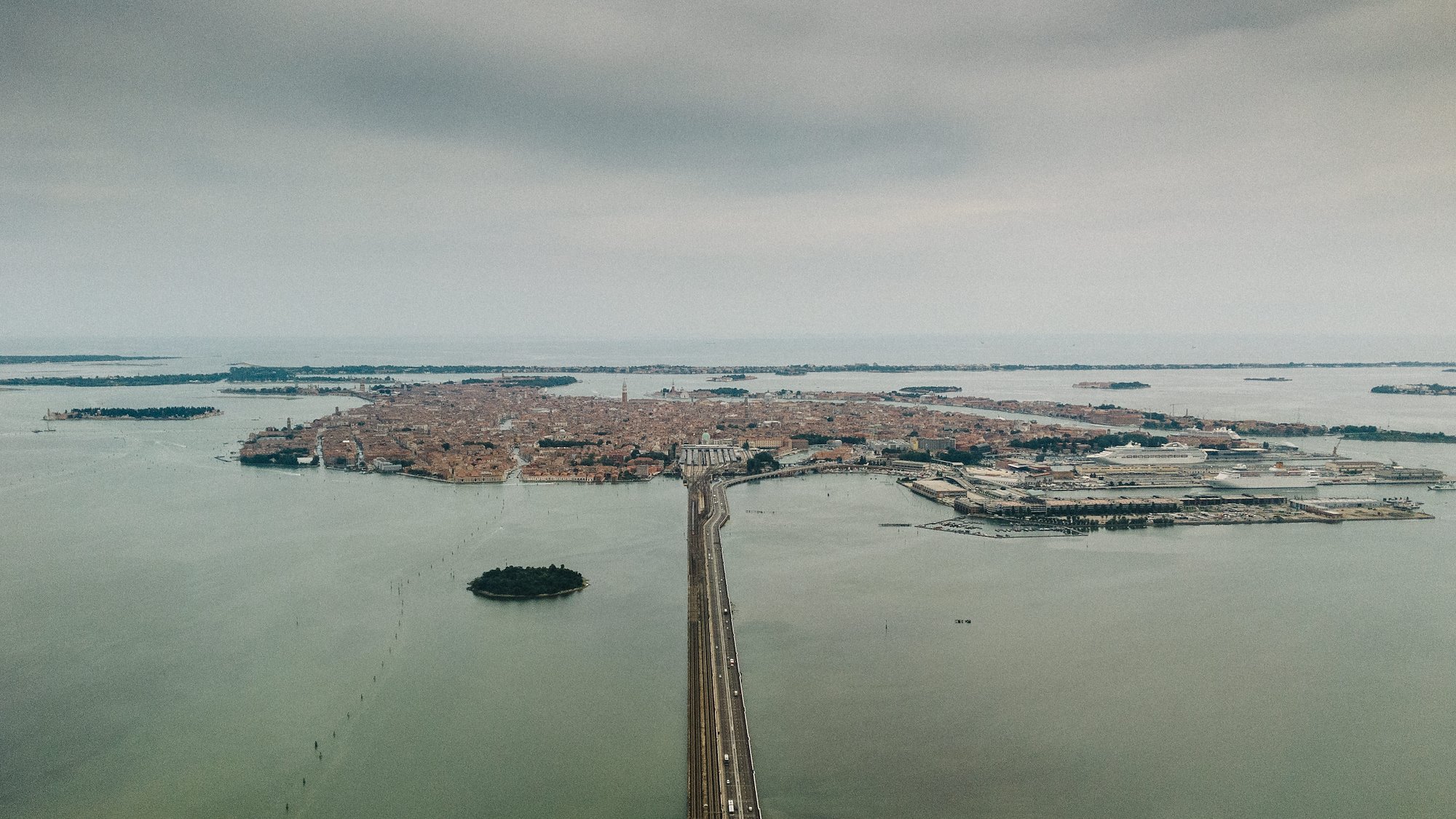 ⇡ Venice // Snapped with my phone on the descent into Marco Polo Airport. ⇡
It's still the closest I've been to the city.
We should probably all go before the water claims it.

Venice Marco Polo ➵ Venice Mestre Station ➵ Verona ➵ Bolzano ➵ Ortisei
Venice is quite far from the Dolomite mountains. How far? In our case, one bus, two trains and another bus far.
Given the language barrier, getting from Venice's main airport to our hotel in Ortisei (about 200 miles away in the autonomous northern Italian province of South Tyrol) was less of an ordeal than I had imagined, though we quickly became familiar with the continental penchant for a particular phrase:
"Is impossible"
For example: "Can we get a ticket to Bolzano please?"
"Scusi signore, is impossible"
"Um, why?"
"Oh, la biglietteria machina est run out of papiren". (Or words to that effect.)
After being told on multiple occasions, for a myriad of reasons and in no uncertain terms that it was indeed impossible, strangely we were permitted to buy tickets anyway. The lady wouldn't concede total defeat though, and was adamant we couldn't reserve seats, furnishing us with the cheery prospect of perching atop our bags next to the toilets in 35°C heat (That's 95°F, 'Murica).
We boarded with two minutes to spare, discovering that our particular train, which would eventually cross all the way into Germany, had those old fashioned six-seat compartments with the slidey door. No, they weren't just built for the Harry Potter films, they were a real thing, and made me all nostalgic for childhood journeys down to Cornwall with my grandparents…
…and also half of them were empty.
We bagged a compartment and stretched out as the Italian countryside flashed by.
I came to the realisation that "Is impossible" means "I can't be arsed, but if you pester me enough, I'll do what you want just so you'll bugger off."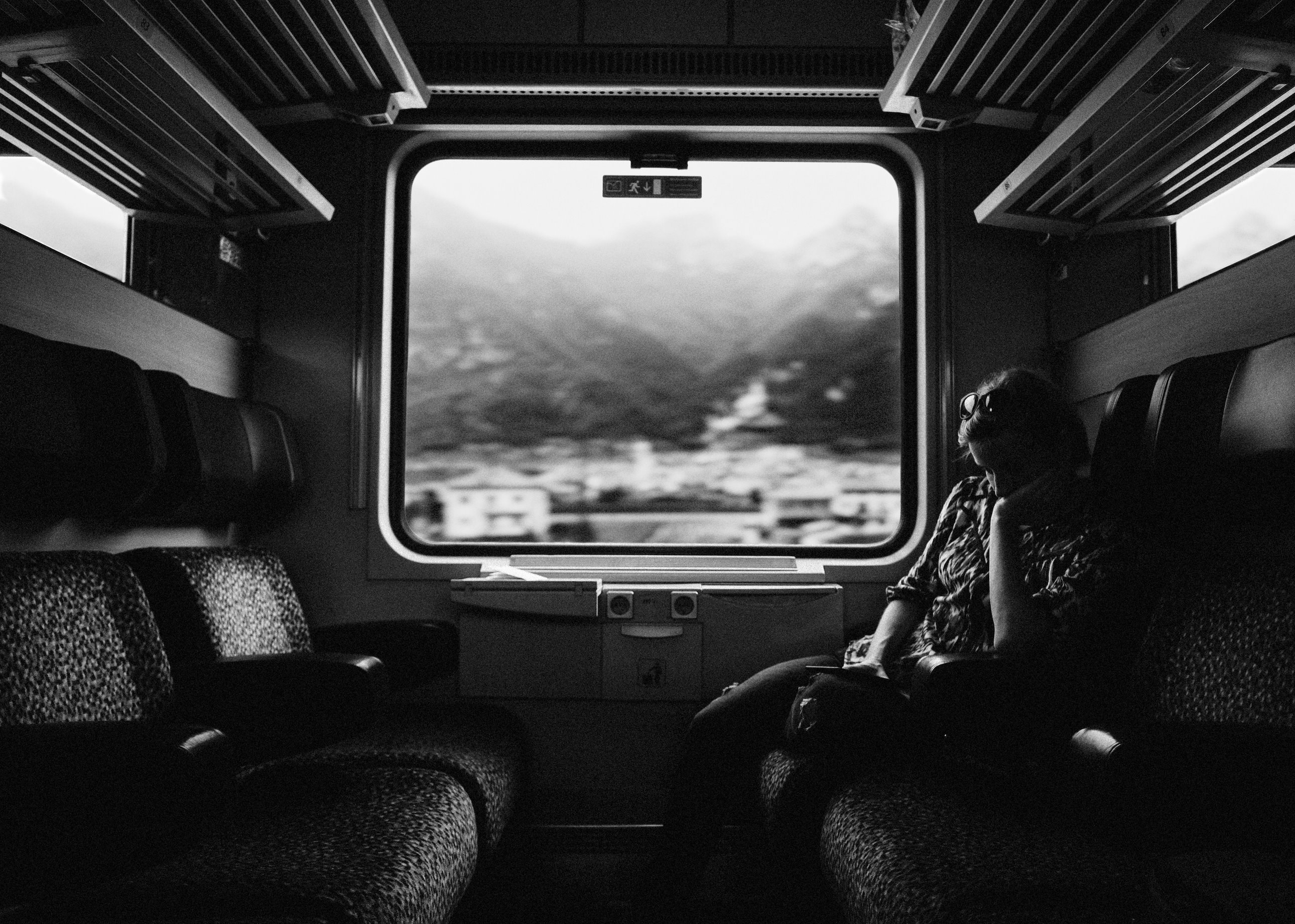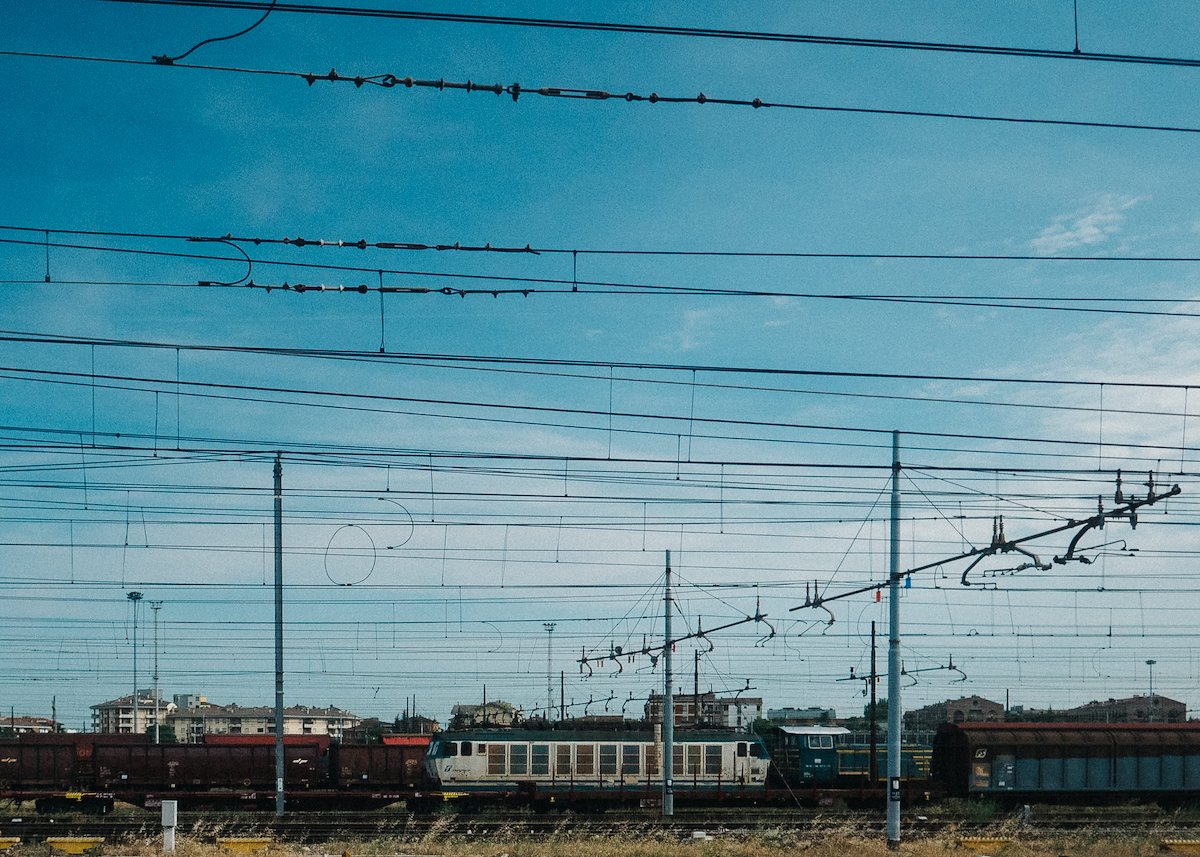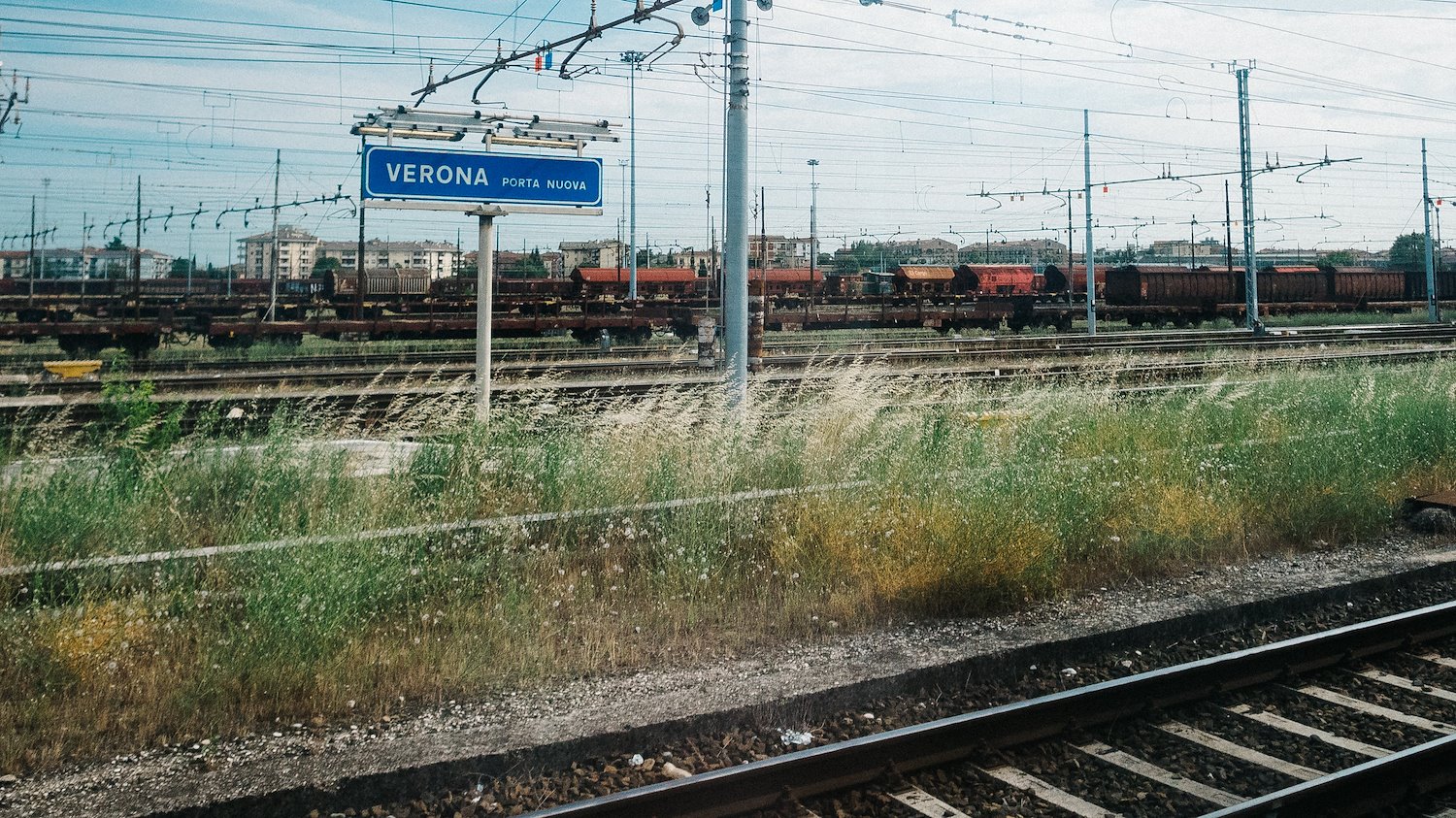 'Puez-Odle' is the natural park in which our first hike took place, named after the striking peaks of the Puez and Odle massifs. At 8am on our second day, we left behind Ortisei's shops full of ski boots and decorative beer steins, taking two cable cars up to the starting point 2,111 metres higher than the canals of Venice.
When we stepped out of the cable car, it became apparent that everyone said the same thing.
Wow.
This is a proper ancient, imposing, Lord of the Rings-esque landscape.
Is that still a thing? Maybe I should say 'Game of Thrones-esque'?
Tell you what, it's The-Most-Recent-Relevant-Historical-Epic-TV-Slash-Movie-Experience-esque.
I hate saying things like "breathtaking", unless it's about bad snorkelling form or being sucker punched in the gut, and I reserve special distain for "stunning", but this place really is something special…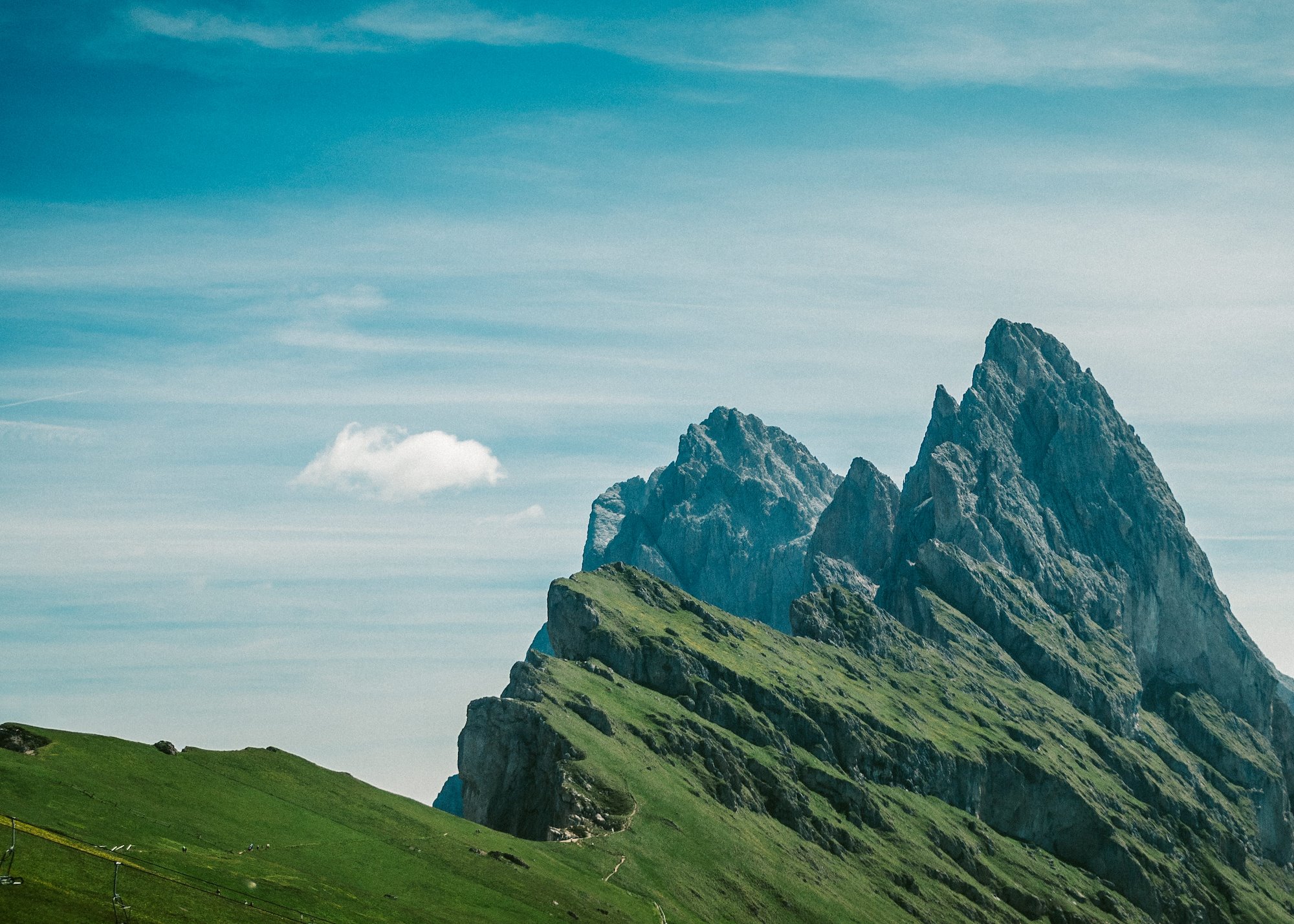 Amongst other things, we saw an old guy outside a rifugio cutting the grass. With a scythe.
Seriously? A scythe? Hath he not heard of lawnmowers? Not even the pushy pully spinny no petrol ones?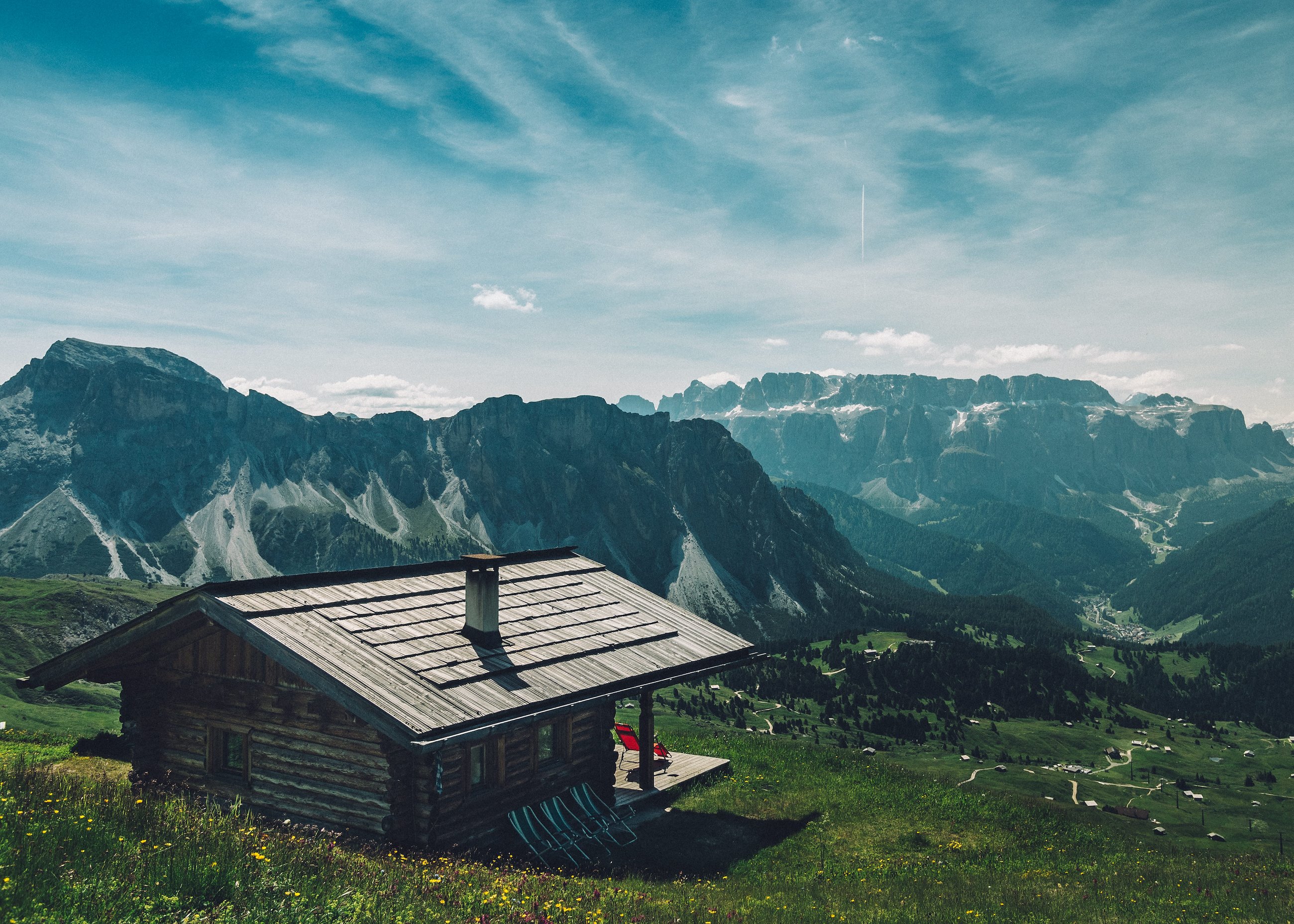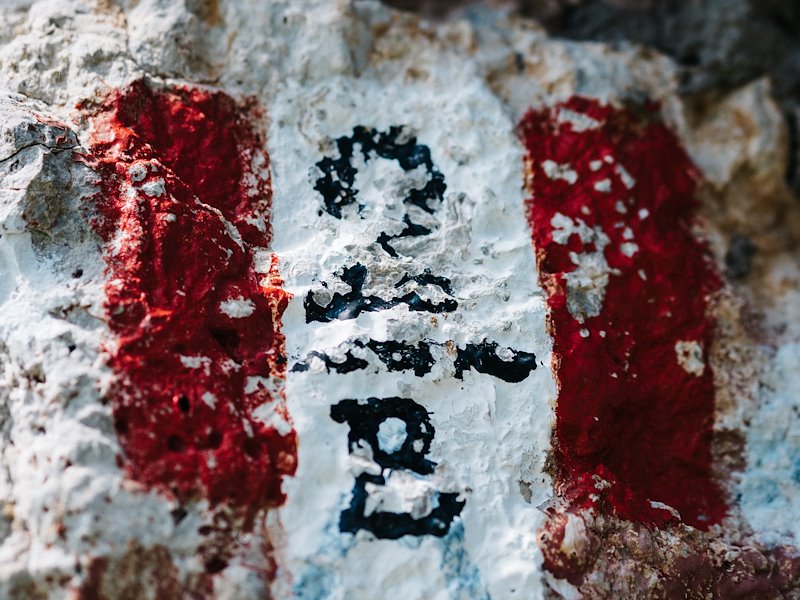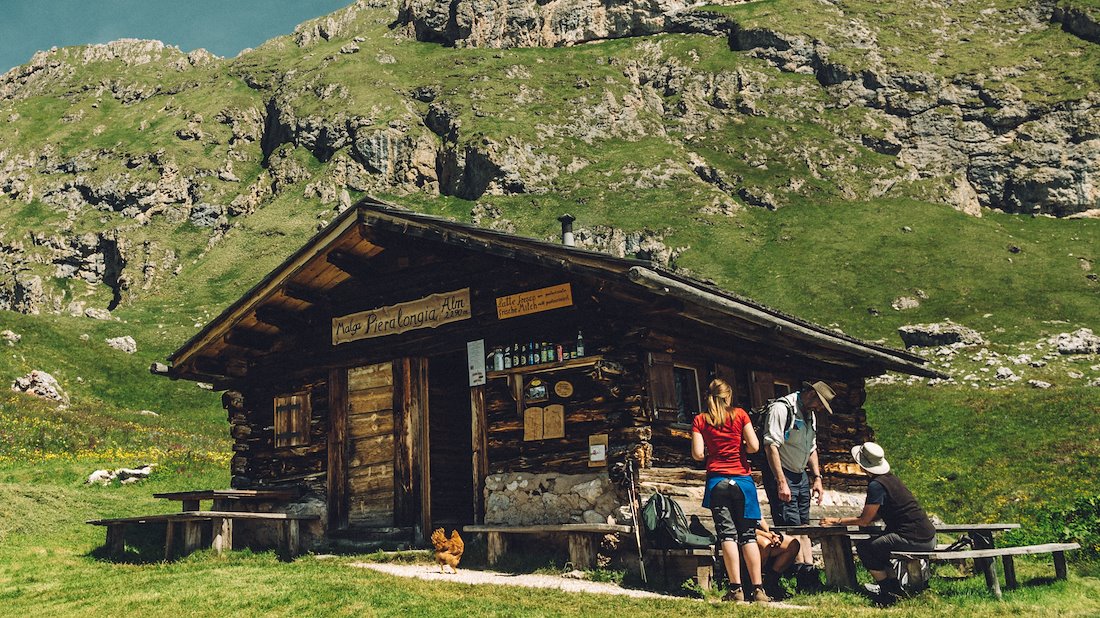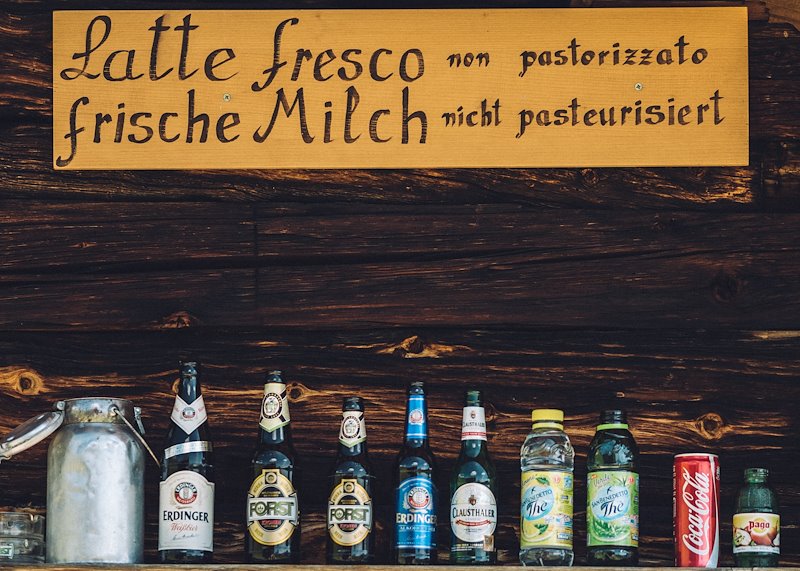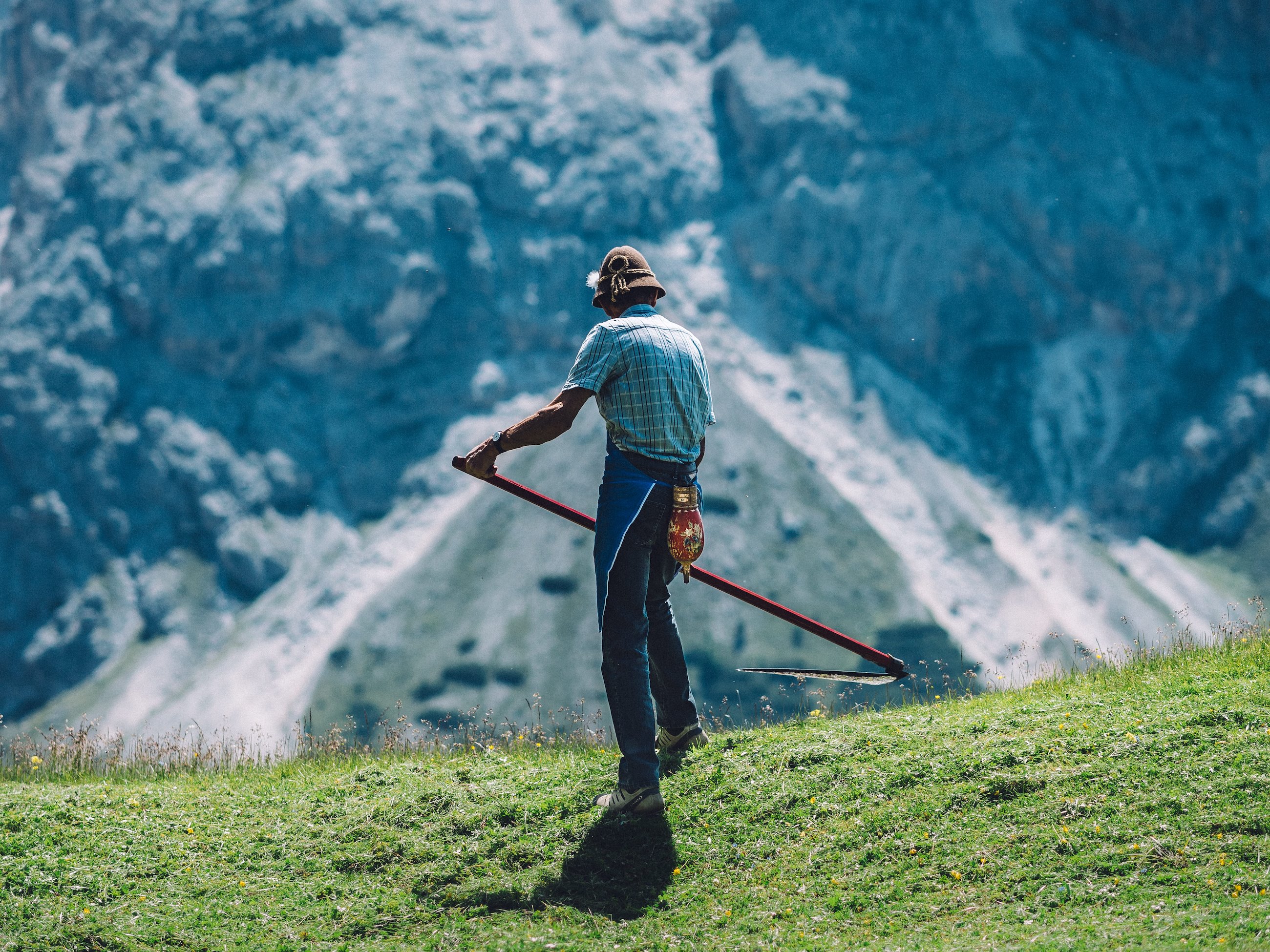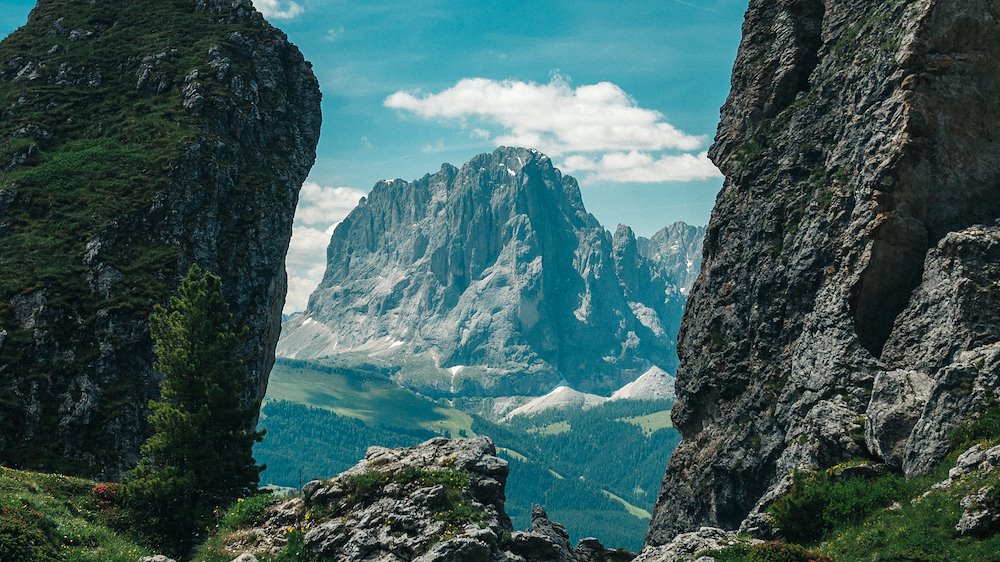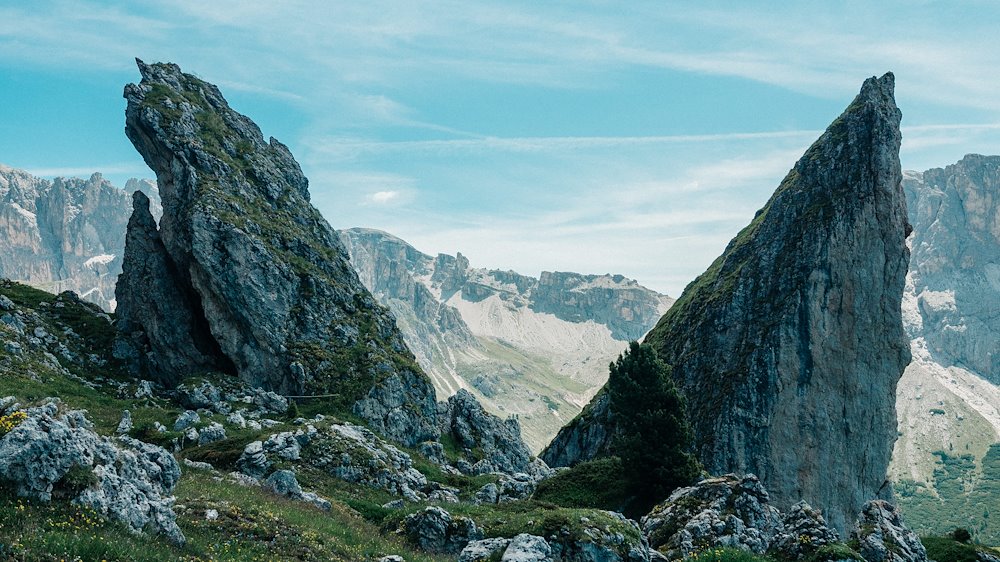 FYI, AND APROPOS OF NOTHING:
My favourite poem came in a little booklet with the VHS version of Wayne's World. It follows thusly:
I hate you, haiku
You are too hard to do
Splash.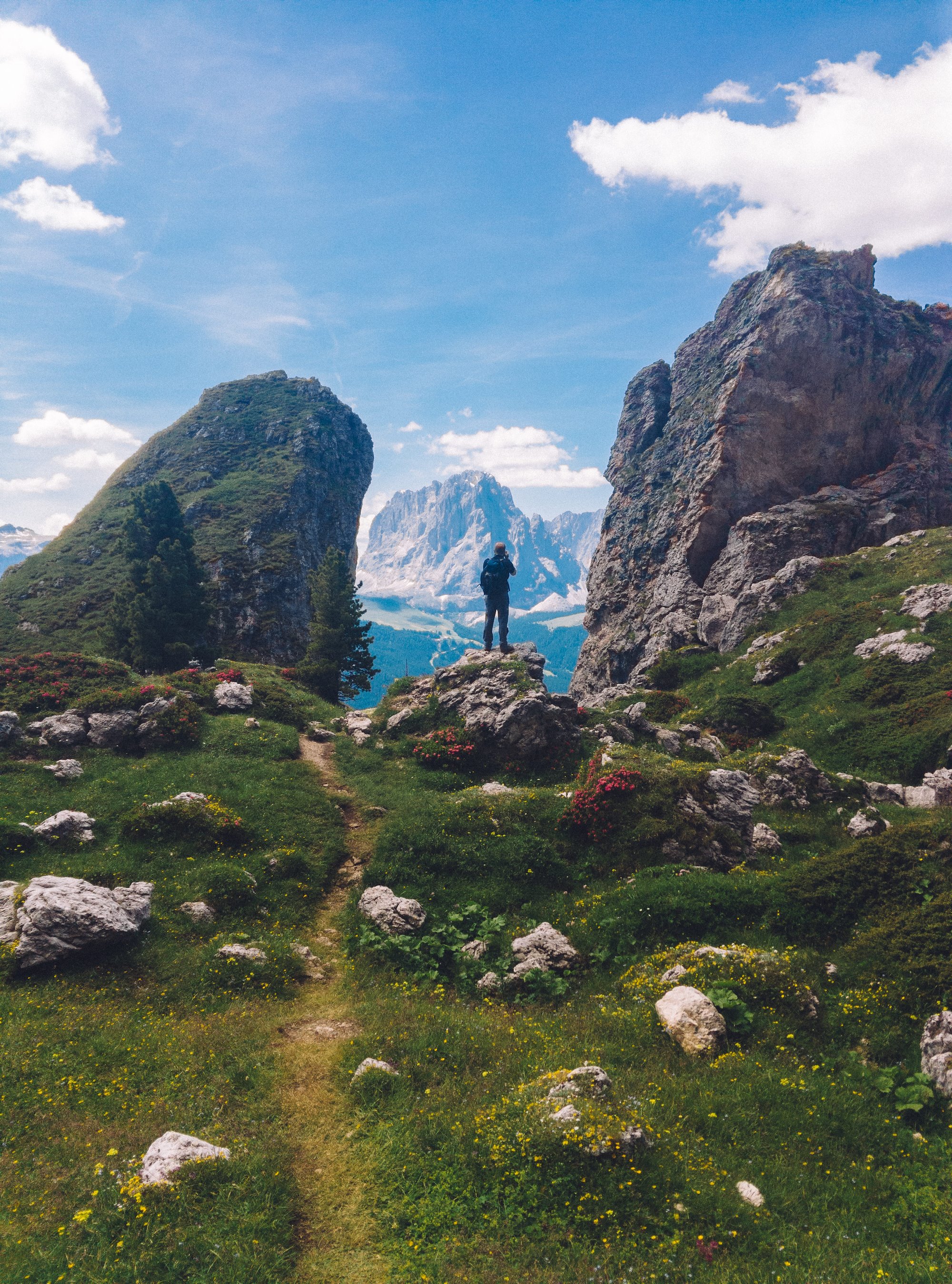 ⇡ Along the route to Rifugi Malga Pieralongia ⇡
Lucy took this photo of me taking a photo. Very meta. It might be my favourite picture from the whole holiday.
And I didn't even take it. Furious.
△
THE FORCELLA PANA
Is a 330m high scree slope right through the Odle spires. I think had we not been in possession of a map telling us we were going the right way, we would have abandoned ship about a third of the way up.
It was steep, it was slippery, and I cursed my stupid Vivo Barefoot walking boots a hundred times, comparing their functionality to that of flip-flops constructed from greased banana skins. But more on that later.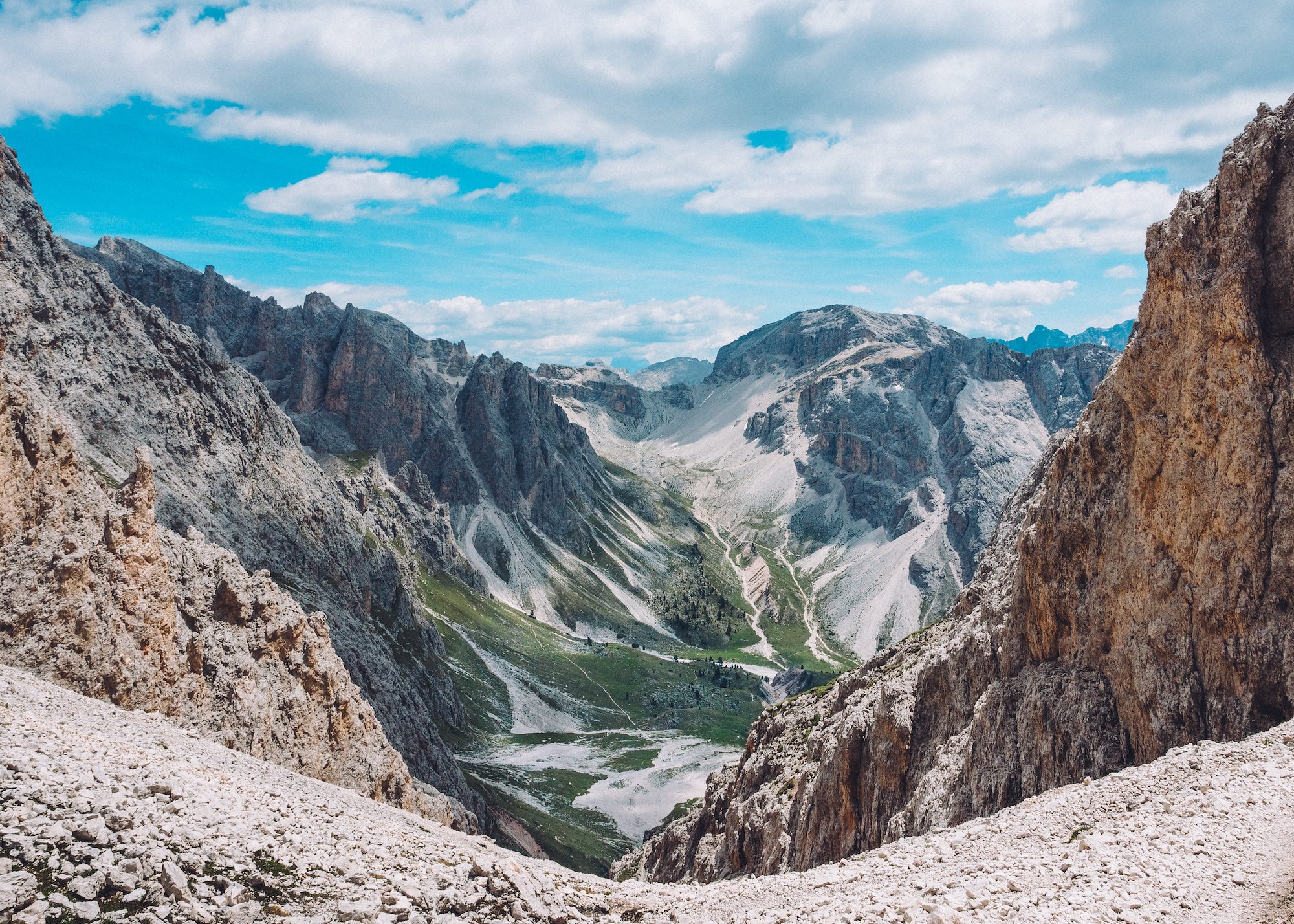 We saw only four people the entire time on our ascent:

• A couple who were ahead of us. They went left, and we went right. We heard the sound of a large rock falling and didn't see them again. Seriously. I only remembered that just now. Perhaps they're still there. Can someone check please?
• A pair of rugged Italian chaps, one of whom picked up my camera, feeling it's lack of heft, and remarked "Oooh, Light!" In return, he held out his 5D MkIII, and I was again reminded that I'd made a savvy travel camera choice.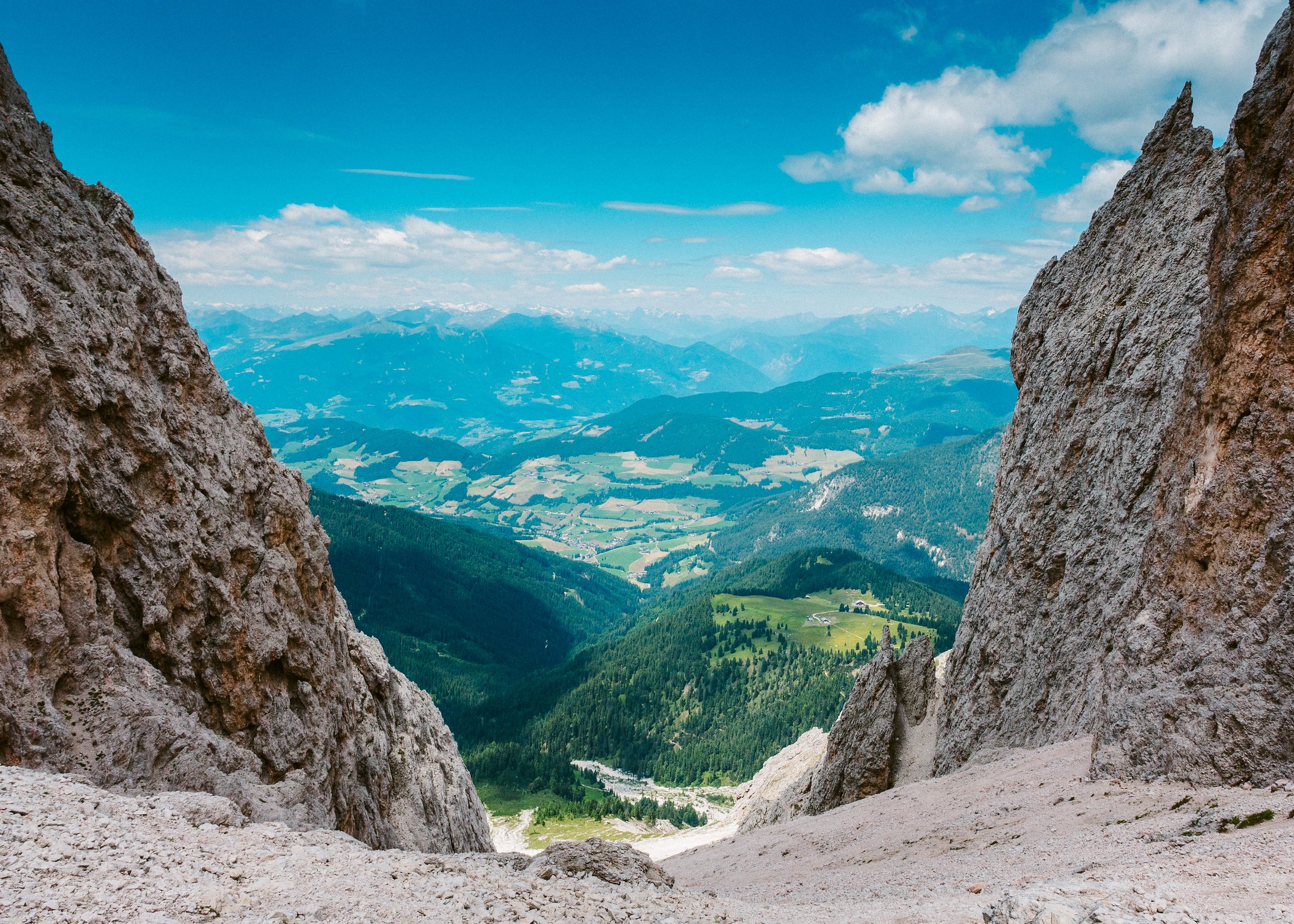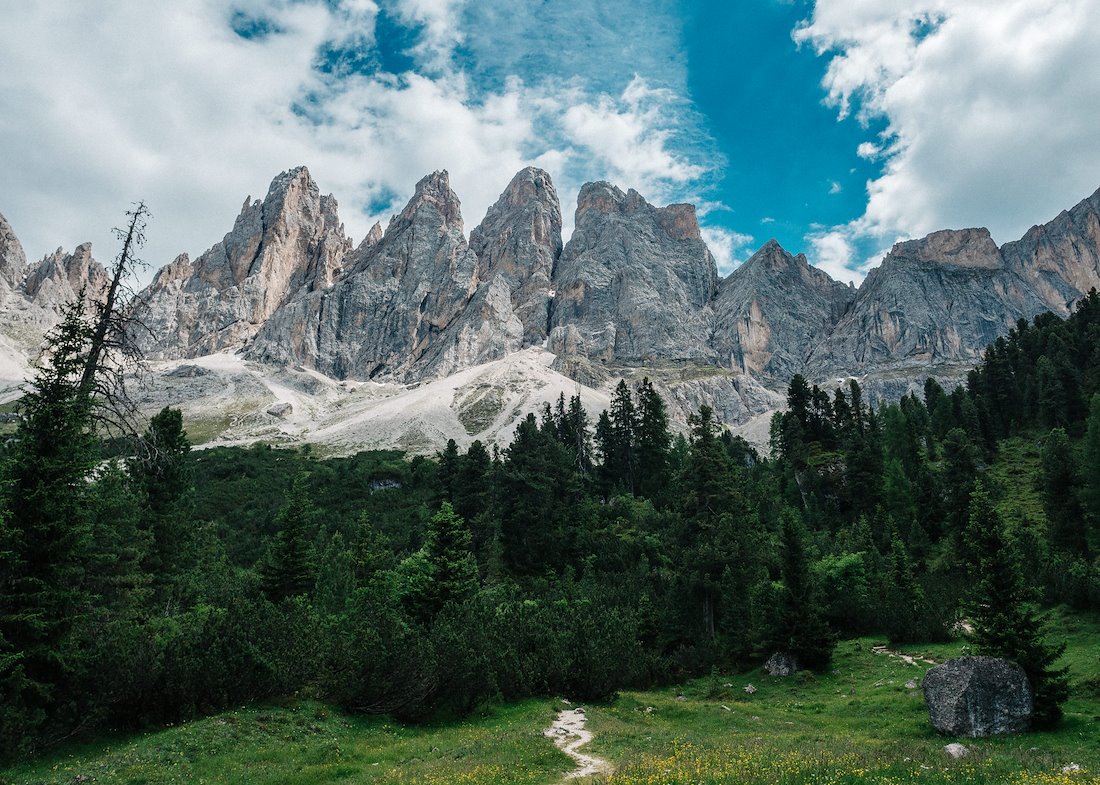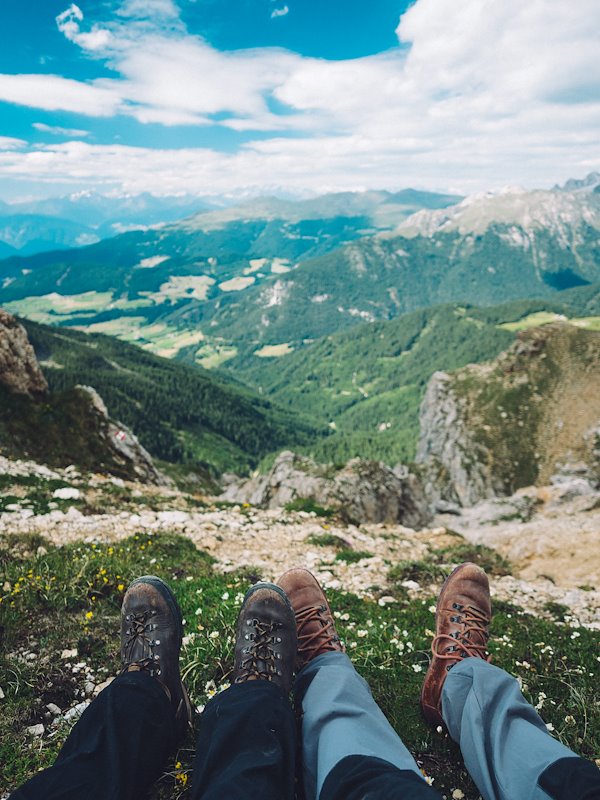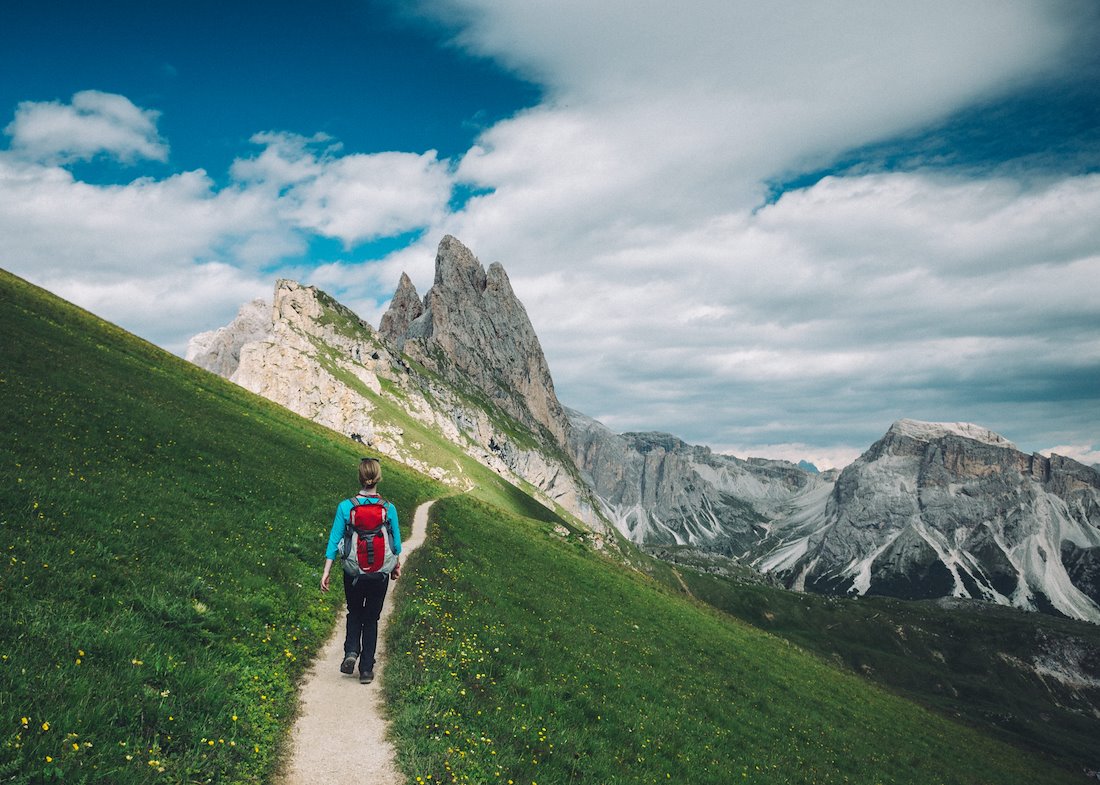 ▽

From the top of the pass, the route took us down into the woods, through seemingly endless switchbacks. We didn't realise that we'd pretty much have to run back up the mountain to make it to the cable car in time before it closed for the evening.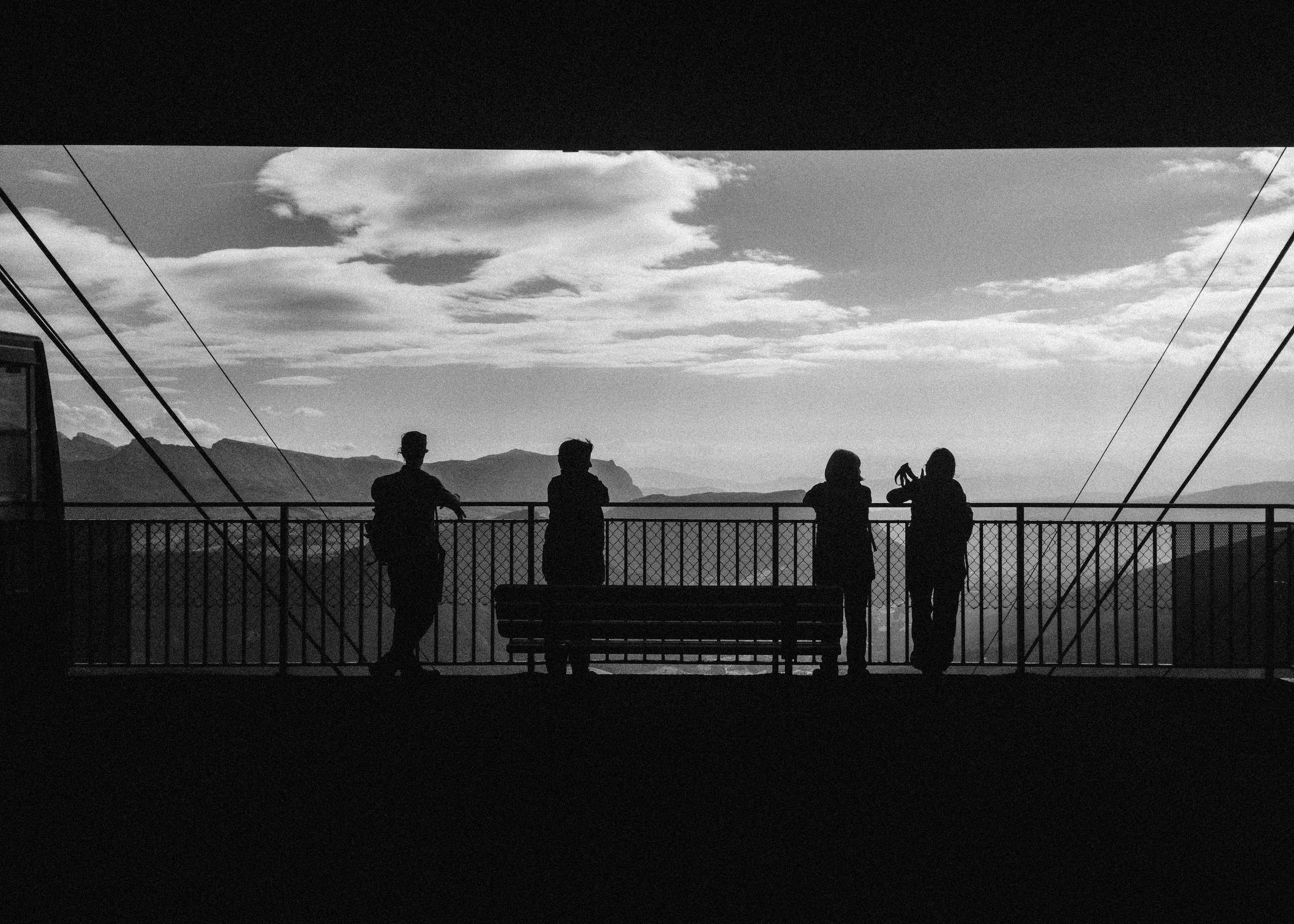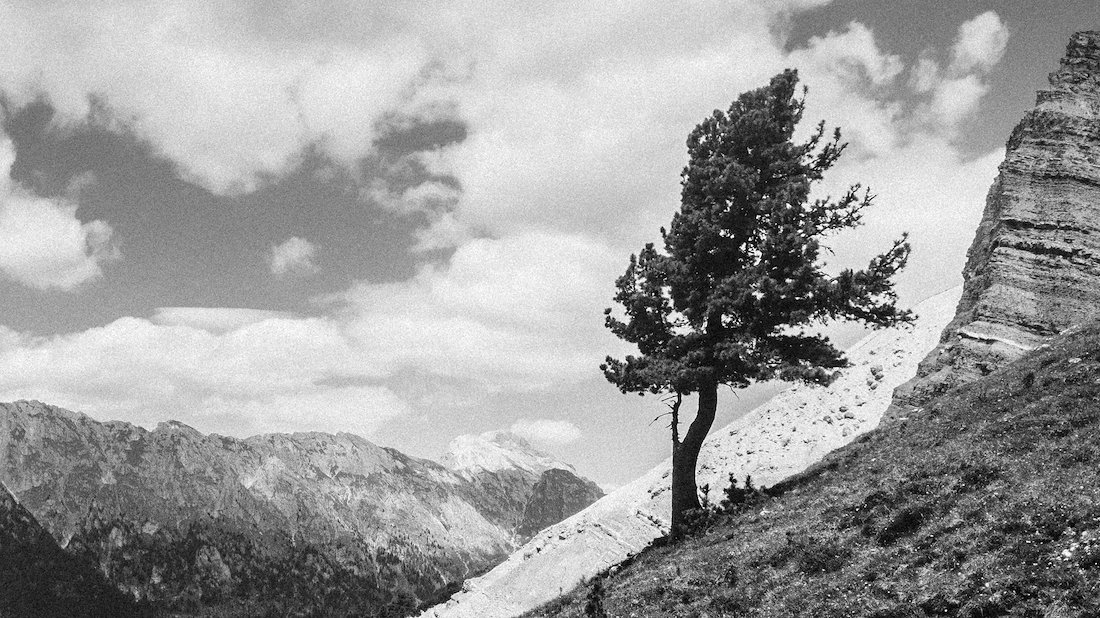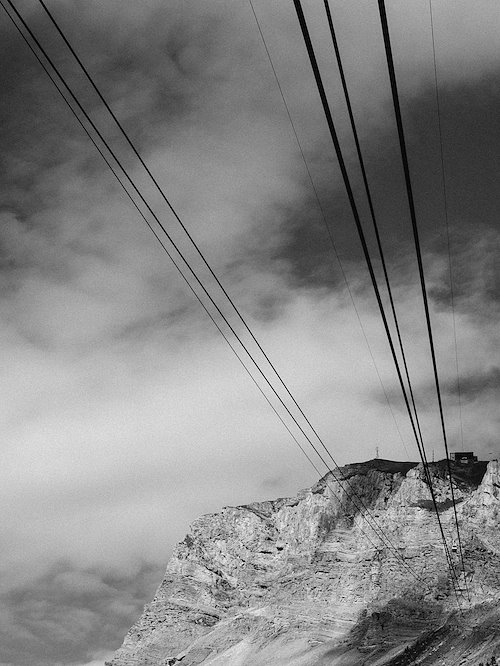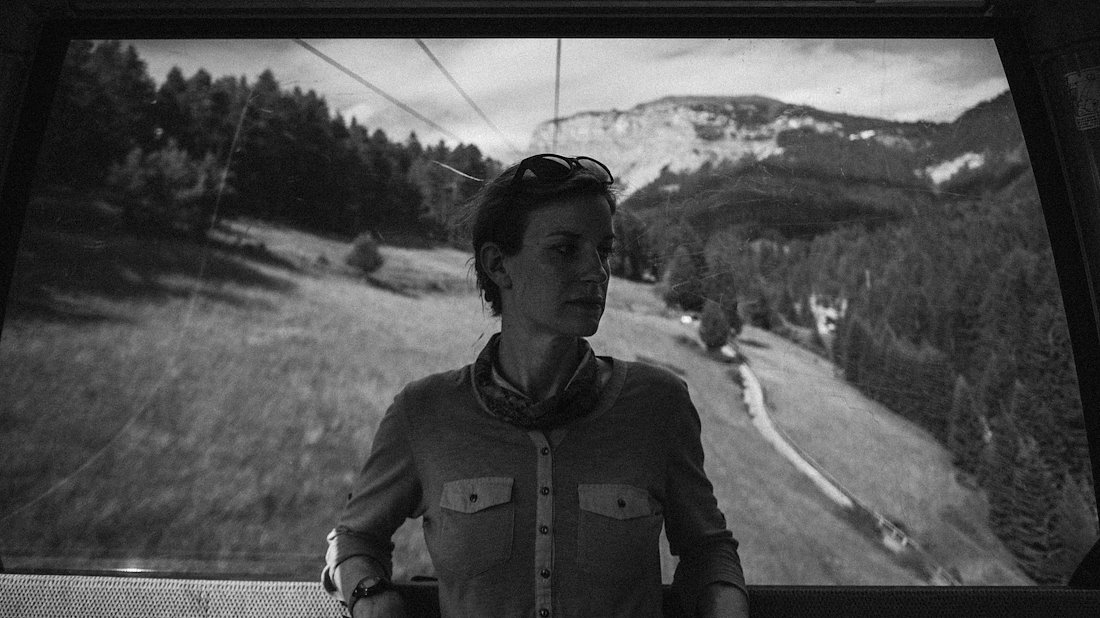 Sassolungo and Sassopiato literally translate as 'long stone' and 'flat stone'.
They're two mountains that form a horseshoe shape if you were fortunate enough to be in a helicopter and see them from above. Or you could just use Google Maps. Whatever floats your blimp.
We walked anti-clockwise round the base of Sassolungo, through meadows and woods, and into the rocky heart of the massif.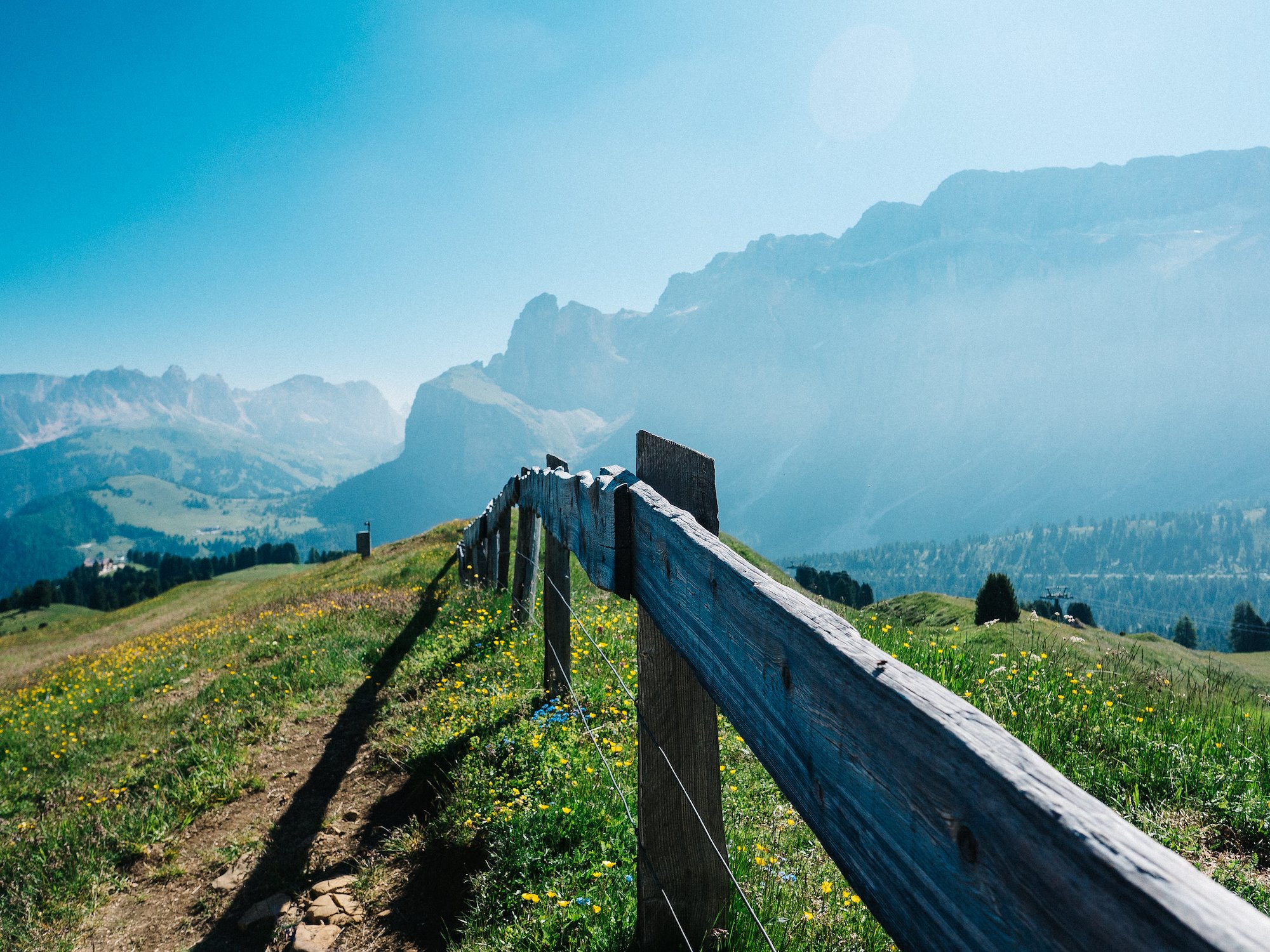 We carried clothes and supplies for two nights, as we were staying in rifugios (rifugi?) along the way. There's nothing quite like the prospect of lugging a load of crap with you in boiling hot weather to make you realise what you can and can't live without.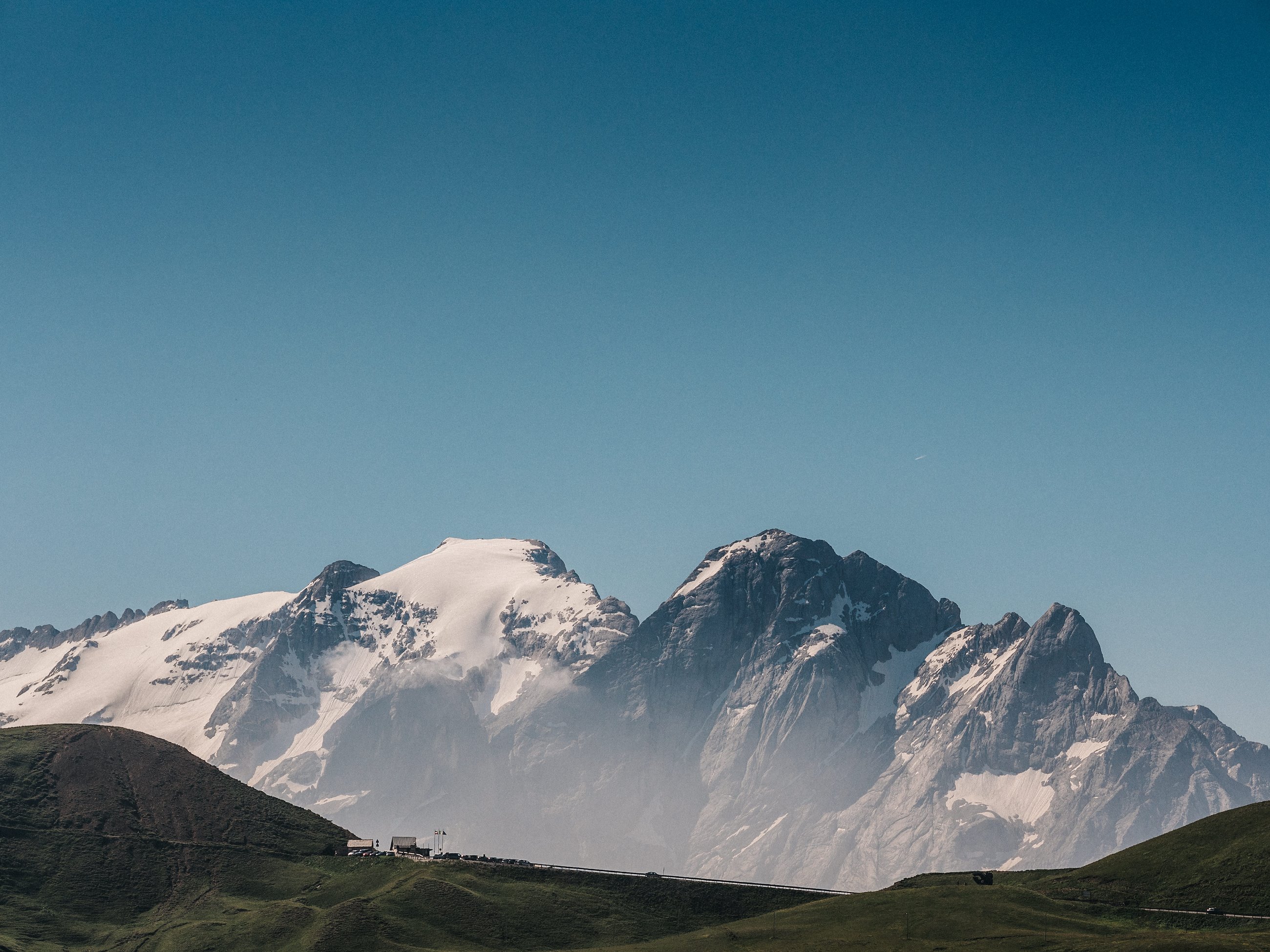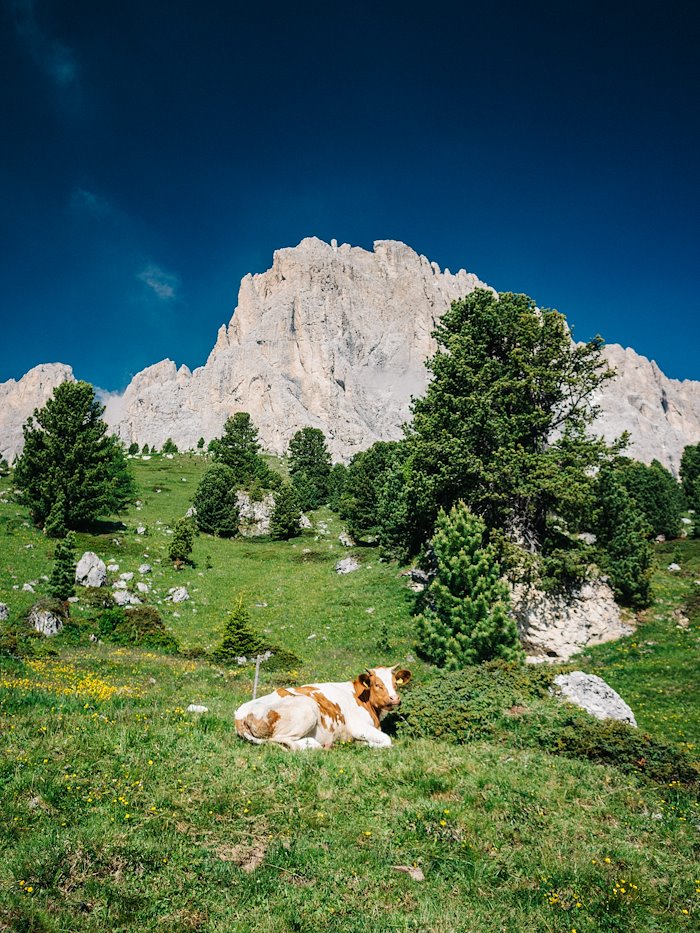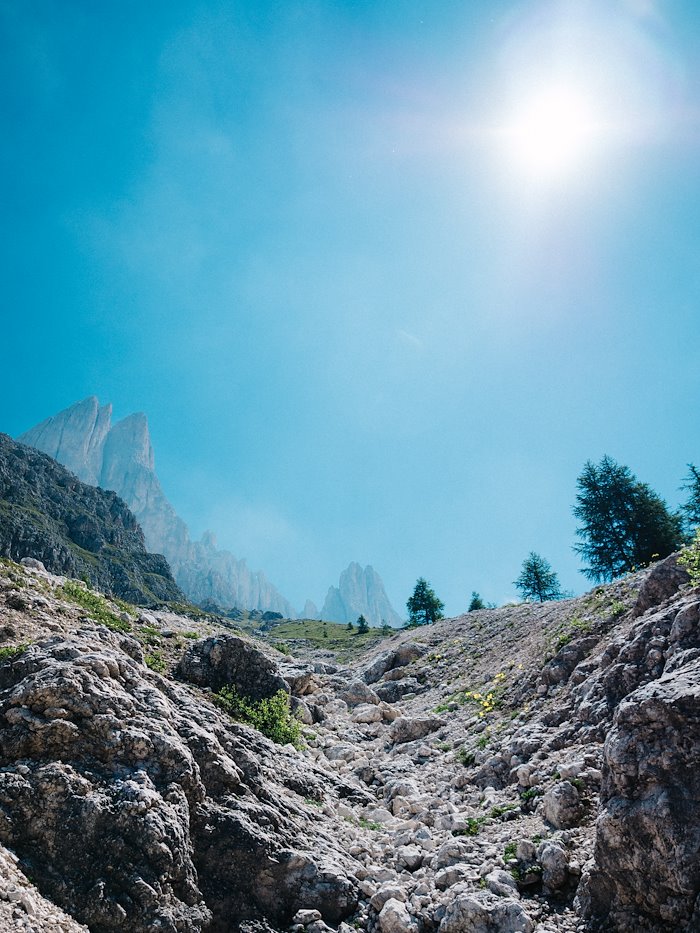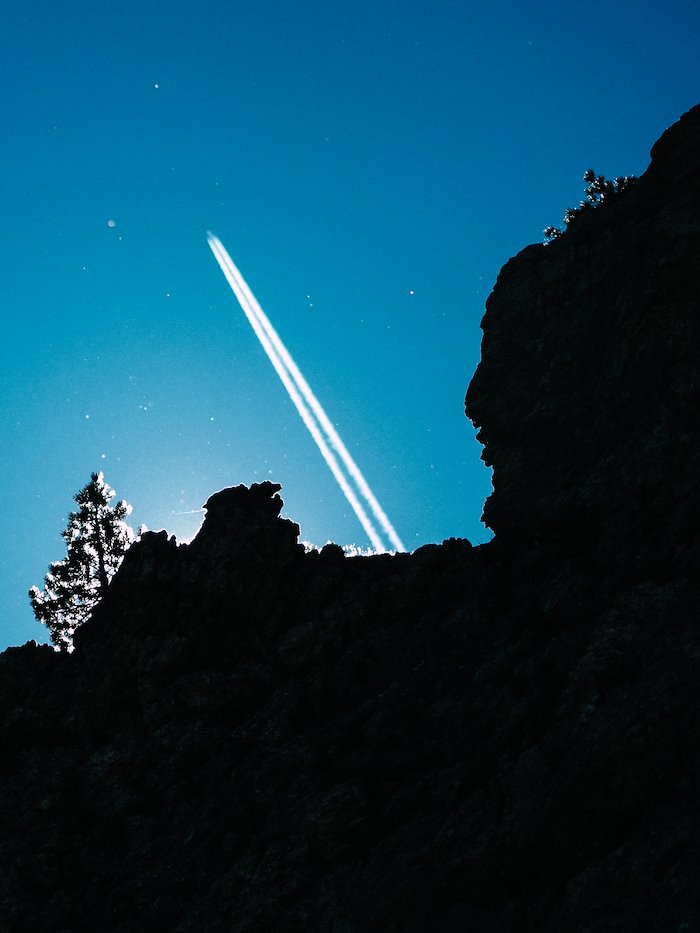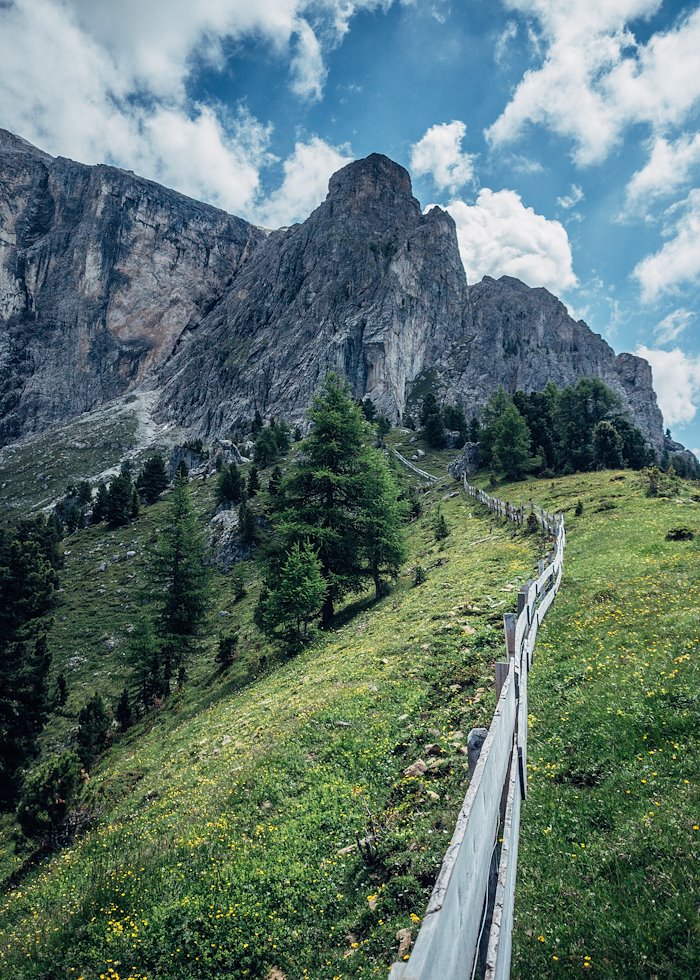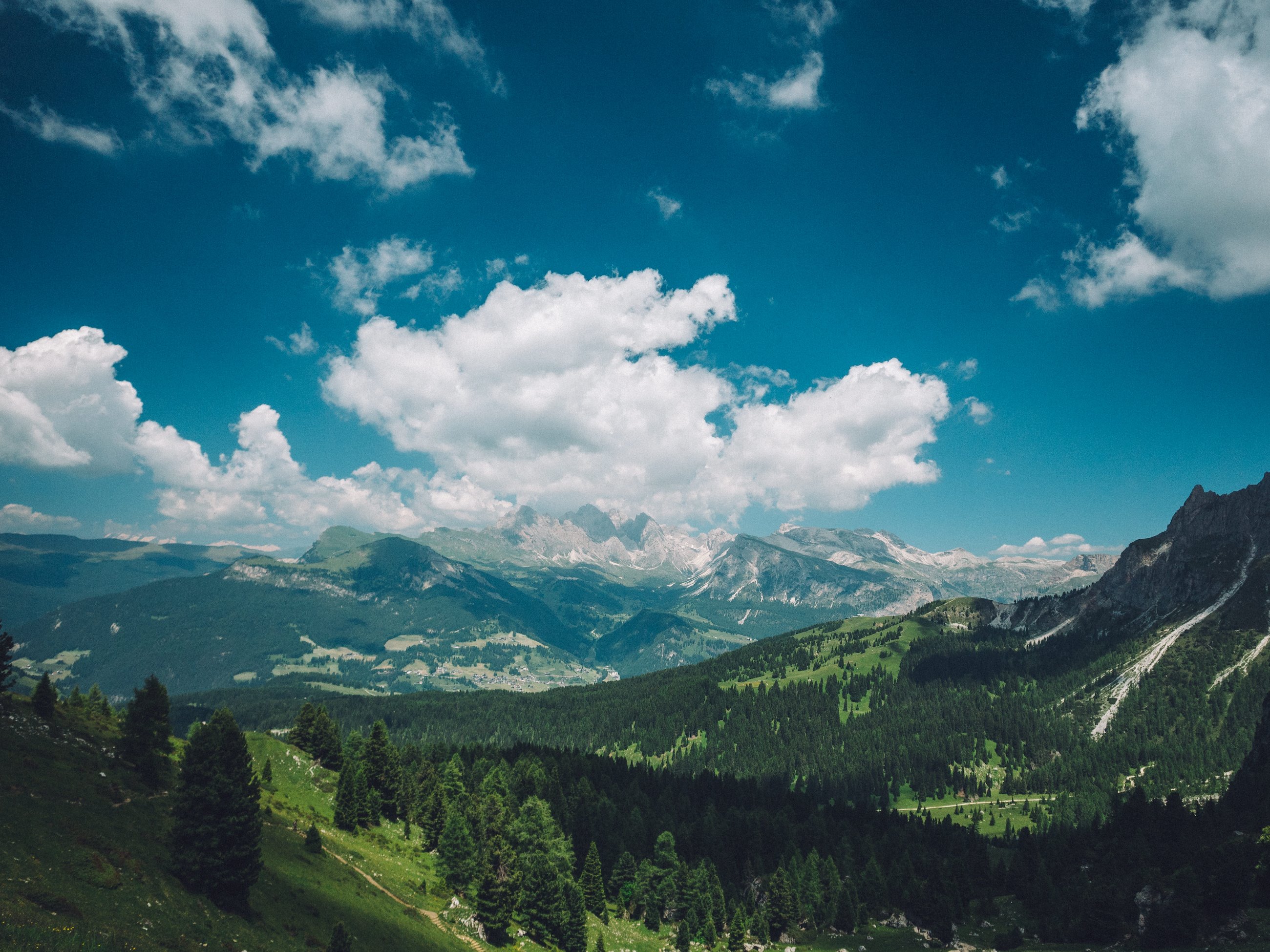 The funny thing about this part of Italy is that it's not very Italian.
It's a melting pot of cultures, with Austrian and Ladin (sort of neo-latin) influences. Yup, I didn't know about that either. In a nutshell, we found ourselves saying "Guten morgen" more often than "Buongiorno". I turned it into a game, trying to guess what language the approaching hikers would most likely speak.
ProTip Fat moustachioed middle aged white guys invariably speak German.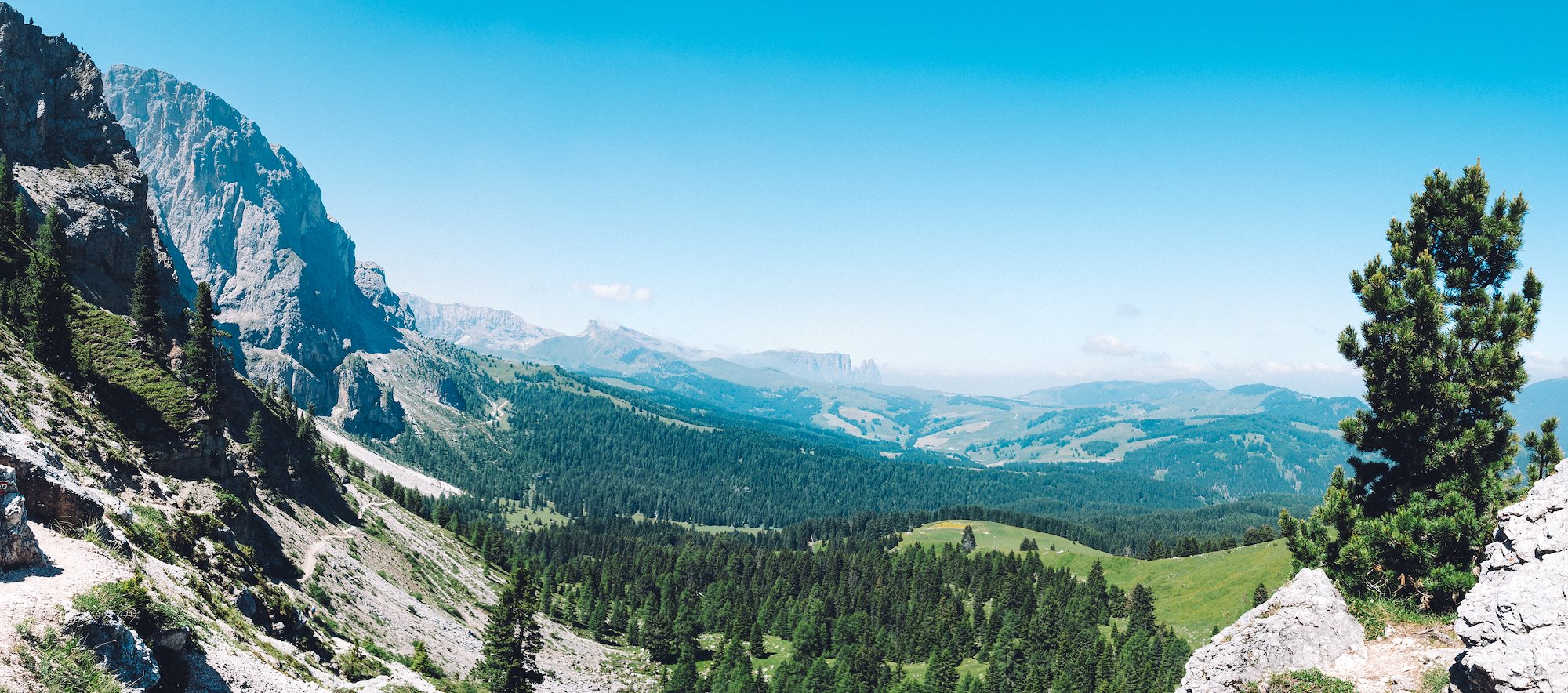 We were originally going to climb Sassopiato (the photo below) in the afternoon, but we took a longer route than originally planned. At the base of the mountain was the rifugio where we were to stay the night, and we arrived at about 3pm.

The friendly staff told us that it'd take two hours to get to the top, and probably the same to get back down, which, if we'd left instantly, would've had us returning at 7pm. Doable, but the rifugi are strict with their dining hours (seriously, one place said 'Dinner between 7pm and 7:30pm'), and I didn't want to risk incurring their wrath and thus miss my monstrously large meal*.
I was also knackered. But that's just between you and me.
So we drank radler**, played on the slackline (badly), swung on the swings, walked in the meadow, watched the cows getting stuck in the mud, ate a thanksgiving dinner that couldn't be beat, went to sleep and didn't get up until the next mornin'.
⁂
* For dinner you're generally served four courses - a salad course, a pasta course, a meaty thing, and then dessert. And then you explode.
** German shandy. You know, beer and lemonade. Yes, I know, I know. It's not cool. But after walking for eight hours, it provides citrusy refreshment combined with the loosening effect of alcohol, all without sending you to sleep. Unless you have three of them. Oops.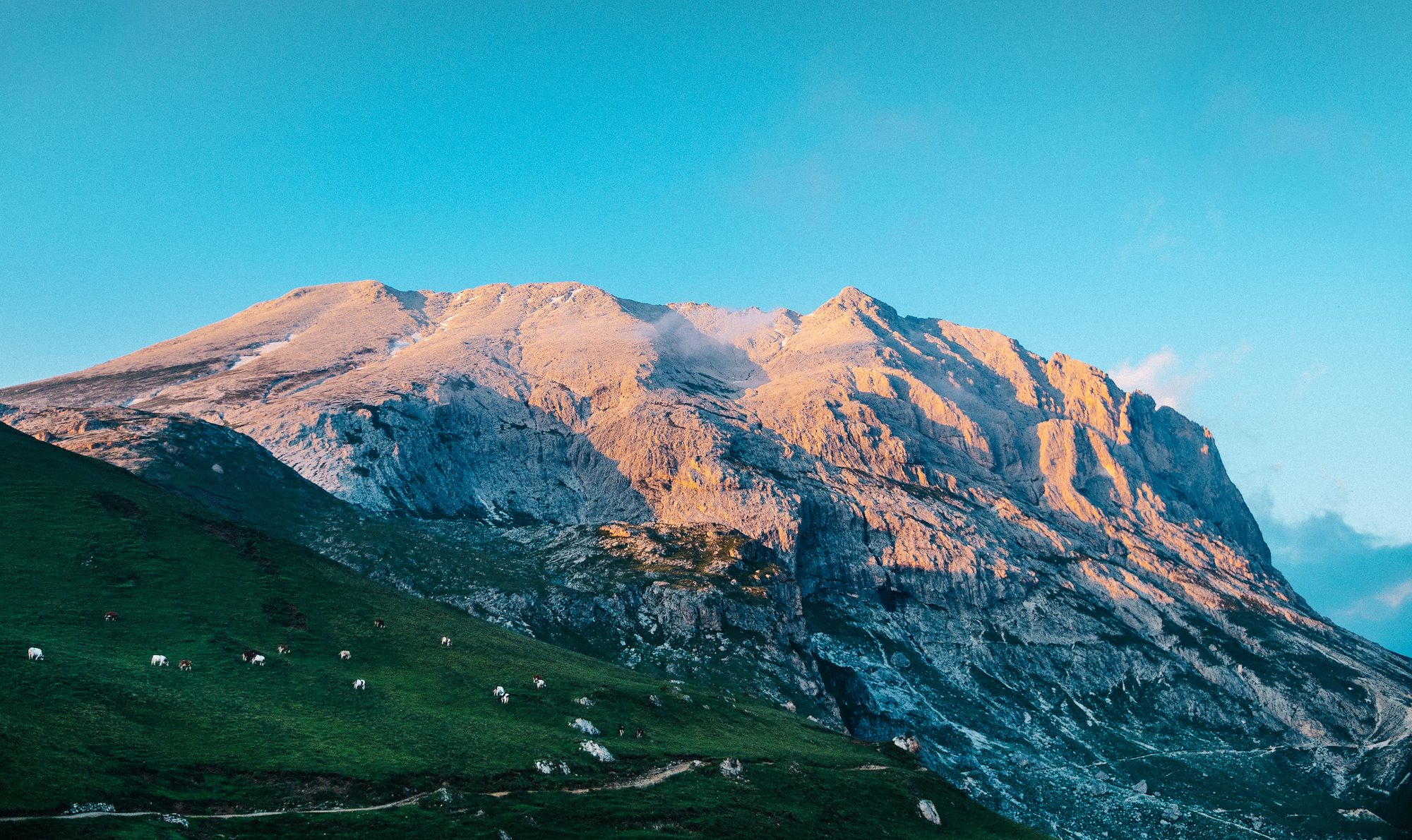 ⇡ Sassopiato ⇡

The evening view from our balcony. The Dolomites are renowned for turning orangey pink at sunset because of the composition of the rock and how pale it is. It's actually called 'dolomite'. It's similar to limestone, and was formed under the sea, a long, long, long time ago, back when Donald Trump wasn't an enormous douchebag. Just a wee one.
❂
We rose early the next morning to bag the mountain before the rest of the day's hike.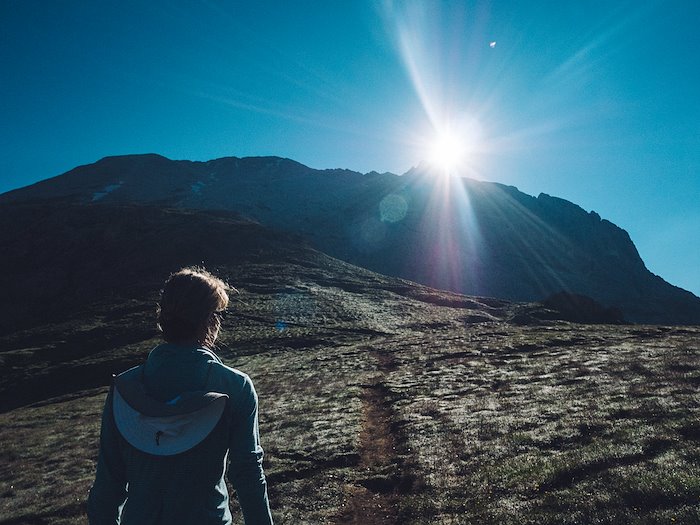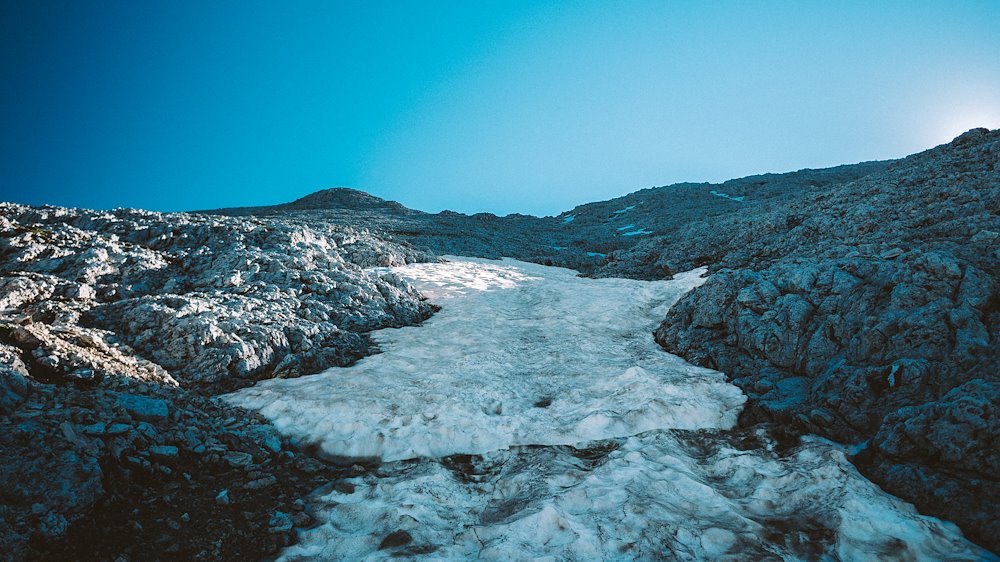 At the top, Lucy got chatting to the chap in the photograph above, part of a group of three Germans (these ones weren't that fat, and not a moustache in sight. Tricksy) whom we recognised from dinner at our rifugio the night before.
After stumbling over bad English and our even worse German, we settled on French, and he explained that he had worked as a maths teacher for Unicef in Niger for ten years. An interesting guy. I took a bunch of pictures of the three of them on their thousand year old Konica digital camera, and suddenly the wee one piped up, saying:
I hef seventy seven yeers!
He was talking about how old he was. He must have looked 65 at best (worst?) I guess it's the air around here.
They said their farewells and the wee man shot down the mountain like a rat up (down?) a drainpipe. It was like he had bionic knees. Those walking poles may look daft, but they really do help when you're picking your way through this kind of landscape.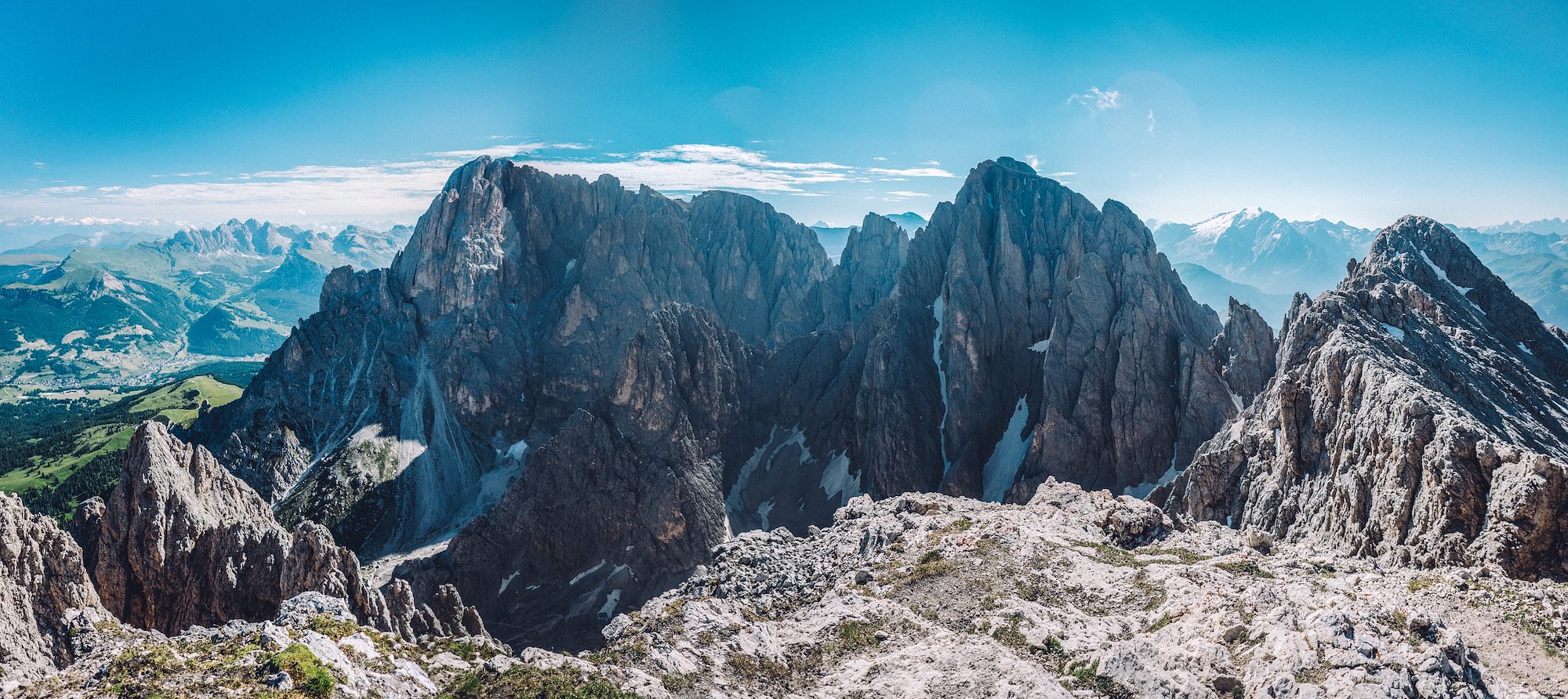 ⇡ From the peak of Sassopiato, looking north-east toward Sassolungo ⇡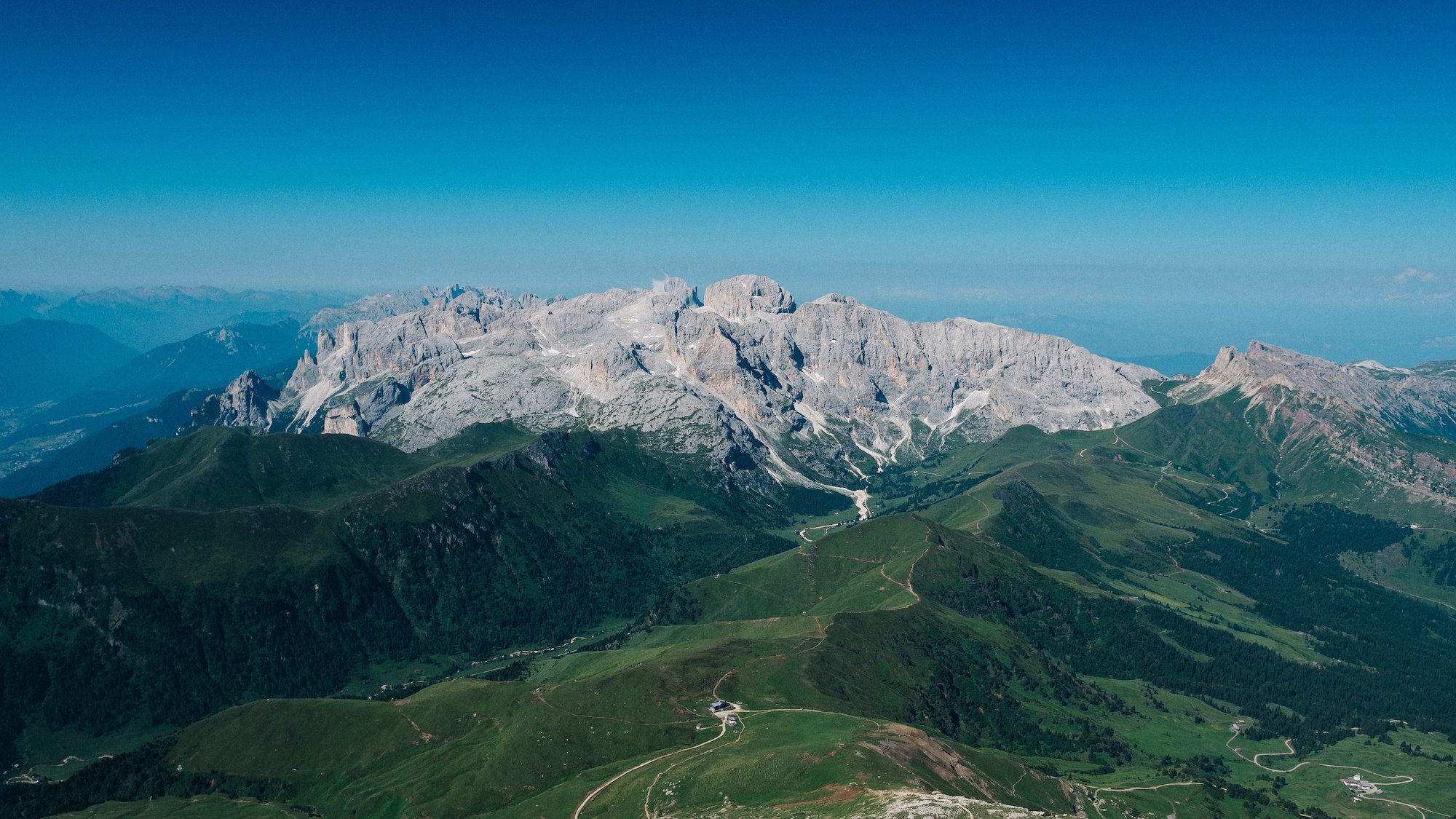 ⇡ The view south-west, back towards Rifugio Sassopiato ⇡

After returning down, we made our way along the path behind the rifugio - the one that winds it's way diagonally up and right, following the ridge all the way into the pass. If you zoom in, you may be able to spot the red roof of Rifugio Alpe di Tires.

Rifugio Bergamo was our final destination of the day, nestled in the Rosengarten (Catinaccio in Italian), another massif in the region. As you've probably guessed, it means 'Rose Garden' in German, and refers to a traditional legend of King Laurin, explaining the outer appearance of the range. At least that's what Wikipedia says. We moved through a green landscape populated by cows and horses, all game for a good scritch. I do have video of me scritching a cow. But that's for personal use only.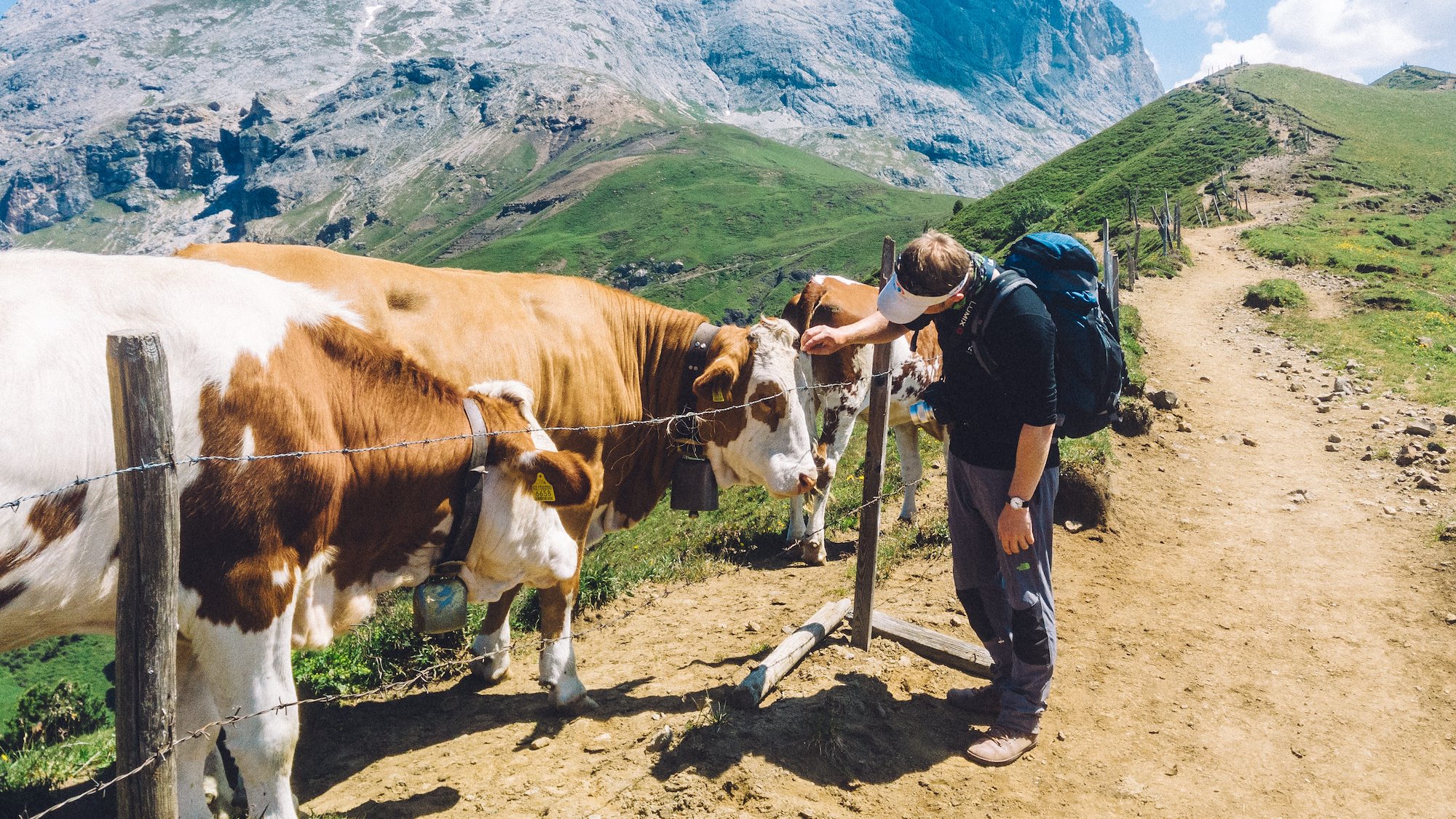 A hiker waited for us to approach. We thought he was your run of the mill German, y'know, into sauerkraut-filled lederhosen and such like, so we were planning to politely rebuff his offers and be on our way. When were close enough, he said secretively:
"He's waiting for you to take his photo!"
He?
He who?
We had not the first clue who he was on about. Was the hiker the owner of a modelling agency? Did he have a male model, already pre-posed, seductively reclining amongst the alpine flora, crotchal region bursting with pickled cabbage?
Alas, he did not. It was just a marmot. A marmot is an odd thing, part giant rat-squirrel and part beaver. It was lolloping around on the side of the hill. It stuck it's head out for a portrait, and then ran away. Not a pickled cabbage in sight.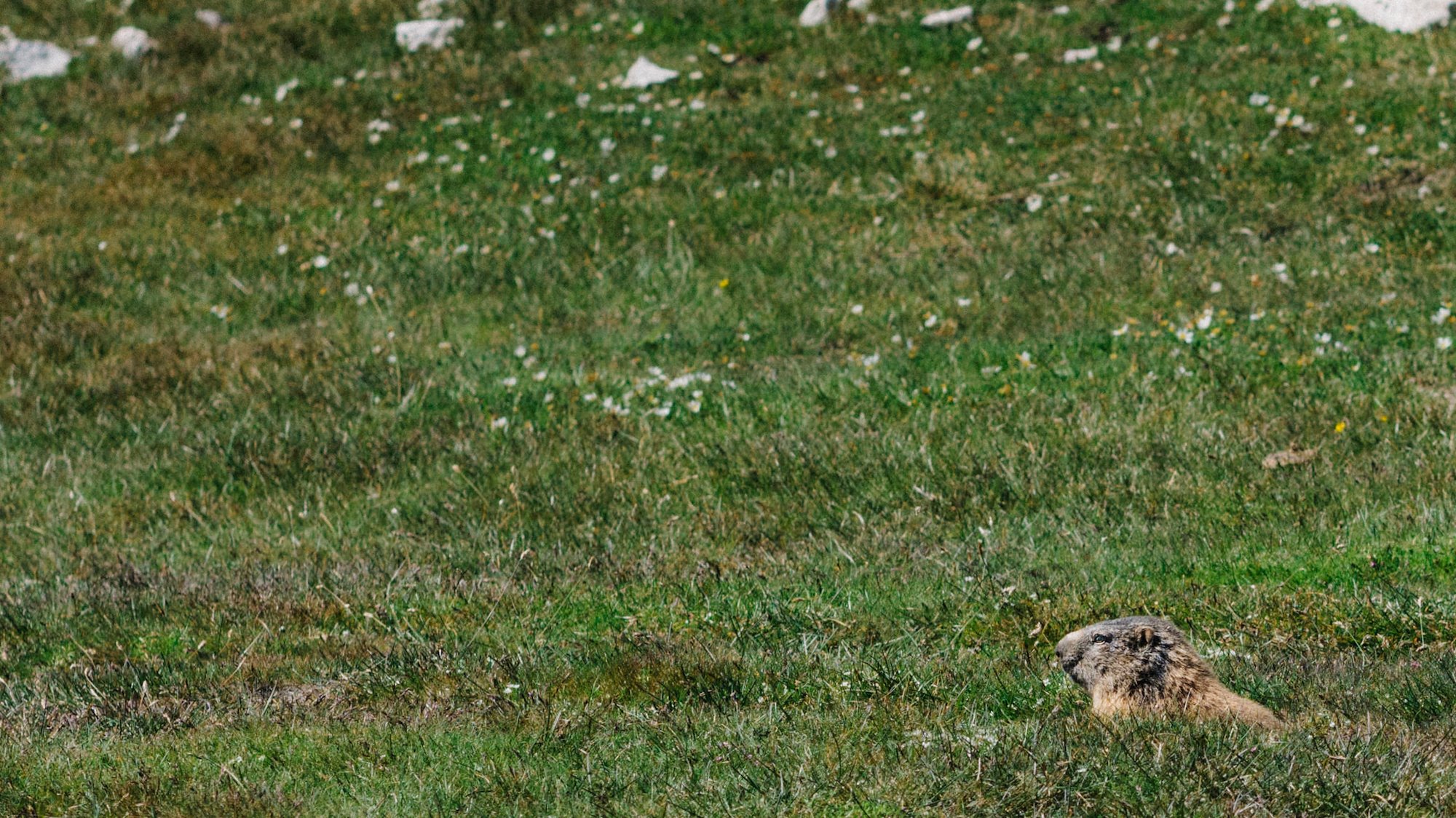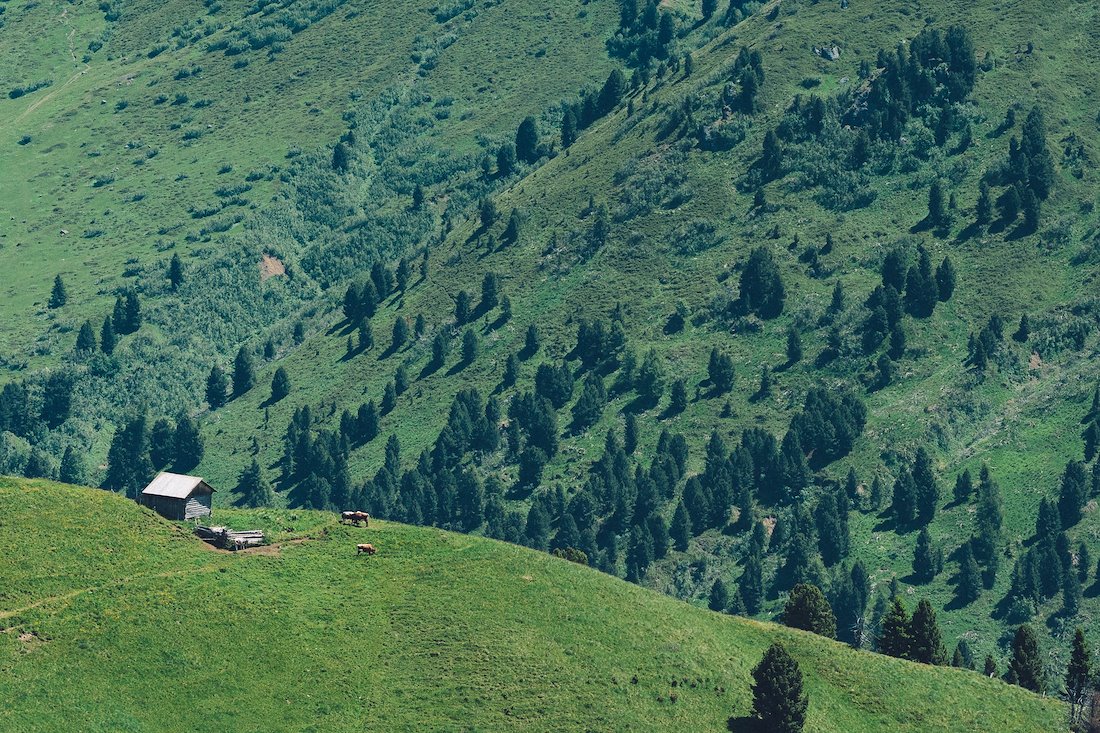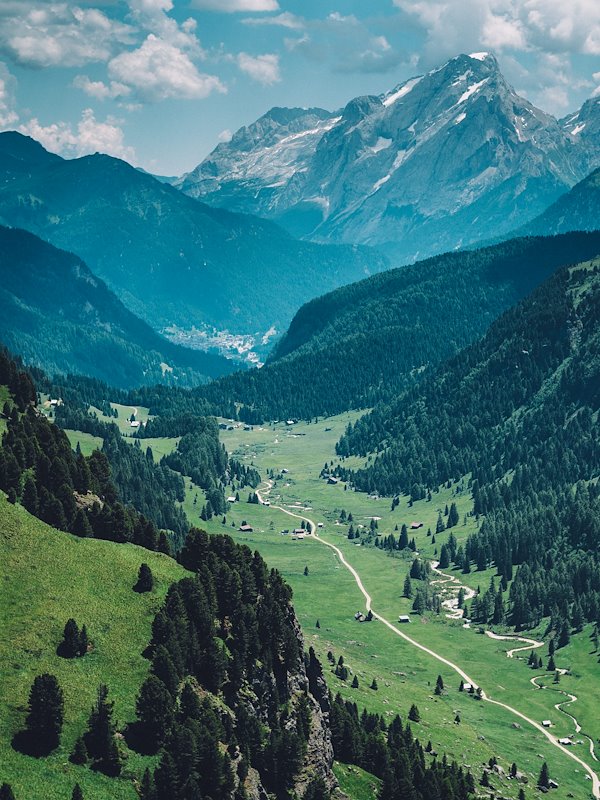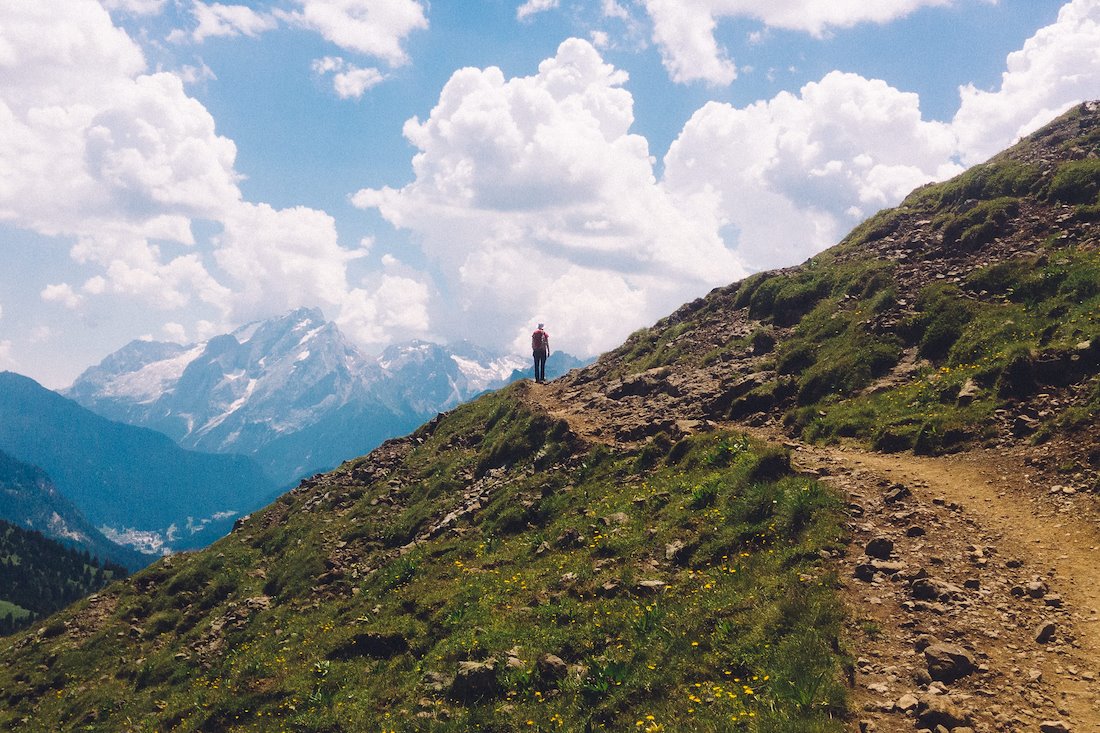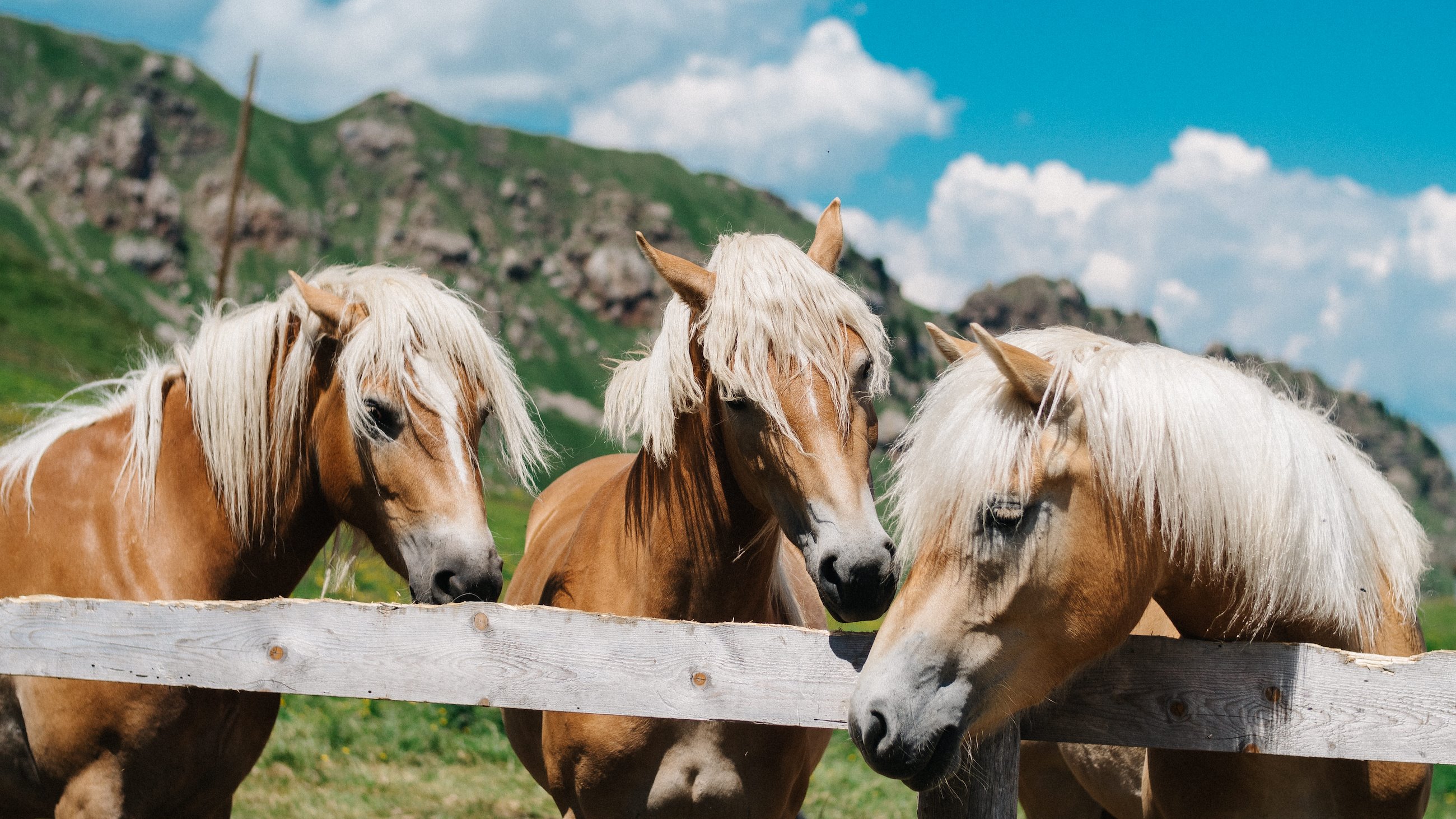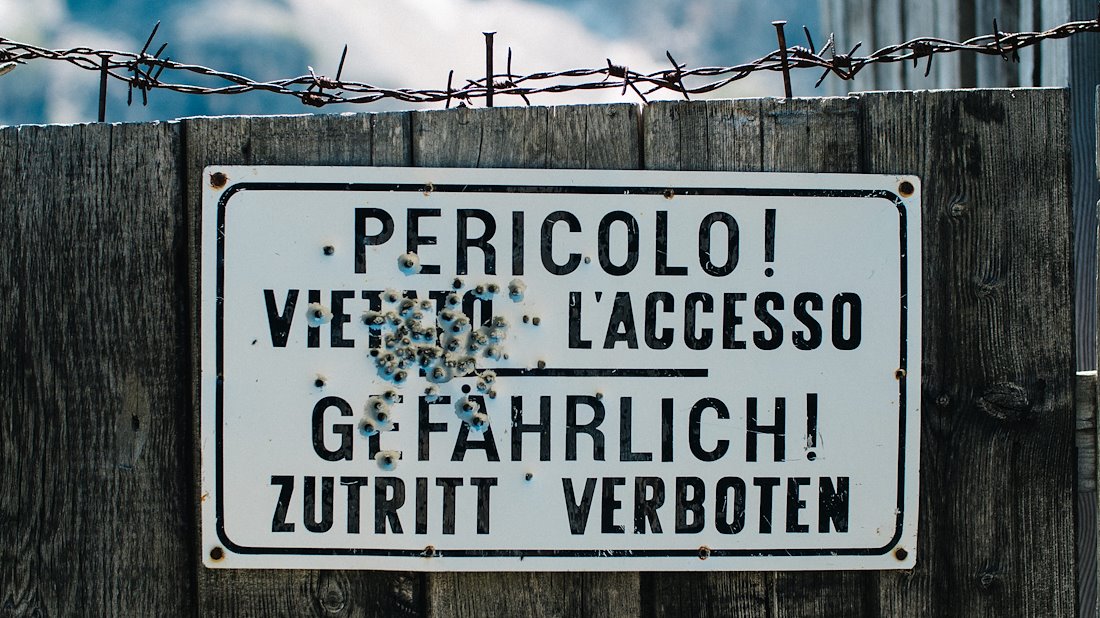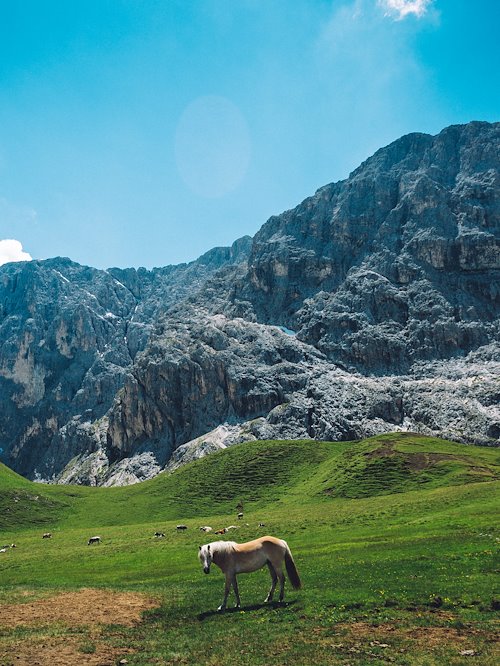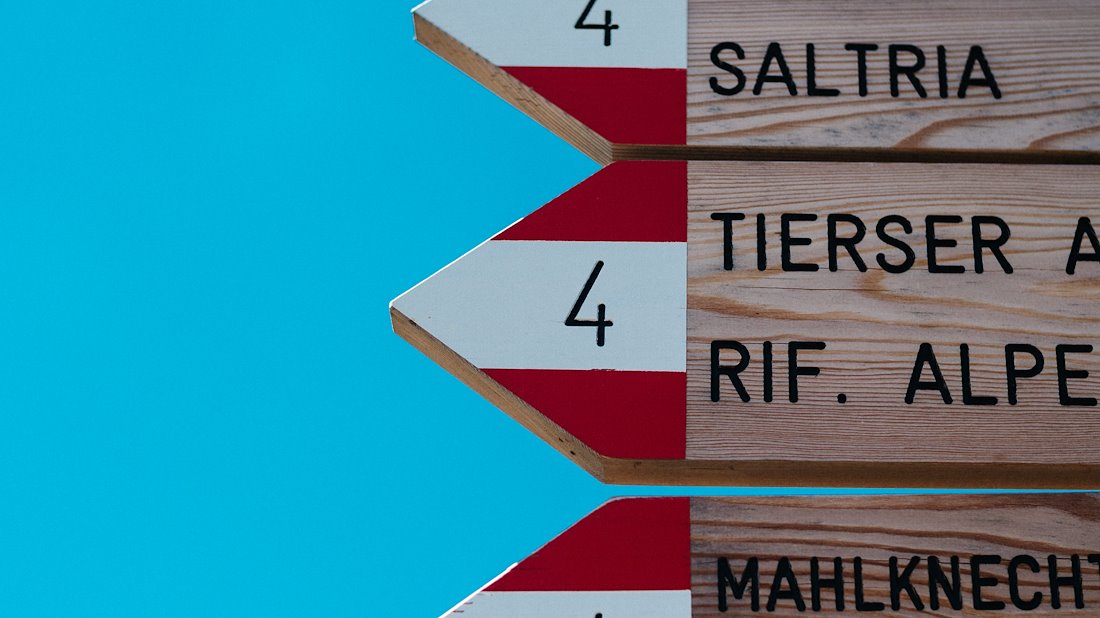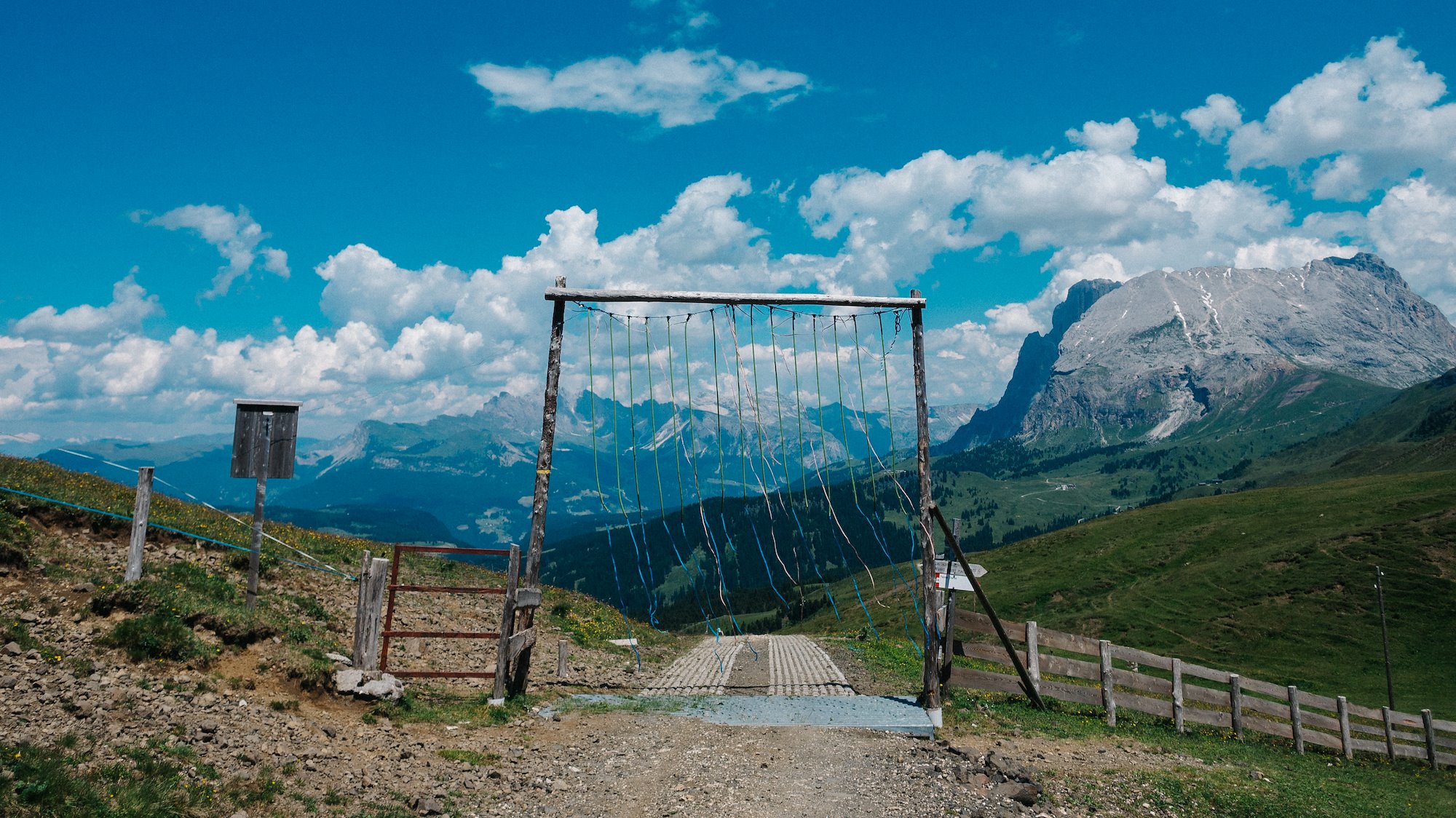 ⇡ That's Sassopiato on the right hand side ⇡
We kept looking back, pointing at it and saying:
"Hey, we climbed that this morning!"
I know, it's not Everest, but it's gratifying to see how far your legs have carried you in a relatively short space of time.
We stopped briefly at this odd electrified curtain thing before tackling the steep climb up to Rifugio Alpe di Tires.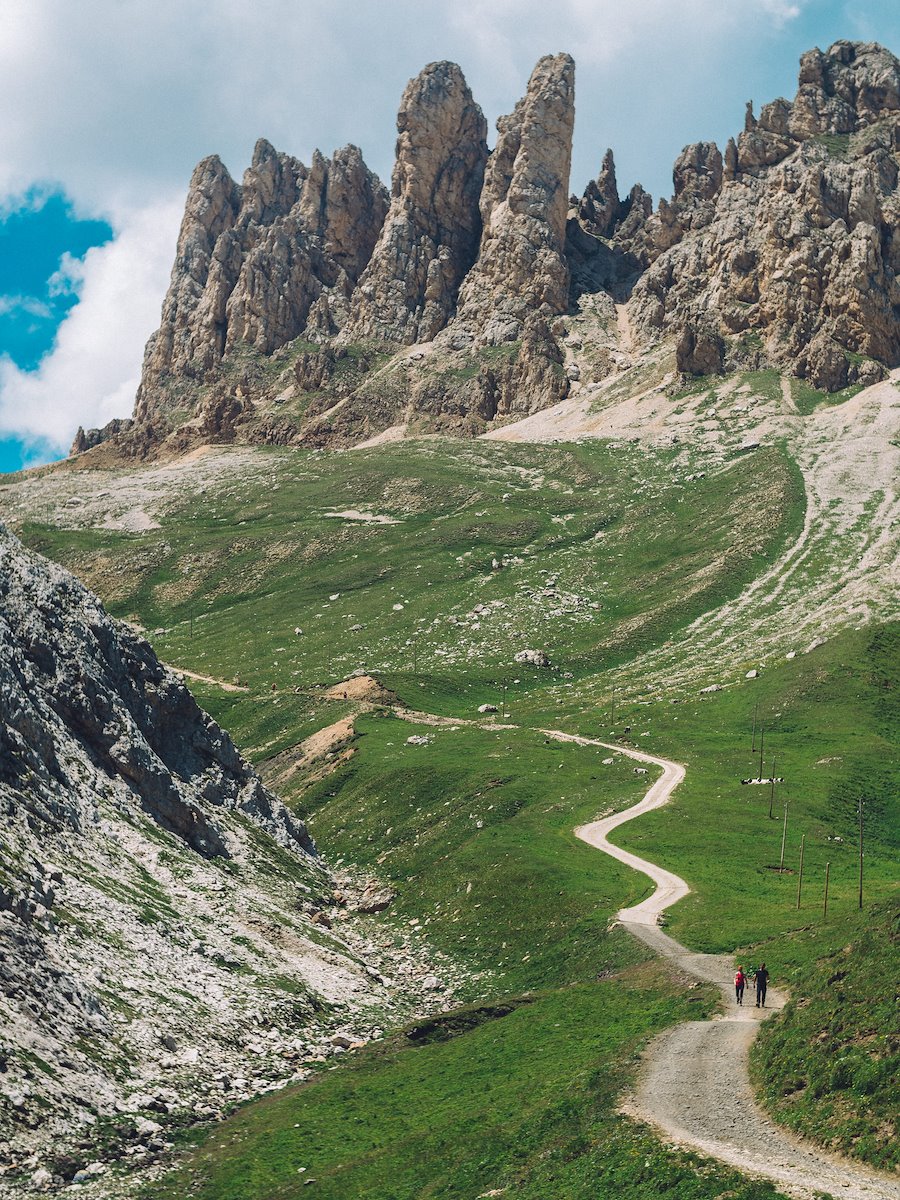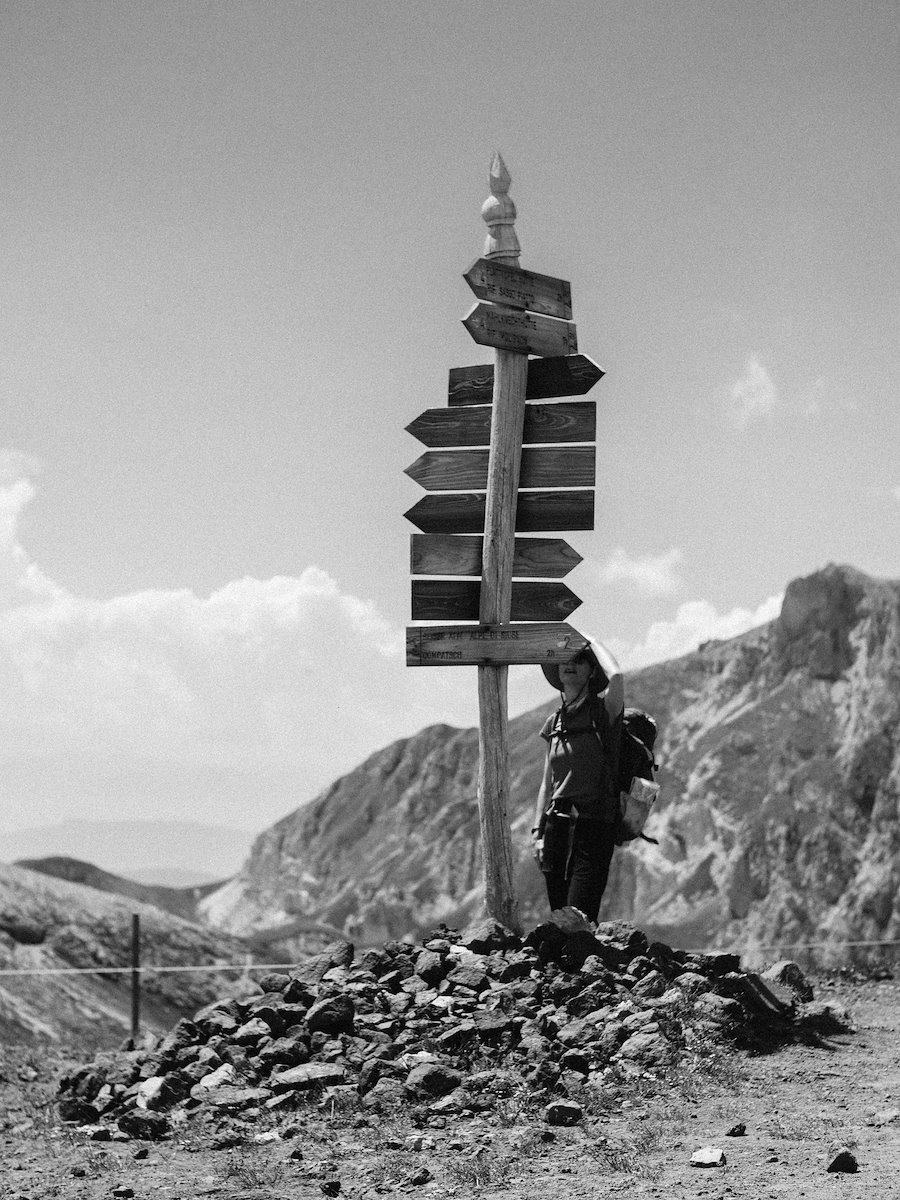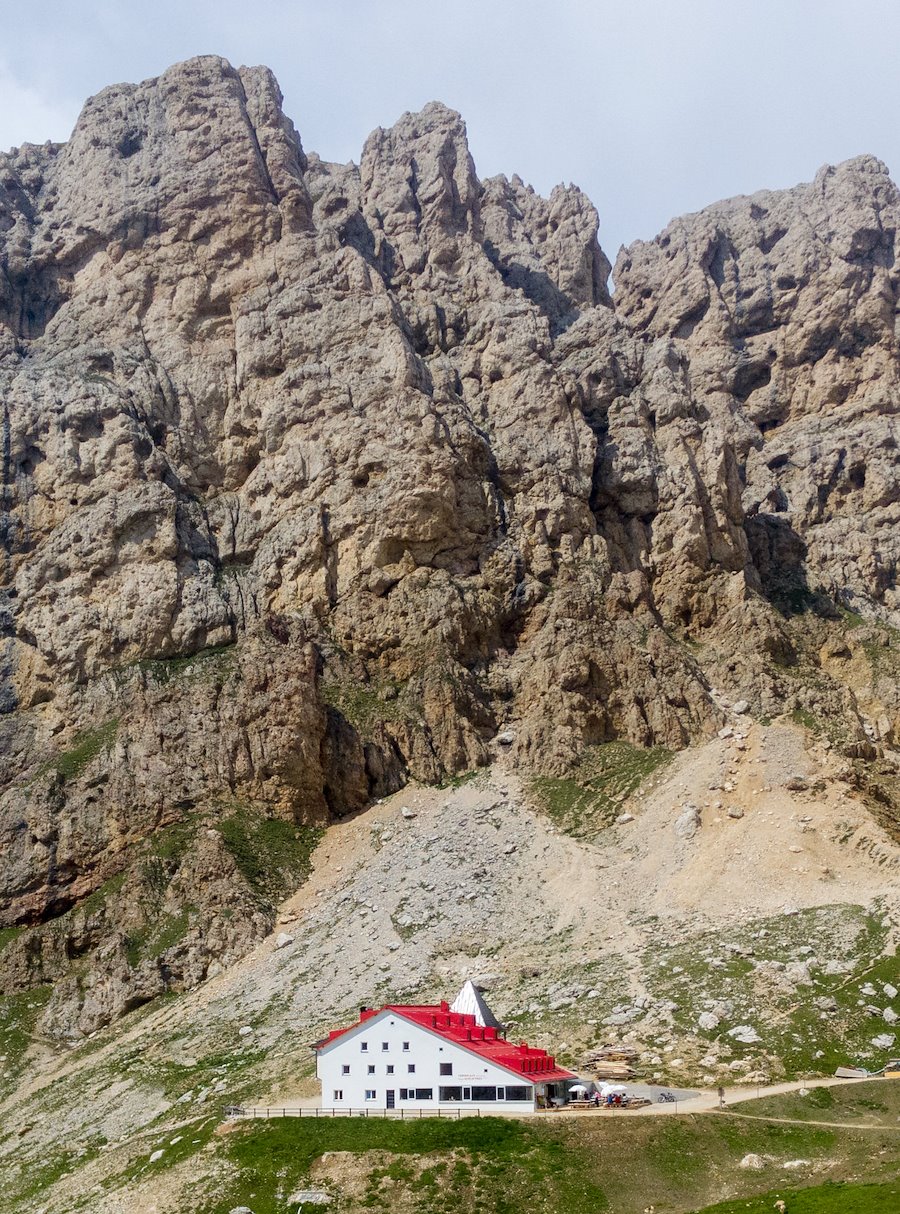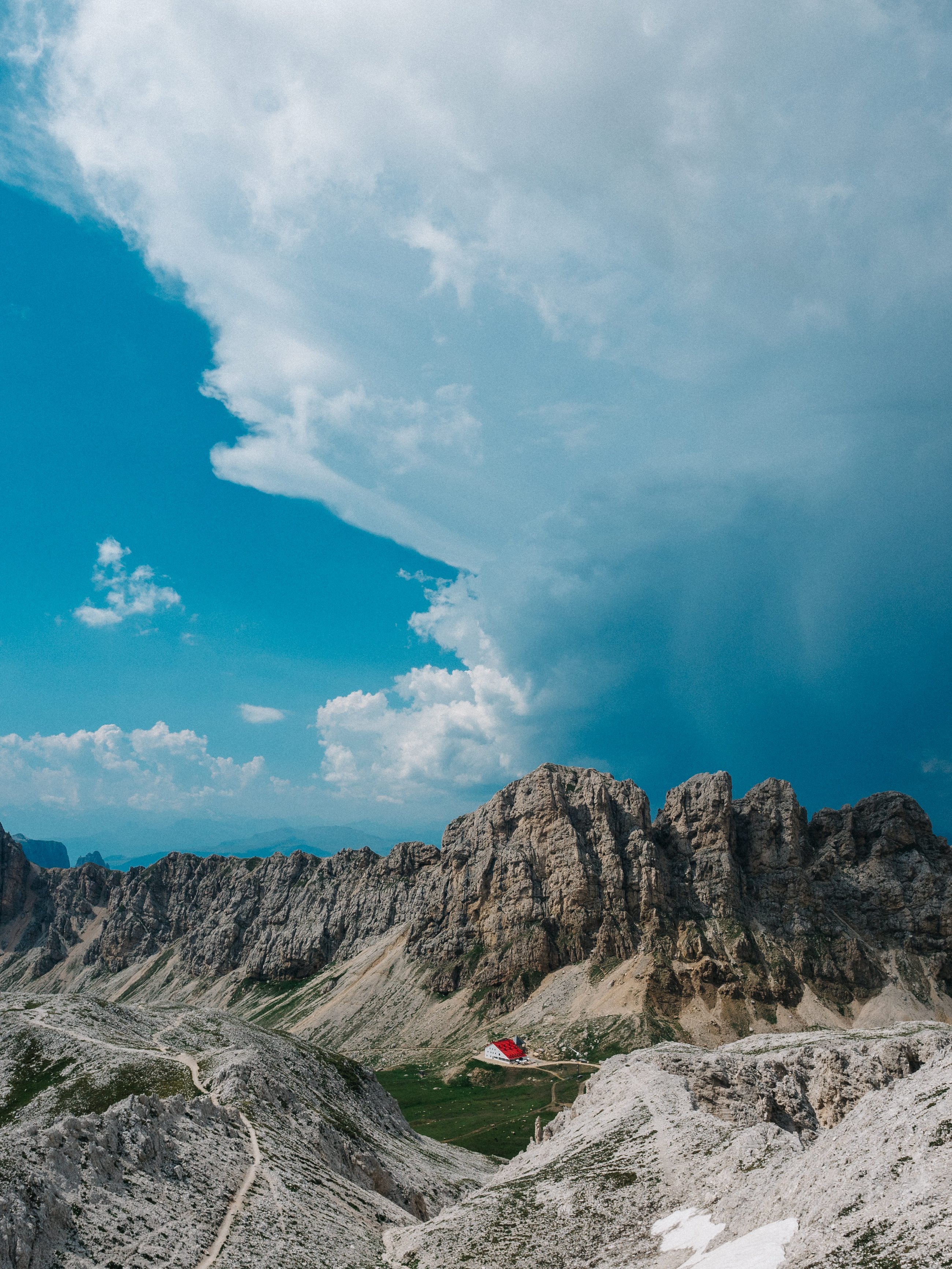 ⌂
⇡ Rifugio Alpe Di Tires ⇡
The interesting thing about the signposts along the trails is that they don't tell you distances, but rather estimated times. Given my rabid picture taking, we consistently took longer than they said, but the threat of rain pushed us on slightly quicker.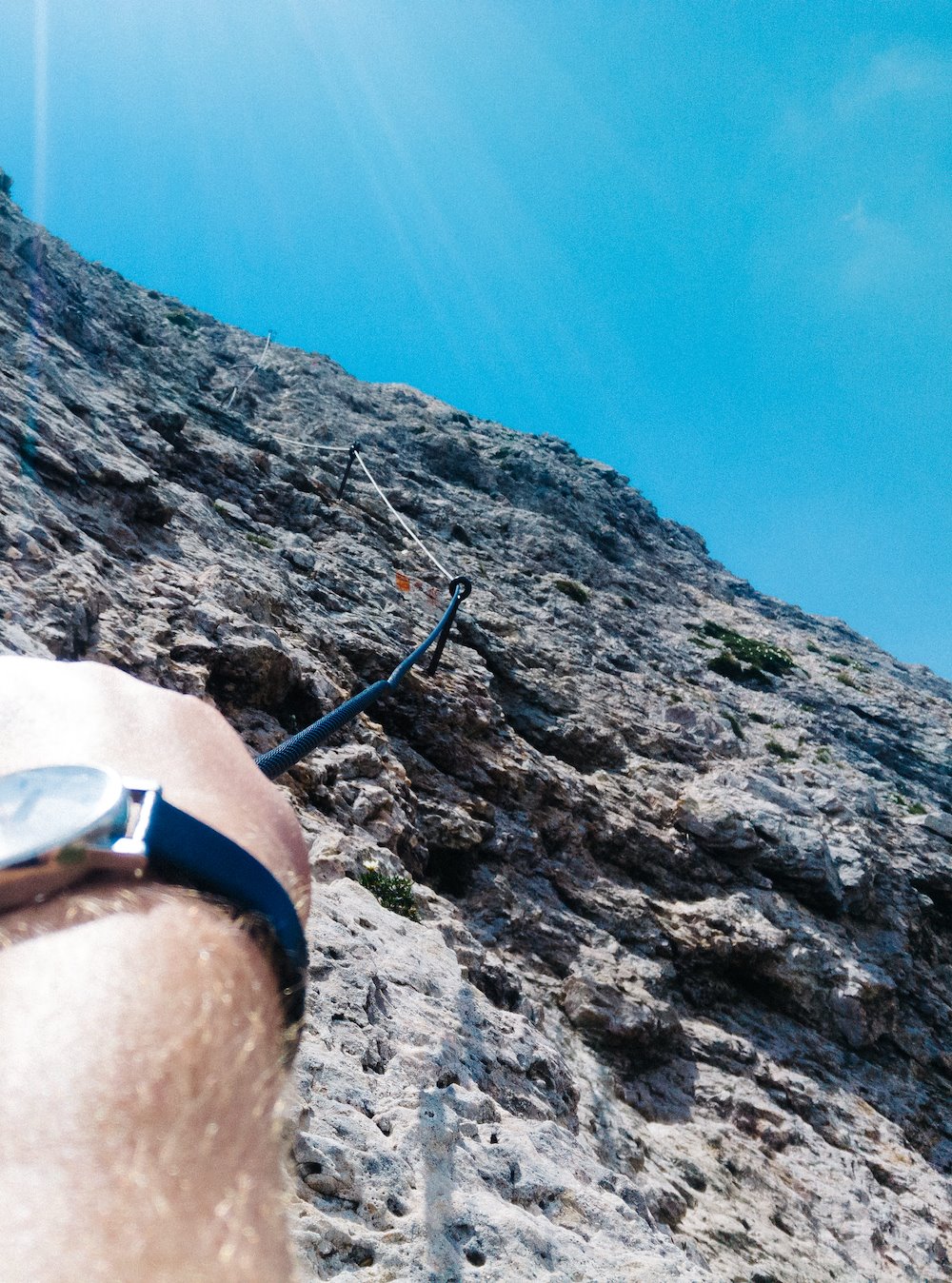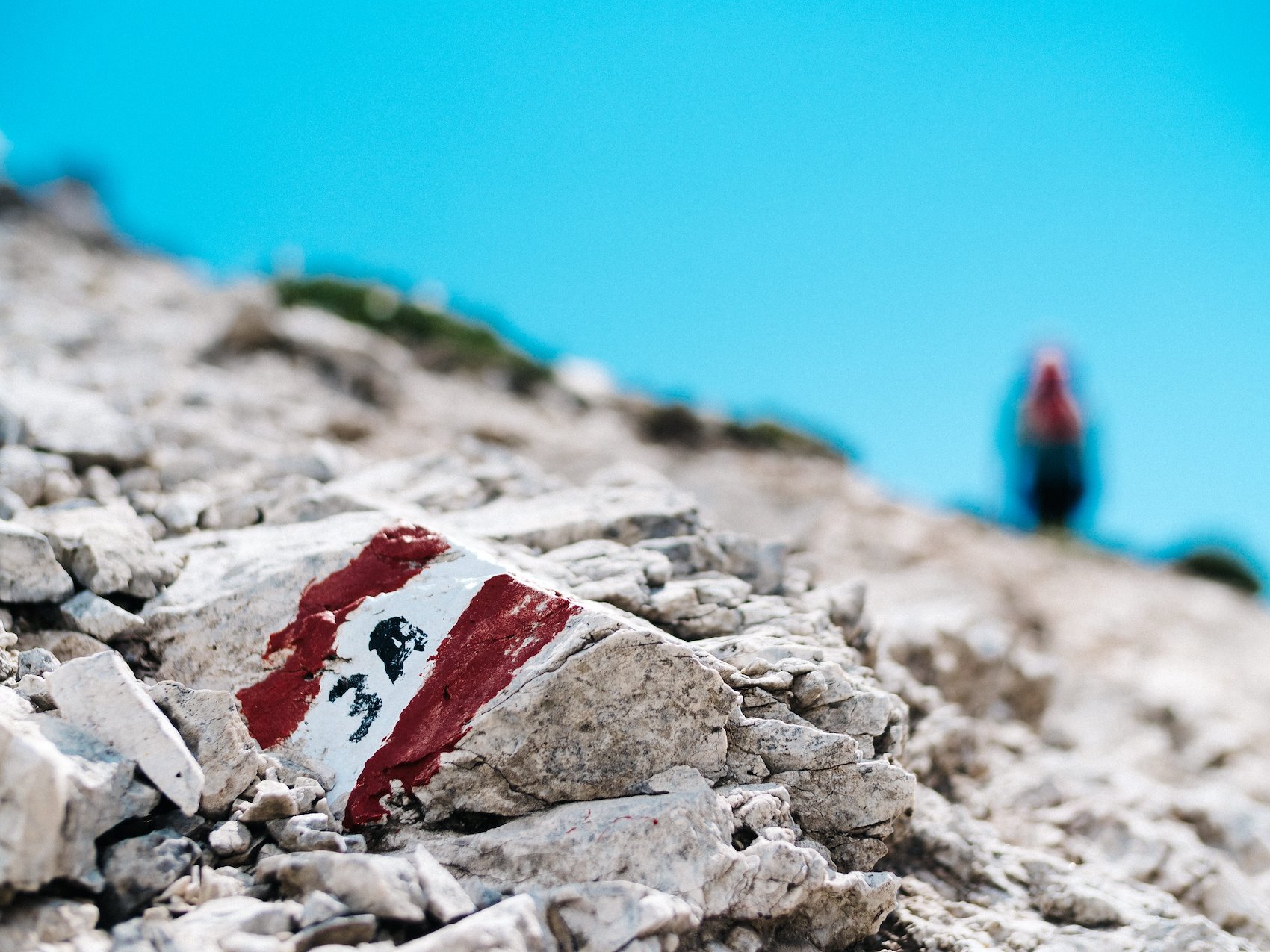 It's odd seeing snow in June. The weather wasn't cold, but the snow was still there, clinging on to the side of the mountain.
I was really excited to get to the end of the path in the picture above. I felt something in my bones, I felt we were high enough and remote enough for there to be something really cool just on the other side of the ridge. We weren't disappointed.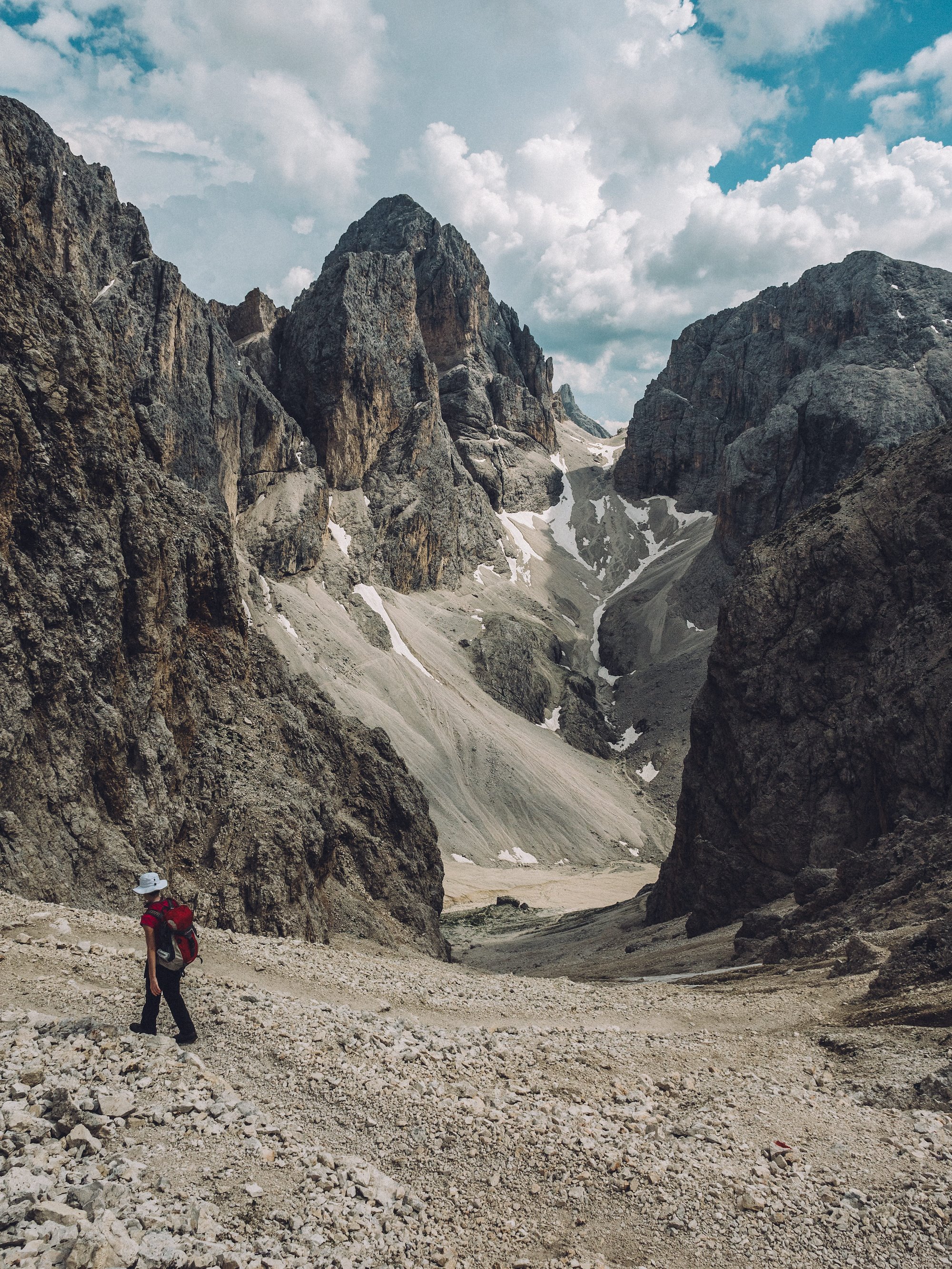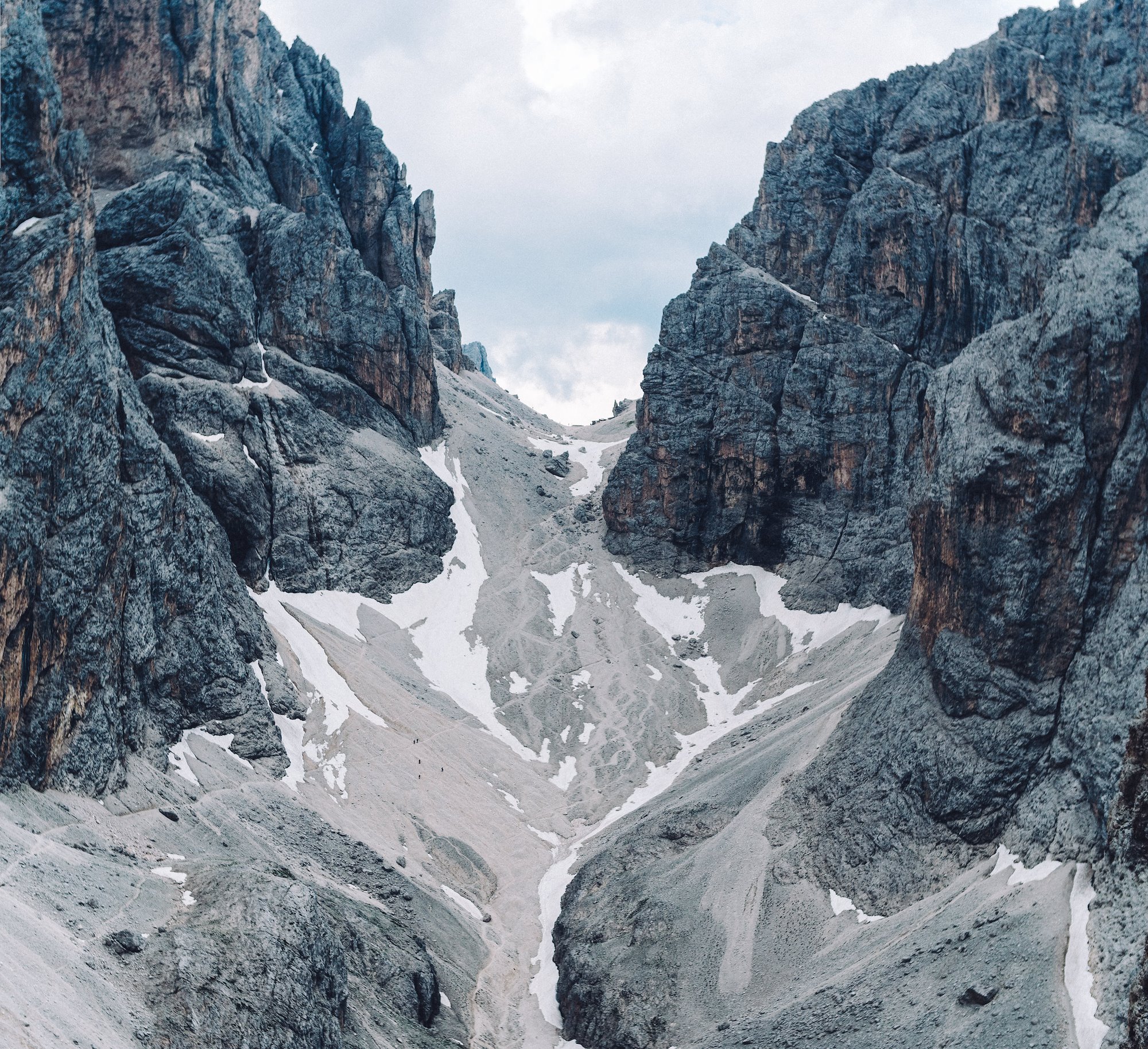 ⇡ Passo del Molignon ⇡

Those five little dark shapes are people, like ants on a pavement, completely dwarfed by their environment. This place was truly awe-inspiring. Massive and other worldly, I couldn't believe we were just allowed to walk through it.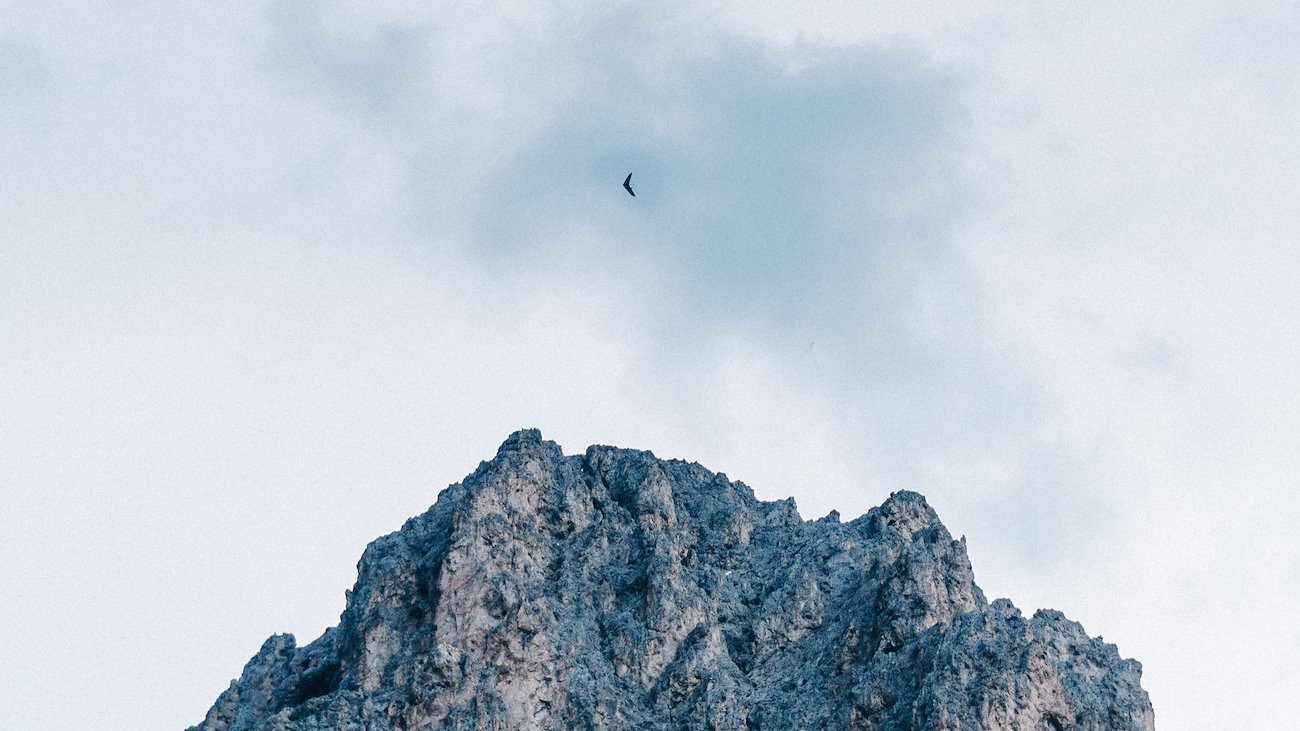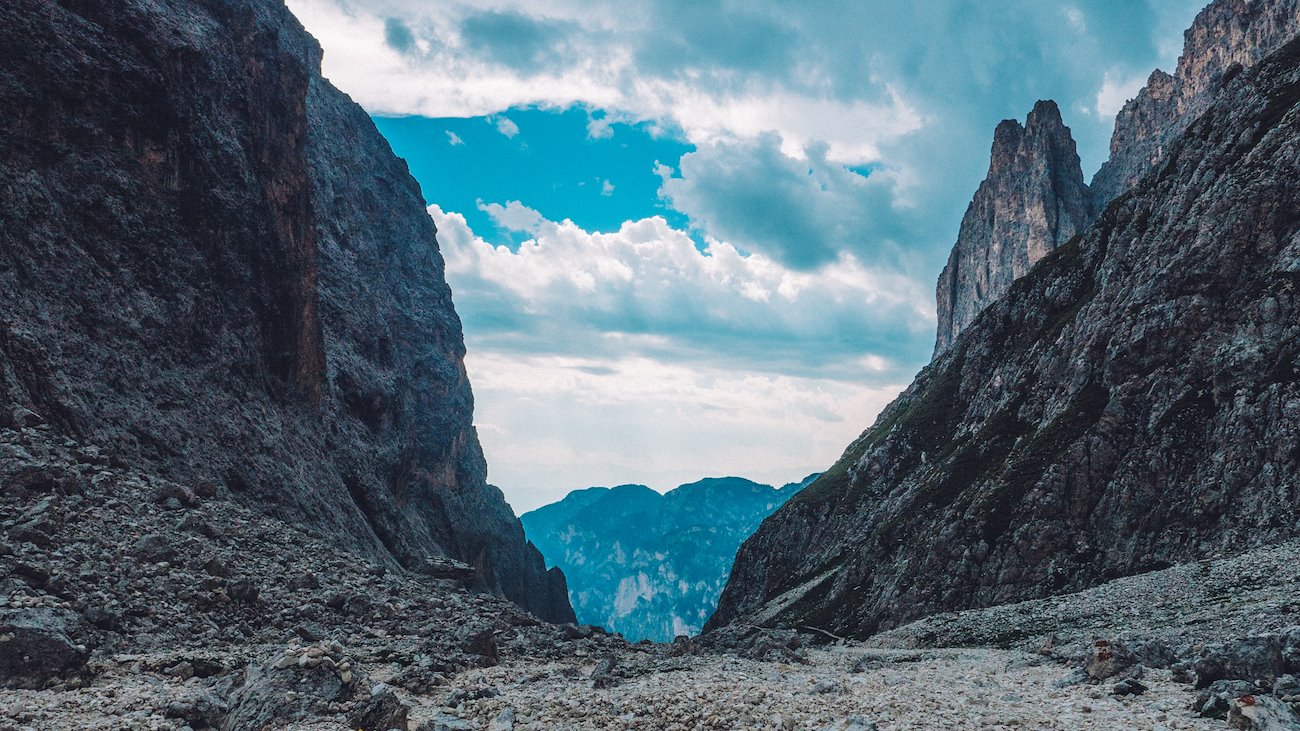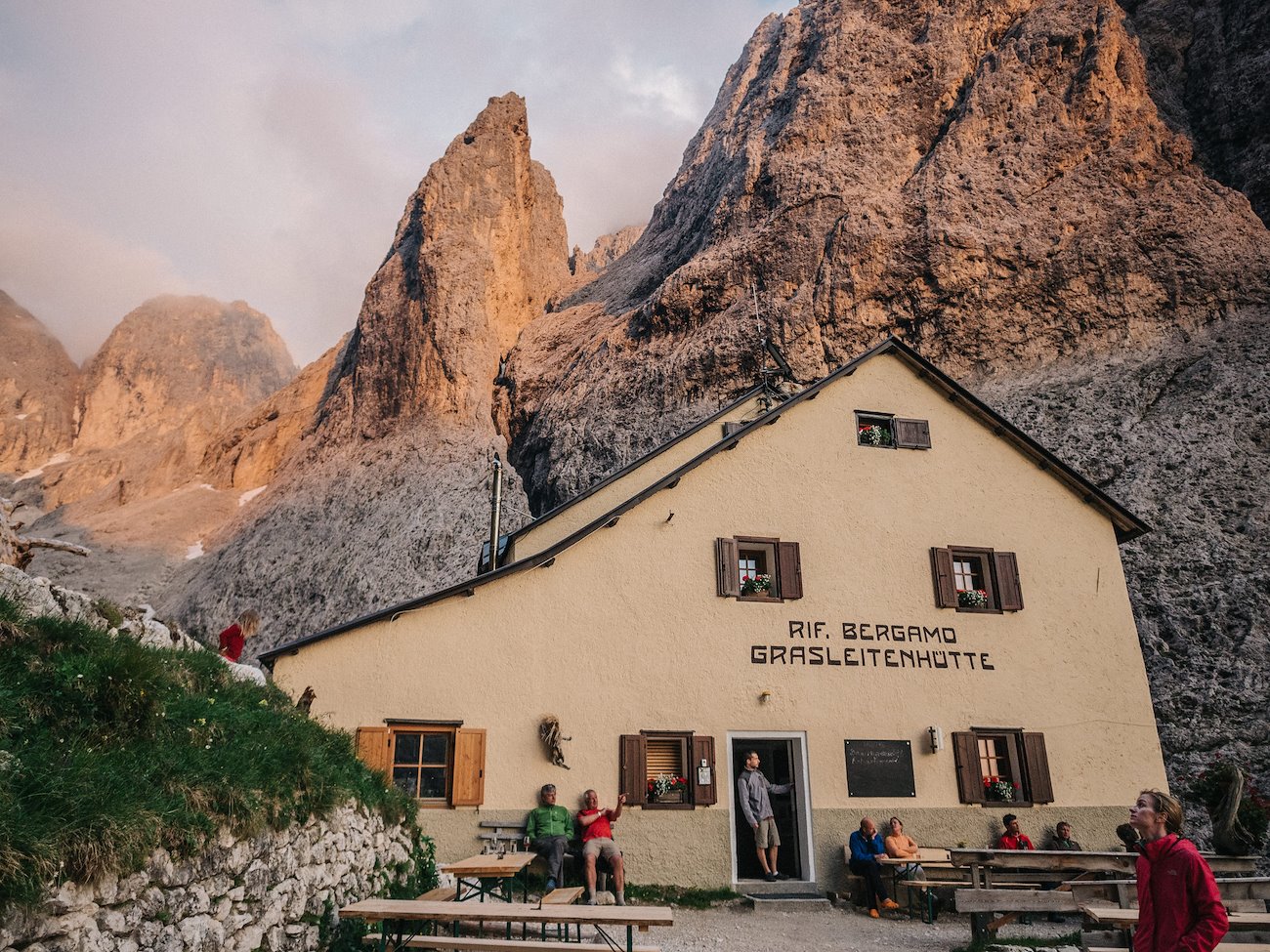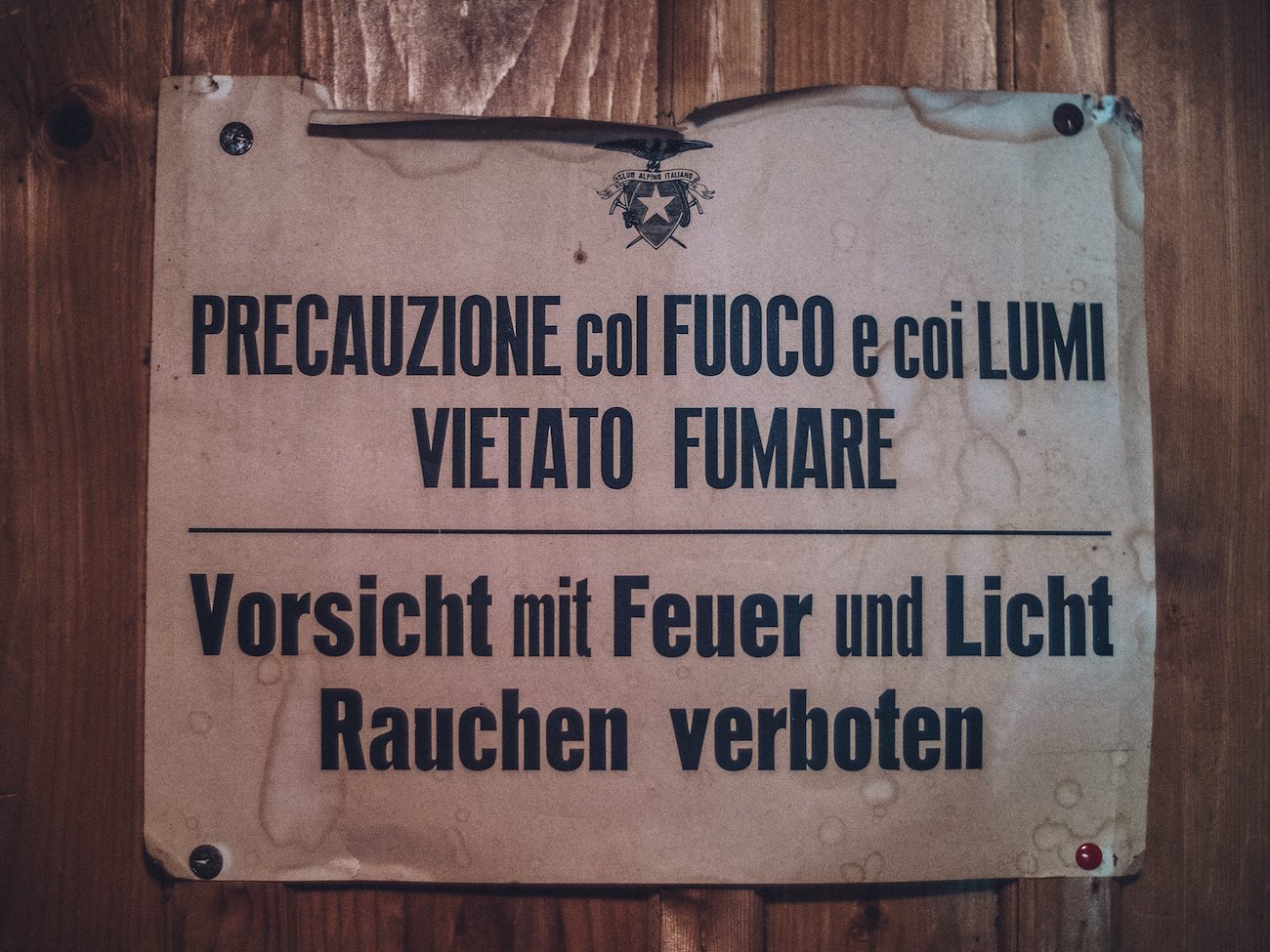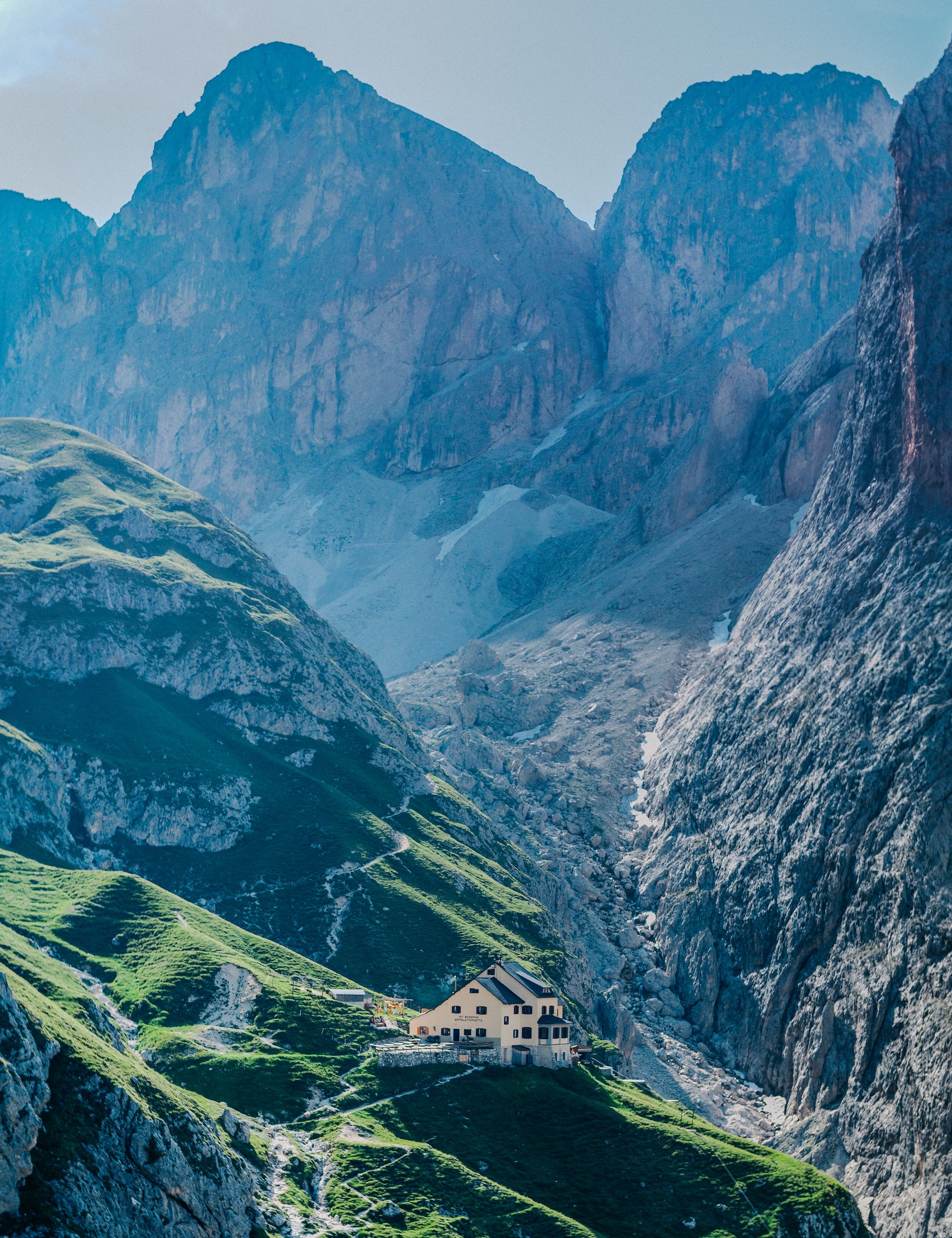 ⇡ Rifugio Bergamo / Grasleitenhutte ⇡

I wish I'd taken a picture of the owner, he looked remarkably like Dr Jacoby from Twin Peaks. Someone please prove this for me.

The next day's route was up the steep and imposing path through Passo del Molignon, toward Rifugio Passo Principe. Thankfully, it wasn't half as bad as we had expected.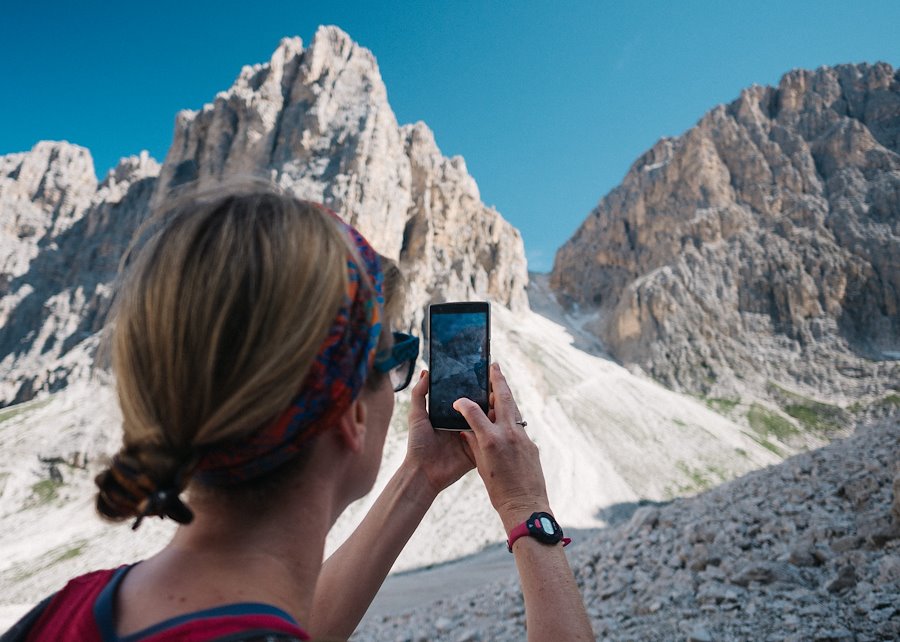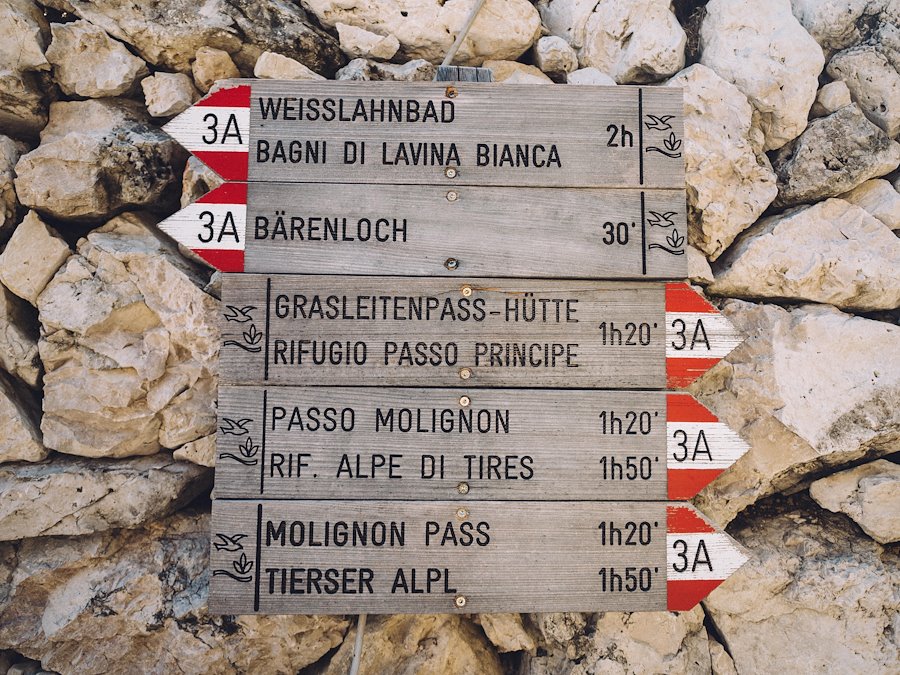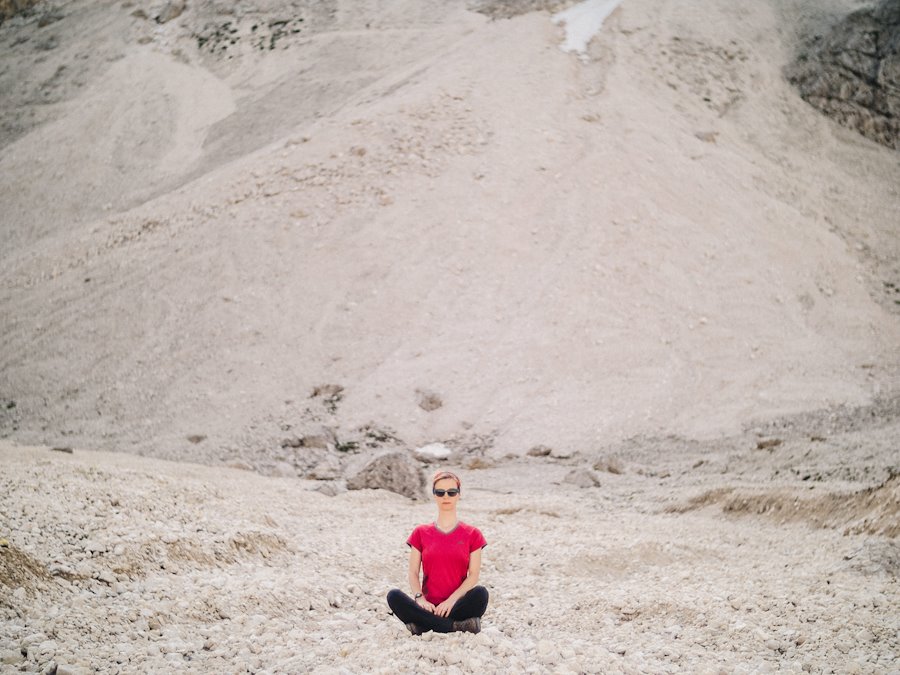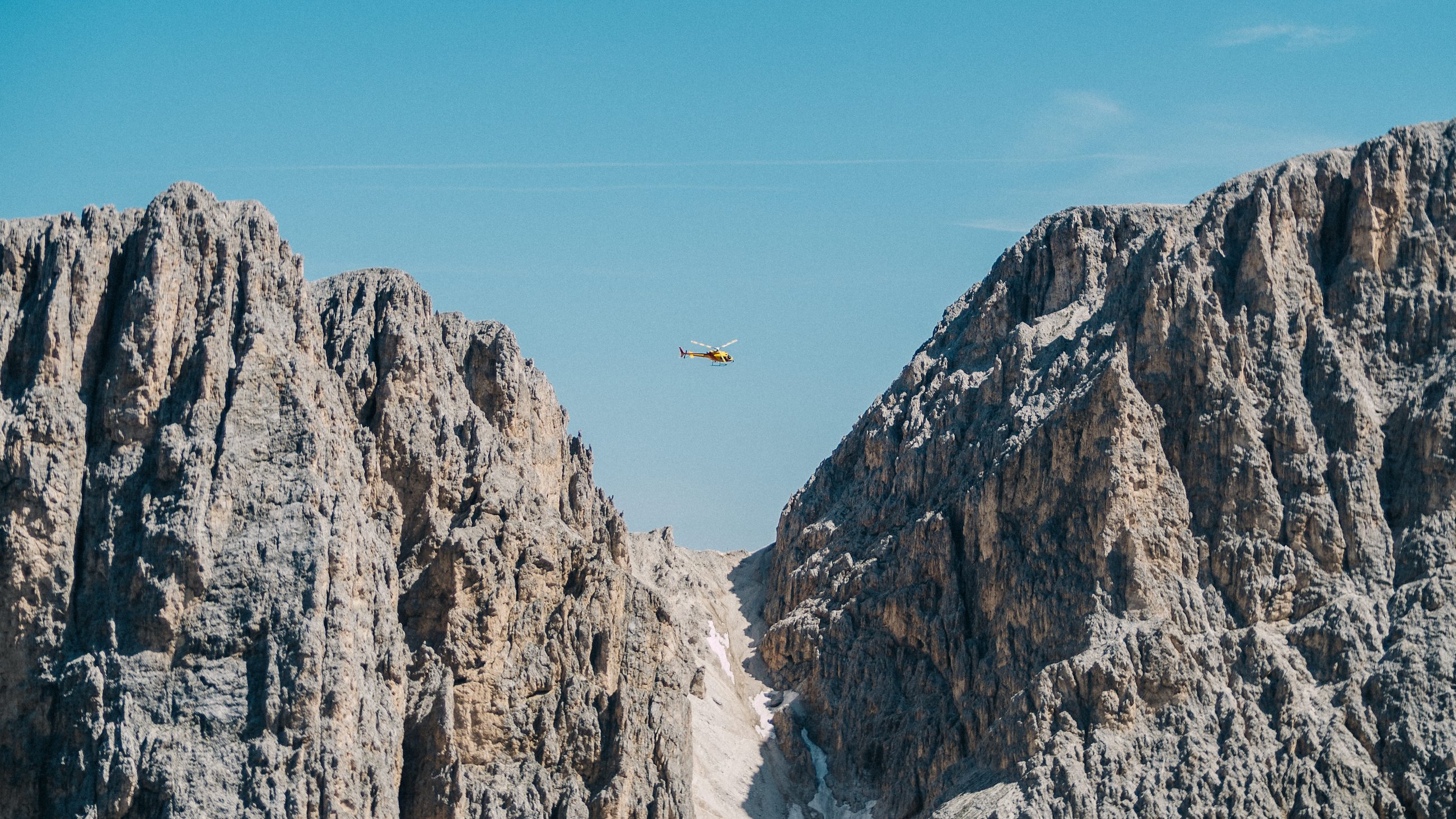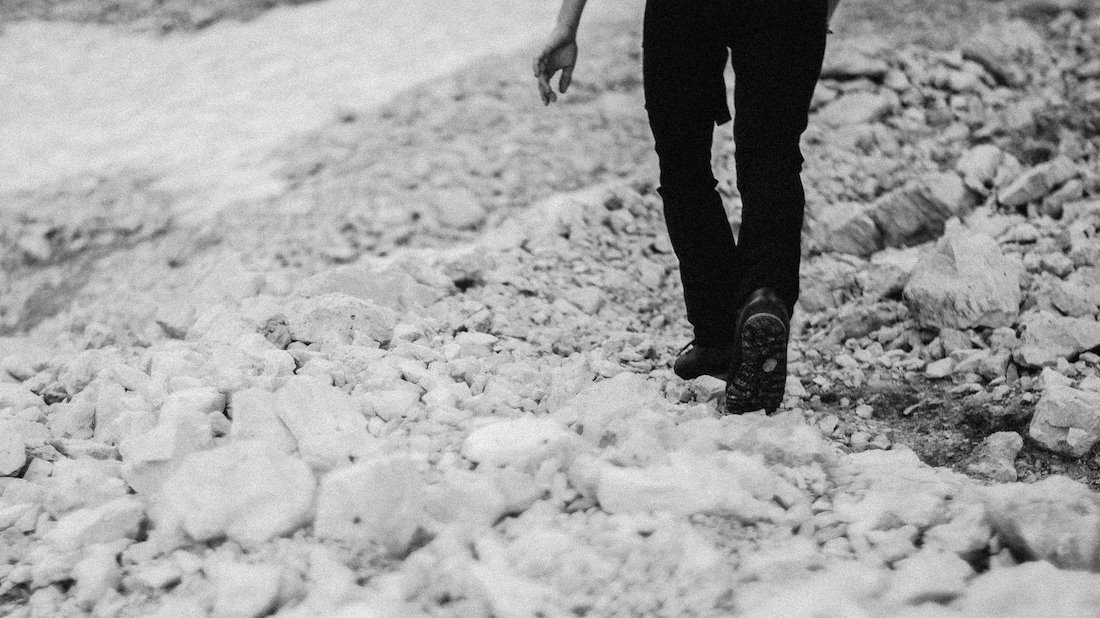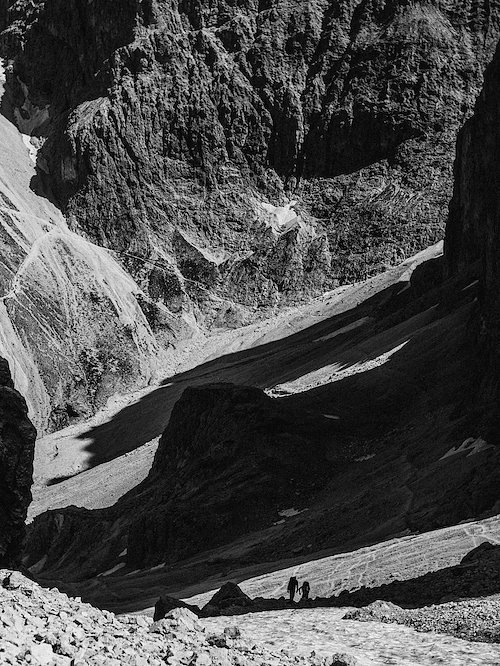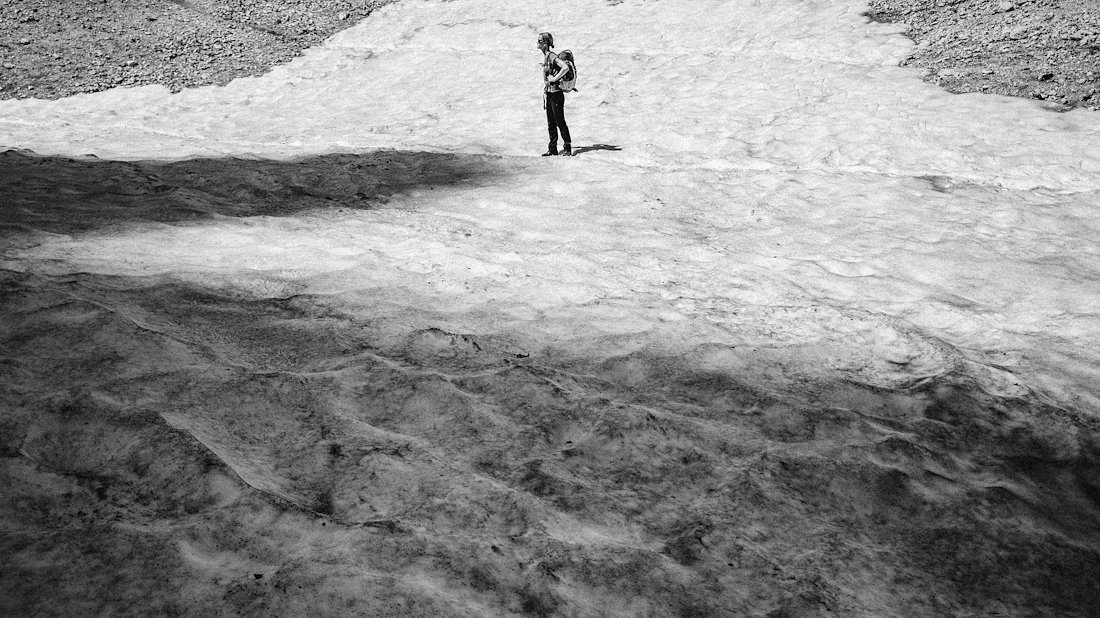 There's a large network of rifugios in the Dolomites, some you can get to by cable car or 4x4, whilst others, like rifugio Passo Principe below, are only accessible on foot.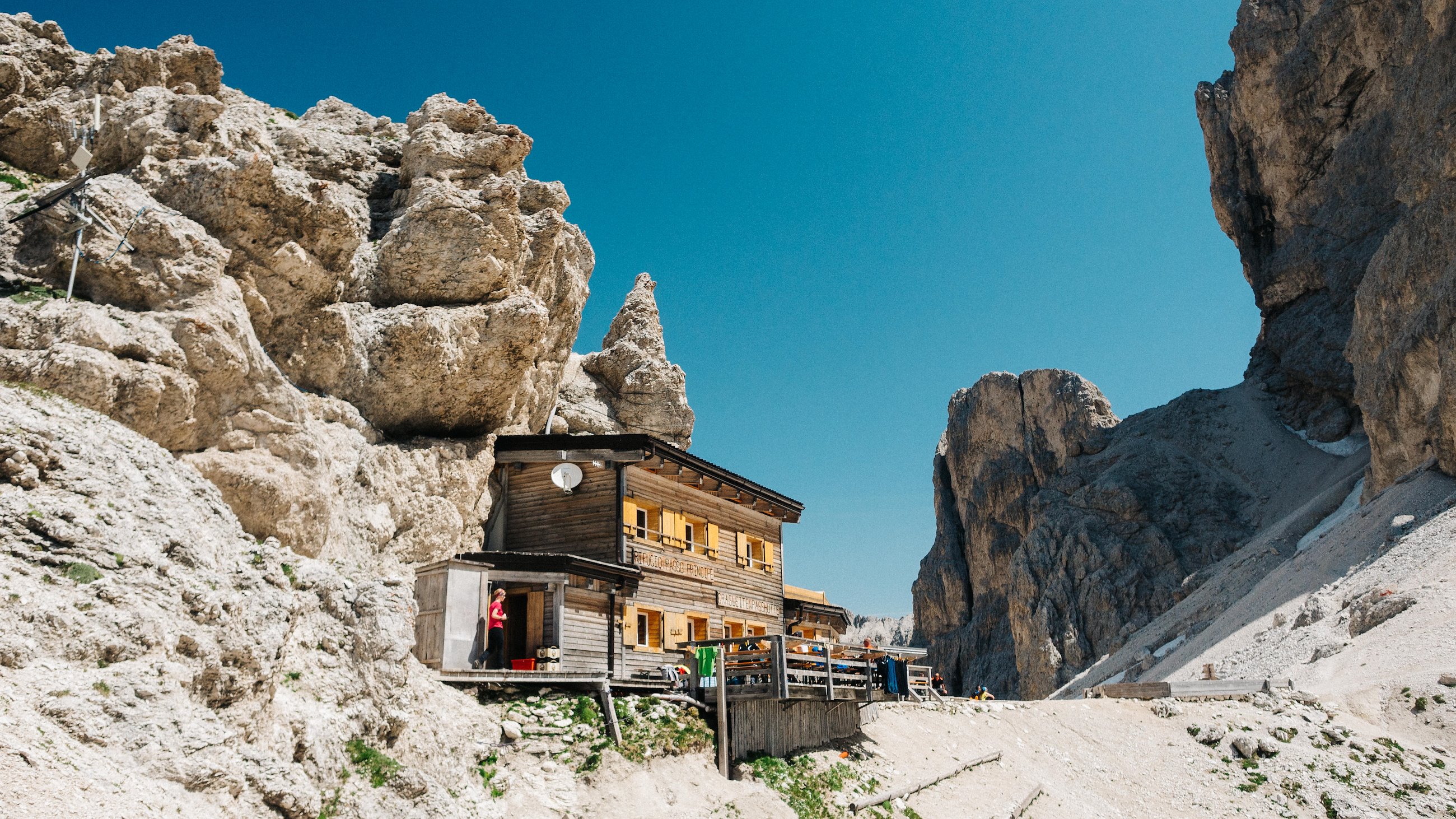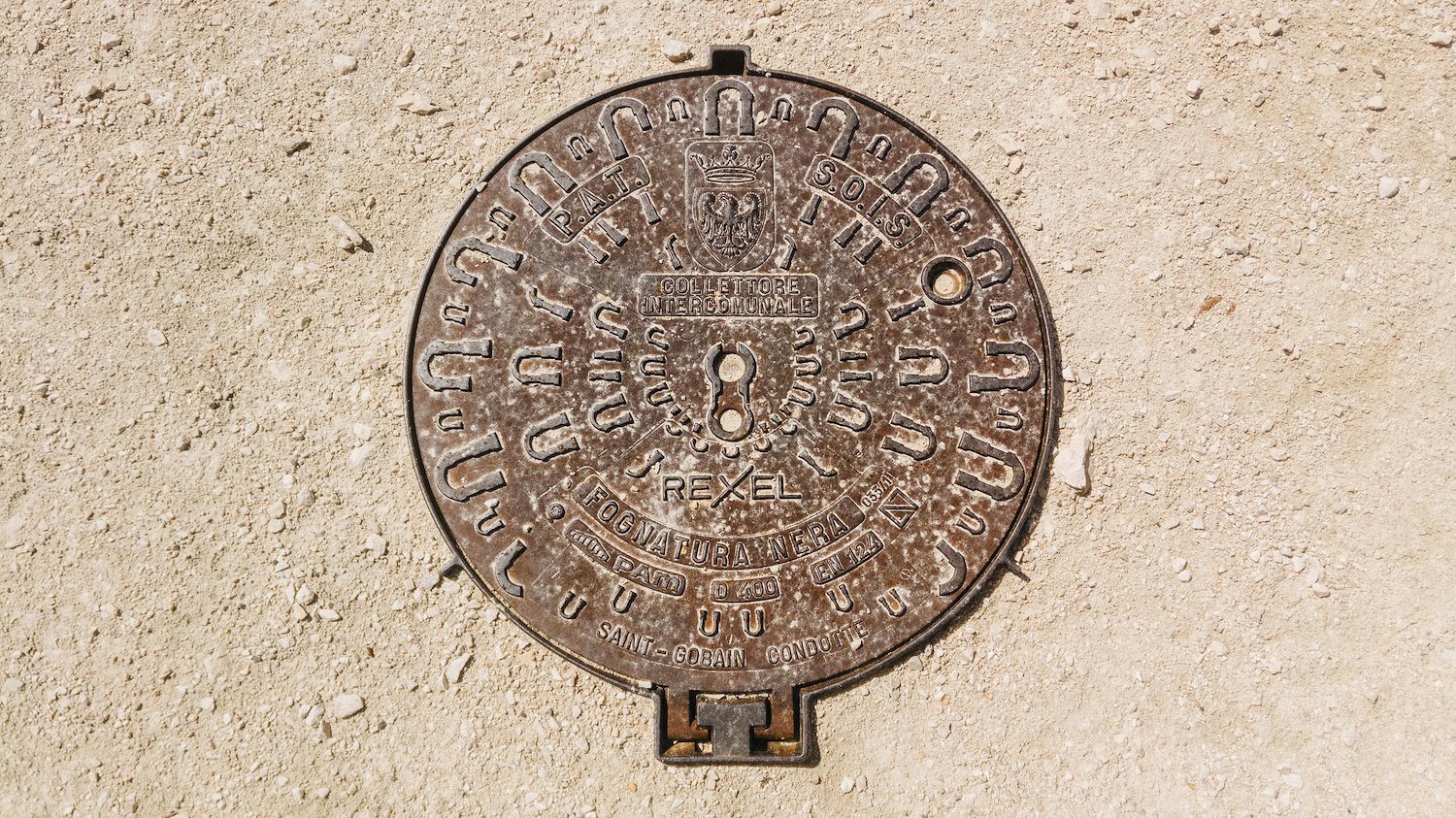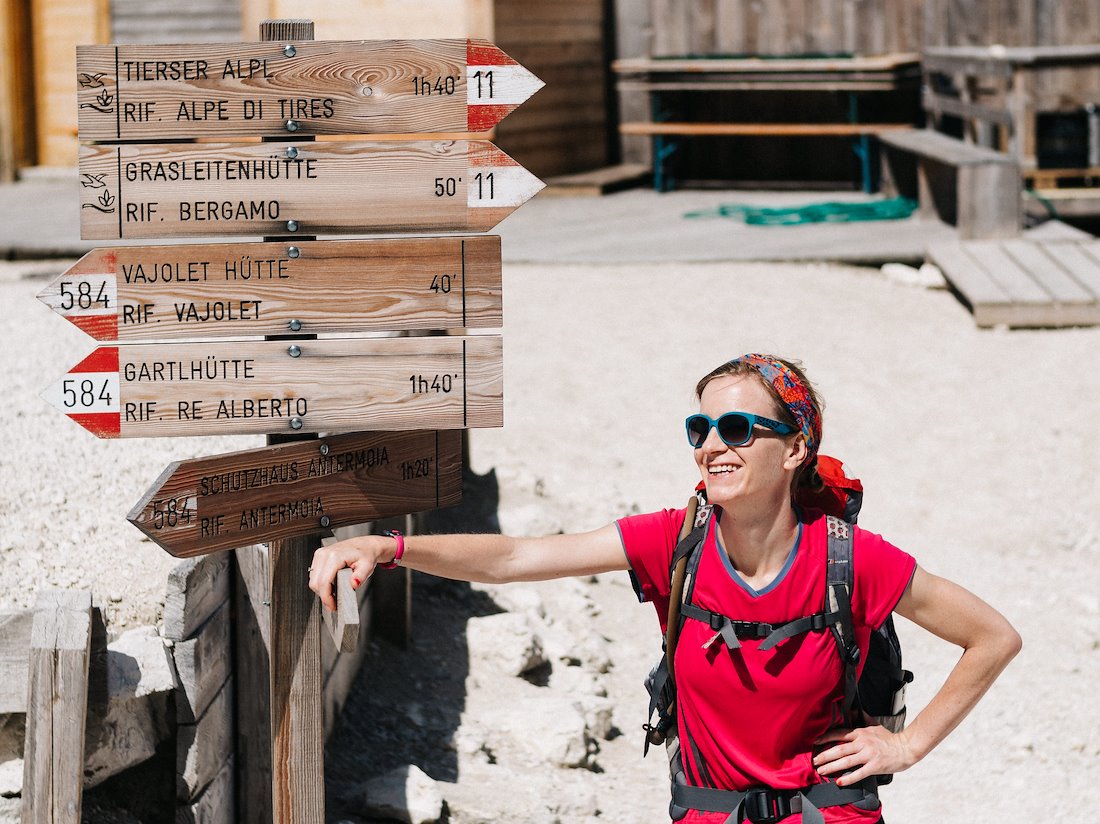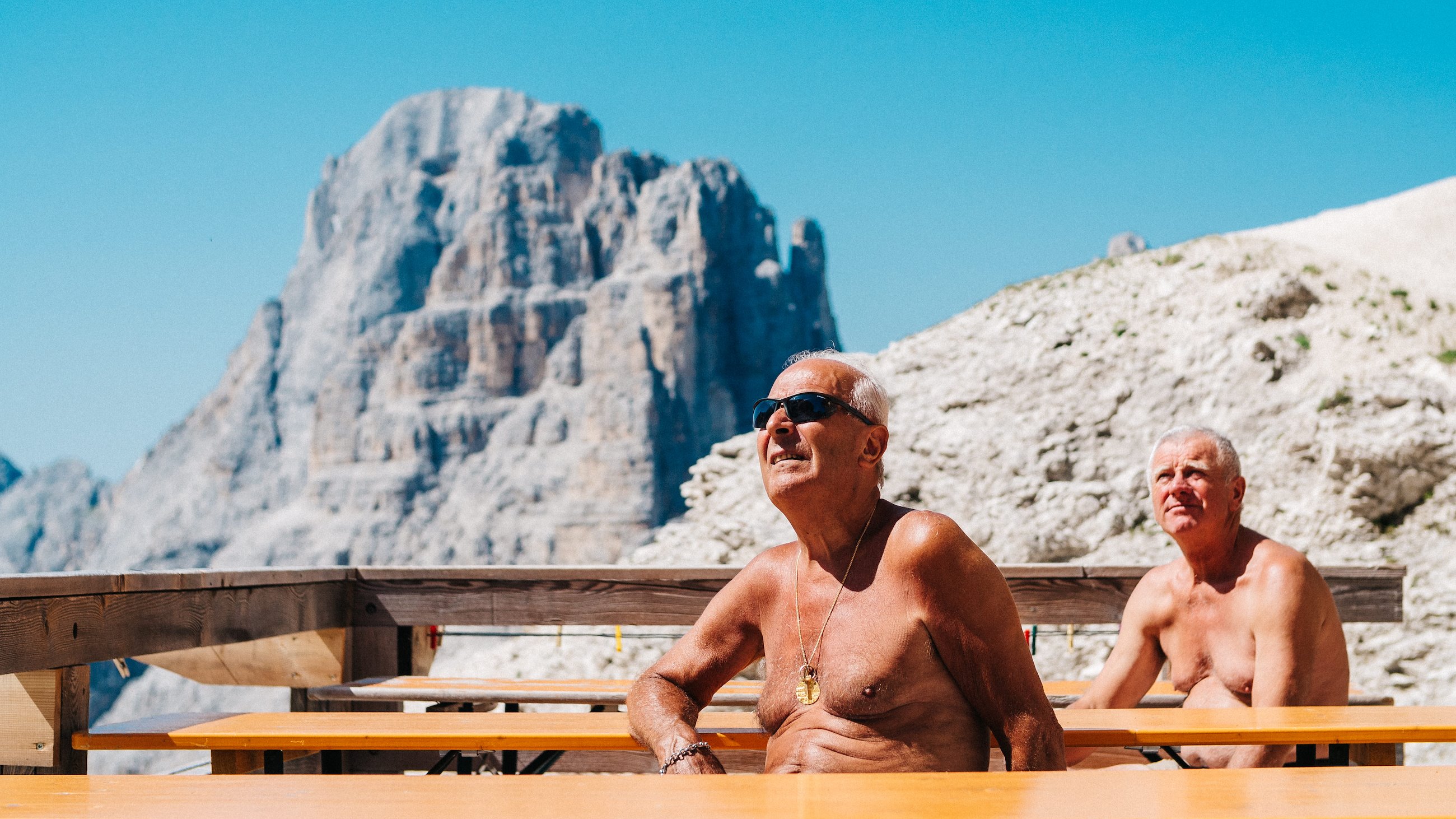 ⛰⚐
Relaxing on the veranda opposite the two fine specimens of leather in the photograph above, eating chocolate and drinking Fanta, we watched the couple in the photo below decide whether or not to take the path up the mountain.
After fifteen minutes of deliberation, they decided in the negative. We didn't have a choice.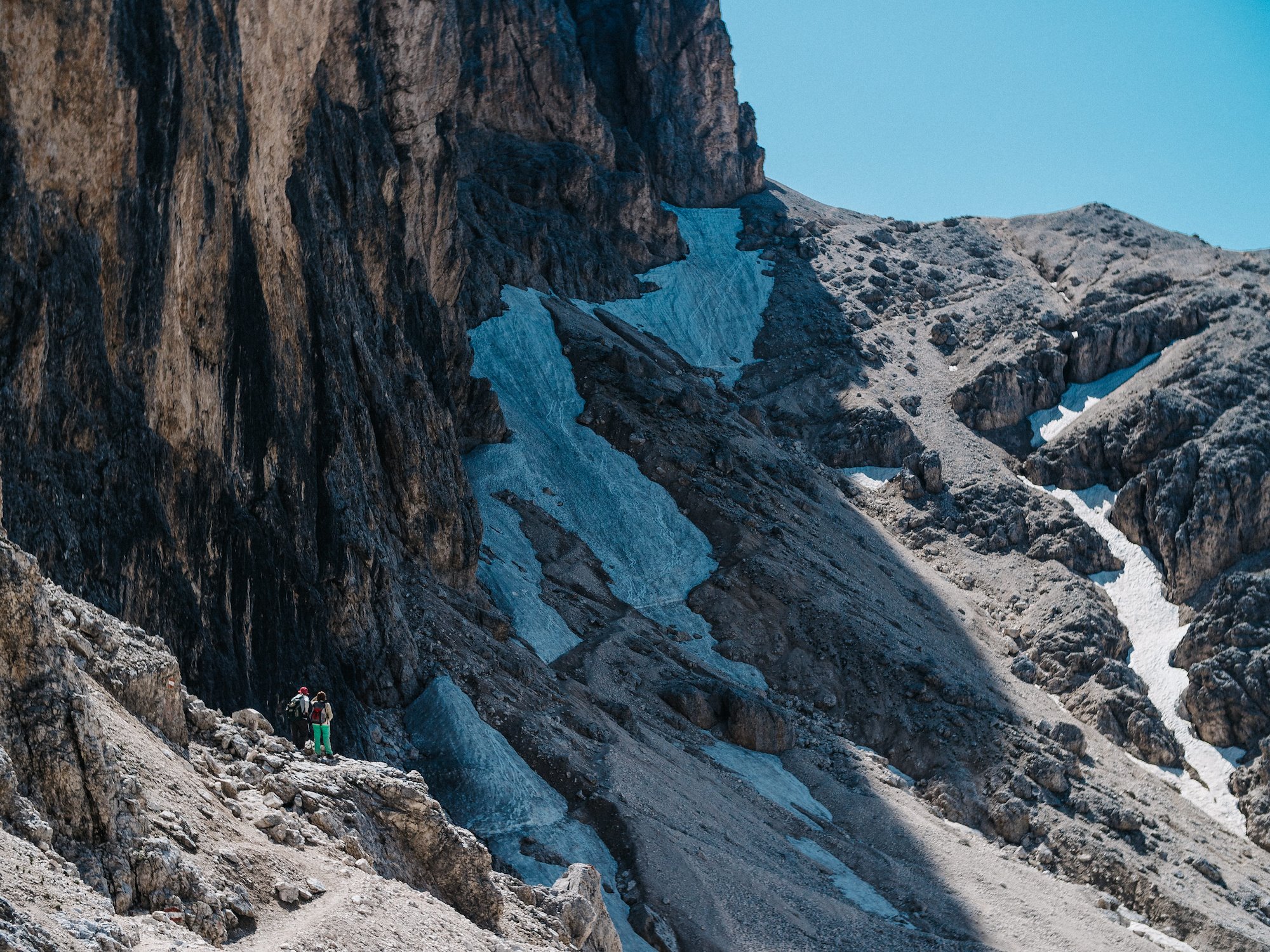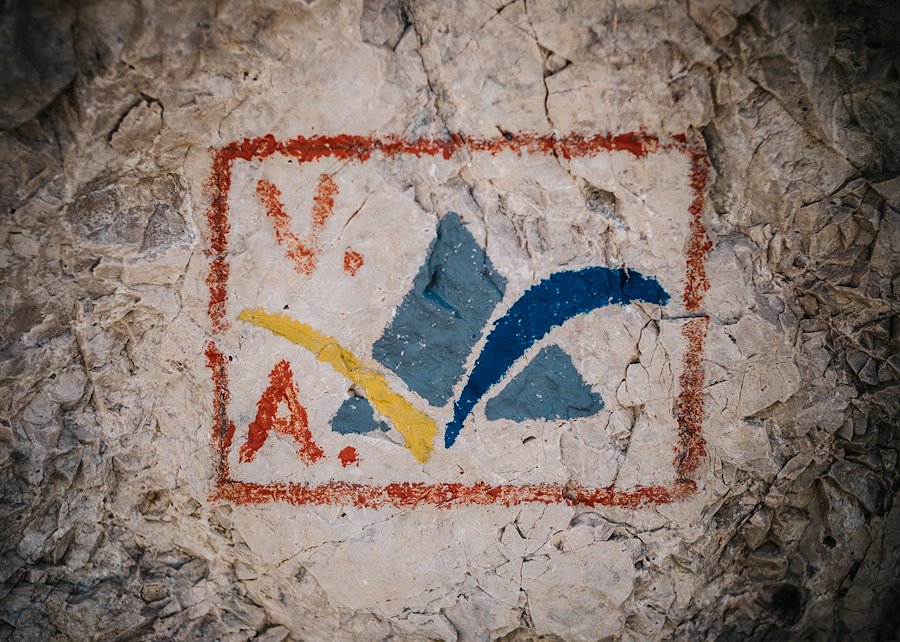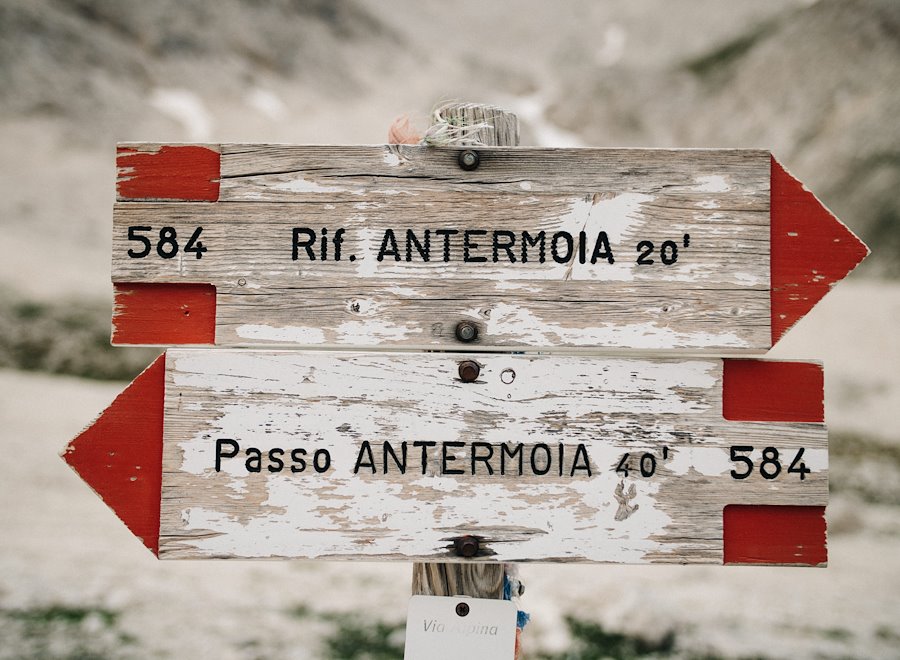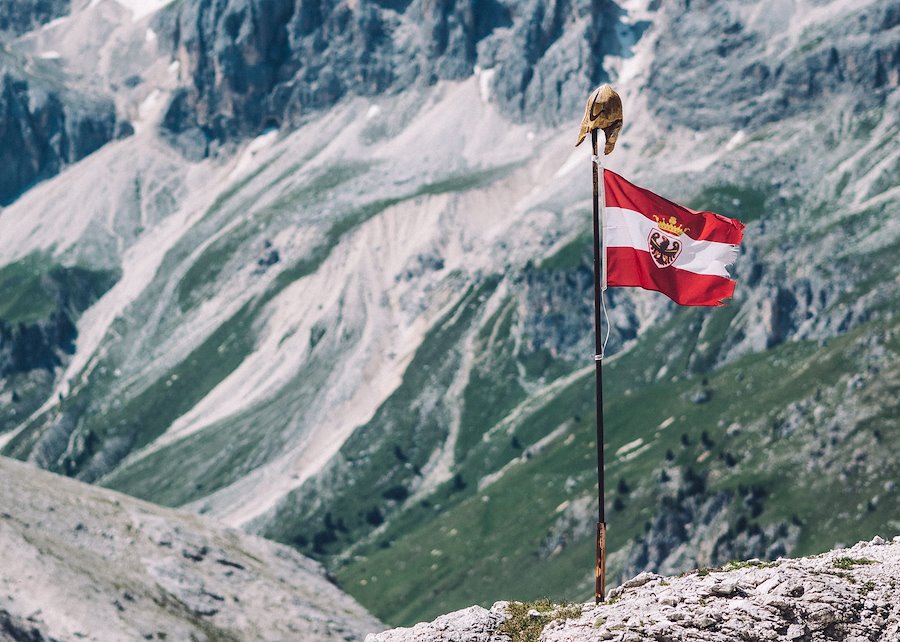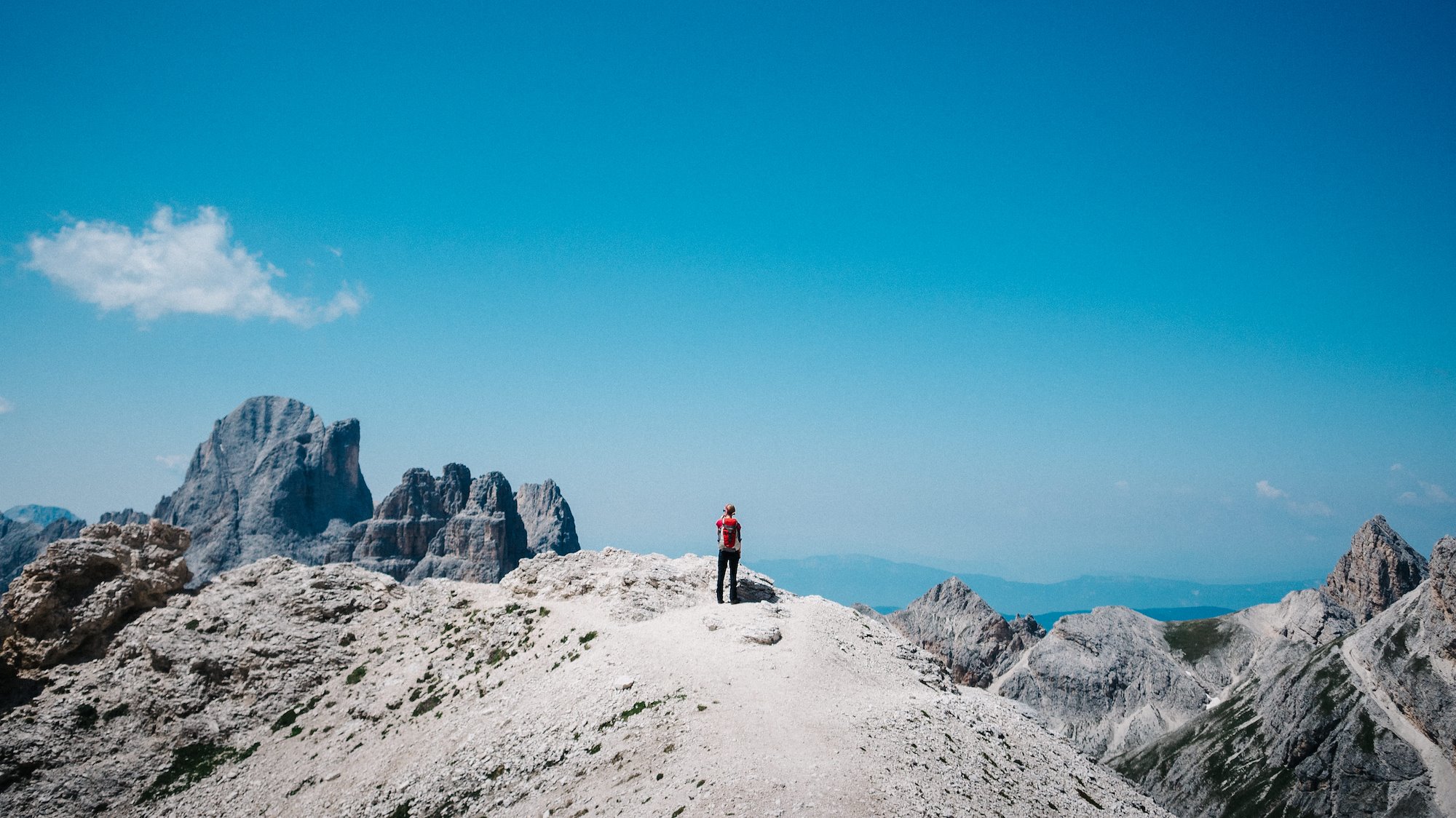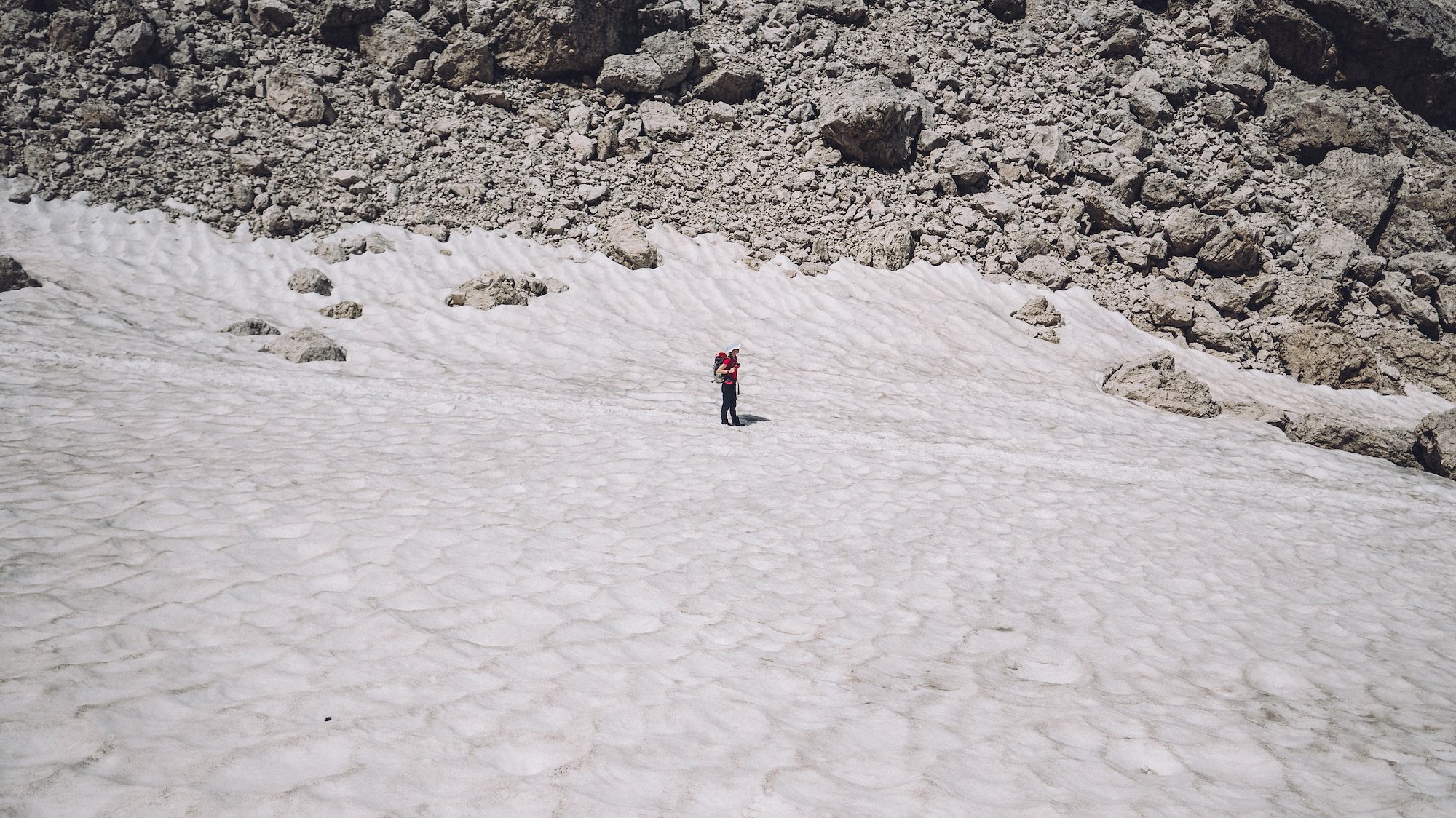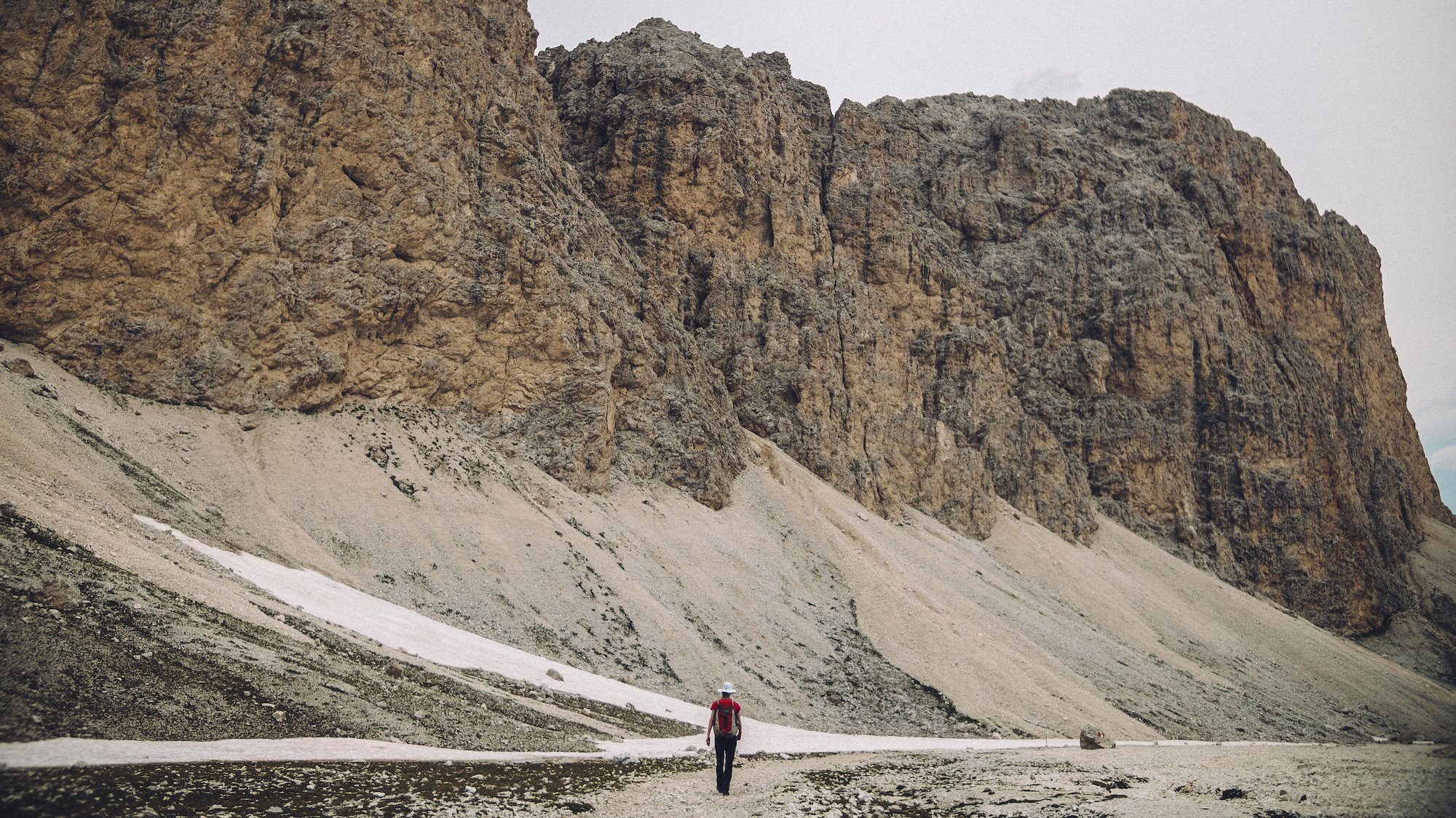 ☂
With clouds threatening, I tried Lucy's patience by setting up a long exposure shot of lake Antermoia (below).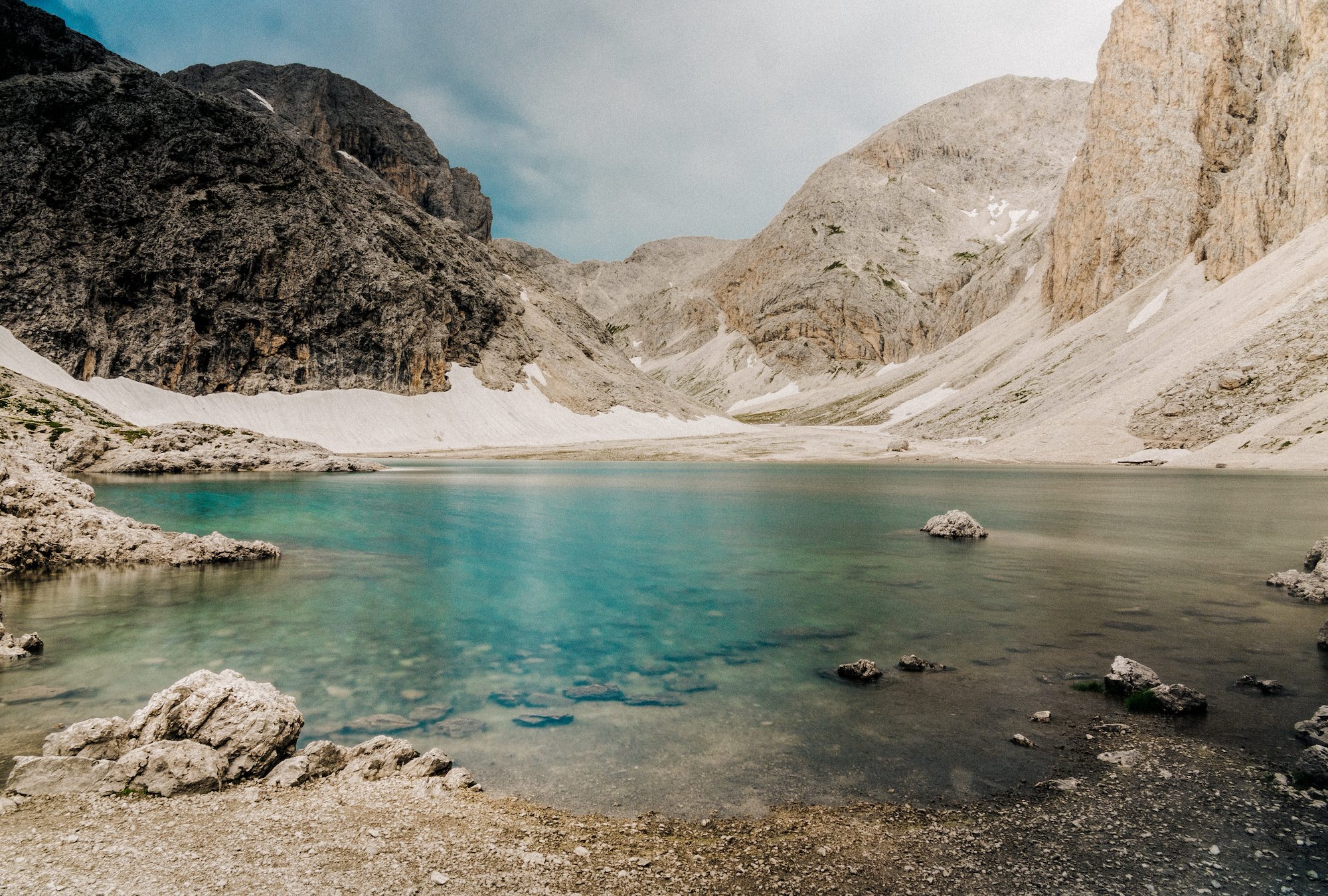 ⇡ Lago d'Antermoia ⇡

It wasn't far to the next rifugio and the prospect of a hot lunch. But when we arrived, we found it closed for construction work.
And then it rained. Really really hard.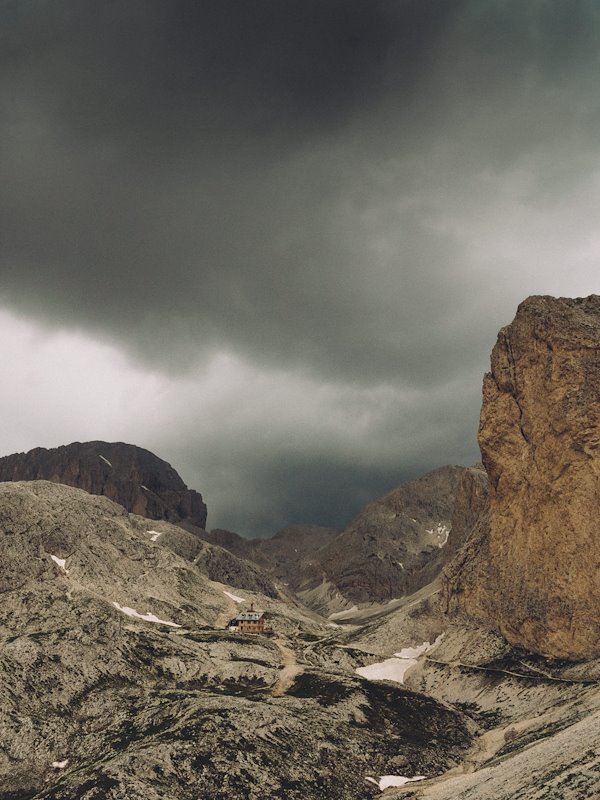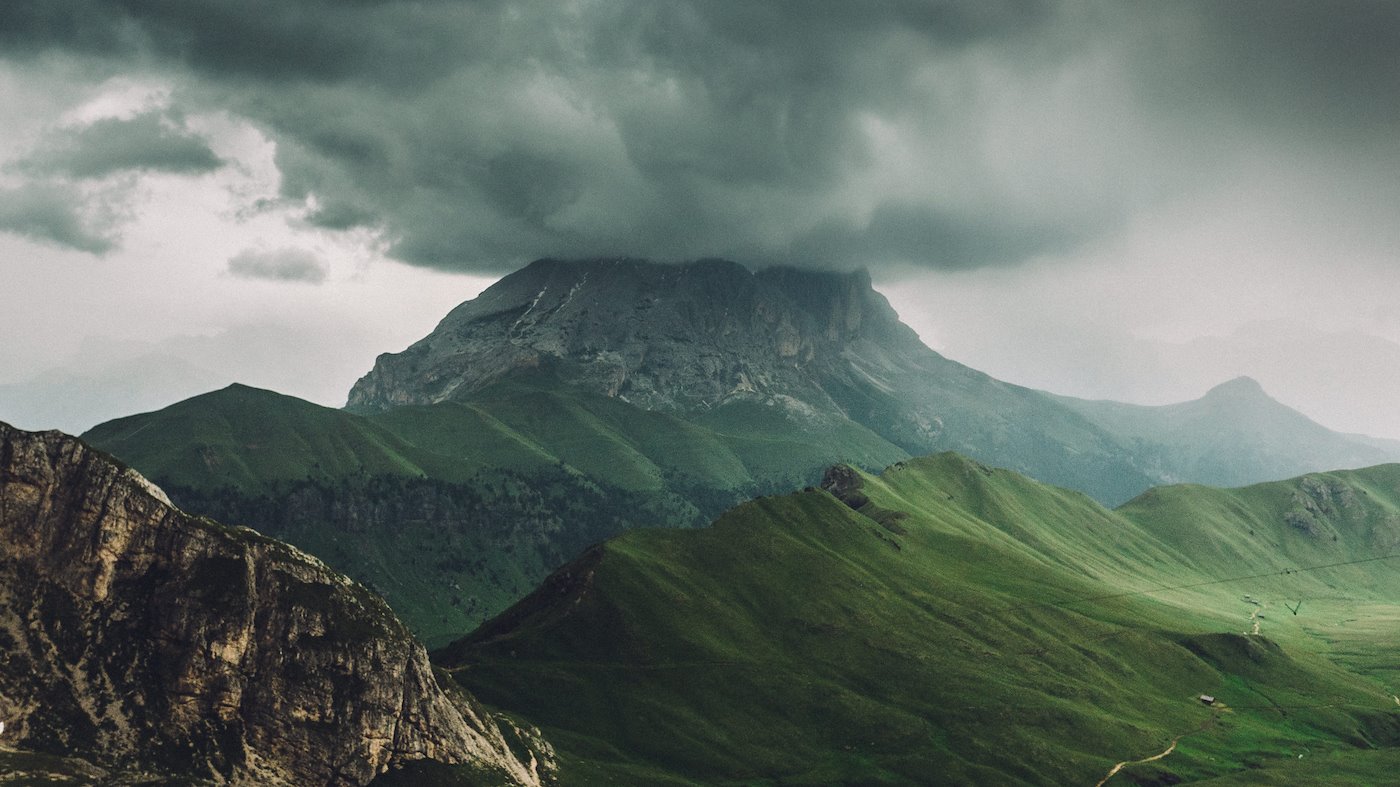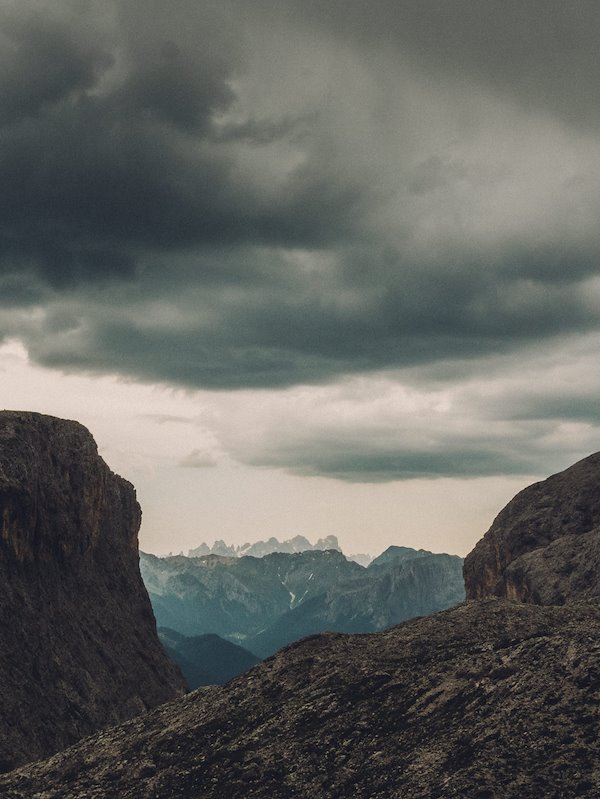 The soggy descent from the closed rifugio Antermoia measures over three and a half thousand feet (1,100m), passing through valley and forest, ending in some ridiculously steep and slippery roads closer to the town of Campitello Di Fassa.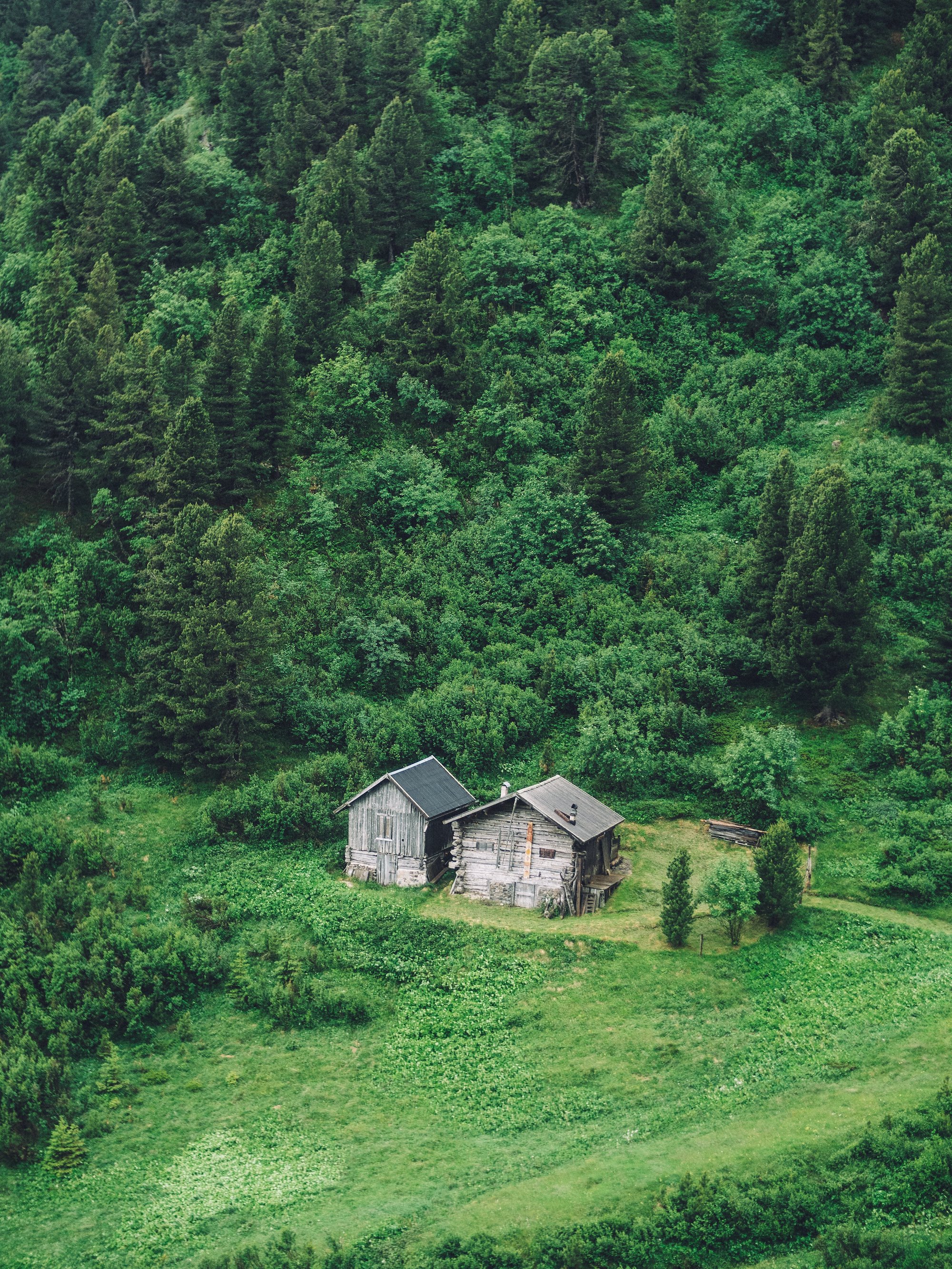 The tour we chose comprised four days of hiking and two days of Via Ferrata, which translates as 'Iron Road' (or path, depending on who you talk to). It's essentially a route following a steel cable that's intermittently fixed to the the side of the mountain, allowing normal non-mountaineer folks like us to pretend we're being all adventurous and death-defying. You're clipped in via carabiners and secured with various ropes and what not, so it's really pretty safe.
In this region of Italy, they're mainly associated with the First World War, in which they were used to aid the movement of troops through the tricky terrain. When we signed up for the tour, we were busy, in the middle of packing up our apartment in Atlanta. Consequently we only gave a cursory glance to the itinerary and blurb, certainly not reading it as thoroughly as we should have.
Had we done so, we'd have discovered that our guide for the two days of Via Ferrata was the Italian equivalent of Sir Ranulph Fiennes. Amongst other achievements, Mario Dibona Moro has climbed pretty much everything there is to climb:
Everest, K2, Cho-Oyo, Broad Peak, Mount McKinley, you name it.
Crudely put, he knows his stuff, and I realised he was massively overqualified to be leading two muppets like us. He even took my idiotic questions like 'Have you ever had an accident?' * or 'Where do you take your dog for a walk?' in his stride.
*No, he hasn't.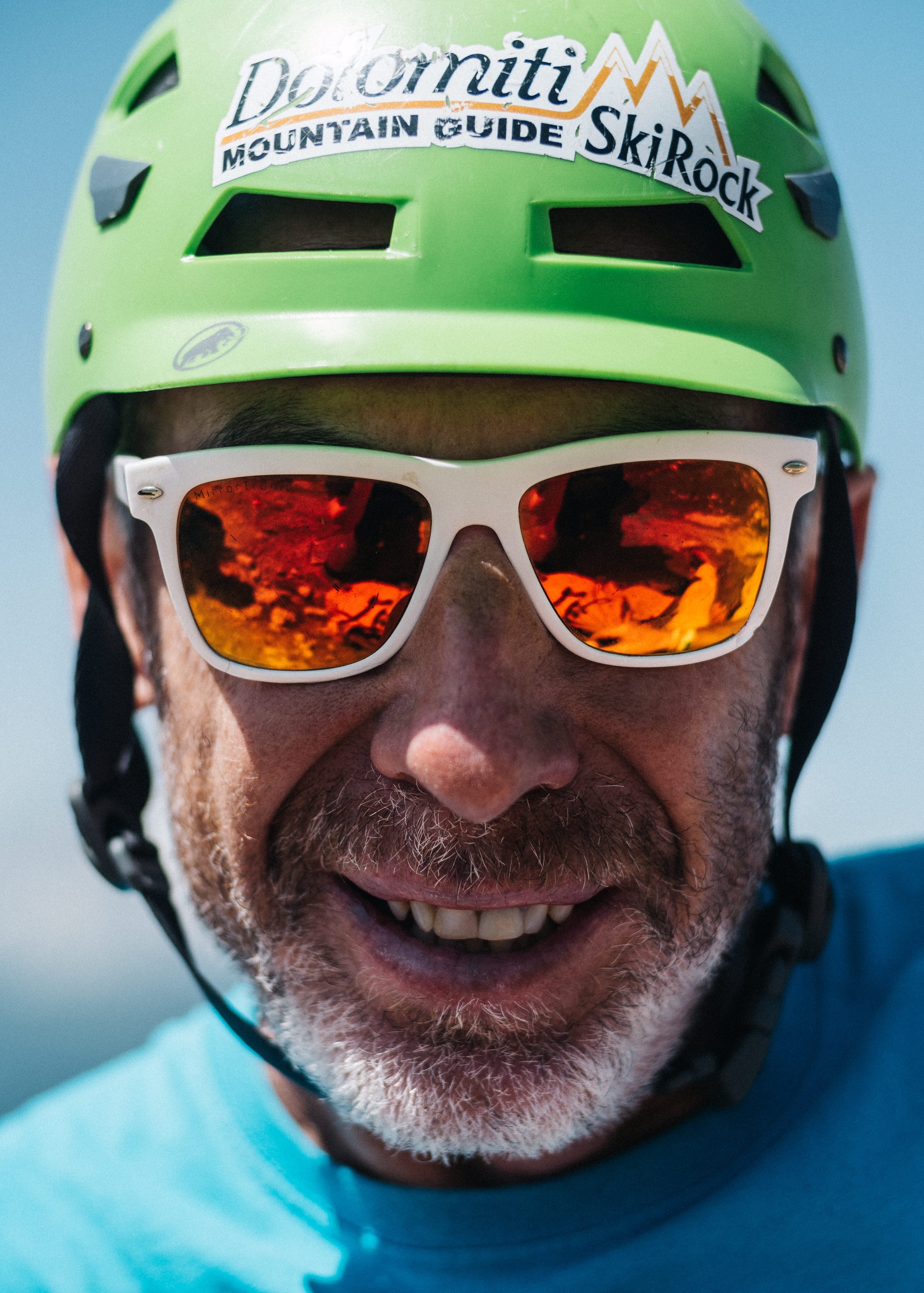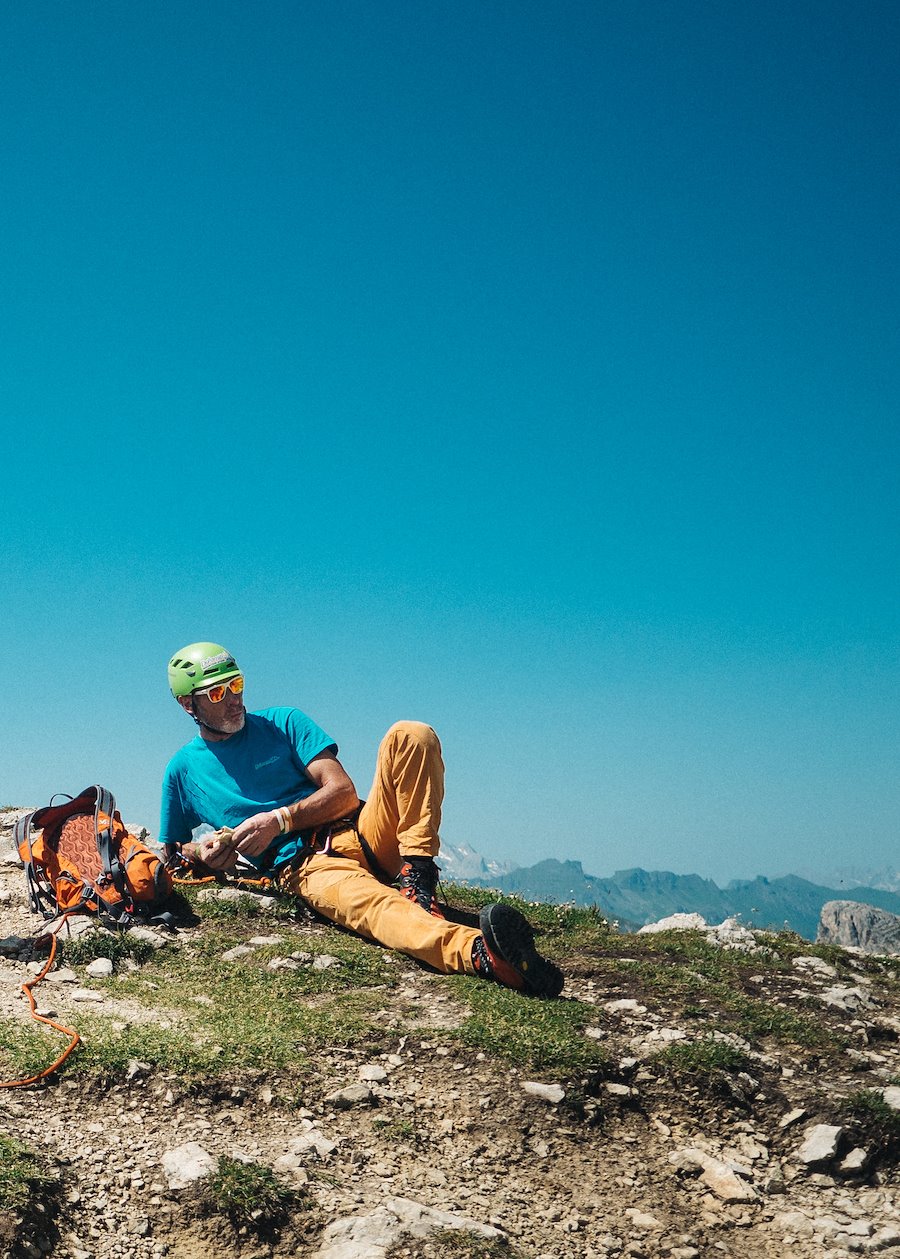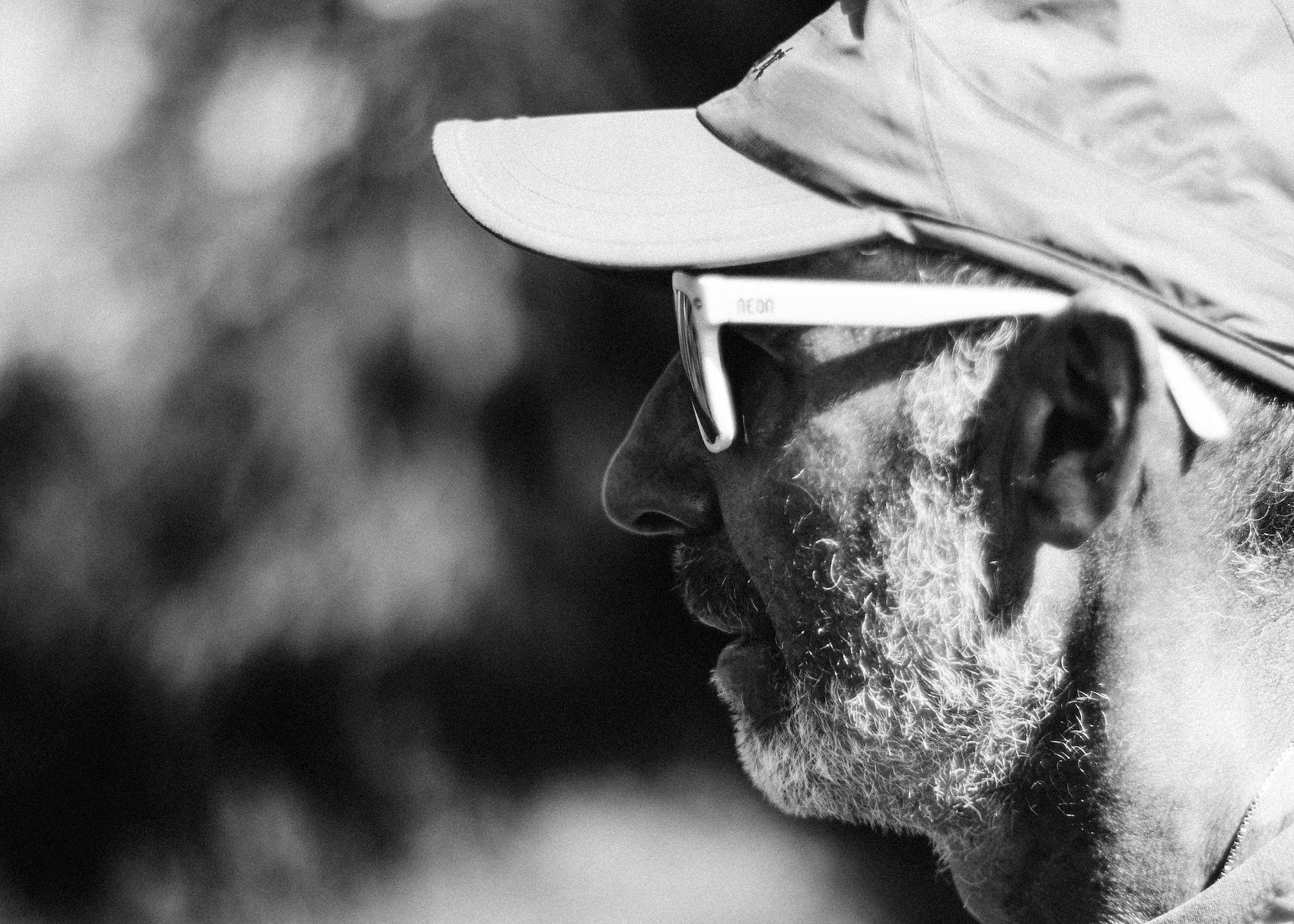 We thought our first go at via ferrata was going to be easy. Maybe I overstated our experience in the phone call with the organisers, because when we arrived at the base of the climb, we were surprised to be faced by a vertical wall of rock. We put on our harnesses and helmets, and as Mario checked our kit, Lucy looked at me with an expression that could only mean one thing:

"I've made a huge mistake."
Mario pretended not to notice. He said "Now, we go." No mucking about.

⇡ View from the top of Via Ferrata Degli Alpini ⇡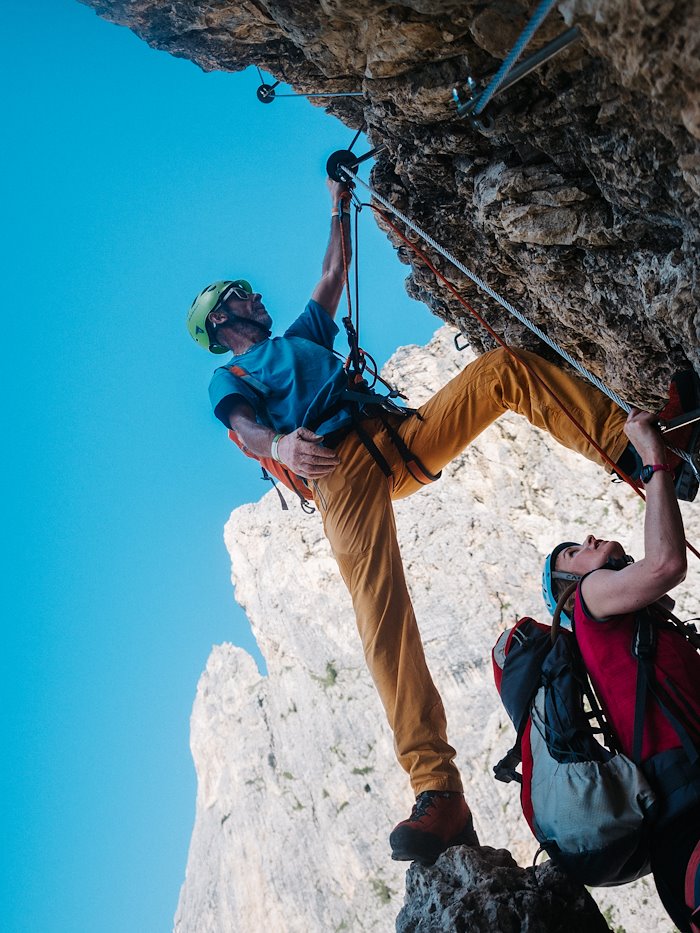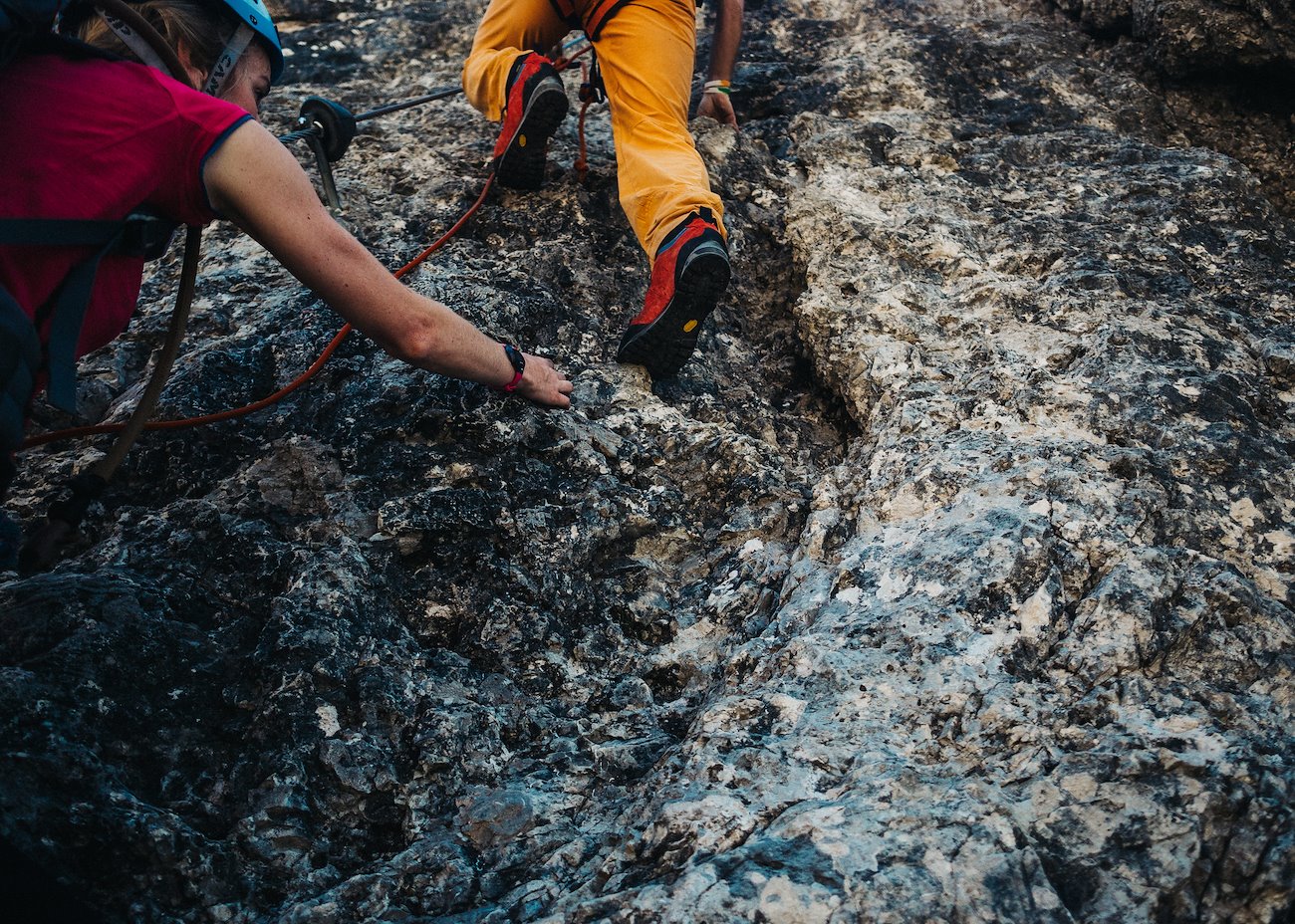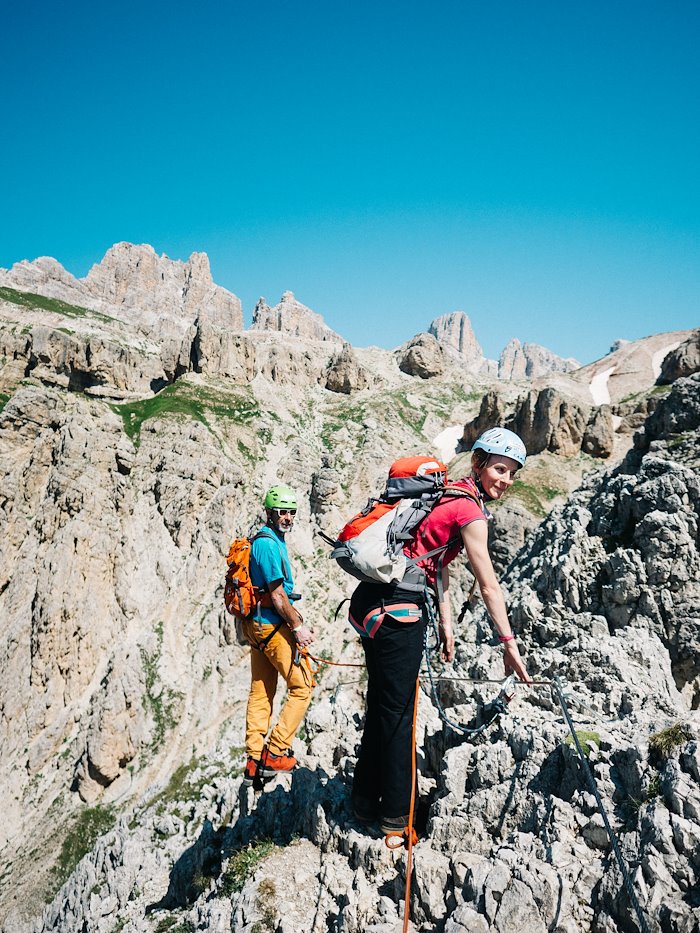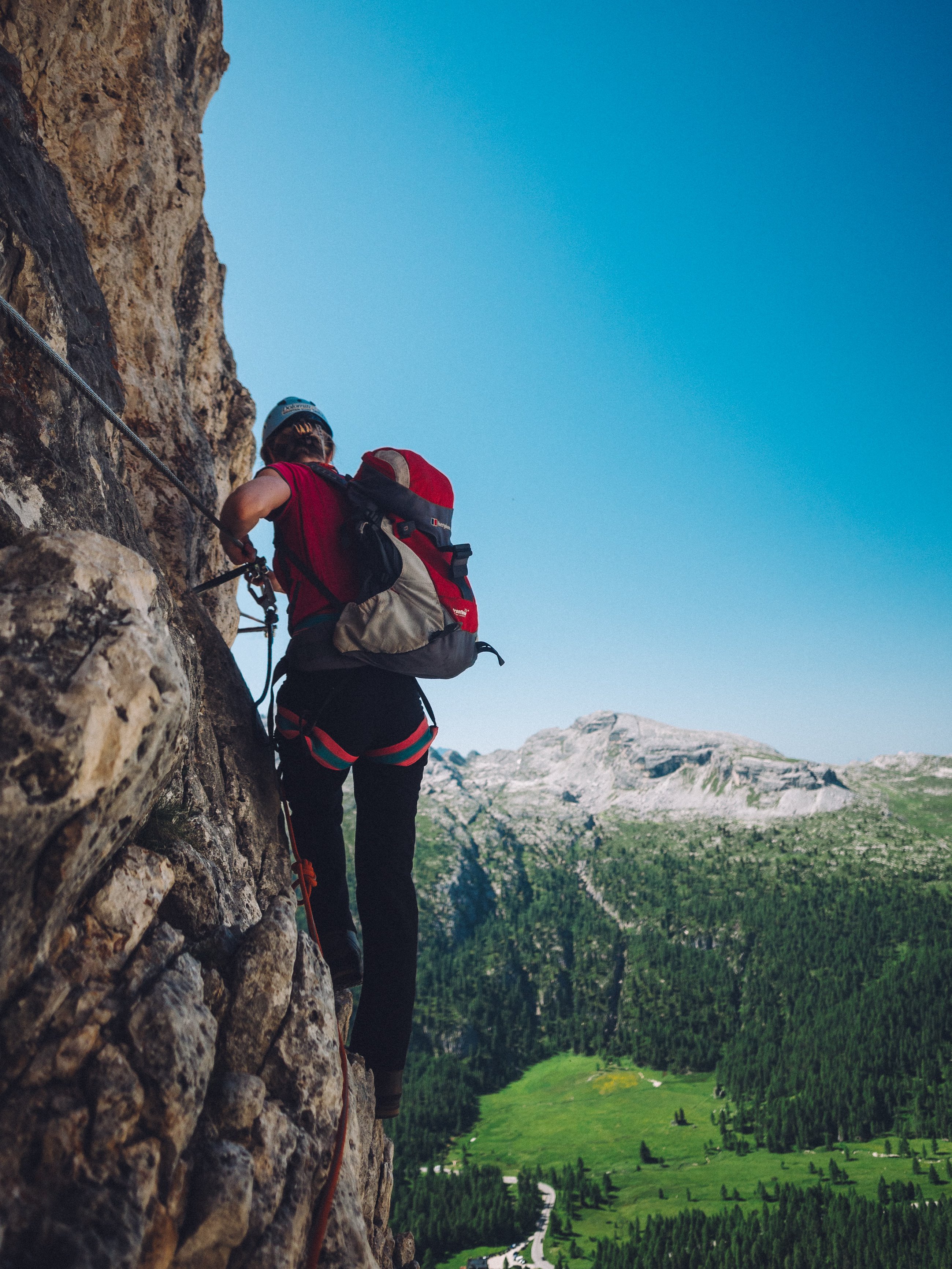 It looks a bit scary. And it is. But so much fun.

We collapsed on the grassy slope at the top, tired but exhilarated. Then Mario exclaimed,
"Now, it's time for pizza party!"

…and handed out three chunky squares of pizza that he'd secretly carried all the way up. What a guy.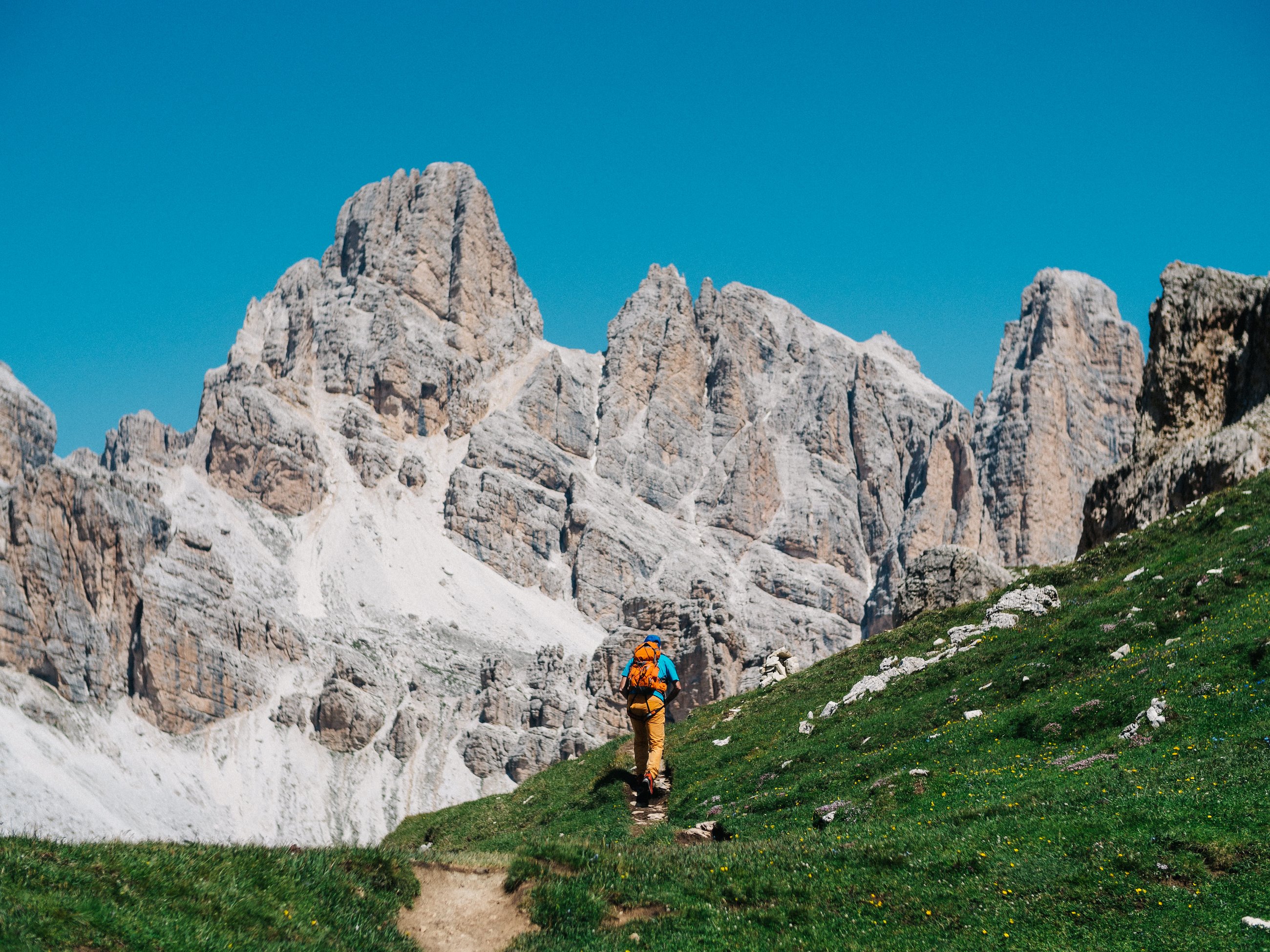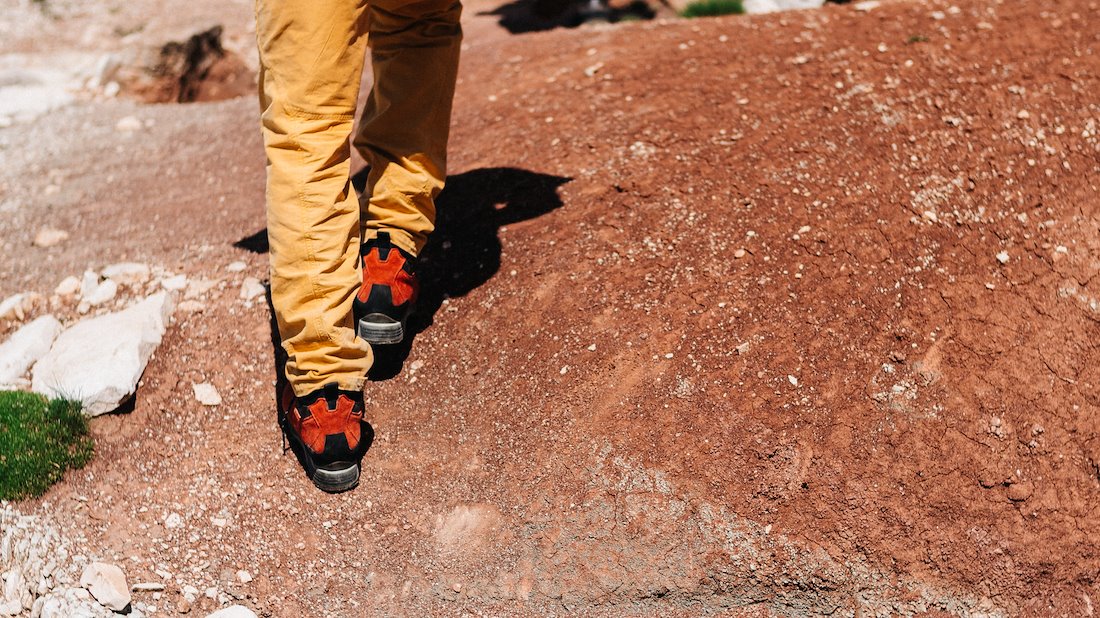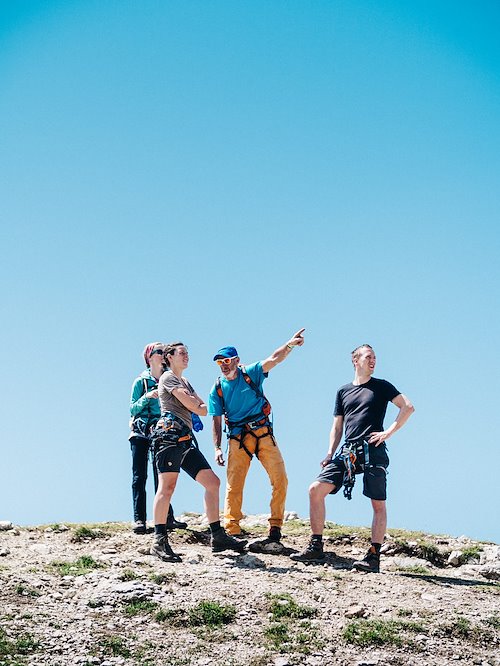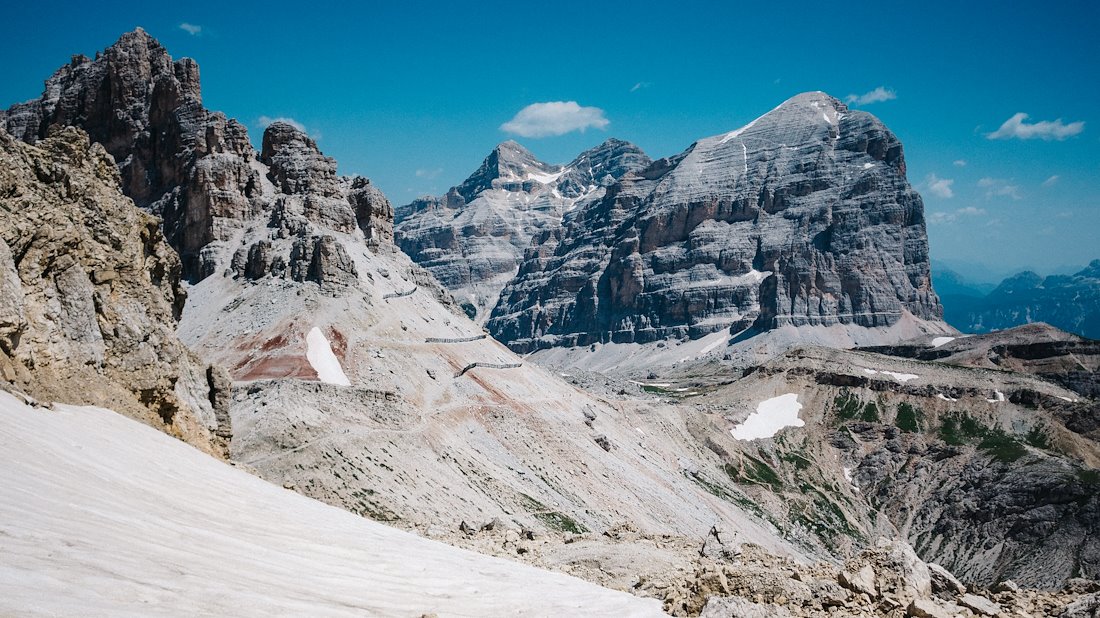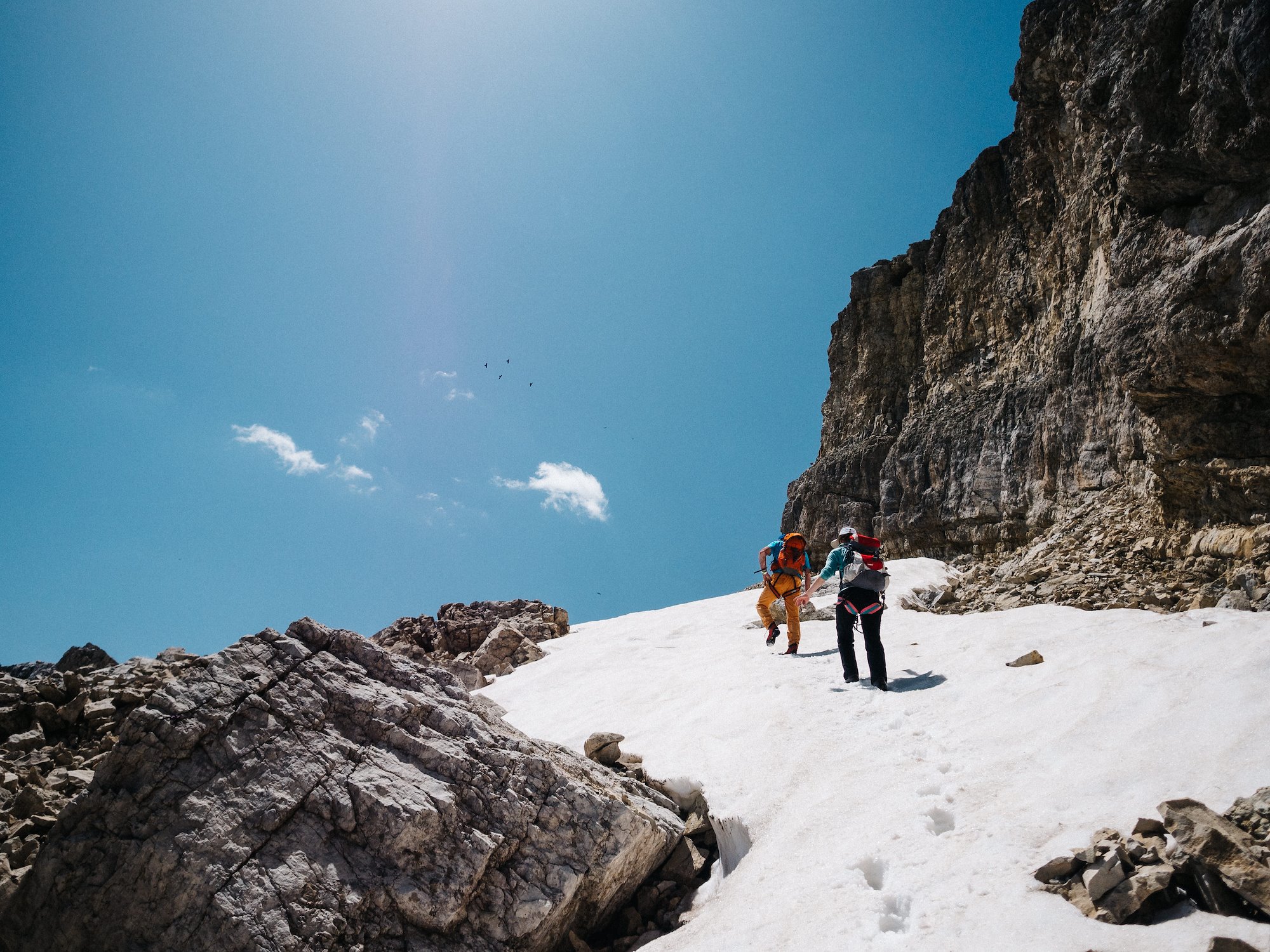 Whilst traversing across some snow, Mario took the opportunity to explain a little about climbing the final few hundred metres of Everest, given that was all we'd been asking about. The technique he, and the majority of his western colleagues used, was to take a step, then a couple of breaths.

Step.
Breath…
Breath…
Step.
Breath…
Breath…
And so on.
But the Sherpas? They had a different technique. It went:
Deep breath. Deep breath. Deep breath.
StepStepStepStepStepStep
BreathBreathBreathBreath. Deep breath. Deep breath.
StepStepStepStepStepStep
etc.
Whatever gets you up there I suppose…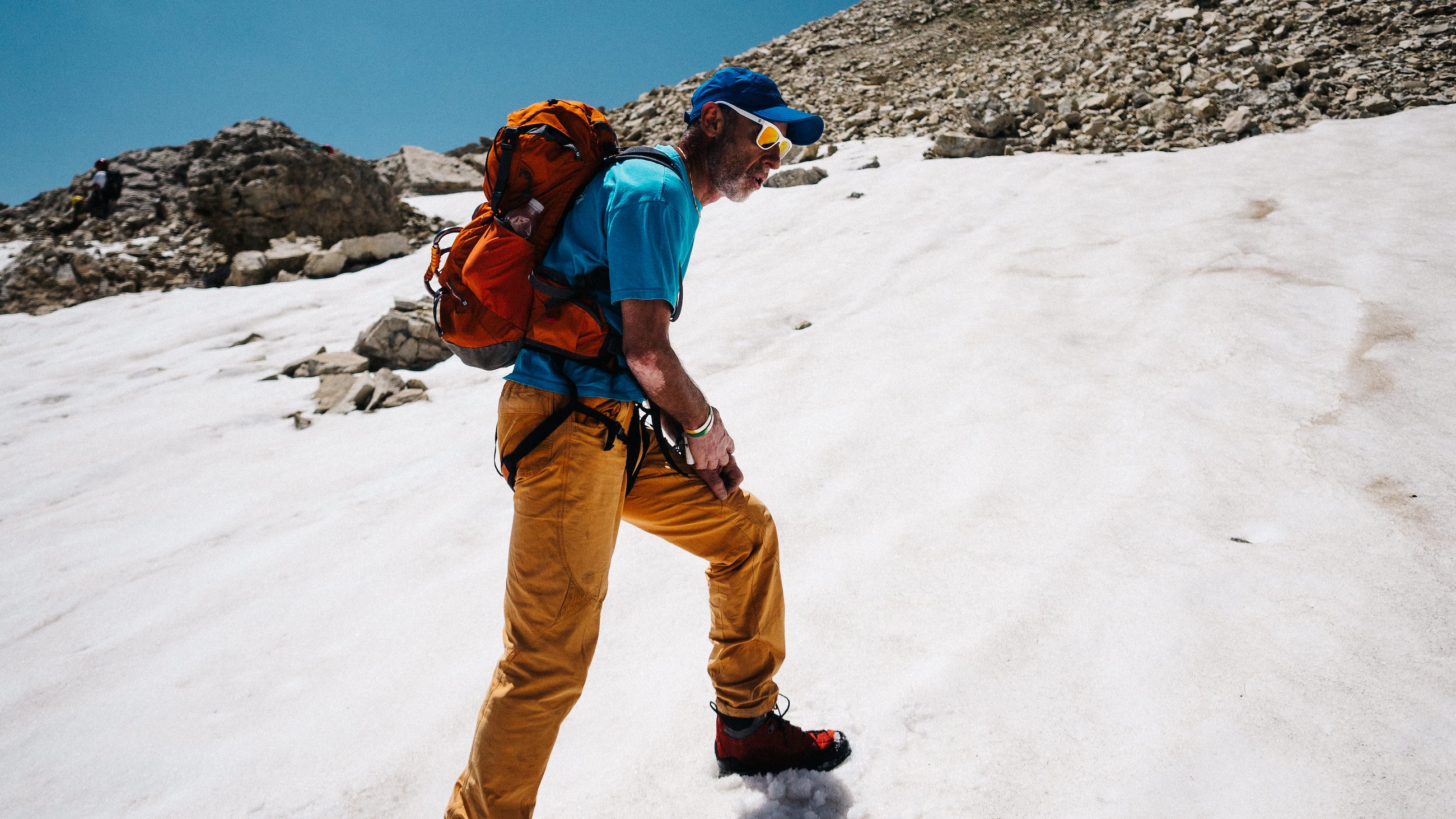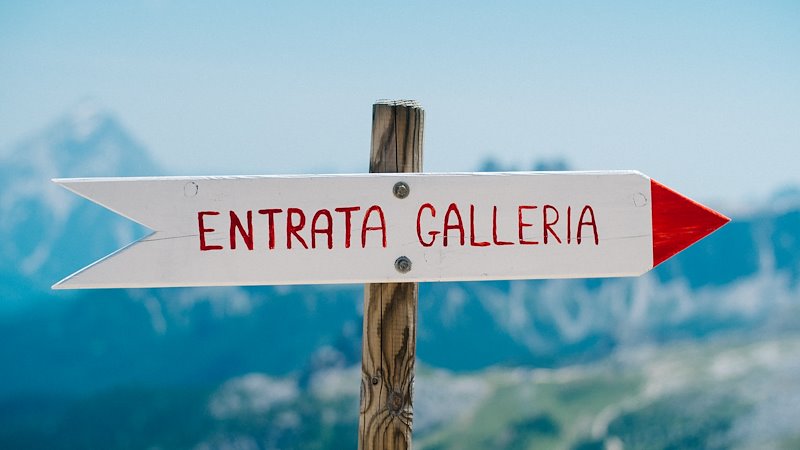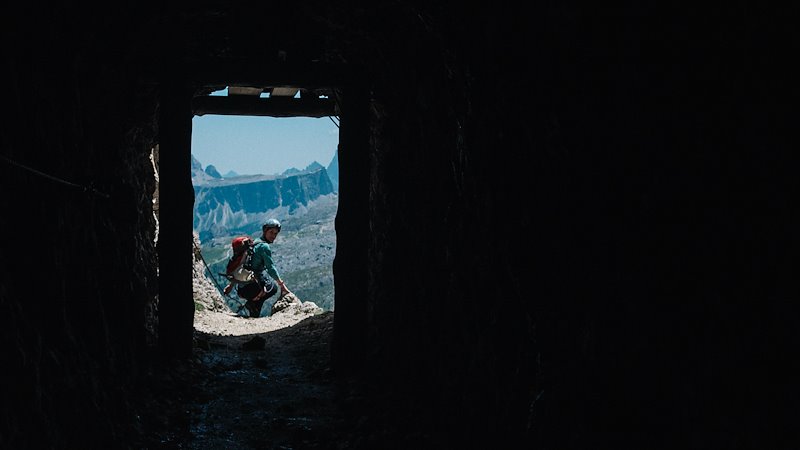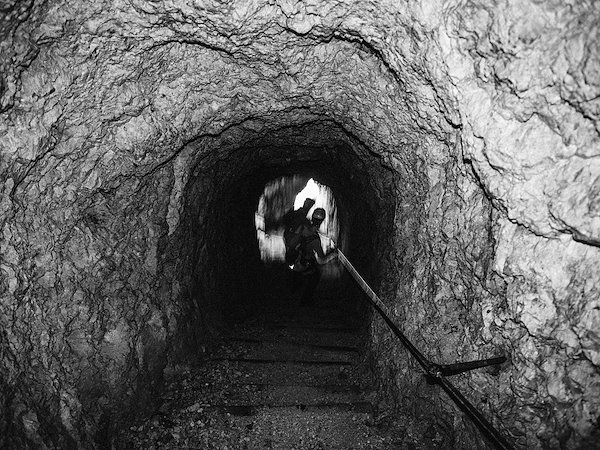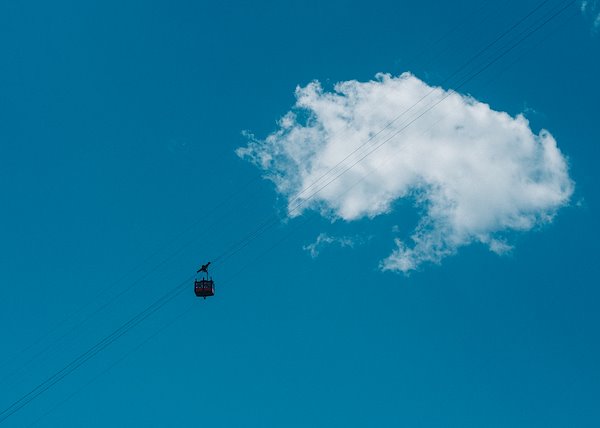 A maze of cold and damp tunnels that were constructed during WWI were our route back down (through!) the mountain. Occasionally through holes that were used as gun emplacements, we could see part of the route we'd just climbed up. [below]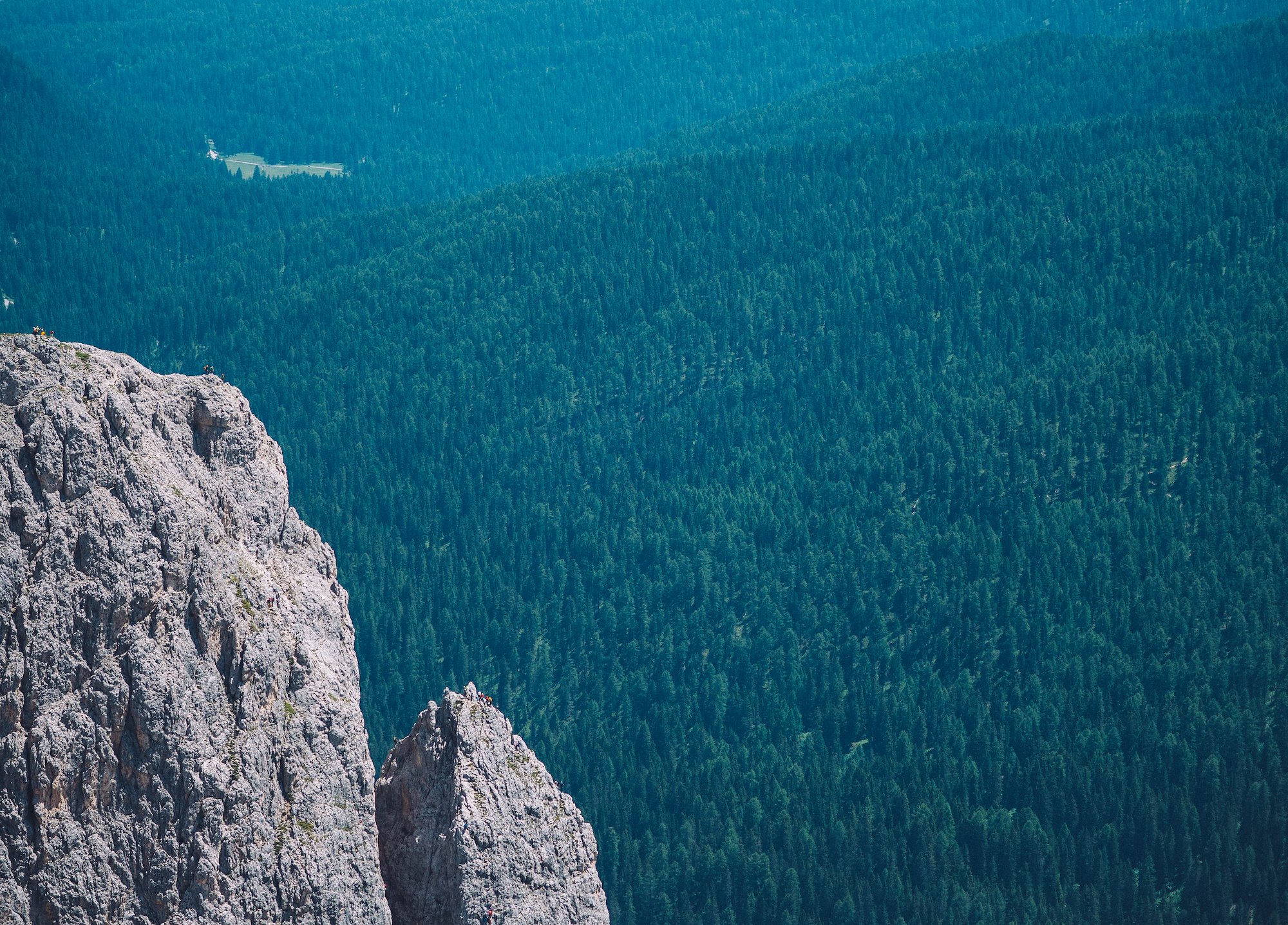 Whilst at the summit of the Via Ferrata earlier in the day, Mario pointed out lake Limedes, nestled amongst the trees.

It was no more than half an hour's walk from our rifugio, and he said I'd get some nice pictures. He wasn't wrong.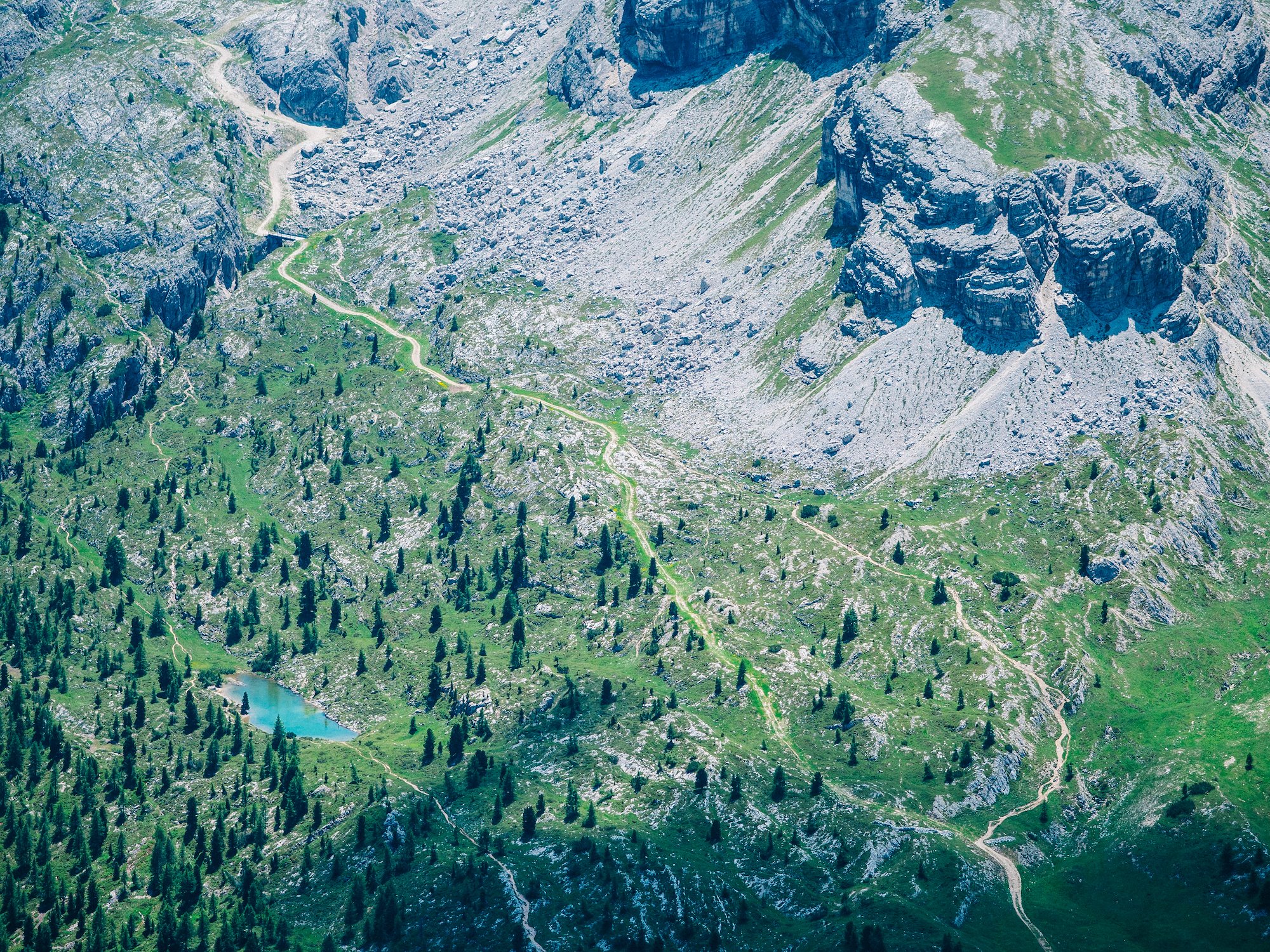 ⇡ Lago Limedes from above ⇡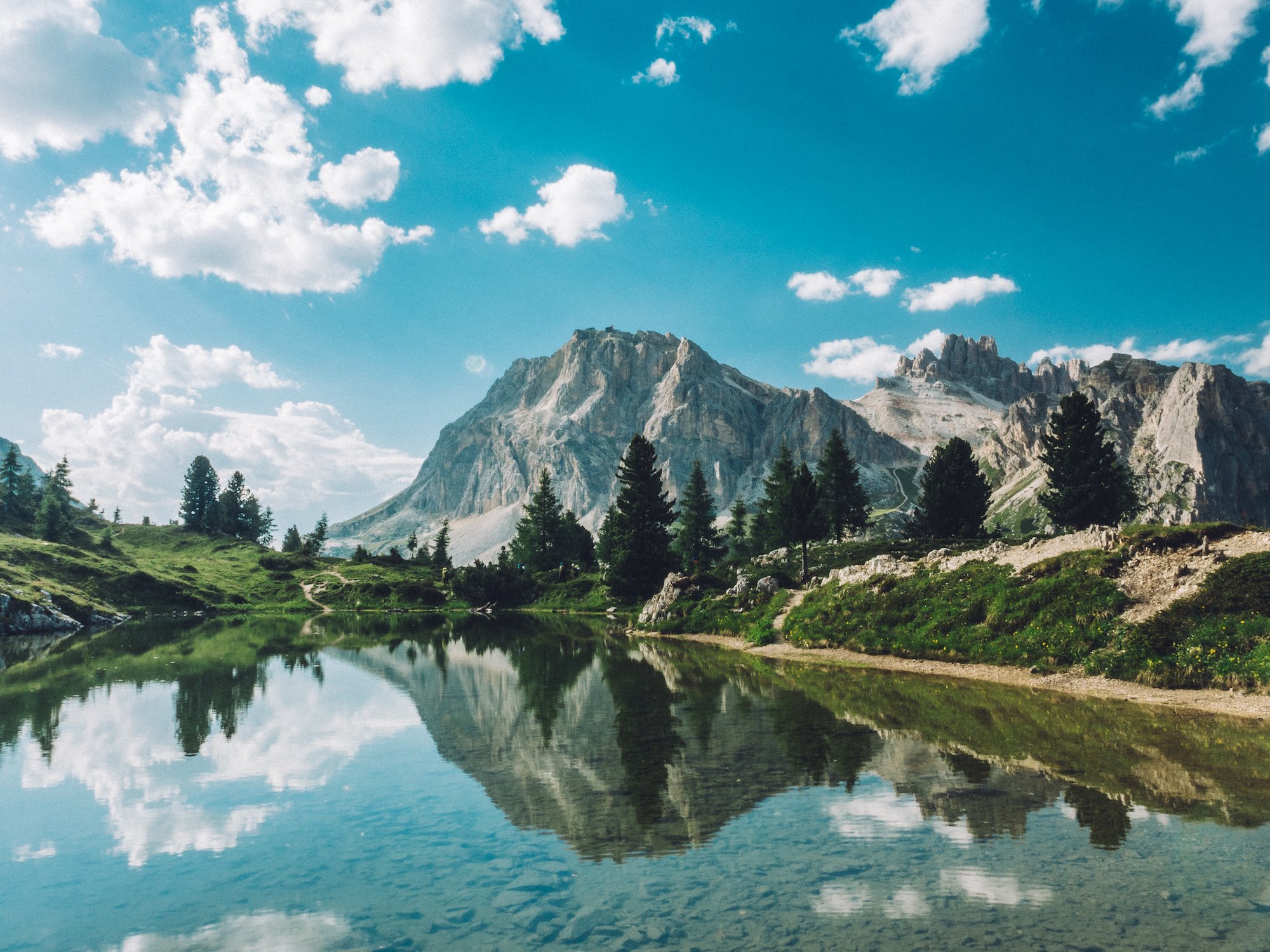 The next day, I showed Mario a few of the shots I'd taken. I was awaiting some praise, but he just said:

"Oh yes, this? This is typical."

Thanks a lot Mario.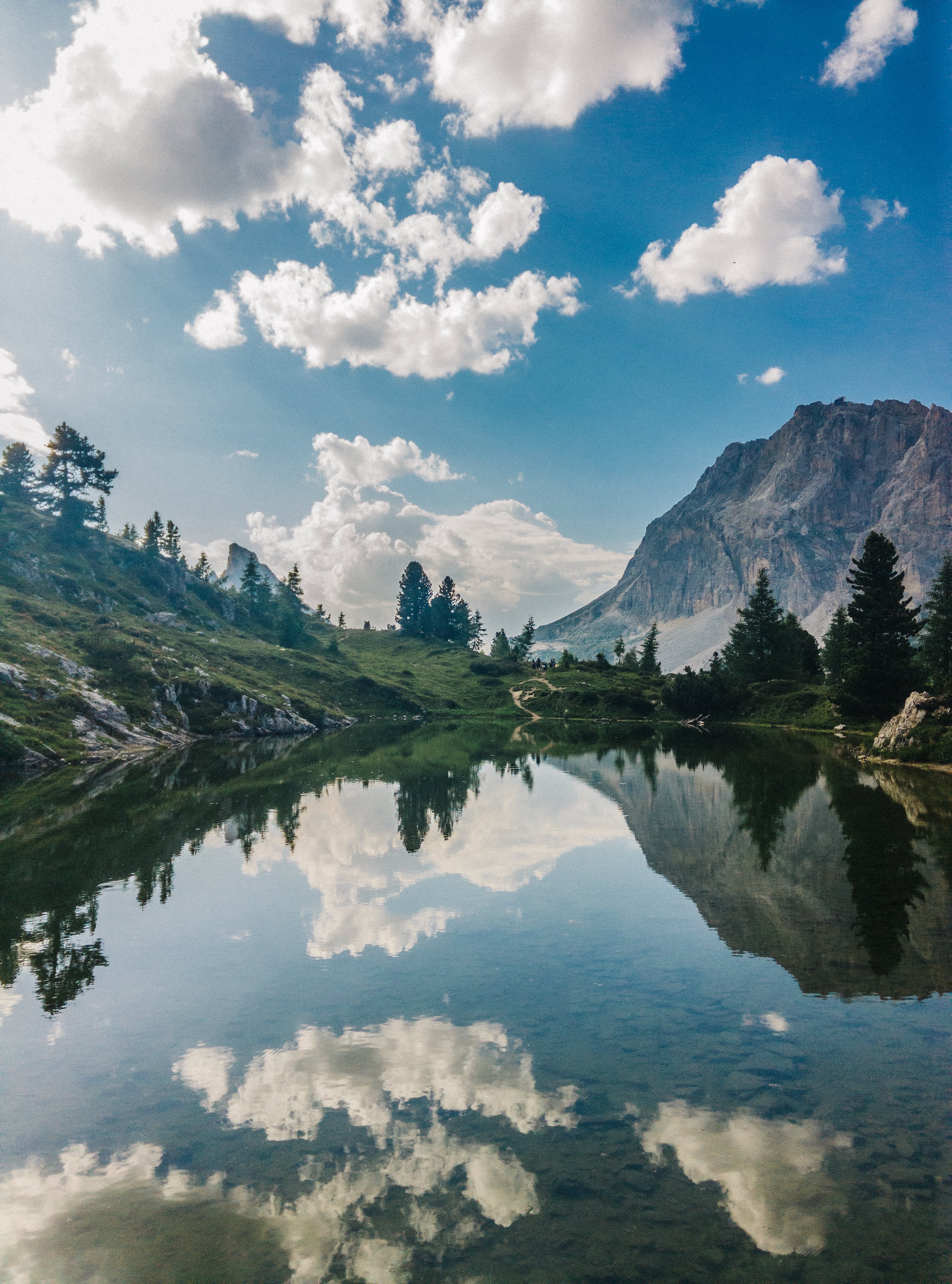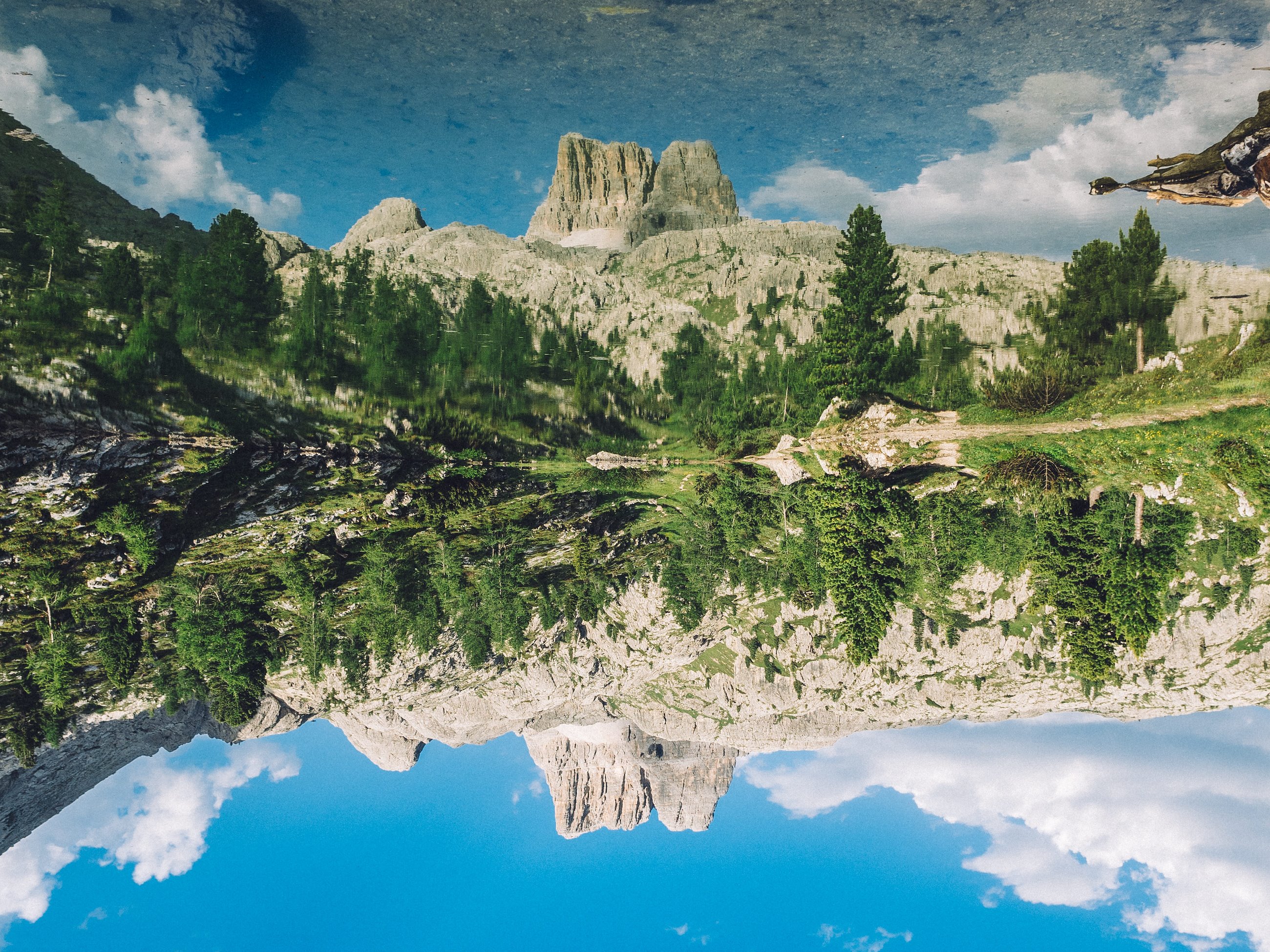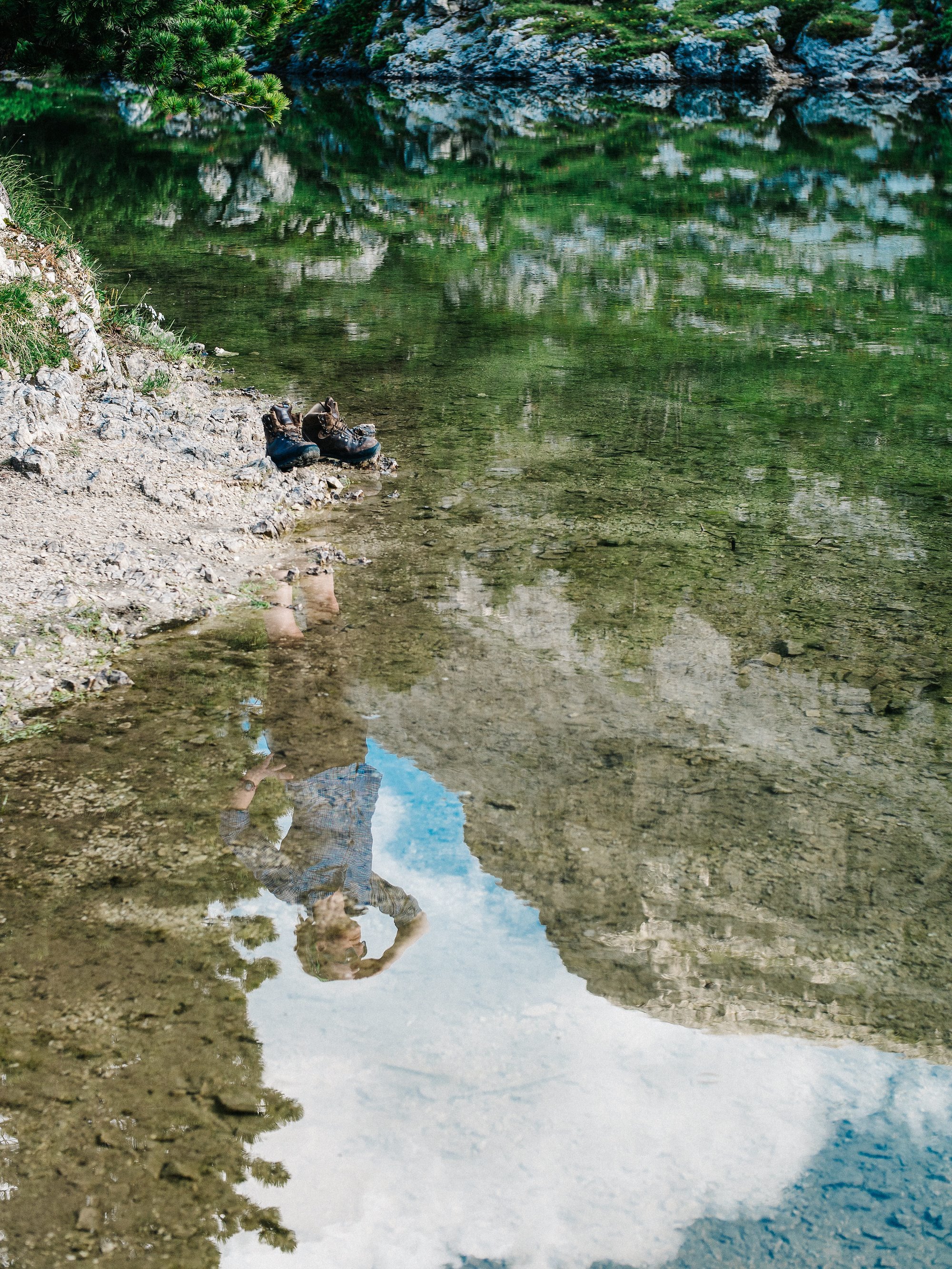 ⇡ There's something strange about the water here… ⇡


I mentioned that my boots were completely and utterly useless. The soles were all bendy and slippery, totally unsuitable for this kind of terrain. I mentioned in passing to Mario that I felt I was slipping of the mountain half the time, and he said he might be able to lend me an old pair. The next day, he turns up with a spare pair of fancy 'Dolomite' boots. Look them up. They're posh.
They fit perfectly. I felt well professional.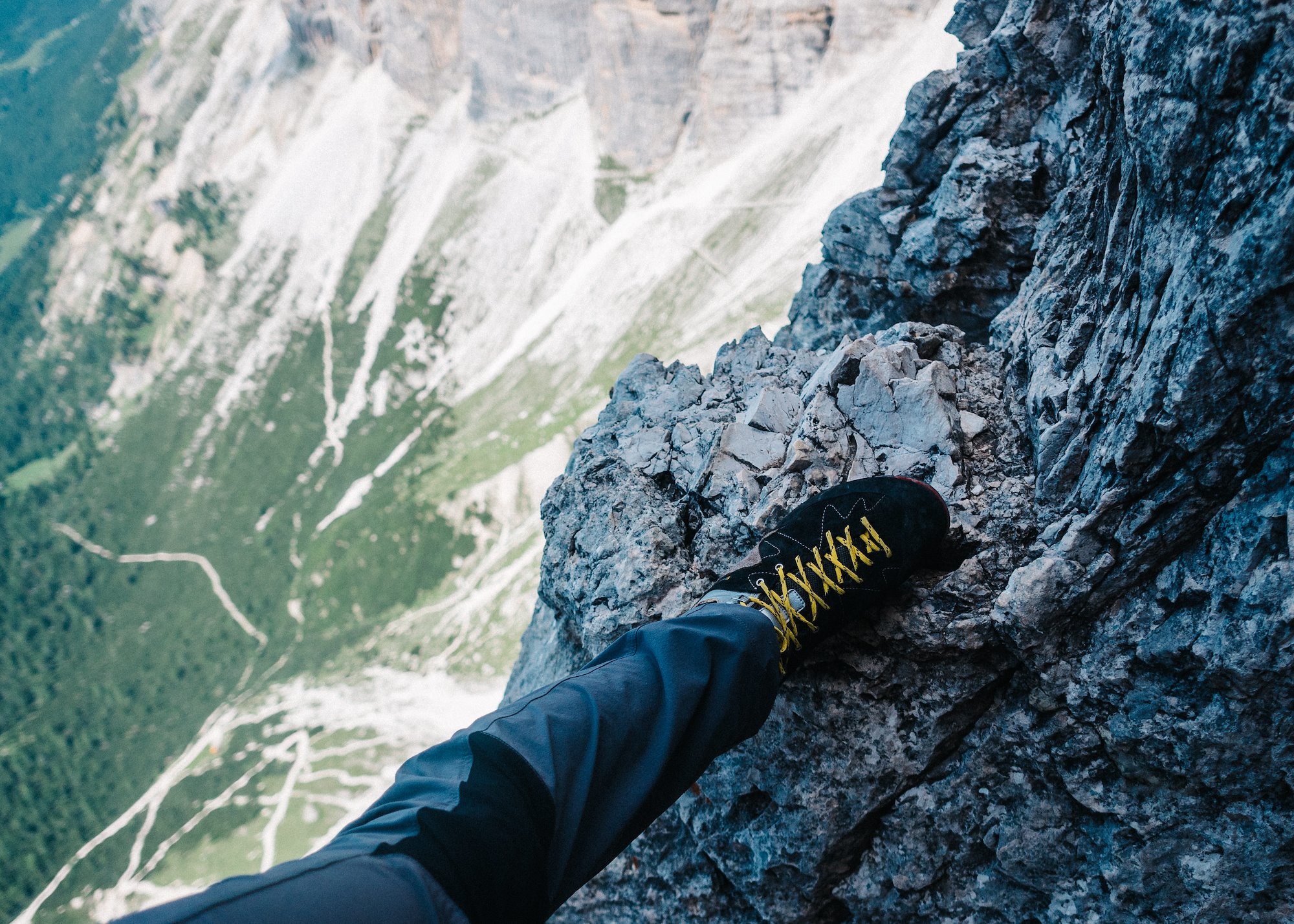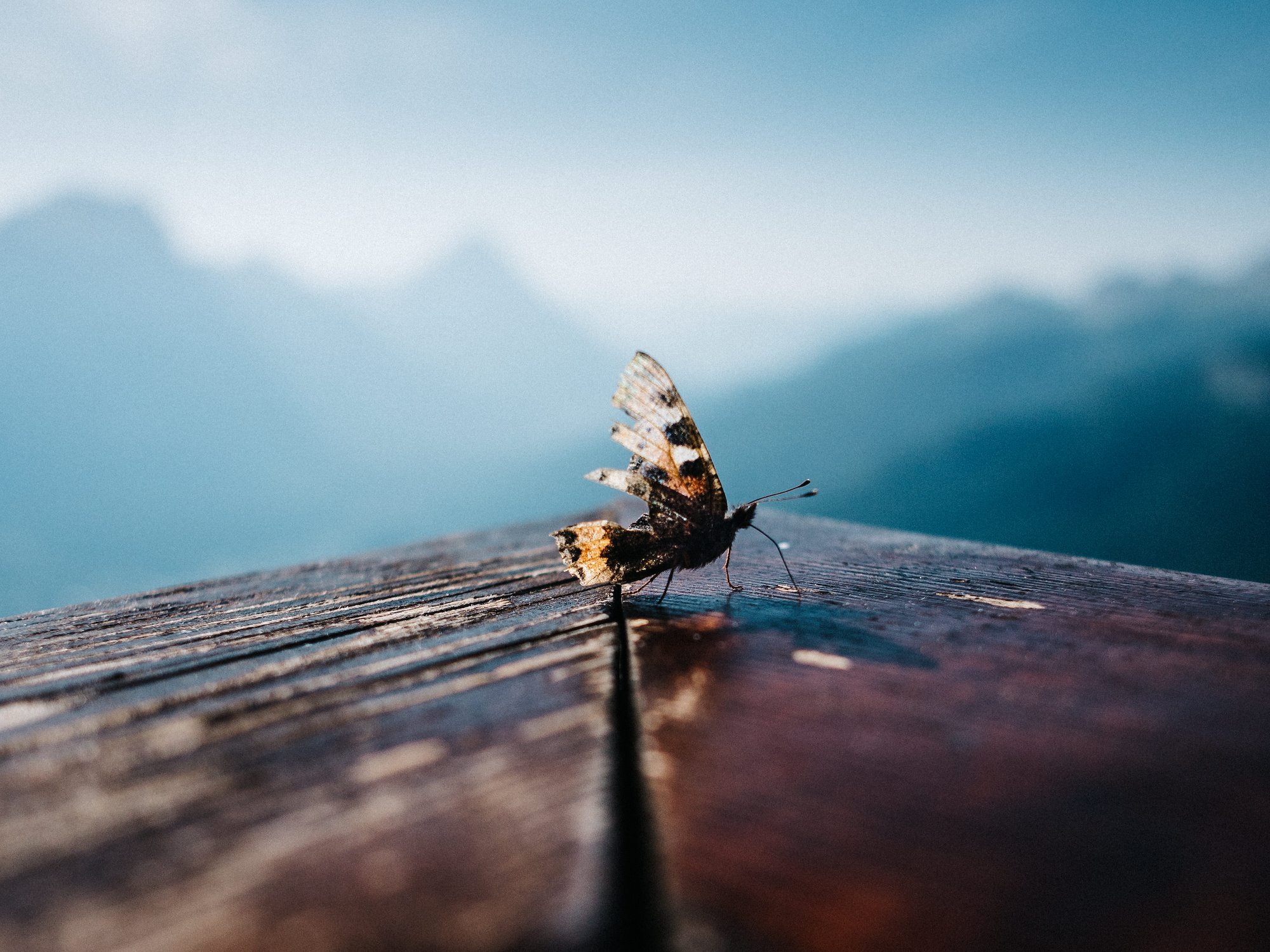 ⇡ …Insert here a poignant treatise on the briefness of our time on this planet…⇡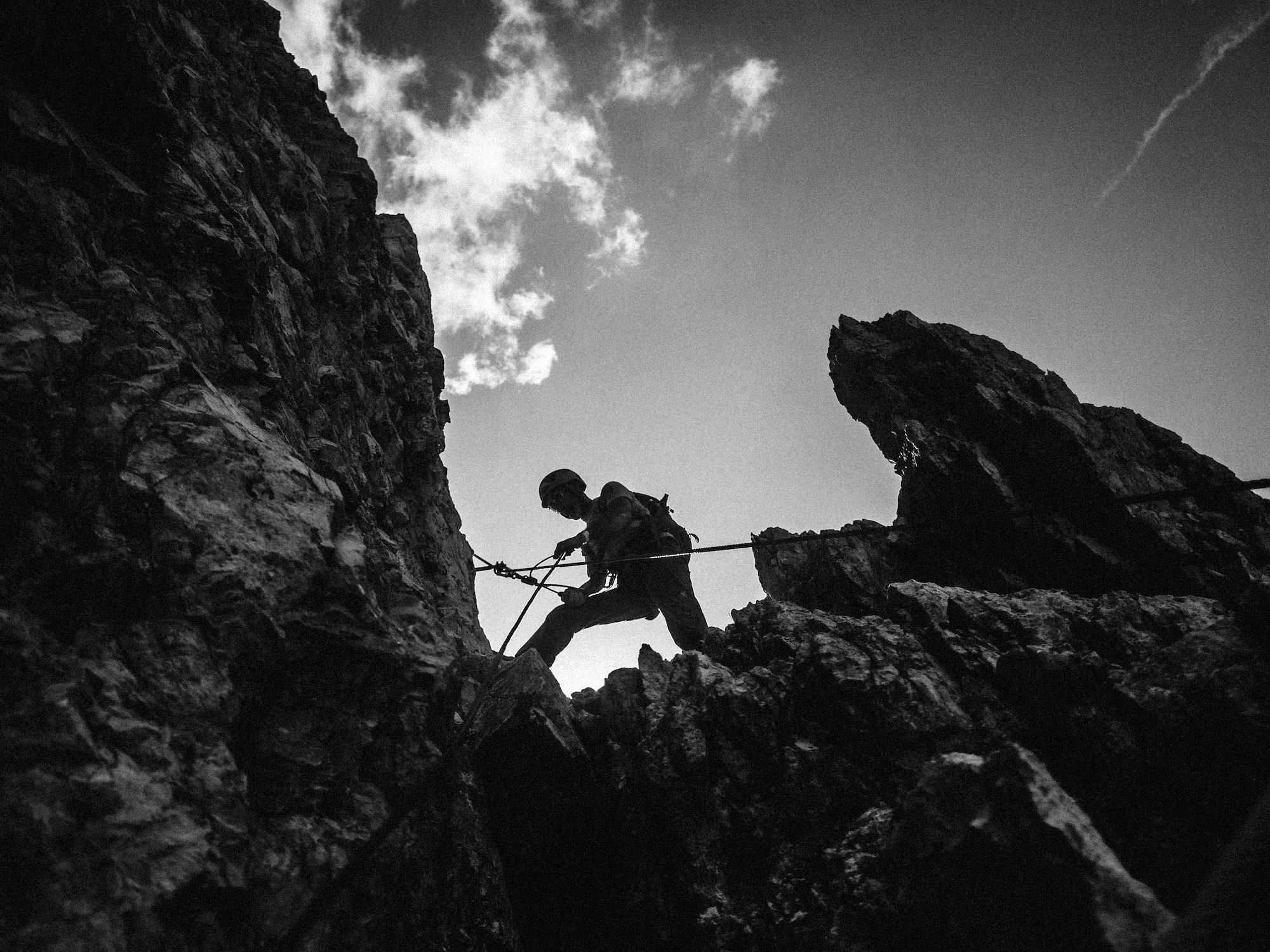 Lucy was really worried about the Punta Anna Via Ferrata. The blurb in our itinerary said:
"…perfect for expert climbers who are looking for adventure [and] the exhilaration of a steep climb"
Hmmm.
Mario didn't seem to think it would be a problem, and despite a few instances of fear-induced Elvis Leg Syndrome (ELS) it turned out to be fine. If you get the chance to do this, don't hesitate, just go ahead and do it.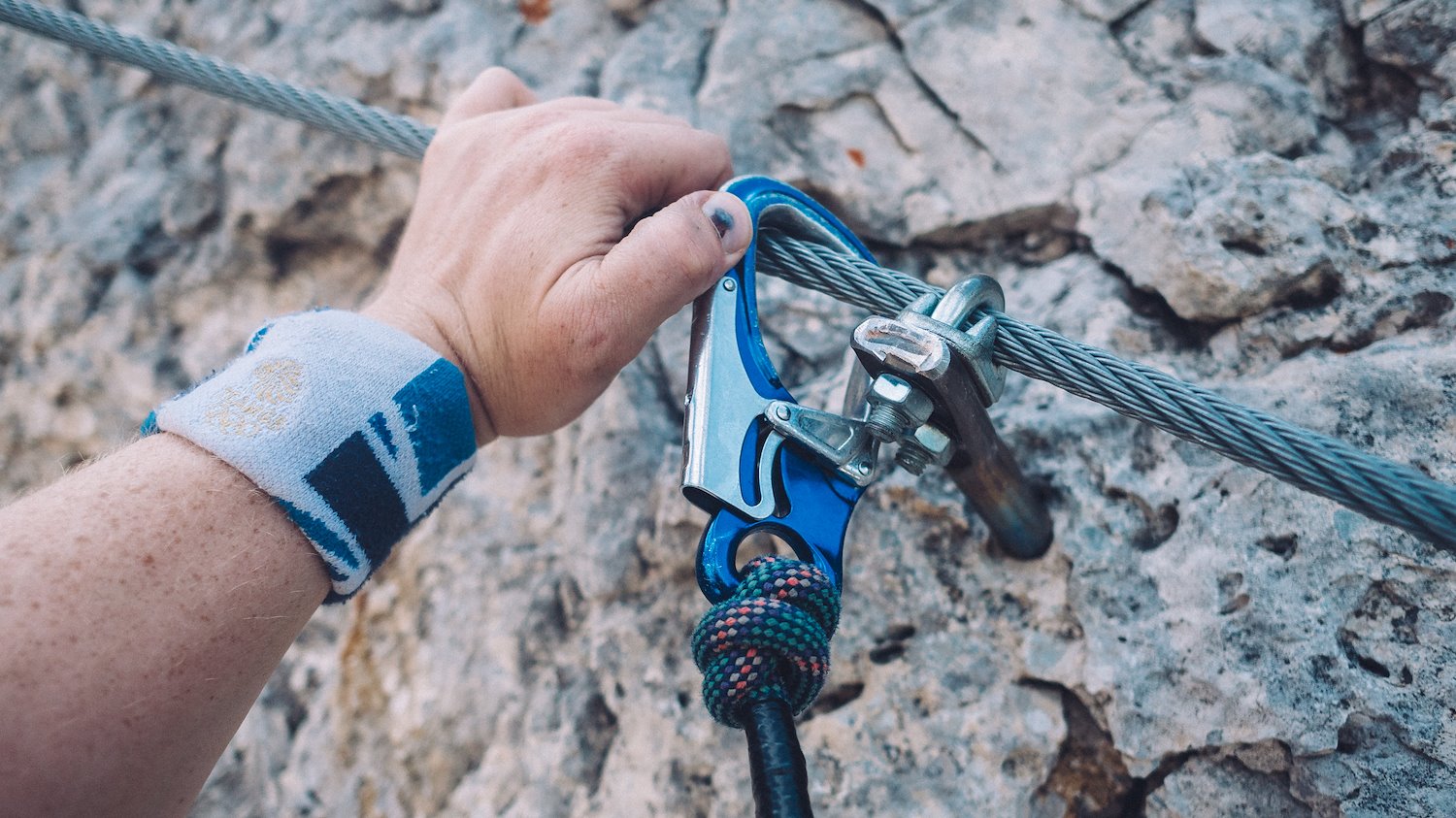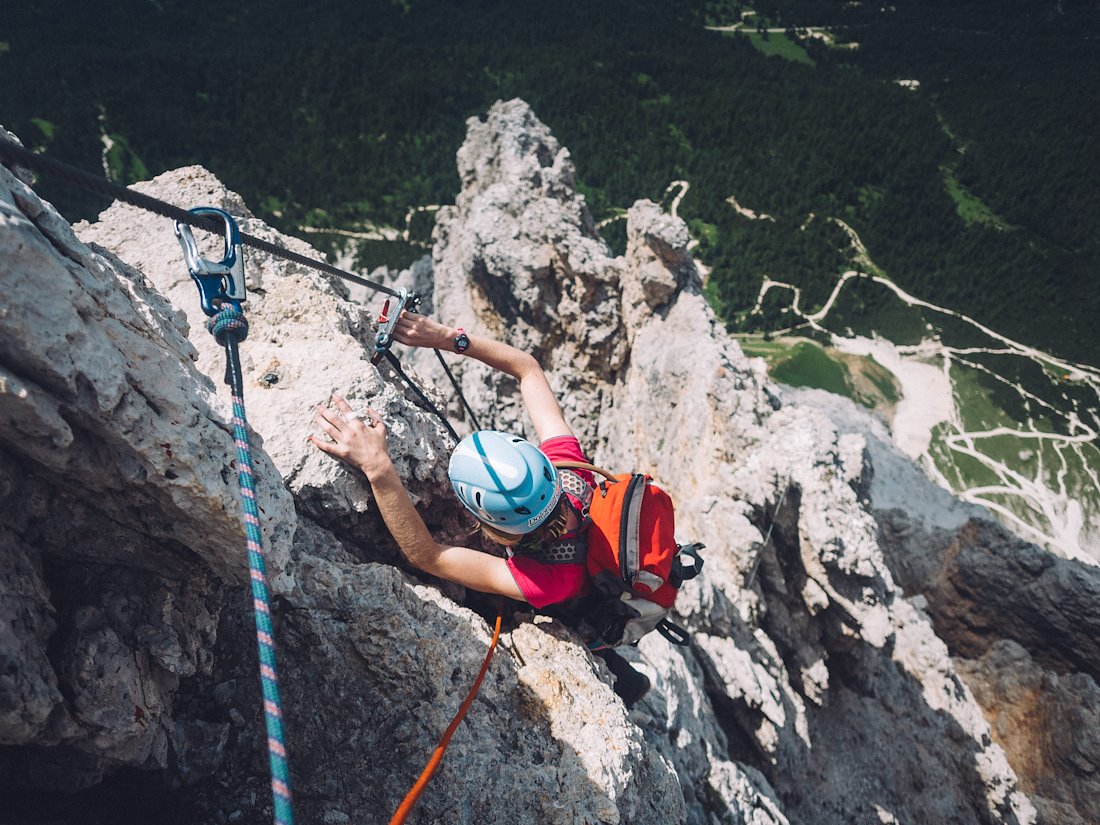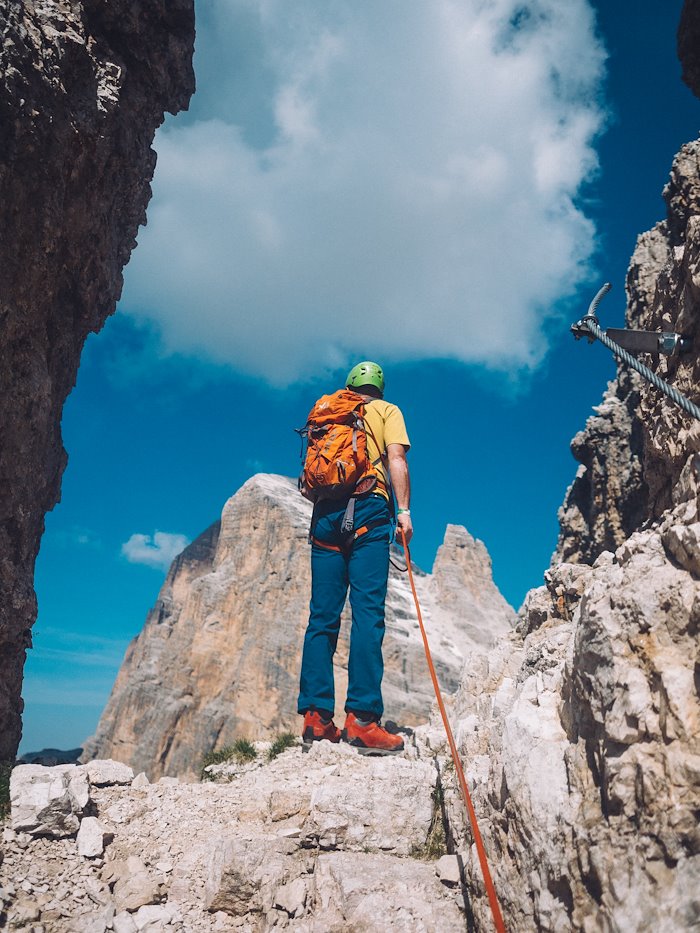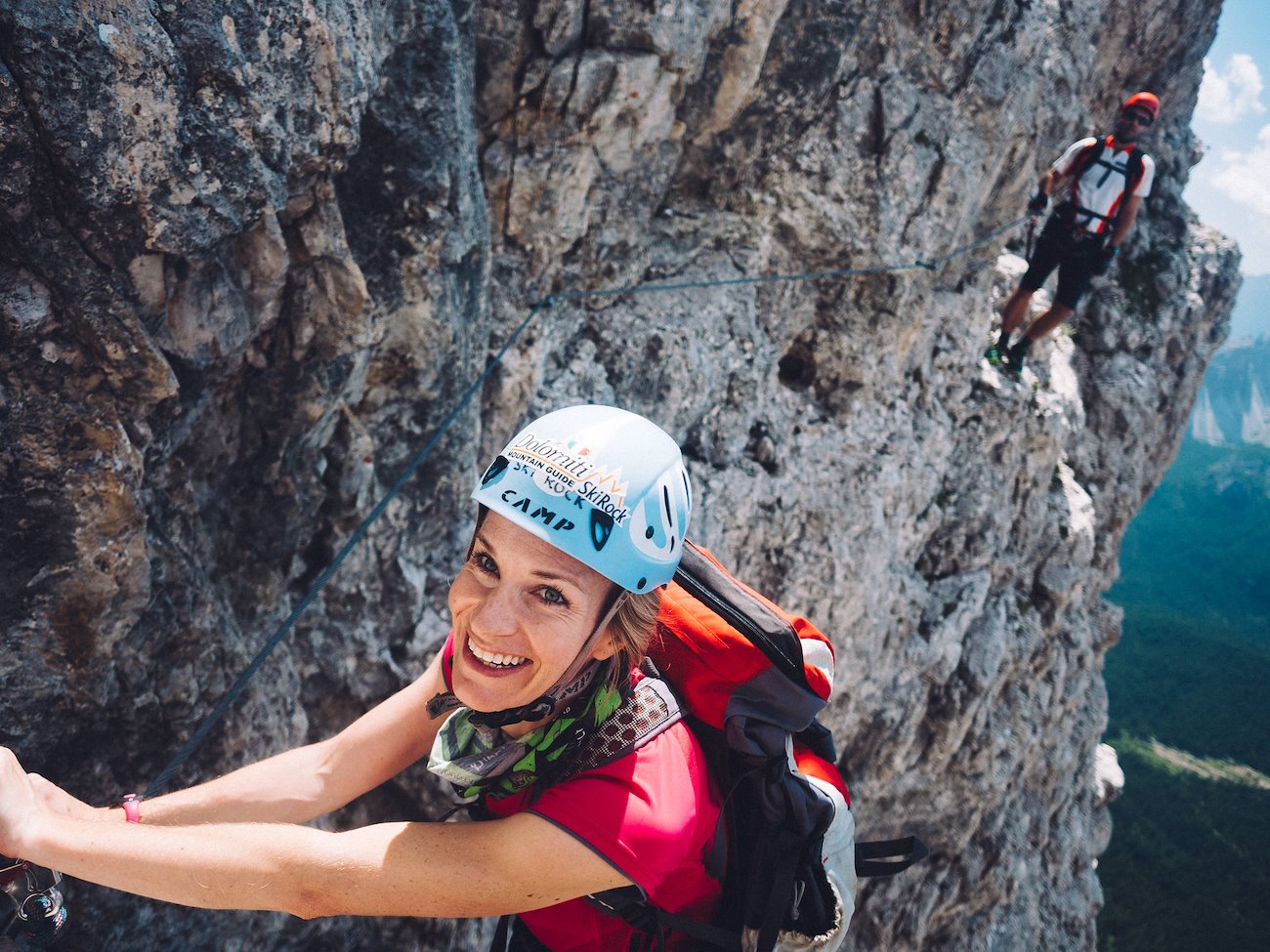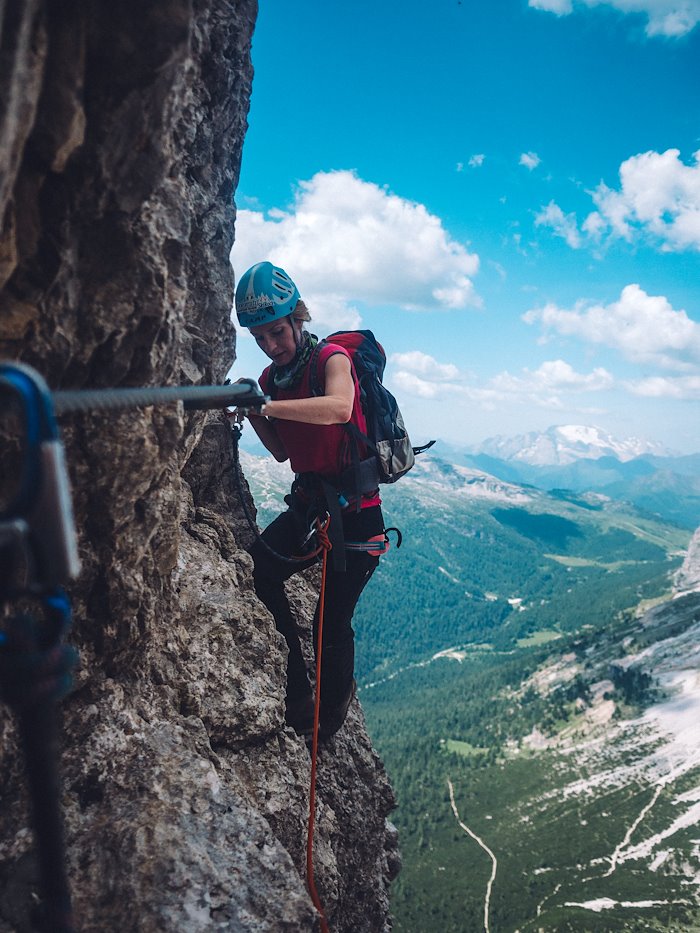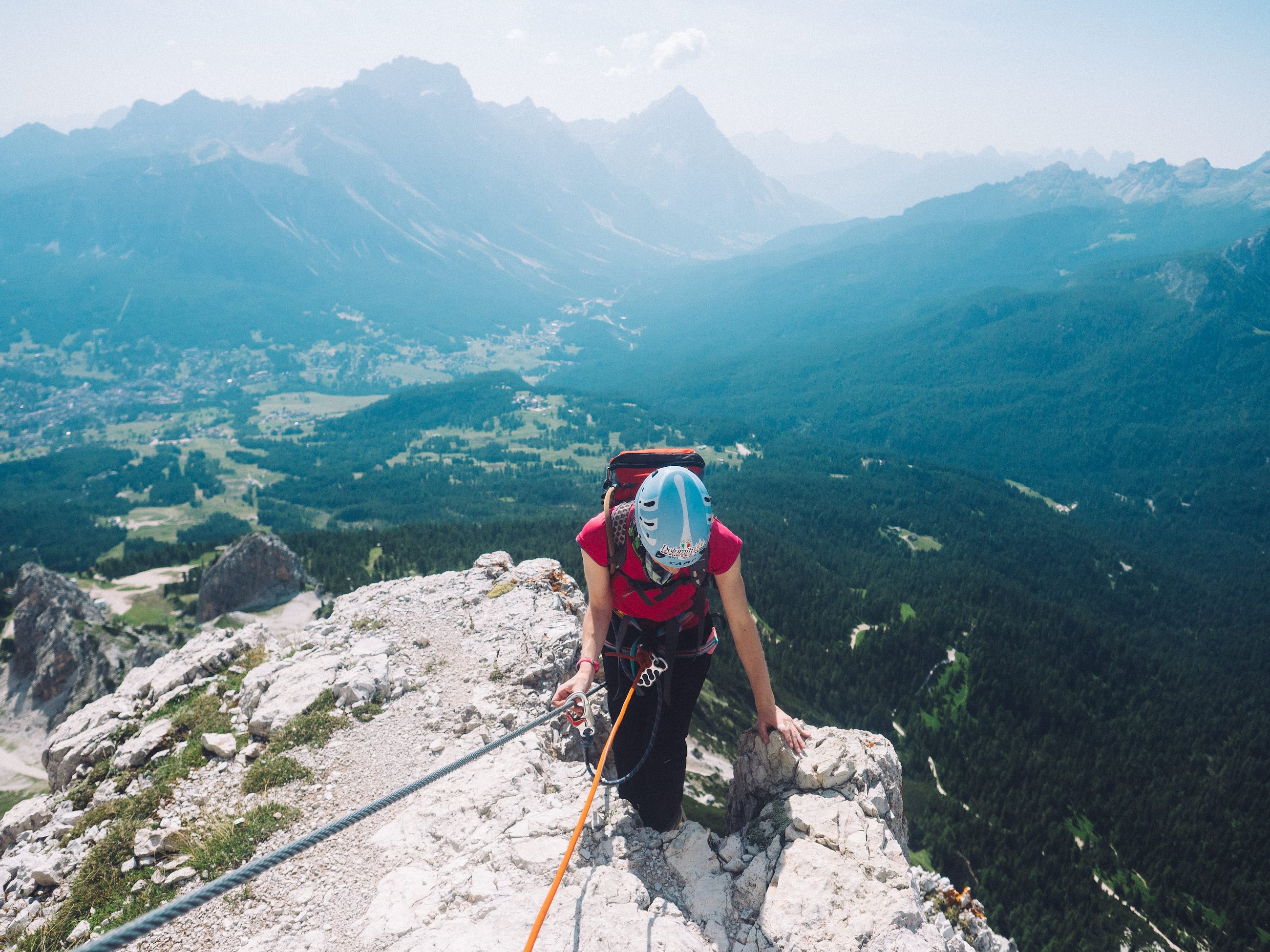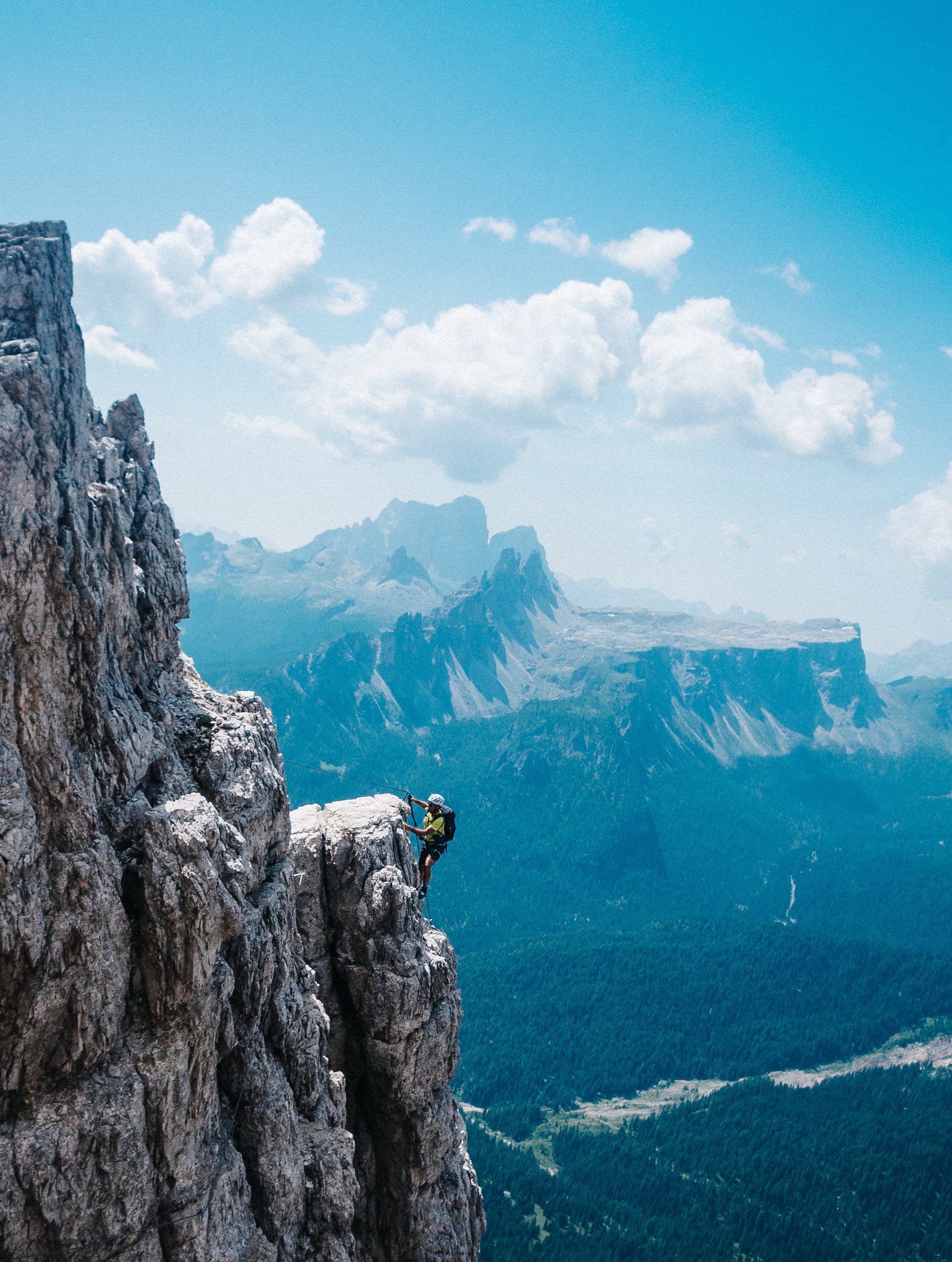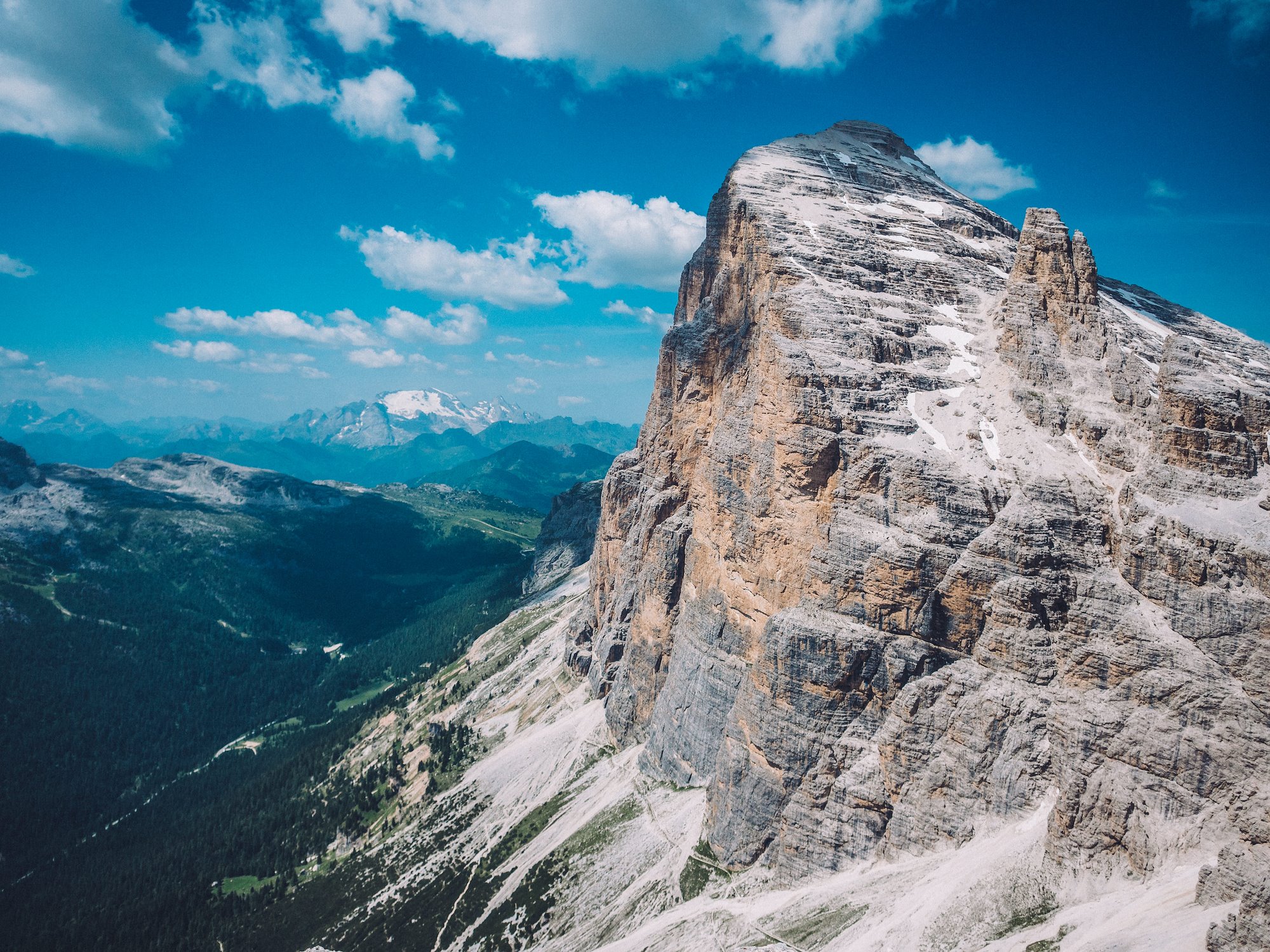 ⇡ Tofana di Rozes ⇡

After completing the ferrata, we were given two options. One of which I can't remember any more, and the other was to go down the ginormous scree slope, the edge of which you can see in the photo above. We asked which was the most fun.
"Scree. Definitely more fun."
said Mario, grinning.
We'd encountered scree earlier in the week, and it'd taken us ages to descend, following a path that switched back and forth along the steep slope's huge width. Mario pointed downwards.
"This one? Take five minutes, maximum."
And so he taught us how to run down a scree slope:
(Mario - in front - looks like he's walking on the moon. I look like I've done something in my trousers.)
https://www.youtube.com/watch?v=TyemAEr-seA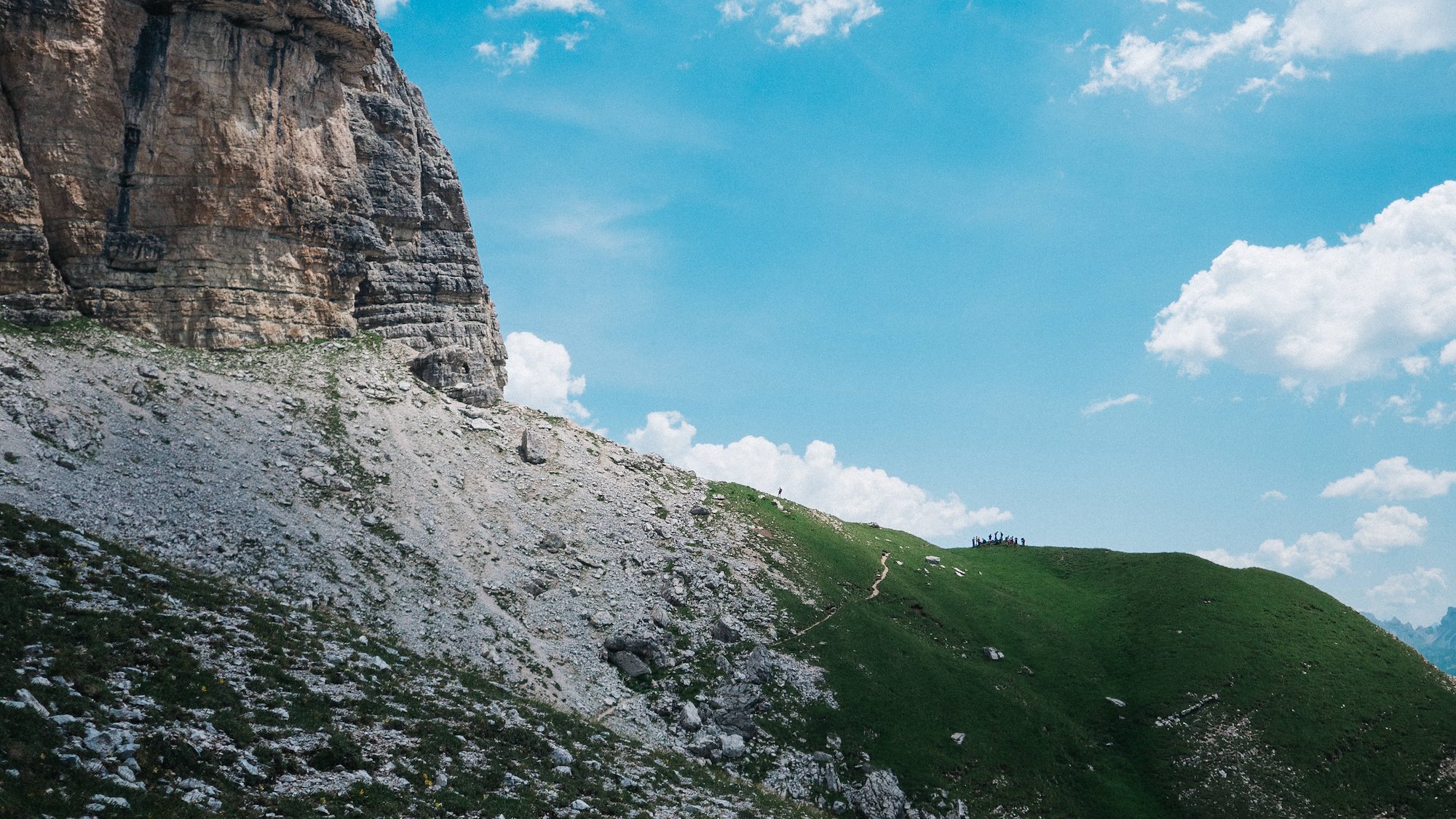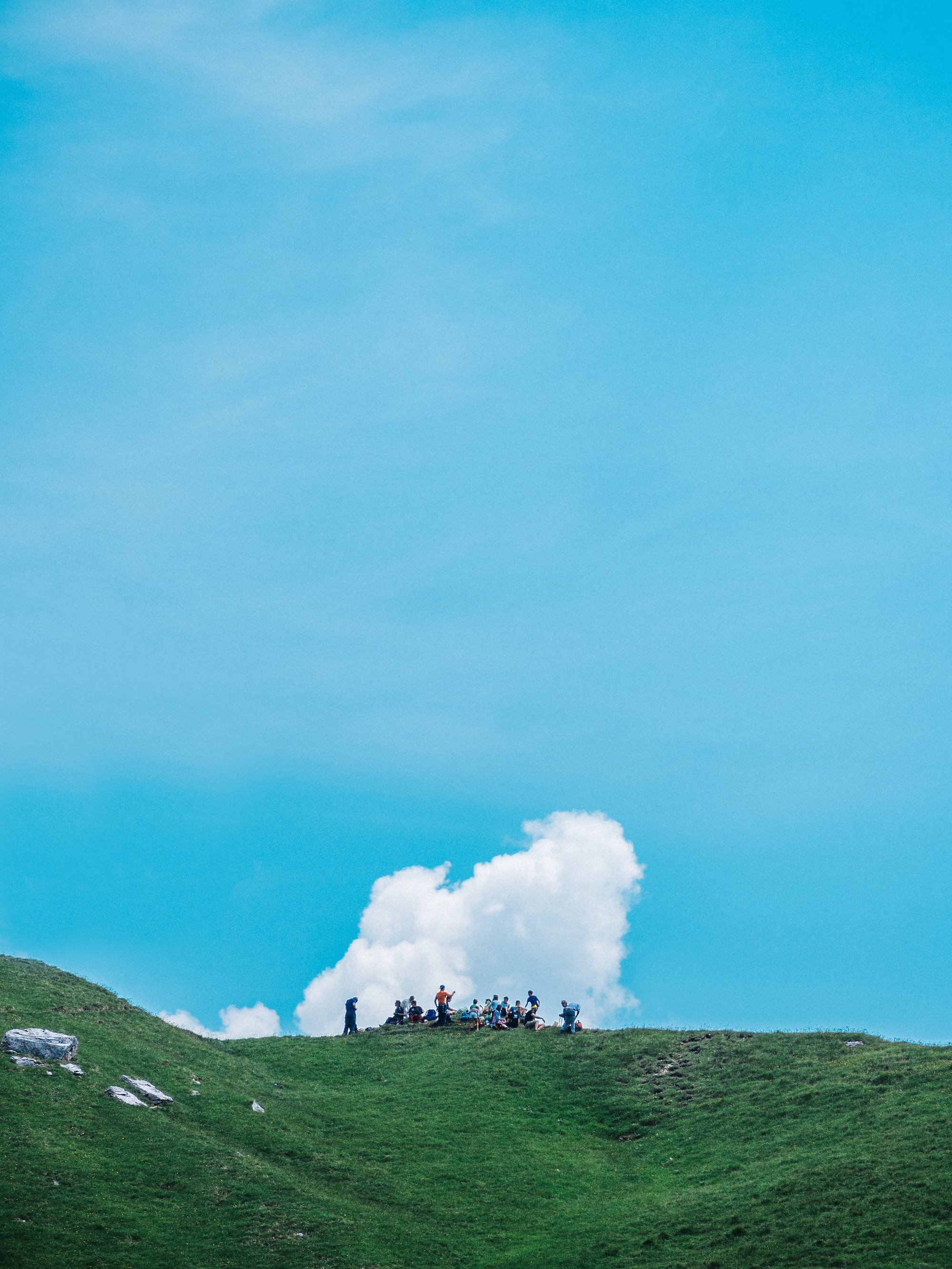 To celebrate making it up (and down) alive, we stopped in a bar at the base of the mountain with Mario for a quick drink. We talked about the type of people that come to the Dolomites, the tours he runs, that sort of thing.

"It's strange," Mario said, "I've taken people from all over the world on tours, up via ferrata, skiing, climbing, everywhere around here. But some people that come don't want to go mountaineering, they only want to take pictures of flowers! Crazy."
After the stresses of the morning, I can't say I blame them…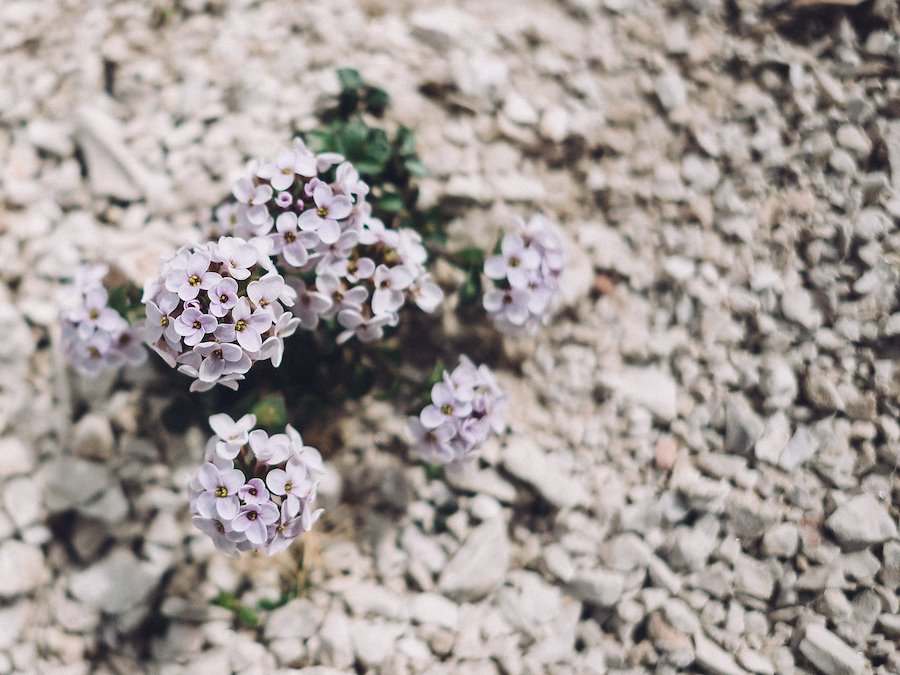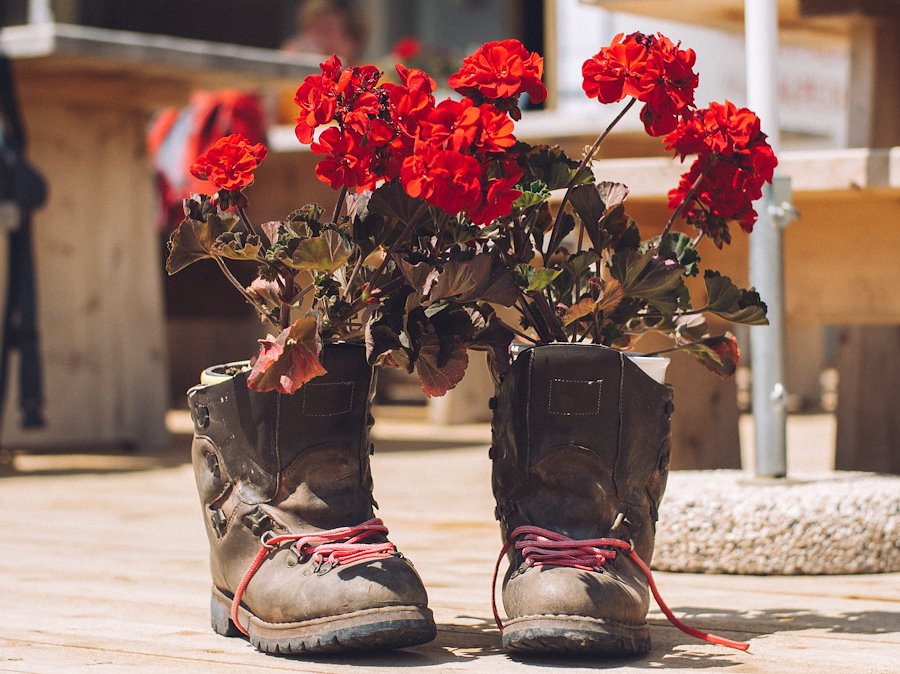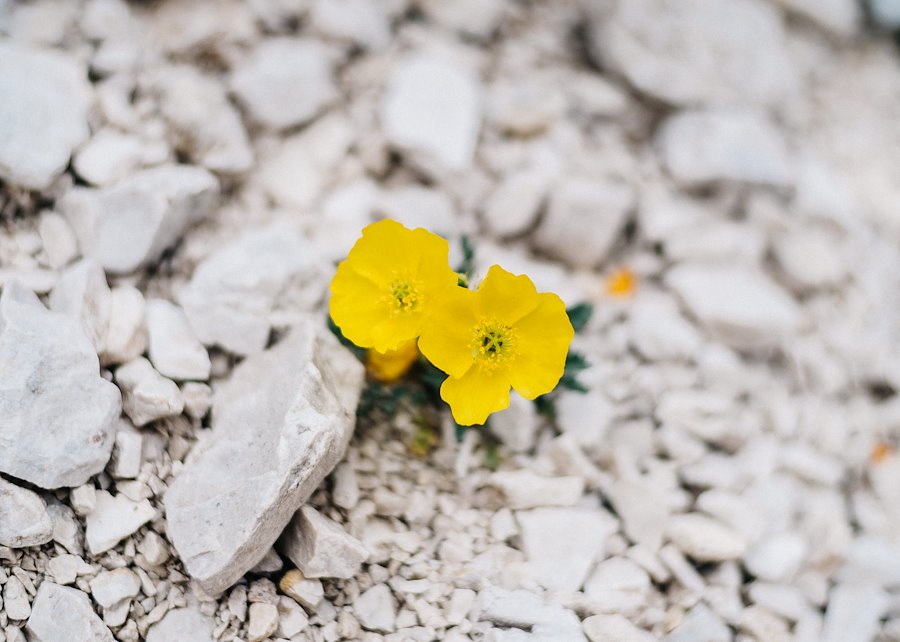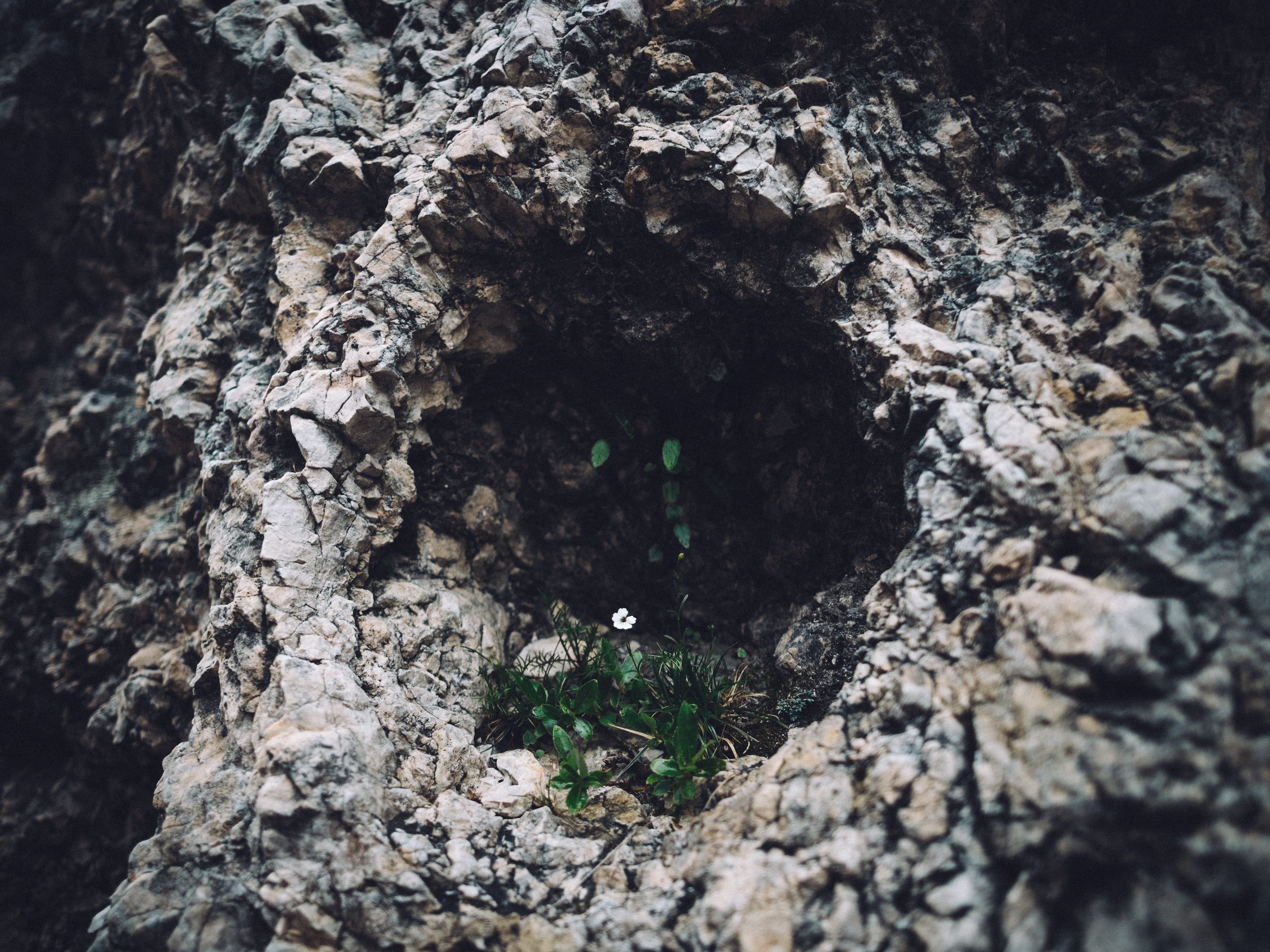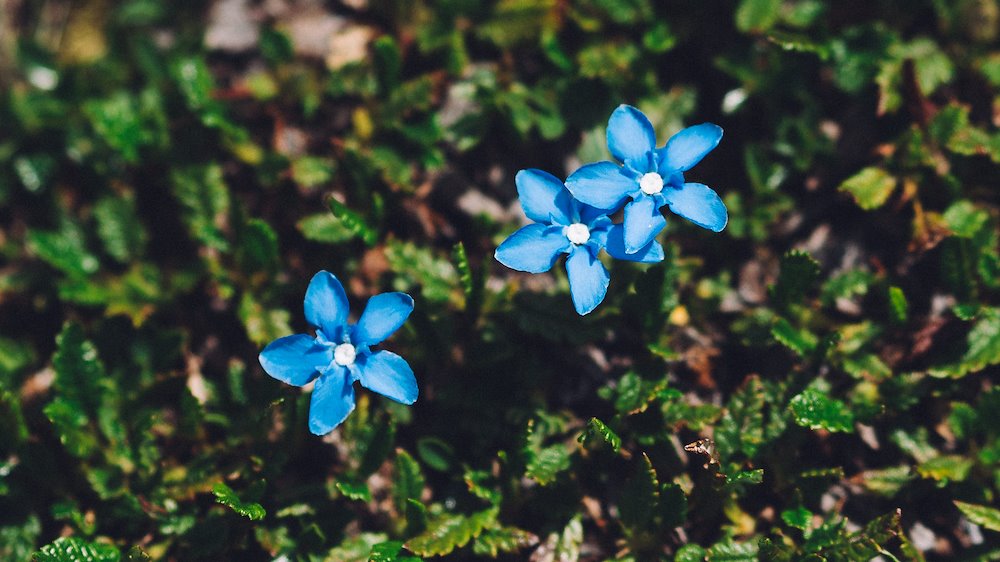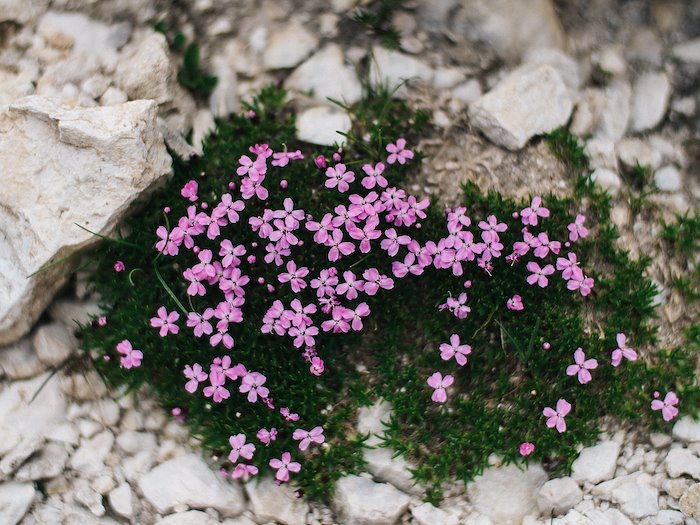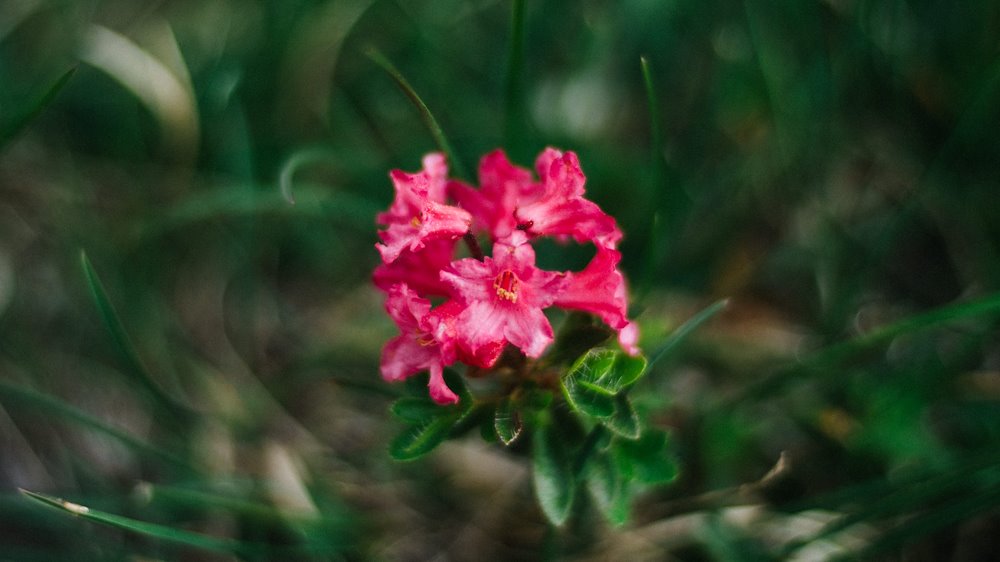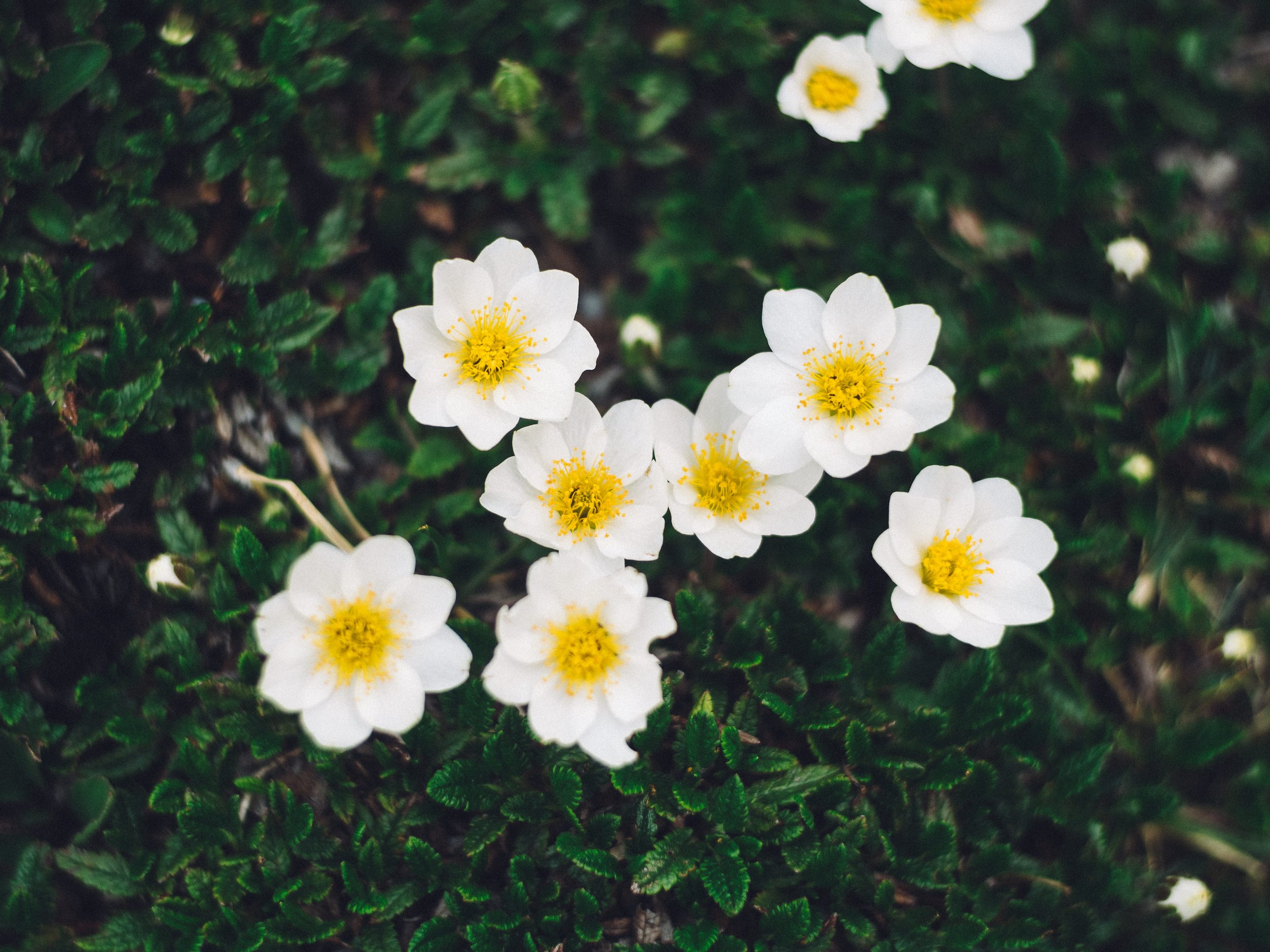 Grazie Mille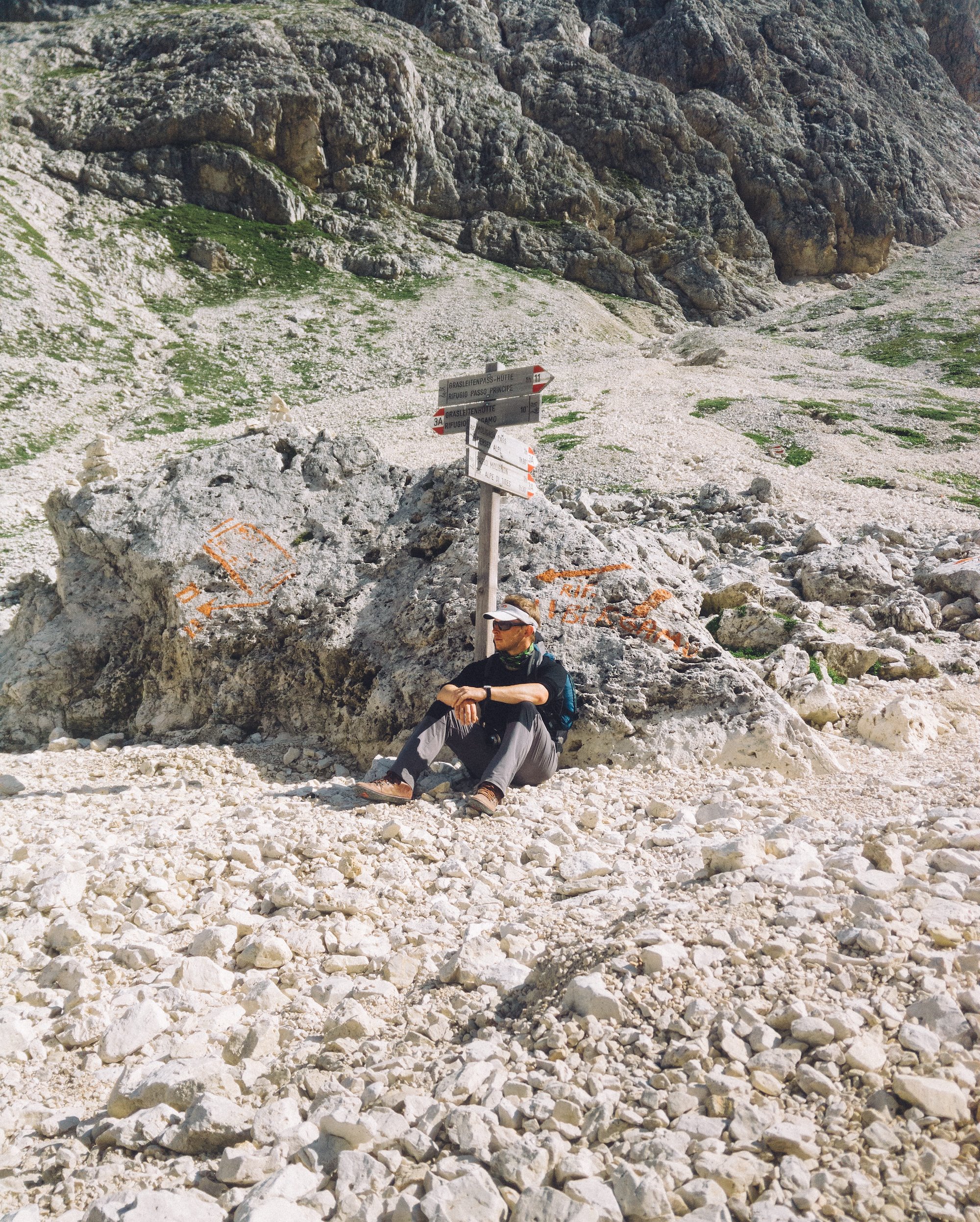 ⇡ Me, having a rest. ⇡

The tour we booked was through DolomiteMountains.com.
No, they didn't pay me to write this, they just did an awesome job of organising everything for us. We could do everything at our own pace, change the itinerary to suit us, it all ran like clockwork. I'd totally recommend them.
Follow me on Instagram or Twitter @tommynagle. Or not. Whatevs.
Footnotes: All Photographs taken with Panasonic Lumix GH4 and the OnePlus One smartphone, processed in Lightroom. Section titles created in Photoshop.

Dolomite Mountains, Canazei, Province of Trento, Italy
© 2020 Tommy Nagle
We want to acknowledge and thank the past, present, and future generations of all Native Nations and Indigenous Peoples whose ancestral lands we travel, explore, and play on. Always practice Leave No Trace ethics on your adventures and follow local regulations. Please explore responsibly!
Do you love the outdoors?
Yep, us too. That's why we send you the best local adventures, stories, and expert advice, right to your inbox.