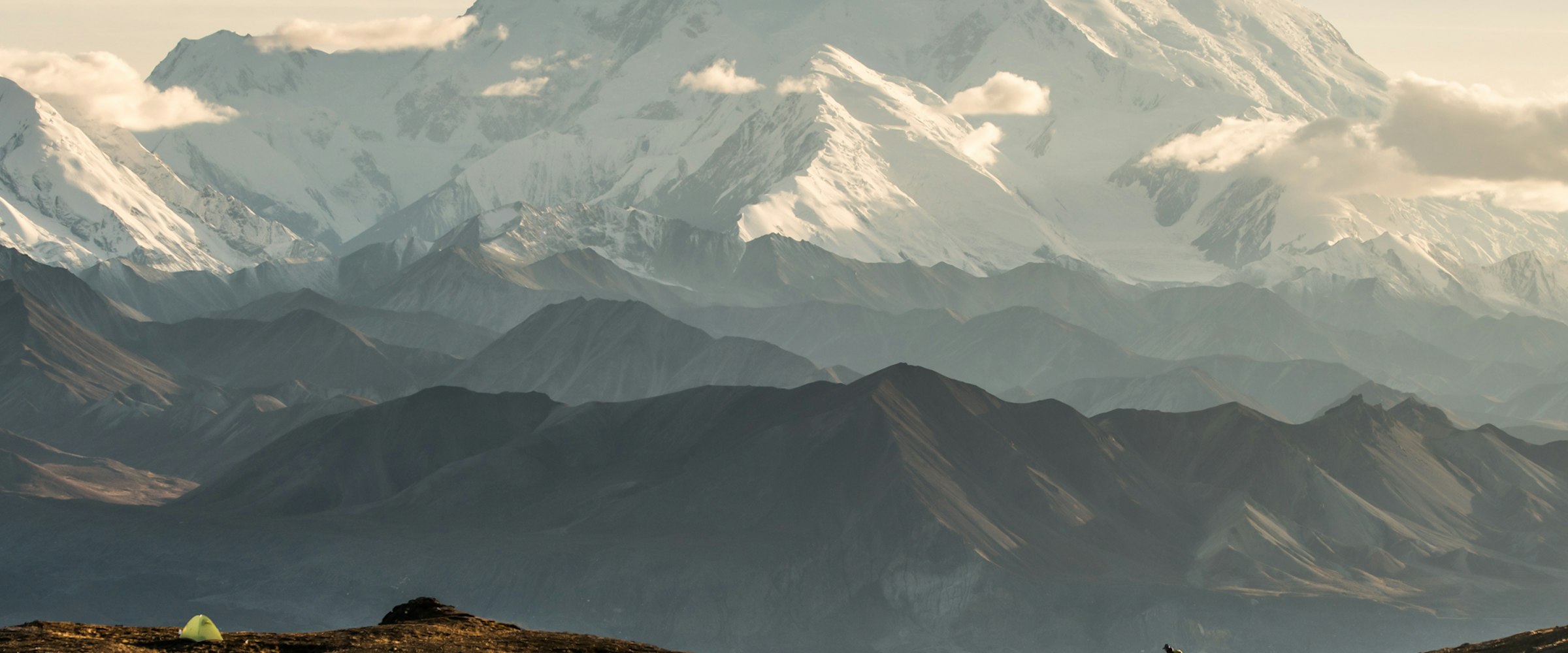 My Kit: Overnight Backpacking with Scott Kranz
An Explorer's guide to the gear you need for the backcountry.
Whether you're an avid hiker and backpacker, a newbie looking to get outdoors more, or a straight-up gearhead, what gear makes it into your pack can make or break a trip. This is my kit for a typical overnight backpack trip or similar alpine outing in the Pacific Northwest. The listed items below, which are categorized by photo gear, general gear, and camping gear, make up my current kit. My gear kit can change from trip to trip and season to season, as I am constantly testing out new gear to meet the needs of the next adventure.
Gear
I have a variety of sleeping bags of varying materials and temperature ratings. In the summer and fall in the Cascades, I'm often bringing my Eddie Bauer Kara Koram 20-Degree StormDown Sleeping Bag, which is sufficiently warm and lofty, but also packs down into a small pouch when I need to store it in my pack.
I generally use the Therm-a-Rest NeoAir XTherm, especially if the trip involves colder weather or snow. This inflatable air mattress has a solid R-Value of 5.7, which works wonders in frigid night temps.
I have a variety of tents. One option I use is my Black Diamond Firstlight, a compact, single-wall, two-person ultralight tent. It's minimum weight is under 3 pounds, which is an awesome feature on big trips. Another tent option I use is the Eddie Bauer Stargazer tent, a guide-built, double-wall tent with double door entry. It's fully waterproof, and lightweight as well. A great backpacking tent.
I own a variety of packs, of varying sizes and uses. I often use my Black Diamond Speed 55 Pack, which is lightweight and streamlined.
This is an ultralight cooking system (about 12 ounces in weight), which I use in the backcountry for boiling water, preparing meals, and making my morning cup of joe at camp. I'm often reaching areas and elevations where fires are not allowed, where this stove works well. Along with the stove, I make sure to bring my trusted spork, mug, and bowl.
An essential piece of gear for every trip I'm on. I use a Black Diamond Spot Headlamp with a maximum light output of 200 lumens, plenty bright for my needs. It has both flood and spot modes, as well as a red night vision—so you don't accidentally blind your tent mate.
For certain trips, I make sure to bring trekking poles, which often are a lifesaver, especially on the knees when descending. I often use my Black Diamond Alpine Carbon Cork Trekking Poles.
When the trip involves more challenging terrain, potential rock fall, or any climbing, or if any travel over snow or ice is possible, I often bring my Black Diamond Vapor Helmet and my Black Diamond Raven Pro ice ax, to ensure I get from A to B both safe and sound.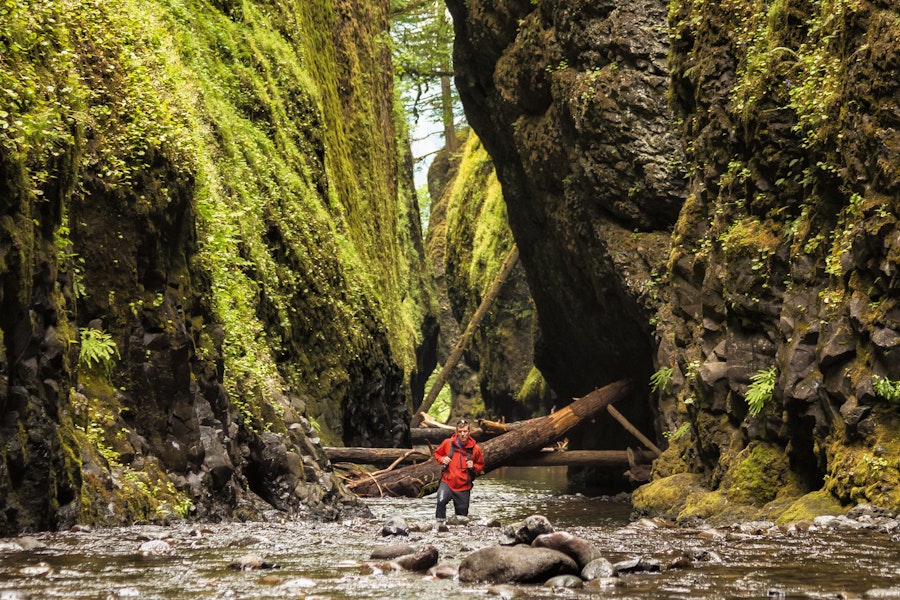 Although I own several cameras, I often go with this full-frame 42-megapixel mirrorless camera. It's a more lightweight option (about 22 ounces with a battery) than my DSLR, a plus for trips covering greater mileage and elevation gain. The camera's functionality and features work for me, whether I'm shooting for a commercial client or gathering content for a personal project.
I often bring multiple camera lenses on any outing, covering a range of speeds and focal lengths. I often shoot with my Sony Vario-Tessar T 24-70mm f/4 lens, a versatile, all-purpose focal range.
When I need to shoot wider, in low light, or during the night, I often use my Canon EF 16-35mm f/2.8L II lens, paired with a Metabones T Smart Adapter Mark IV.
For compressed landscape imagery or wildlife shots, I often use my Canon EF 70-300mm f/4-5.6 IS lens, a very lightweight telephoto lens option.
Having my camera accessible and ready to use is essential for my outdoor photography. As a result, I use this pro-grade camera carrying clip with quick-release locking action. It's on my backpack strap every single trip I take.
This camera wrist strap never leaves my camera. It's ergonomic and quick to cinch, ensuring my camera and my hand don't accidentally part ways when I'm hiking or climbing.
My camera gear has been a significant investment, so why not protect that gear from the elements? I use this lightweight protective cover which shields my camera from rain, dust, snow, and dings.
This is my go-to tripod for most outings. It's very light, weighing in at 3.7 pounds. It's tall enough when fully extended that I am not hunching over to look through my camera's viewfinder or screen (I'm 6-feet tall for reference), but collapses down small to fit well inside my pack. Most importantly, it's plenty sturdy to stand up against strong winds and other elements.
This is a great all-purpose polarizing filter, which reduces unwanted glare and reflections and produces finer colors and tones. I also often bring a 10-stop neutral density filter.
Clothing
Because my outings are often in the Pacific Northwest, bringing a solid rain jacket or shell is imperative on any trip. I often pack the Eddie Bauer Sandstone Shield Hooded Jacket, a hybrid soft shell that is both waterproof and breathable, while allowing mobility.
Another option I use is the Black Diamond Mono Point Shell, a great hardshell option made with GORE-TEX.
It's all about layers in the mountains, and a rain shell pairs well with more insulated layers. A great puffy I often use is the Eddie Bauer Microtherm StormDown Jacket.
When you're carrying a 50-pound pack mostly resting on your pack's hip belt, a better-designed belt makes a lot of sense. Stretchy with a non-slip buckle, I often forget it's there. As I write this, I'm wearing Arcade's "The Blackwood," which I often wear on trips.
At the end of the day, it's your feet that hit the trail and bring you where you want to go. I'm often hiking in my KEEN Aphlex Hiking Boots, which are supportive above the ankle, and also waterproof (which is key in the Pacific Northwest).
For more technical missions, I'm often using my La Sportiva Trango S EVO GORE-TEX Mountaineering Boots, a waterproof, alpine climbing boot that is very sturdy and ready for a semi-automatic crampon.
Whether moseying around camp or jumping in your sleeping bag on a cold night, these down booties are often clutch. One of the few "luxuries" I lug into the backcountry.
I didn't know what gaitors were before I moved from the Midwest to the PNW in 2013, but they've since become an integral part of my kit when any snow travel is possible. I use Outdoor Research's Crocodiles, a durable gaitor option that keeps snow and trail debris out of the ol' boots.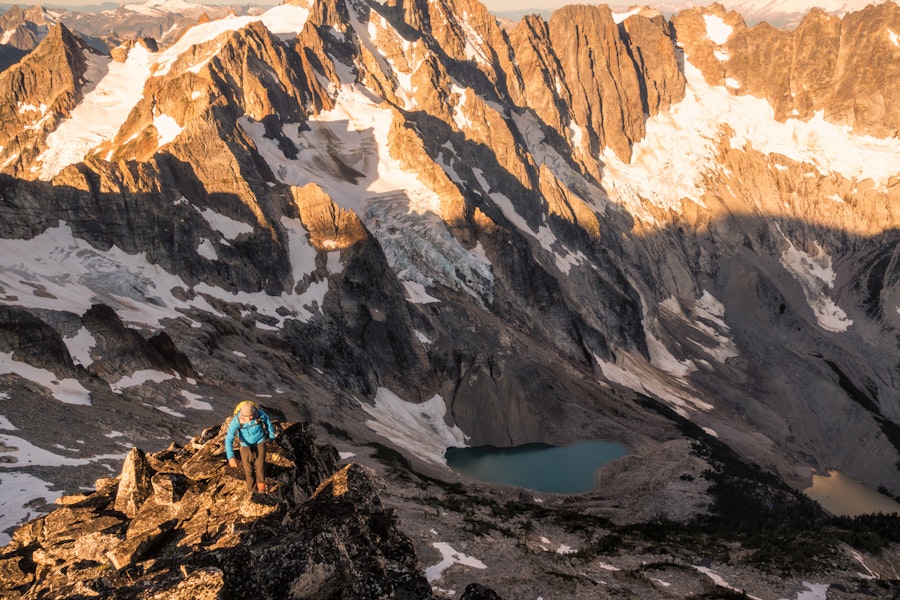 Accessories
I often bring my BioLite PowerLight into the backcountry, an off-the-grid energy source for charging my cell phone and other small electronics. And it doubles as a warm light around camp and a great light source when composing night shots.
In addition to a basic water bottle, I often bring my MSR 4-Liter Dromedary, a durable hydration bag that has not yet burst or leaked even when stuffed in my pack among everything else.
Whether on a backpack or climb, the awesomeness of a warm meal in your belly cannot be overstated. My personal favorite is Chili Mac with Beef.
I try to bring a variety of snacks for the trail, but I'm often bringing Clif Bars and other easy-to-grab sources of calories.
Sun protection is one of the 10 essentials. I use Sawyer Brand Stay-Put sunscreen lotion, which is often crucial, whether I'm hiking in the open alpine or traveling over a reflective glacier.
I know mosquitos all too well, the state bird of Minnesota (my home state). Jokes aside, you want to be prepared when you're swarmed by insects on the trail or at your backcountry camp. When bugs are in the forecast, I bring Sawyer Brand's Picardin Insect Repellent Spray.
I've tested out a wide variety of water filtration systems, and the one I most often use is the Sawyer Squeeze, along with a 32-ounce collapsible pouch which I fill up and squeeze to push water through the filter system.
Another essential, just in case. Get a first aid kit with bandages, gauze, forceps, medications, and more.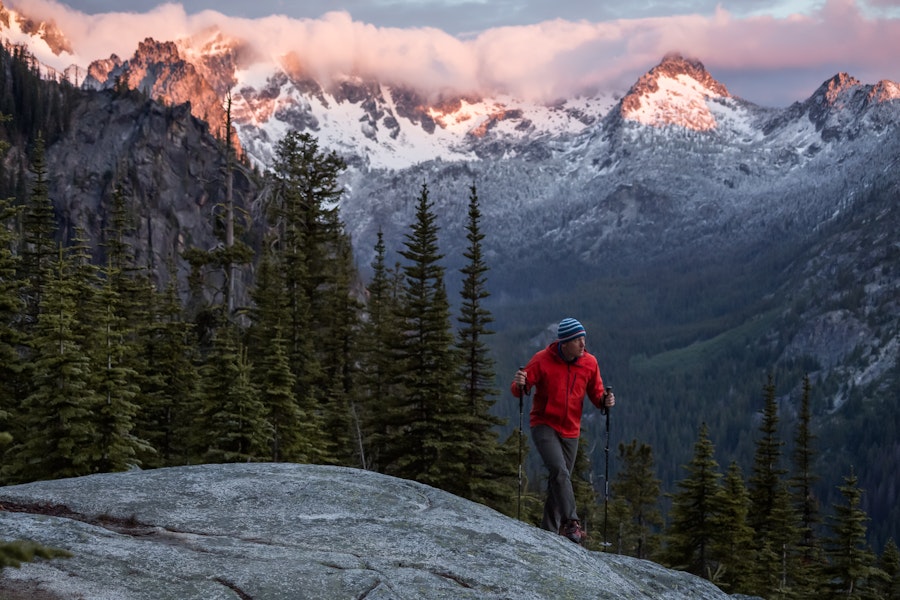 Additional Tips
Compass/map: Part of the 10 essentials, I often print off a backcountry map from CalTopo, or buy a Green Trails map.
Beer or whiskey flask (for late-night camp imbibing): A cold beer or a swig of bourbon is great in the city, but it's even better at your camp at night in the great outdoors.
Cold-weather hat and gloves: These will go a long way in keeping you toasty.
Please respect the places you find on The Outbound.
Always practice Leave No Trace ethics on your adventures. Be aware of local regulations and don't damage these amazing places for the sake of a photograph.