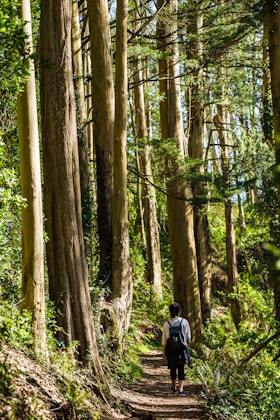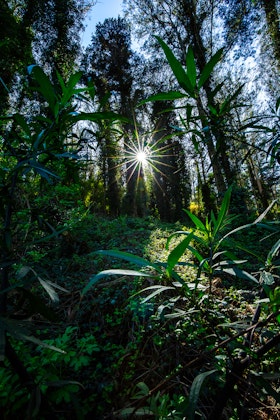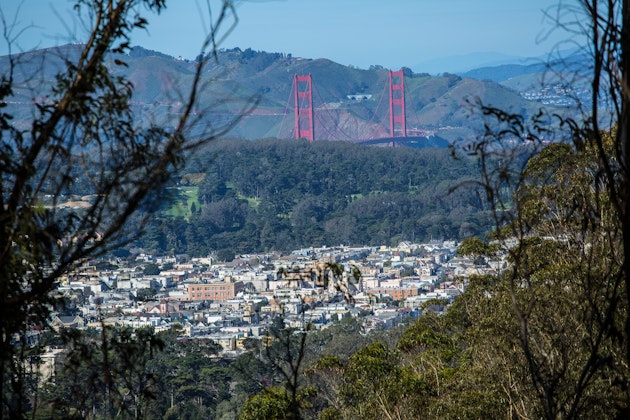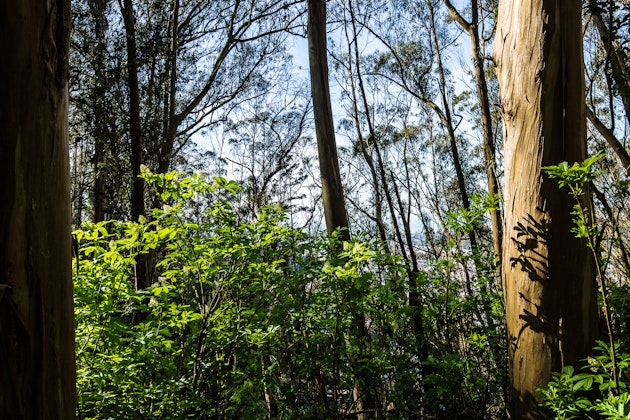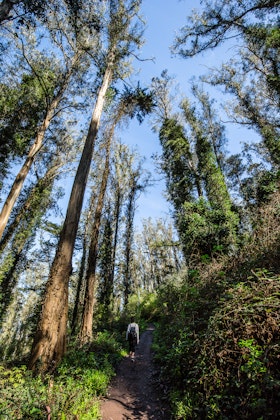 Added by Julien Bacal
This can be done as a loop with many easy variations. A lush hike hidden in the heart of SF for a quick post-work nature fix.
The Mount Sutro Open Space hike is one of those gems that's just hiding in plain site. Most people live in San Francisco for years without ever knowing this hike even exists - which is totally fine with us. This 1.8 mile loop is an easy, quick way to get back in touch with nature after a long day. As you'll see once you begin making your way towards to top, there are many different paths you can explore This is also a popular trail for mountain bikers in the know, so keep an eye out to avoid collisions.
This hike is walking distance from SF MUNI as well.
Pack List
Running shoes
Light jacket
Flashlight if you're cutting it close on daylight

A Great City Escape
Loved being able to take a short bus ride and be right into an awesome little city escape. Yes, you can still hear the sounds of the city, but for a quick afternoon hike and awesome lunch spot, I highly recommend Mt. Sutro.

Big Fun In Small package
Sutro is great, considering its smack dab in the middle of an urban landscape. Perfect for those who have a busy 9-5 but want to sneak in some outdoor time to bookend their work day. Be sure to watch for cyclists as these are multi use trails. Also a nice bonus is that these woods have very little vagrant presence compared to some other wooded areas of the city.

Great dog walk
This is a terrific spot to take dogs for a walk. I agree with the poster that it is a quick easy escape in the city.
this is a serious hidden gem in SF! not too many people are aware that there is a full on forest in the city. the staircase on the west side of the preserve is a great way to jump start your heart rate for a nice trail run to the top of mt. sutro. still haven't busted out the MTB on these trails but definitely will sometime.

Do it on a mountain bike for extra fun!

It's more beautiful and ethereal when it's foggy! Love hiking in Sutro Forest! The hike is equally beautiful on both sunny and foggy days. On sunny days, you can see peek-a-boo views of GG Bridge and the ocean. On foggy days, you won't see many panoramic view - but the forest takes on a majestic quality as the trees disappear in the fog. The hike is very dog friendly, but watch out because I have seen coyotes in the forest. And on very foggy days, or after light rain - make sure to wear shoes you don't like, because they will get quite muggy! There are multiple entrances into the forest, but the easiest is around Stanyan and 17th street. It's a residential street, but you'll see a sign with stairs up into the forest. The historic trail is pretty flat if you do not want much elevation gain.

More Adventures Nearby

Hike to Black Mountain and Stevens Creek Canyon
San Francisco / Monte Bello Open Space Preserve Parking Lot
This hike can be done during any season, but for the creek to be running and for more comfortable temperatures, it is best to go on a cool winter or spring day.

Hike the Steep Ravine and Bootjack Trails Loop
San Francisco / Bootjack Campground
This hike is best done in the winter and spring in order for the creeks and waterfalls to be flowing. Park at the Bootjack Campground in Mount Tamalpais State Park.