A Fat Bike Wildlife Safari in the Yukon You Need to Try
Warning: it won't be a fast ride when you're admiring the moose, fox, and lynx.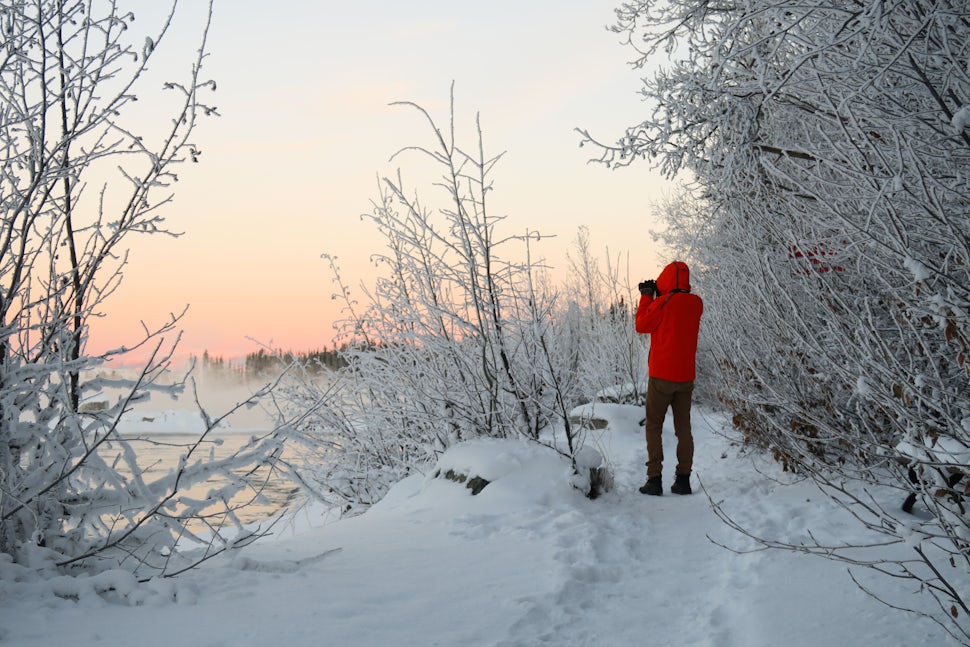 You'd be forgiven for wanting to stay near a couch and a coffee machine when the daily high reaches a blistering -16 degrees Celsius. But for those of us who live in the North, where average temperatures during winter rarely reach above the negative teens and where daylight hours are precious, we know that minus sixteen with no wind is still a good day for adventuring.
Or at least, that is what we tell ourselves.
Across the river valleys and beyond the snowy peaks, we are surrounded by a wilderness blanketed in white. Every direction beckons and intrigues the adventurous spirit. The debate of how to celebrate the day began at sunrise on the water's edge, at 10:00 am.
Early mornings do not exist in the winter months.
Equipped with a thermos, a fat bike, and a camera, we settled on a wildlife safari about 30 min from downtown Whitehorse, the capital of Canada's northern territory of the Yukon. To be fair, we also didn't dare step foot outside without thermal socks, waterproof hiking boots, thermal underwear, serious mittens, fleece sweaters, snow pants, and a ski jacket either.
Getting dressed for the day is never a quick task.
Down the icy roads, far out of town we started our pedal beneath the snow-covered pines, and between the frosted birch trees, we rode the pristine powder in search of moose, deer, caribou, lynx, and fox.
To our excitement, we found them all.
First up was a moose carefully scratching his antlers against the bark of a thin tree. The crunch of snow beneath our fat bike was no comparison to the grunt and groan of the almost 700kg mammal. We watched as the moose rubbed his antlers against the snow-covered pine, gently enough not to break the tree but hard enough to have the snow from the needles and branches fall gracefully to the ground.
Moose tend to lose their antlers each year between December and March, and we waited patiently to see if this was the time his shovel-shaped antlers would drop. It wasn't. The Yukon is home to nearly 70,000 moose, double the amount of our human population. With each male losing his antlers annually, finding relics of antlers in the bush is common, as is finding antlers on the outside of homes used for decoration.
As the deep guttural groans of the moose continued, we decided to carry on, only to find a huddle of furry giants known as muskoxen. In the same family of as a sheep and a goat, but often confused for a buffalo, muskox used to roam the northern hemisphere alongside wooly mammoths and other ice age creatures.
It is said they form close family ties, and protect their young by forming a cohesive circle around them. Standing side by side in a close-knit group, I looked closely for the stubby legs of a calve and imagined a bond of brothers enduring the winter's harsh life. With deep-set eyes nearly wool covered it is hard to make eye contact, but as the thick steam seeped from the muskoxen nostrils and the curved horns pointed our way, we decided it might be time to move on.
From the dead stares of musk ox, we continued along our snowy journey. Beyond the frosted birch trees we searched beneath the fluffy white covered pines for the silhouettes of the cawing raven.
The iridescent green tail feathers of a black-billed magpie caught my eye as it scavenged on the remains left by a fox's dinner.
From the large mammals to the small, few creatures look as curious and playful than that of the fox. Following paths already forged in the snow, we watched as the arctic fox hunted for its next meal. The white tinge of its fur kept the fox almost hidden within its snowy fortress amongst the trees. Come spring, the arctic fox will turn a shade of blue or black almost looking like the red fox variety known as silver foxes.
My time in the north has been peppered with experiences up close to the red fox. I see them in my backyard, on top of my car and walking beside me on the footpath. Their large ears perk as my footsteps and bike tires disturb the snow.
Their curious nature inspects their surroundings with grace followed by surges of energy in their sudden movements. High above on a rock, a silver fox watches me. Although that same nature of being a scavenger exists in the silver fox, this one seems content with eyeing me from afar. The silver and white details of its face, nearly hide the creature in a landscape with few variations of color.
Respecting the need to keep my distance, I step back on the bike and pedal into the sunshine that by 4 pm is dipping low in the horizon. We find a field of snow, a pair of antlers and a perfect spot for a cup of hot chocolate. Just an hour to go until sunset, it's the perfect spot to reflect after a solid day on a fat bike wildlife safari.
—
For those wanting to recreate this journey. The Yukon Wildlife Preserve is 30 min away from downtown Whitehorse and is open on weekends over the winter. It can be a self guided look around the preserve but interpretive guides work onsite with a bus tour as well.
Bike rental is in town if you'd like to try a fat bike while here, and there are plenty of tour operators in town that can take you on a fat bike adventure if you'd prefer a guided experience on the trails.
We want to acknowledge and thank the past, present, and future generations of all Native Nations and Indigenous Peoples whose ancestral lands we travel, explore, and play on. Always practice Leave No Trace ethics on your adventures and follow local regulations. Please explore responsibly!
Do you love the outdoors?
Yep, us too. That's why we send you the best local adventures, stories, and expert advice, right to your inbox.