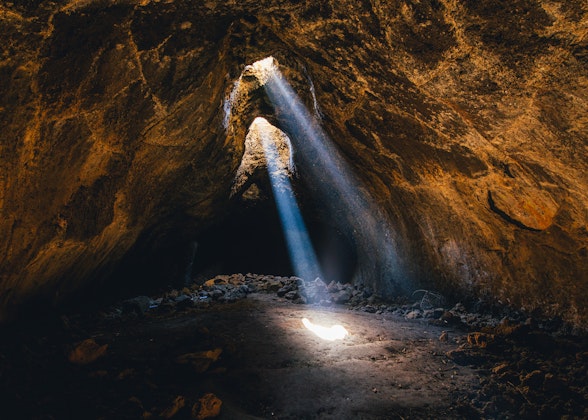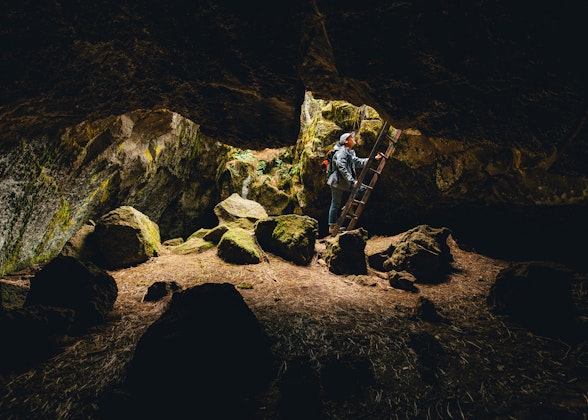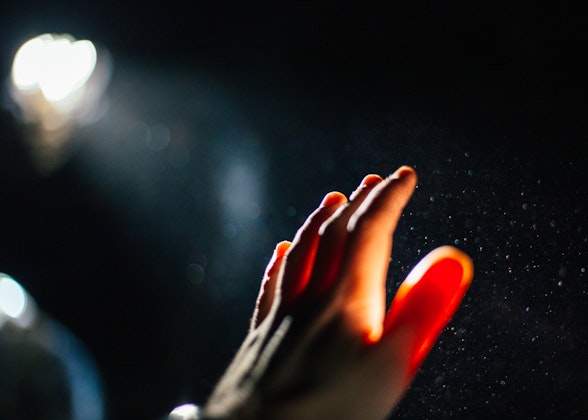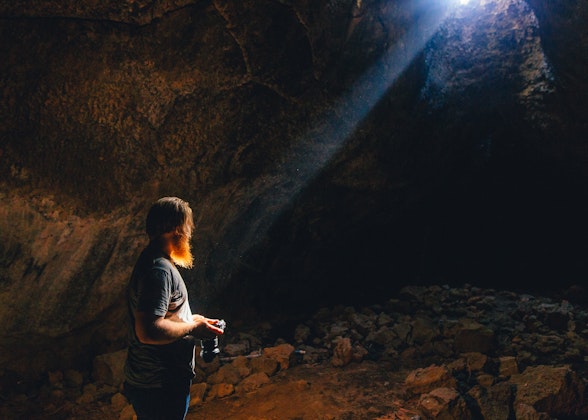 Added by Brian Fulda
Skylight Cave is a local gem known for its three "skylights," which provide stunning light beams that shine down into the cave. 
The hardest part about getting to Skylight Cave is the drive. Start by coming from Sisters, Oregon, and use the Google Maps pin below to find Skylight Cave. It's recommended you download an offline map of the area in advance, as it has no service most of the way. It takes roughly 5-6 miles of driving on some dirt/gravel roads to get here, so vehicles with low clearances aren't recommended. This is definitely doable in a two-wheel-drive vehicle, but is best fared by a vehicle with 4WD.
Once you reach the destination instructed by Google, park your car and walk, since the cave is just a tiny bit farther up the road. You won't be able to see it from where you park, but it's only a few hundred feet around the bend and up a small incline. Parking is not allowed at the entrance of the cave itself. The entrance is clearly marked by a forest service sign with a number of bulletins, one of which states that the cave is closed from October to May in order to protect the bat habitat. You will descend down a short ladder to enter the cave. If you make your way left, you will find the "skylights" after about 300 feet. If you go right, there is about 900 feet of cave to explore, but ultimately it dead ends. There are no services at the site, so utilize a pack in, pack out policy. Please leave this place as you found it so others can continue to enjoy it.
The cave is only open in the summer months, but luckily this is the best time to go, as this is when the three light beams illuminate the cave. In order to see the beams in their full glory, it is recommended you go between 8-10 AM. After that, the angle of the sun prevents the light beams from shining in the cave. Do keep in mind that on overcast days, the beams will not be visible, so try to plan going on a day with clear skies for direct sunlight. 
Pack List
Adequate Vehicle
Google Offline Map or Detailed Paper Map
Headlamp or Flashlight
Camera
Tripod
Water

Real directions!!!!
Real directions!!! Skylight Cave may be reached from Hwy 20/126 by turning onto forest road 2061/Geo McAllister (directly across from the Camp Sherman turnoff) and follow it about 5.5 miles to forest road 1028. Turn left on forest road 1028 and follow it about 1/2 mile to forest road 260. Turn left on forest road 260 and follow it about 1 mile where you'll find the entrance to the cave on the right side of the road. Watch for a very small road marker on the left indicating Road 266; the cave is near this road. There should also be a bulletin board with sign in sheet. Dont forget to sign so forest service knows how many people visit. You might have to pull off after 3/4 mile and walk the rest of the way because the road gets a bit narrow for a car. There is a natural pull off to park around this point. No need for 4 wheel just go slow. Lava tubes go for quite a while. Hiking poles and headlamps helpful. Ground is uneven from lava rocks. Go in the morning for best light. Ladder down is metal, very heavy and sturdy.

Pure Luck
So we got super lucky to find this place and twice as lucky we were there during the light show. I don't know if I could find it again but if you do it's absolutely amazing.

DON'T USE THESE DIRECTIONS!!!
DO NOT USE THE GOOGLE PIN!!! My lady and I went searching for the cave using the directions provided from this post and they were very inaccurate! They took us down some rough forest roads (not a big deal in our Subaru) but the roads choked down from brush and were blocked by multiple downed trees. The trees had definitely been there for a while. So after thrashing the sides of our car and scratching it to hell and back, I finally called the forest service for proper directions and their route was a breeze! Way more direct and wayyyy easier on the vehicle. To top that fail off, we wasted so much time trying to decipher these directions that my the time we located the cave we missed the light show. Do yourself a favor and stop by the Sisters forest service headquarters and grab their handout for the caves. Super disappointing!!! Lesson learned though, don't trust a random web post!
Added by Brian Fulda
Hi! I'm Brian, a photographer based in San Francisco that has an avid love for the outdoors, travel, hiking, redwoods, astronomy, guitar, and more.
Follow
Activities:
Chillin, Photography, Hiking
Features:
Family Friendly
Forest
Scenic
Are we missing something?
Suggest an edit
More Adventures Nearby

Hike to Seldom Falls
Oregon / Seldom Falls
Every spring when mountain snow begins to thaw, the great meadow at Lake of the Woods fills with water.

Explore the Portland Japanese Garden
Oregon / Portland Japanese Garden
While the Portland Japanese Garden is a popular place for tourists, it's also a favorite for Portland residents as it's located right in Washington Park close to trails and across from the Rose Garde.