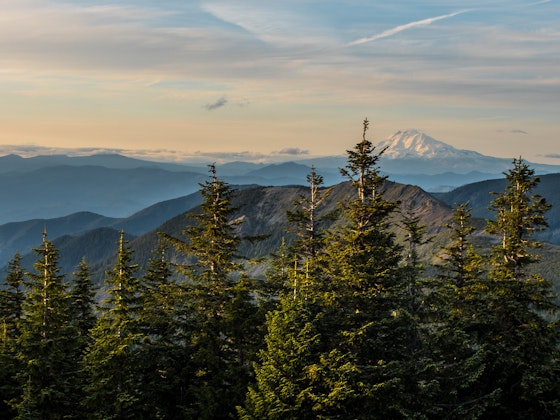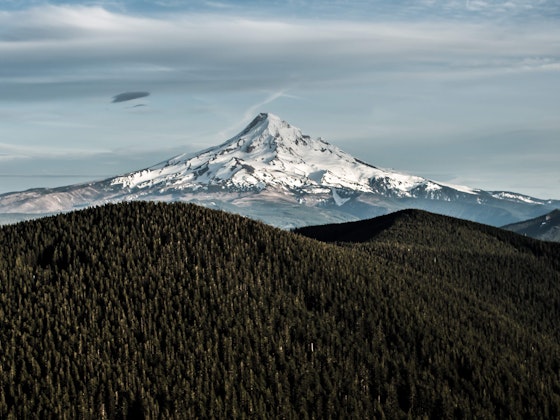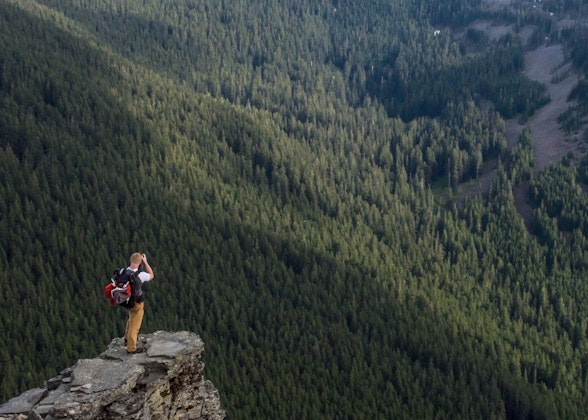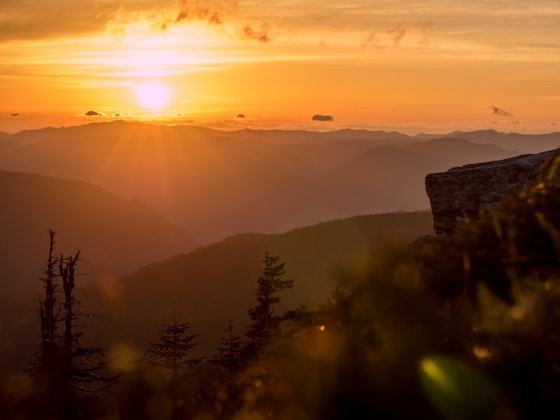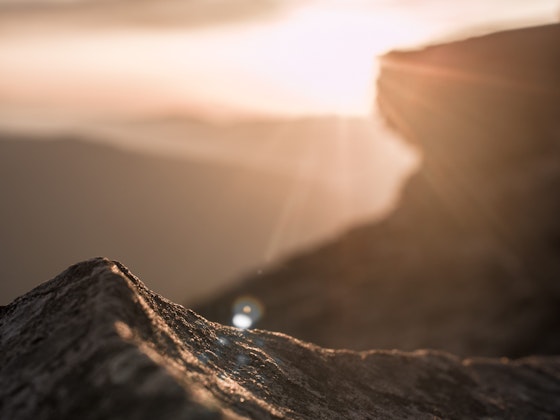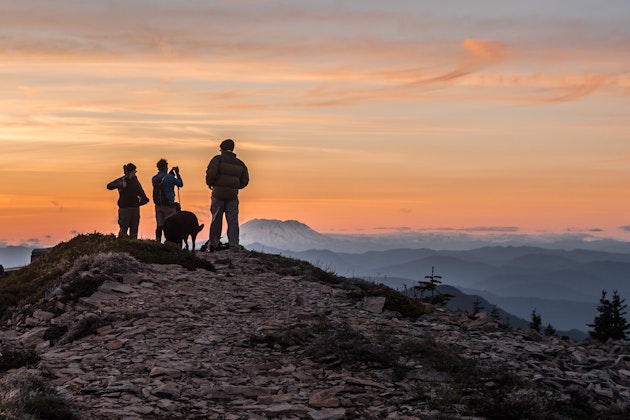 Added by Seth Whelden
This hike is about 4.5 miles roundtrip with an elevation gain of ~1150 feet. Enjoy amazing views of all the major volcanoes and Mt. Jefferson. If you want to stay up for the sunset, the hike down in the dark isn't too difficult. Camping before or after is easy at Wahtum Lake. Duration: Half-Day to Overnight.
The easy version of the Chinidere Mountain hike starts Wahtum Lake Trailhead. The road to the parking lot for Wahtum Lake is paved and thus very easy to access in summer and before snowfall in autumn! The mountain sits across the lake from the parking lot and there are several trails that will take you to the final ascent.
This is definitely a great hike for beginners that want a great view in an under appreciated spot. The trails around Wahtum Lake are easy to navigate and it's not more than 2.5 miles from the parking lot to the top. The last half mile or so is fairly steep and slightly less well maintained with fallen trees cutting the path at spots, but no technical abilities are required, and if you scan through the pictures, you might take note that you can bring your dog! It's just enough of a challenge to keep away heavy crowds, but easily doable in an afternoon.
I was lucky to make it up before sunset and spend some hours enjoying an IPA while timelapsing and wandering the peak taking pictures. I didn't camp as I had an early rise the next morning, but it was pretty great that I could be home in Portland by midnight even after watching the sunset in its entirety.
If you do want to camp, the option for doing so after climbing back down is a good one, and it's easy enough to climb down at night if you want to watch the stars. The trail is close to the Wahtum Lake campground so the best case is to show up early in the day, get a spot at the campground, and hang out during the hottest part of the day. Camping at the lake is $12, though there are other spots along the trails from the lake to the top of Chinidere that one could camp for free in a quieter setting if lakeside wasn't a big draw, or crowds were a big turnoff. As the sun dips away behind the mountains, head up to the peak and enjoy more sunlight for hours!
What makes this a real gem is that it's a big payoff without too much trouble, but enough effort to make it feel like something was accomplished. It's just difficult enough that it's not terribly busy, and if you go on a weekday or in the off-season, you'll probably get the whole place to yourself! The view of Mt. Hood is about as good as you can get, and it feels so close you could touch it. Additionally, You can see all the major volcanoes in the area including Mt. Jefferson.
If you want a real challenge, hike the 26-mile loop through Eagle Creek to Wahtum Lake and back via the PCT. This is a 3-4 day backpacking trip.
Once you're done, Hood River is on the way back to Portland and Double Mountain Brewery makes for a perfect stop for a meal and beer. If you're going back to the Portland area, you get to drive home through the gorge!
Pack List
Northwest Forest Pass
Water
Camera (Bring a wide lens, bring a long lens.)
Hiking shoes
Daypack
Headlamp
Swimsuit (in summer)
Bring some layers if you plan to stay past sunset. It gets chilly, even in the summer.
Tent/sleeping bag (if camping)
22oz Hop Lava IPA from Double Mountain Brewery in Hood River (if applicable)

Best views of Mt Hood around
We started hiking just after noon in order to capture the best lighting on the face of the mountain. We were not disappointed! The abundance of wildflowers right now adds just another reason to make the drive to this trailhead.

Started just before sunset (due to poor timing on our part) but had no trouble getting to the peak. Started pouring rain 20 min from the summit, windy as well. Set up camp on the peak behind one of the walls people have made out of shale rock. Awesome view come daytime. Used the directions from the following site as it is not evident which trail to take initially: http://www.oregonhikers.org/field_guide/Chinidere_Mountain_Hike Enjoy! Wonderful post Seth! Love the detail you included and the tips. Currently planning a roadtrip through Oregon this summer for two weeks so you really helped me out to decide which places to include and exclude in the trip!

Added by Seth Whelden
Director of Photography.

 

 Born on the small island of Nantucket 30 miles off the coast of Massachusetts, it was always easy for me to appreciate the beauty of this world. Moving to Portland 7 years ago has only enhanced my desire to capture the stunning scenery around me, and driven me to go further in search of the perfect shot.

 

 By day I'm a freelance director of photography working out of Portland as my home base. I also co-own a stock footage company (The Stacks) with my wife Kelly.

 

 My mission is to bring my passion for light, color, tone, depth and framing to the brands that define Portland, Oregon, the Pacific Northwest, and beyond.

 

 Visit my website: sethwhelden.com
Follow
Activities:
Chillin, Camping, Photography, Hiking
Are we missing something?
Suggest an edit
More Adventures Nearby

Hike to Seldom Falls
Oregon / Seldom Falls
Every spring when mountain snow begins to thaw, the great meadow at Lake of the Woods fills with water.

Explore the Portland Japanese Garden
Oregon / Portland Japanese Garden
While the Portland Japanese Garden is a popular place for tourists, it's also a favorite for Portland residents as it's located right in Washington Park close to trails and across from the Rose Garde.