Fall in Acadia National Park
Maine in October - have you HEARD of anything more romantic? The balsam fir aroma deeply incensed on the craggily coastline was all I needed, but the changing leaves on the trees was the delicious cherry on top (or blueberry, in this case).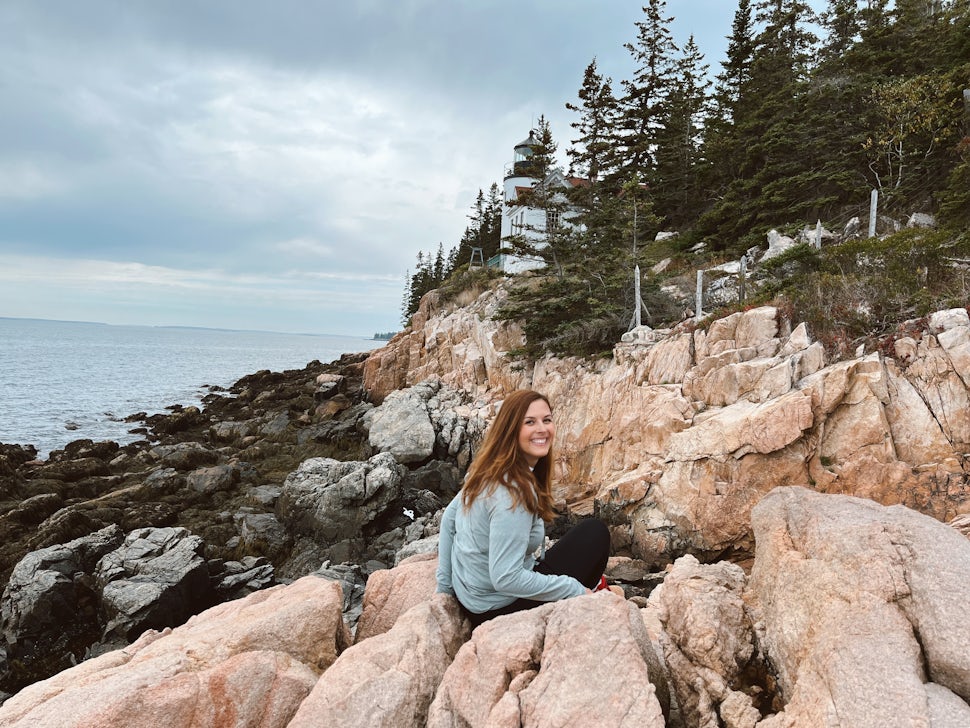 Another National Park trip was in order as this social media manager needed to stretch her legs, baby! I land in Portland and in my less than 24 hours there quickly filled up on coffee, lobster, and beer topped with sunshine and an afternoon at Portland Head Lighthouse (the oldest in Maine!). Heading toward Bar Harbor for Acadia came with a special spooky stop at Stephen King's house. Gothic-styled gates, a blood maroon mansion, and a red balloon left as a nod to the fans set the perfect residence for the King of scary.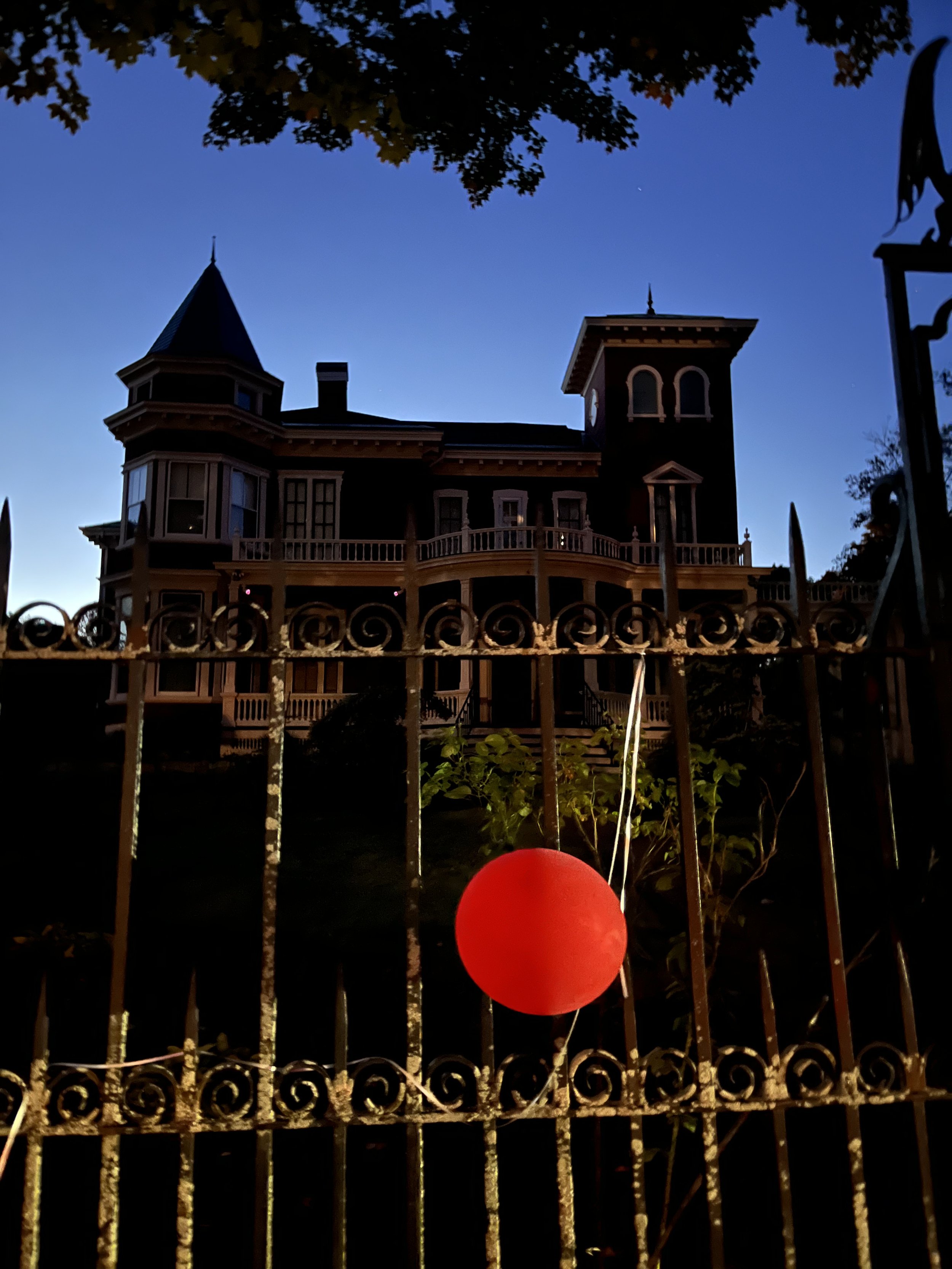 Out of all of the National Park trips I've been on, I had never done a trip where we were only visiting one Park (a small one at that!). I researched what we could do in Acadia in the month of October to give us a rough idea of how much time we would need to see it all. The general consensus from other travel blogs was that you really only needed a weekend in Acadia to see the main sites. That gave us the framework for planning at least two full days within the parameters of the Park.
We essentially split up Acadia in those two days (Friday and Saturday) — the Bass Harbor Head Lighthouse is the one attraction that is not close to any of the others in the Park and would be the longest drive (from where we stayed in Bar Harbor, it was about a 40 minute drive).
The lighthouse itself was smaller than I thought it would be and we did have to wait in a line to get a parking spot as it was a very small lot, but the cloudiness of the day set the mood for some time spent on the rocks, watching the waves gently hit the rocks below the lighthouse.
It was so calm and allowed us time to sit and soak in the salty air. Because of the incoming spurts of rain, we leisurely made our way back to Bar Harbor, gaping at the fall foliage that seemed to take up our view the whole journey back. With Maine being known for their wild blueberries, there was no better way to close out the afternoon than with blueberry ice cream.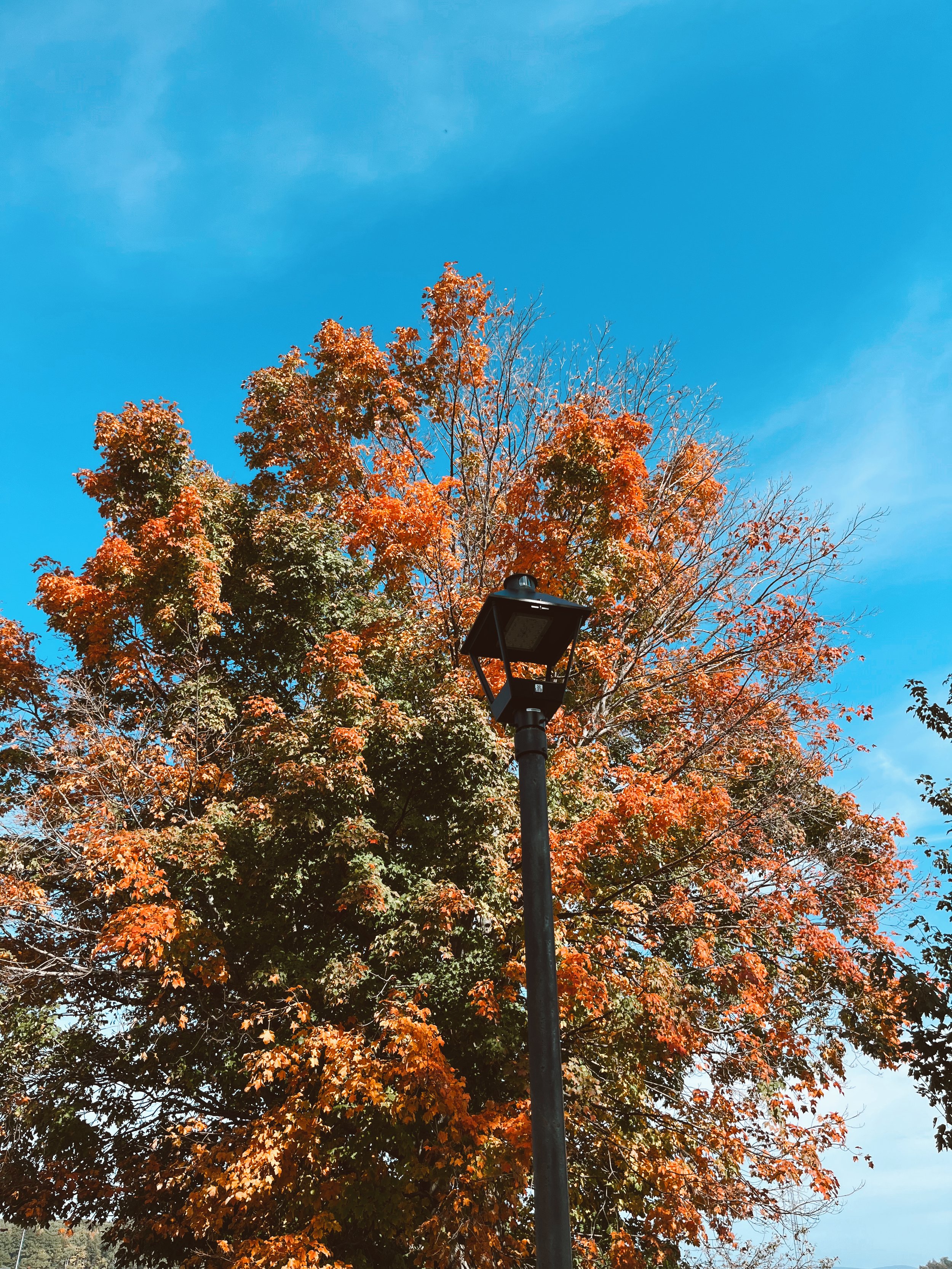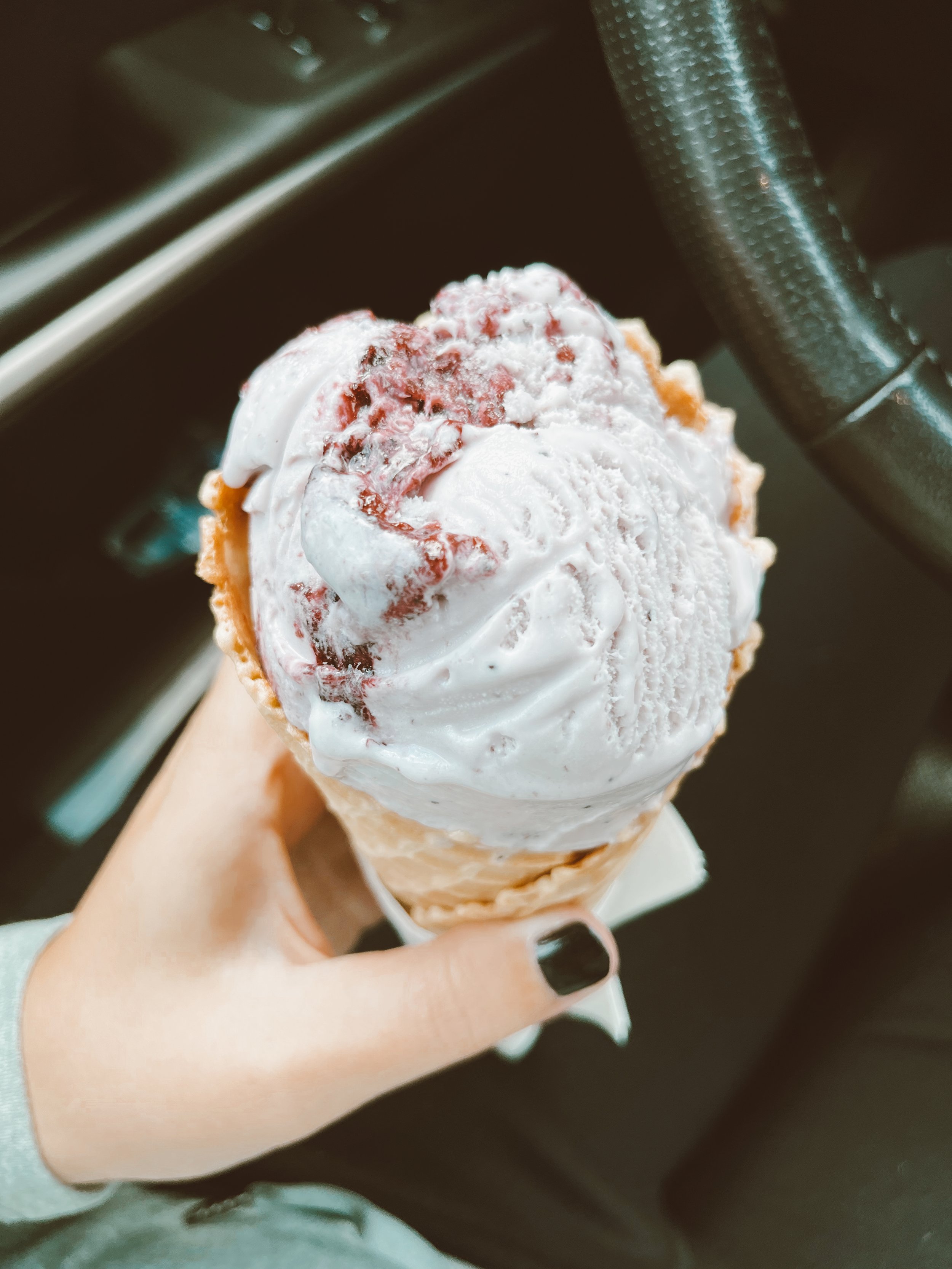 A promise of sunny skies the following day, we knew it was going to be jam-packed with seeing the rest of the sites. Our hope first thing was to see the top attraction during peak foliage: sunrise on Cadillac Mountain. At this time of year, this is the first spot you can see the sunrise in the U.S.! With so many folks being in Acadia during leaf peeping and fall breaks, it was to be expected that it was going to be busy. The system set up for Cadillac Mountain right now is a reservation website where you can reserve tickets for sunrise 48 hours in advance. I got myself set up for success to obtain tickets for Friday morning and tickets sold out in seconds. It felt like trying to get tickets for a concert that hundreds of people were planning on attending, eager to see the sun take center stage. Fret not, Friday morning's forecast was gloomy and rainy so we had better hopes for a sunny Saturday instead.
The following morning, I'm on my phone and laptop and manage to get tickets in my cart. Score. Except, the site kicked me out of my cart and said it was sold out just seconds later. So it seems I didn't stand a chance. And sadly, this meant we couldn't get up to Cadillac Mountain for sunrise.
A quick side note that ended up failing us but could still be deemed as helpful: the reservation tickets are just for the vehicles as they have a limited number of spaces at the top of the mountain. But, you could have a taxi or Uber driver take you up there and drop you off. There is also an option to hike, although it's not recommended for sunrise as you are in the dark for a few miles.
We scheduled an Uber for an early pickup but sadly none ever came (the downside to being on an island). So, at 5 a.m. we are still wanting to see the sunrise but are unsure of where to go that would still be just as beautiful. Another quick travel blog search and the most mentioned spot was Thunder Hole.
This spot got its namesake from the waves hitting the air pockets down in the rocks creating a thunder sound and vibration. We bundled up and headed to the less crowded spot on the rocks of Thunder Hole to watch the mesmerizing sunrise. I'm sure it was stunning on Cadillac Mountain, but the views on the water were unreal. Definitely a treasured Park memory for me!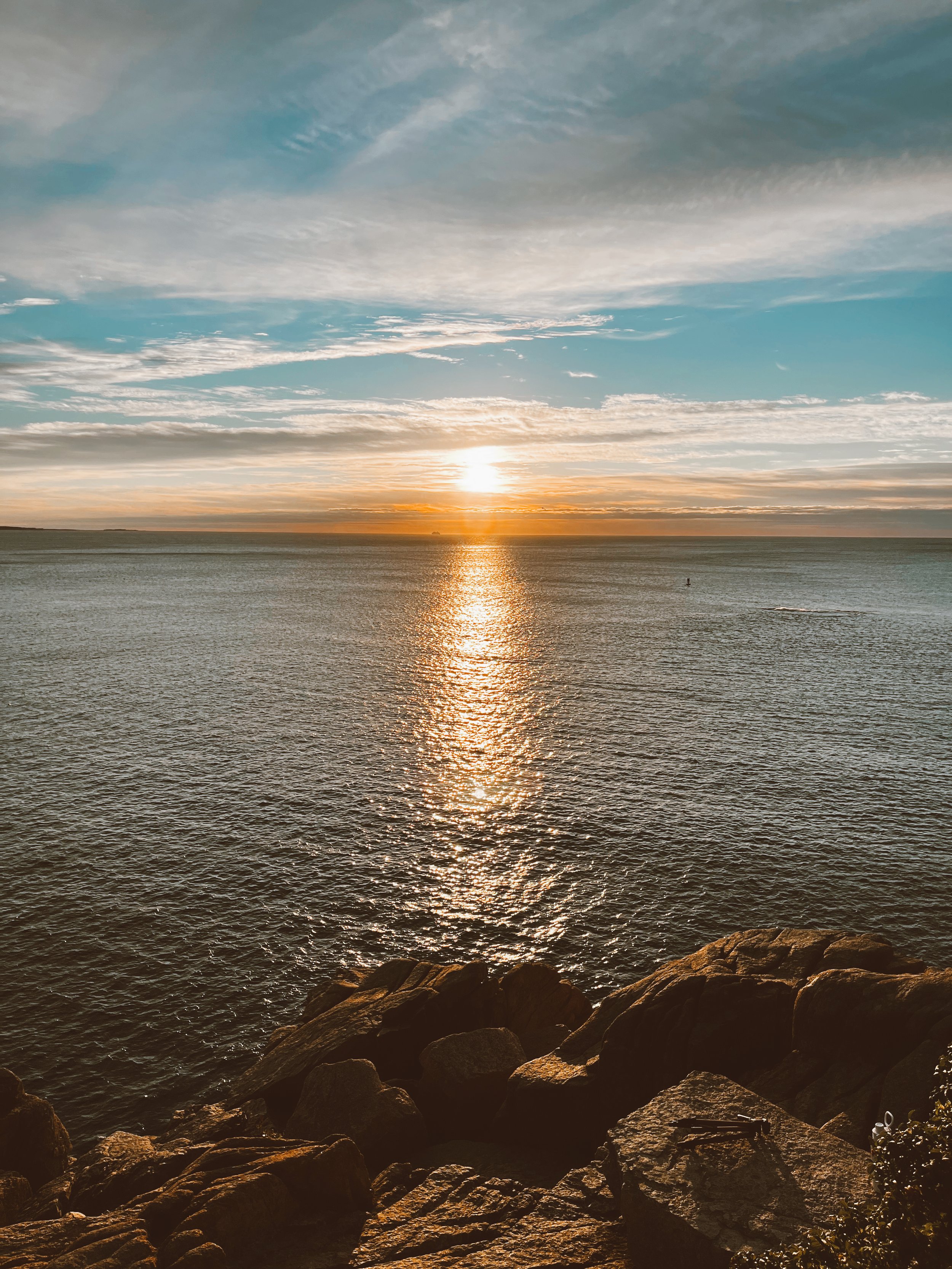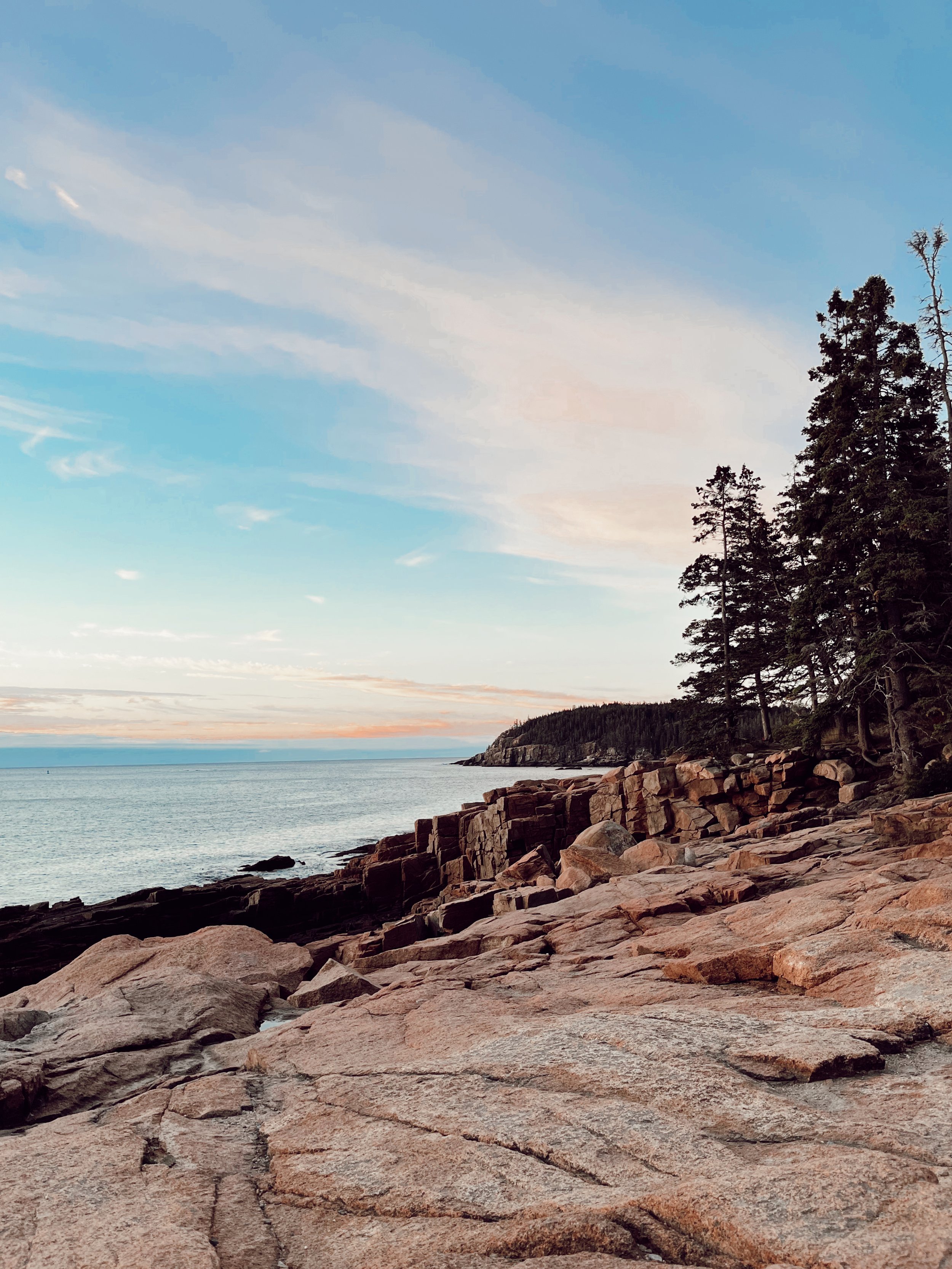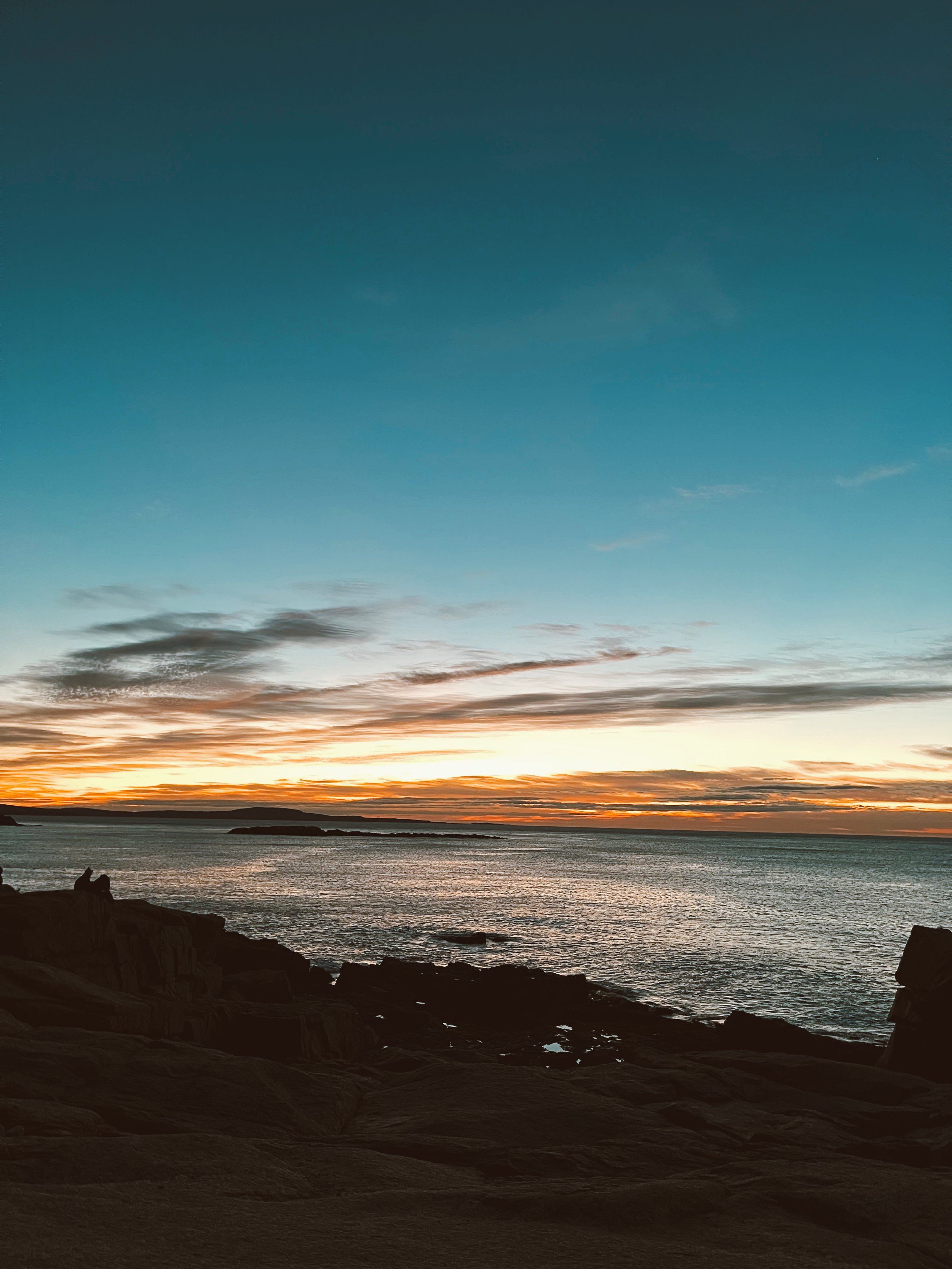 After sunrise, we ventured onto hiking to Otter Cliffs. We discovered that the Otter Cliffs are essentially a whole coastline of granite rocks with hovering woodlands lending any spot to be a good spot to hike or just stop and take in the views. We came back to our hotel for a short rest and then took Park Loop Road to head for Jordan Pond for lunch.
Surrounding Jordan Pond is a restaurant that offers dine-in or take-out options. Most folks opted to eat in but the day was too gorgeous for us to be inside (also the wait was about 2 hours!), so we grabbed a couple sandwiches and blueberry sodas and headed out on the lawn. From Jordan Pond, you also get views of Bubble Rock.
After lunch, we took the easy walking trail around the Pond and made our way to Sand Beach. Wedding photos, dogs running freely, and families wanting to bask in the sunshine inhabited Sand Beach when we were there. It felt like a little piece of summer on this small strip of sand. Afterwards, we went to Thunder Hole one more time to get more product photos in different lighting. All of these attractions we saw on Saturday were all near one another making it really easy to access each site!
To me, Acadia felt like this secret magical spot tucked in the far corner of the U.S. The time of year with the bursting beauty of the fall leaves made sense for the crowd that was drawn while we were there, but Acadia being on an island with its entrance being the charming Bar Harbor made it distinctive. Almost like you had to stop and relish in this small town before seeing the Park itself.
Much like our South Dakota trip, Maine felt like a random choice to visit a National Park in, but it gave an opportunity to get in on the secret magical spot. The Smokies are a top contender for some killer fall foliage, but I'd like to think Acadia walked so the Smoky Mountains could run. Every shade of orange, red, and yellow lit the trees on fire. It was stunning. I enjoyed the fact that the Park also offered a different scene at each major site; a lighthouse, rough coastline, a beach, wooded hiking paths, etc.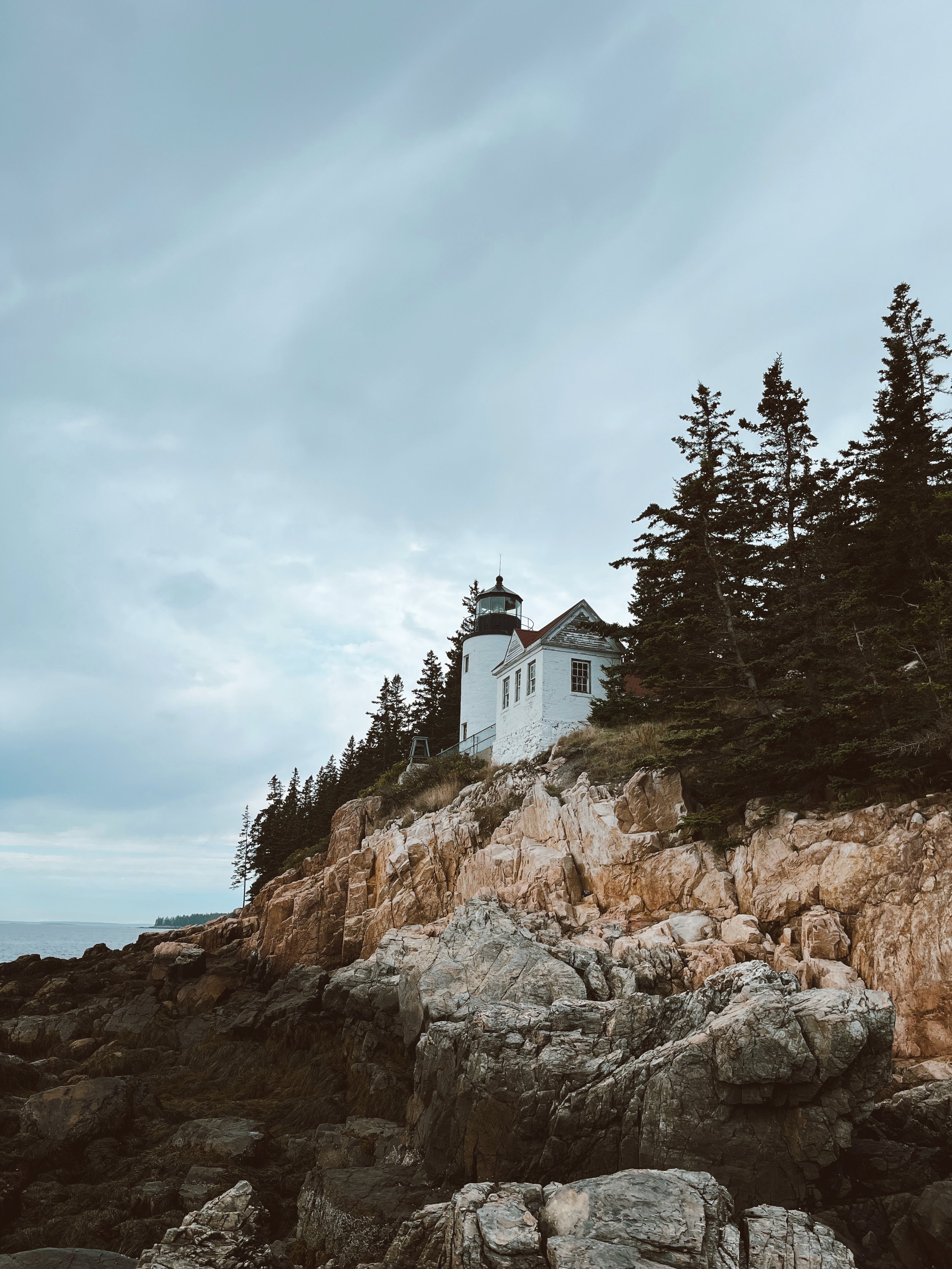 Seeing the Atlantic Ocean meet woodland and granite was unlike any other place I've been. It felt special to see nature at its finest. Especially in October where the foliage puts on a real show. I felt an overwhelming sense of peace the whole time we were there. Each spot brought its own sense of serenity, even amongst a crowd of people. It's rare to capture that kind of calmness, especially in a go, go, go world. Acadia seemed to do us a favor and quiet all of that noise for us.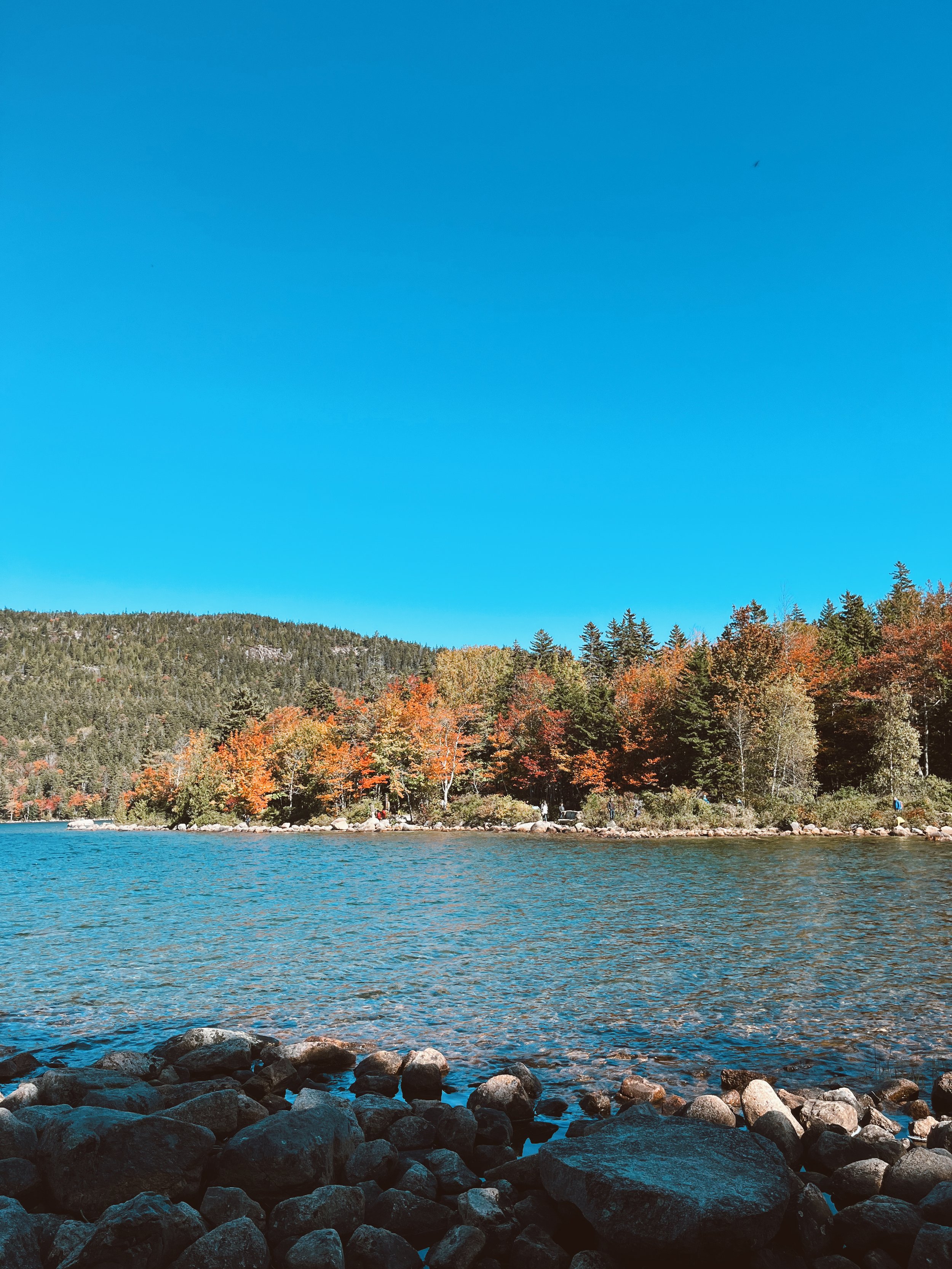 We opted for a hotel this time as Airbnb was quite expensive. But I do recommend staying in Bar Harbor. The park is easily accessible from there and you're close to food, shopping, etc. in that area. There are plenty of hotels or bed and breakfasts to choose from! I believe the time of year we went things were pricier, but we were able to obtain a hotel reservation without issue.
We flew in and out of Portland which is about a 3 hour drive to and from Bar Harbor and rental cars were also really pricy, so I used Turo instead and the process was so smooth and saved us $$$ (about 700 to be exact). If you haven't used Turo, it's basically an Airbnb for vehicles. Totally legit, safe, and worth it!
Acadia offers shuttles, but I recommend having a vehicle to give yourself leisure with your time. The Jordan Pond House Restaurant is the only restaurant in the Park so your next options would be in Bar Harbor and you truly can't go wrong with anything. The food was so fresh and definitely get a blueberry beer while you're around! We went to Leary's Landing Irish Pub, Blaze, Bar Harbor Beer Works, and CJ's Big Dipper. Definitely get some lobster as well!
Acadia may not have anything comparable to El Capitan or Angel's Landing, but it's captured something really cool and different in its own way, celebrating Maine at its finest. Lean into the peacefulness and allow yourself to slow down! I feel so grateful that I was able to be awestruck and exhale at the same time in Acadia.
"I felt like I'd been misplaced in the cosmos and I belonged in Maine."
-Terry Goodkind
We want to acknowledge and thank the past, present, and future generations of all Native Nations and Indigenous Peoples whose ancestral lands we travel, explore, and play on. Always practice Leave No Trace ethics on your adventures and follow local regulations. Please explore responsibly!
Do you love the outdoors?
Yep, us too. That's why we send you the best local adventures, stories, and expert advice, right to your inbox.