The Honey House Cottage
McDavid, Florida
The Honey House is located at Maeday Farm - a working organic farm that sells fruit, vegetables, & herbs at Palafox Market in Pensacola. We also operate a small farm animal rescue, which is home to goats, sheep, chickens, and turkeys.
The Honey House is located in the center of the farm and has views of our fields, animal pastures, and the greenhouse. We live and work on the farm and your level of engagement with us is totally up to you - if you'd like to learn about organic farming or meet the animals, we're happy to give you a tour. You are also able to explore the farm on your own if less interaction is more your pace.

The farm is located about an hour from the beautiful white sand beaches in Pensacola - it's a quick and easy day trip to visit the beach. There are also several great places nearby to hike, kayak, and swim.

We're less than 5 miles from Atmore, AL which features some really great antique shopping, a casino, a winery, a pub, and a few good restaurants as well. There are also some wonderful state parks, kayaking, and swimming nearby.
Nearby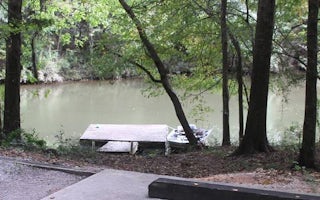 Franklin, Alabama
Overview Isaac Creek Campground is located on Claiborne Lake in Alabama's southwest Hill Country. The lake encompasses more than 60 miles...
See more
Adventures Nearby
Orange Beach is roughly 7 miles long and features many public beach access areas; I parked at the Gulf State Park Cotton Bayou Beach Access area. This small beach area is found at the intersection of Highway 182 and Highway 161, nestled between so...