Spinreel
Reedsport, Oregon
Overview
Spinreel Campground is an off-road vehicle rider's dream, located in the Oregon Dunes National Recreation Area along Tenmile Creek in Coos County. Campers can rely on conveniences like drinking water and paved roads, with prime access to the expansive off-road trails along the sandy dunes.
Recreation
Spinreel ultimately attracts off-road vehicle enthusiasts. Thrill-seekers have their choice of riding on designated routes like the Coast Guard Trail and ATV Trail #430, or cruising in the open riding sections. Swimming and beachcombing are also enjoyed along the Pacific coast. Fishing is available in the creek; Winter steelhead love the cold waters.
Facilities
Drinking water, flush toilets, trash collection, recycling, picnic tables, fire rings and boat ramp are available for campers. The ramp is designed for small boats entering Tenmile Creek. There are no electric hookups or dump stations in this campground.
Natural Features
Spinreel Campground is in the heart of the Oregon Dunes National Recreation Area, known for its wind-sculpted sand dunes towering to 500 feet above sea level. The dunes cover 1,076 acres of land, surrounded by forests and the Pacific coast. It lies in the southern edge of Siuslaw National Forest.
Nearby Attractions
Explore the waterways of the region, including Tahkenitch Lake and Siltcoos Lake.
Nearby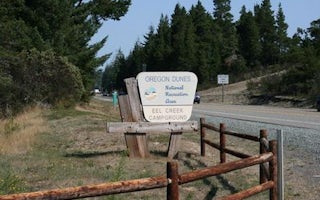 North Bend, Oregon
Overview Eel Creek Campground sits among coastal shrubbery on the edge of the sandy dunes of Oregon Dunes National Recreation Area. Eel C...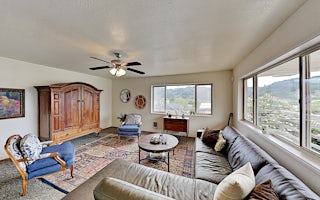 Reedsport, Oregon
• TurnKey photo-verifies this home is professionally cleaned with products approved by the EPA for use against COVID-19. •Located in the ...
From $117/night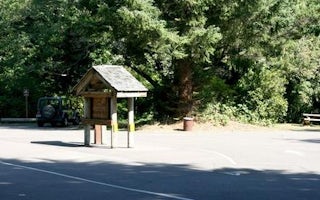 Gardiner, Oregon
Overview Tahkenitch Campground is a beautiful campground located in the Oregon Dunes National Recreation Area, 8 miles north of Reedsport...
See more
Unfortunately, we don't have up-to date pricing data for this listing, but you can check pricing through Recreation Gov.
Book Now