Quaint Mount Baker Retreat
Deming, Washington
Your family will have a delightful time staying in this newly restyled, perfectly cozy cabin.
Inside, you'll find everything you need to make your escape the relaxing experience it ought to be. Get comfortable in front of the fire and catch the game, or relax and take a nap after a long day of mountain adventures. Just outside the back door is a large deck with an outdoor gas grill and a gazebo covered hot tub, the perfect setting for winding down after a fun day on the mountain.

Settle into your Mt. Baker getaway and before you even realize it, you'll be making the memories of a lifetime. In a setting this beautiful, you can't go wrong.

Nearby
Deming, Washington
This custom octagonal 3-story, 2+ bedroom, 2-bath family vacation home perched on top of a knoll is an architectural gem, with lots of li...
From $346/night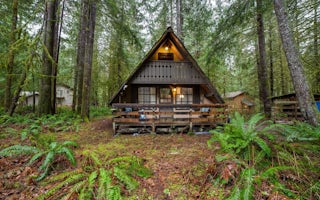 Deming, Washington
Enjoy your stay in a very rustic, pet-friendly family cabin with an electrical fireplace; perfect for a mountain adventure or romantic ge...
From $149/night
Deming, Washington
This 3-story, 2+ bedroom, English Tudor style home is very tastefully decorated. The exterior includes a large 2-tier deck with an outdoo...
From $259/night
See more