Majestic Views
Pigeon Forge, Tennessee
If you are looking for that picture-perfect view that only the Smoky Mountains of East Tennessee can offer then this is the cabin for you. This property is nestled in the famous Wears Valley area just outside of Pigeon Forge.
You could spend hours rocking stress and cares away just taking in all that this view has to offer. Like a king perched on a throne, you can take in all the grandeur that is the Smoky Mountains and Wears Valley with mountains as your backdrop. It is just breathtaking.

This cozy cabin offers 4 well-appointed bedrooms each with its own bath facility. Each bedroom offers a TV for your viewing pleasure. There are 3 bedrooms with king beds while one bedroom offers two queen beds which is perfect for the kids in your family or perhaps for Mom and Dad who want to keep the little ones close but not in the same bed. Two of the bedrooms come equipped with Jacuzzi tubs should you feel the urge to light some candles and spend a relaxing moment soaking in a jetted tub full of bubbles.

The game room is located out of ear shot on the lower level so your family can enjoy hours of fun entertainment while not disturbing your peace and quiet on the main level. There is also a theater style seating area with a custom built bar behind it and a large 60 inch TV in the game room to add to your sensory needs. There is a pool table so rack up the balls and see who can send their balls to the pocket first. This will add hours of competitive pleasure to your memories and bragging rights.

If this does not wet your appetite for a grand getaway maybe you need to visualize a hot tub setting on a deck overlooking the grandeur that is the Smoky Mountains. Now throw in a little star light and……well you should have enough now to be convinced this one is just right for you!! And don't forget all those goodies you will receive when you check in. A free daily ticket to miniature golf zip line unlimited DVD movie rentals laser port Ripley's Aquarium a free dinner at the Country Kitchen buffet and last but not least a double dip ice cream cone from Mad Dog Creamery. These tickets cannot be combined but not to worry you won't miss a thing since there are new ones issued each day.

Honeysuckle Meadows pool and deli are available. They offer fishing seasonal outdoor pool pavilion for cooking out and a deli. Open May- October. The fishing pond is catch and release. Pole rentals are only $5 and bait as well is available. You will enjoy a picturesque view from a comfortable lounge chair swimming from 10am – 9pm daily in the large sparkling clean pool and some fabulous food selections from the deli an
Nearby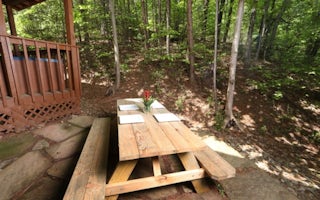 Pigeon Forge, Tennessee
The view from the deck's roomy hot tub is especially lovely, both during the day when you can view the mountains and at night when you ca...
From $226.50/night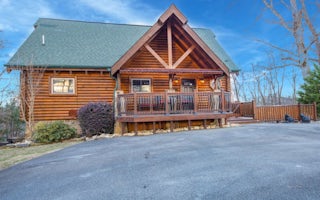 Pigeon Forge, Tennessee
You have been dealt the ultimate hand with this Smoky Mountain vacation home located in the heart of Pigeon Forge. Just 5-8 miles away fr...
From $574.50/night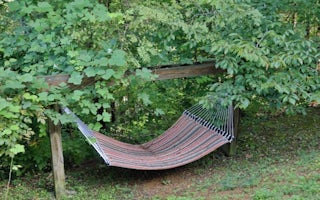 Pigeon Forge, Tennessee
Simply decorated, you will find all the creature comforts of home and this will soon become your haven from the cares and worries of the ...
From $336/night
See more