Juniper Campground Group Site
About Juniper Campground Group Site
Overview
For groups visiting the North Unit of Theodore Roosevelt National Park, Juniper Campground Group Site is a great place to stay. Located four miles from the entrance to the North Unit of the park, the Group Site is open from May through October.
Recreation
Hikers can access the Achenbach Trail and Little Mo Trail directly from the facility. The Achenbach Trail (17.7 miles), climbs from river bottomland up through the Achenbach Hills, drops to the river again, climbs to Oxbow Overlook along the way of a spur trail, and returns north of the river to the campground. Ask about the conditions of the river crossing before hiking. The Little Mo Trail (1.1 miles) is a self-guiding nature trail that begins at Juniper Campground and goes through river woodlands and badlands.
Facilities
Toilets, drinking water and picnic tables are provided at this facility. The site can accommodate tents, trailers and RVs. The group site can accommodate between seven and 60 people with a maximum of 20 passenger vehicles. There are no hookups; a dump station is available for campers. All wheeled vehicles and trailers must remain on roadways or pads.
Natural Features
The Little Missouri River is the central, unifying feature of this wild and broken land where, as a young man, Theodore Roosevelt ranched and hunted in the 1880s. The park is part of both the Northern Great Plains and the West, blending a rich natural beauty with diverse human history. The rugged topography, with its flora and fauna, also provides an opportunity to discover the badlands environment as Roosevelt once did. It is a place to experience a land and way of life that helped shape Theodore Roosevelt's attitudes and philosophy regarding conservation. Cottonwood trees surrounding the campsite turn golden in the fall. Although the campground is moderately forested, most of the campsites are in partial to full sun but visitors can cool off in the cold river when temperatures peak during summer.
Nearby Attractions
The town of Watford City has shopping, restaurants, amenities and a theater is located approximately 15 miles to the north. The Little Missouri National Grasslands is the largest National Grassland in the nation at 1.03 million acres. It is located in western North Dakota and is managed by the Medora Ranger District in Dickinson, ND and the McKenzie Ranger District in Watford City, ND. The National Grassland provides additional recreation opportunities in the area.
Juniper Campground Group Site Reviews
Top Spots in or near Grassy Butte
Camping and Lodging in Grassy Butte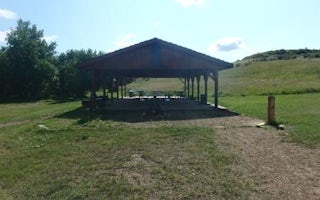 Medora, North Dakota
Overview For groups with or without horses visiting the South Unit of Theodore Roosevelt National Park, Roundup Horse Campground is a gre...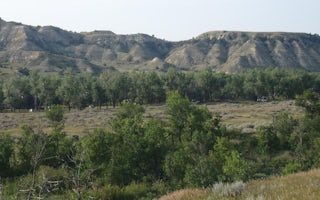 Medora, North Dakota
Overview For people visiting the South Unit of Theodore Roosevelt National Park, Cottonwood Campground is a great place to stay. Located ...
Unfortunately, we don't have up-to date pricing data for this listing, but you can check pricing through Recreation Gov.
Book Now