Homochitto Platform Tent Site
Union Church, Mississippi
Inviting families to enjoy the great outdoor. We include pets as family members.
A tent site location for someone who does not want to be deep in the woods. Oversees a small valley for deer sighting,
Nearby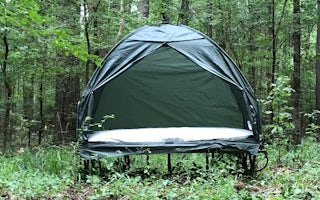 Union Church, Mississippi
Back country site to pitch your own tent or rent a cot tent. Nestled in the mountain-like hills of Western Mississippi is the Homochitto...
From $25/night
See more
Adventures Nearby
Open to hikers and bikers for a $3 fee, this single-track loop passes by creeks and hills, making for a scenic hike or ride in the Homochitto National Forest.