Boulder A-Lodge Cabin
Boulder, Colorado
The A-Lodge private cabin is 5-miles for downtown Boulder and a great option for a family or group.
The private cabin is a great accommodation for a family or group. One master queen bedroom, one guest queen bedroom, one bunk bedroom, and a pullout couch. The cabin also has one private bathroom, free wifi, free DirecTV, free long distance, full kitchen, free coffee, grill, outdoor patio, and free parking. In the main lobby, free breakfast, programming, a bar and a great fire pit. There is also a slackline park and great outdoor spaces to hang on the property as well.
Recently included on the list of "Most Badass Hotel Owners" by Outside Magazine, the A-Lodge owners are climbers and mountain bikers and walk the talk. They built the "Adventure Lodge" for the outdoor minded guest. Surrounded by pine trees, creeks and trails as well as awesome, adventurously friendly people, the A-Lodge is a refreshing contrast to busy downtown Boulder, still only 5 minutes away. Whether you're climbing, fishing, skiing, cycling, hiking, or taking in the town, the A-Lodge offers instant access to all your favorite adventures and the right amenities to come home to after an exciting day off the beaten path. 
Nearby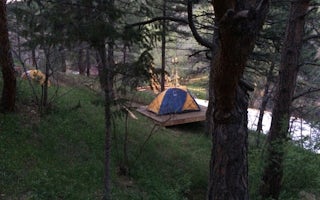 Boulder, Colorado
Campsites are on platforms about 50 feet up the trail above the property. This provides great views and more privacy. Each site comes wit...
From $40/night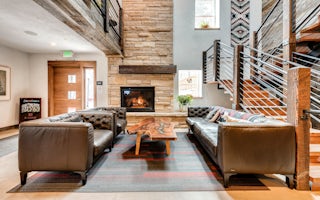 Boulder, Colorado
Our private rooms come with one or two queen beds, private bathroom, free wifi, free DirecTV, free long distance, coffee, mini-fridge, fr...
From $99/night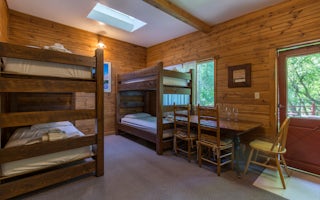 Boulder, Colorado
The hostel has only four beds per room, designated lockers for each bed, kitchen, TV with DirecTV, free wifi,  two bathrooms, slackline p...
From $39/night
See more
Adventures Nearby
This scenic hike through Betasso Preserve is especially beautiful at sunset. Catch views of Boulder as you hike through meadows of wildflowers, and forests of Ponderosa Pine.
The Betasso Preserve features two loop trails that are accessible to both hikers and mountain bikers.  Drive up (west) Boulder Canyon about 15 minutes outside of Boulder and turn right (north)  on Sugarloaf Dr.  After another 5 or so minutes you'l...
5.0
5.3 mi / 1300 ft gain
This is a mix of trails that will bring you on an easy loop to the peak of Mt Sanitas, but will keep you away from the usual crowds of the more well-known paths up. The hike is a clear path that brings you 5.3 miles from around 5,500 ft in elevati...