TruFlask TruTemp 45L Cooler Review
Great for multi-day trips, this cooler keeps your food cold for days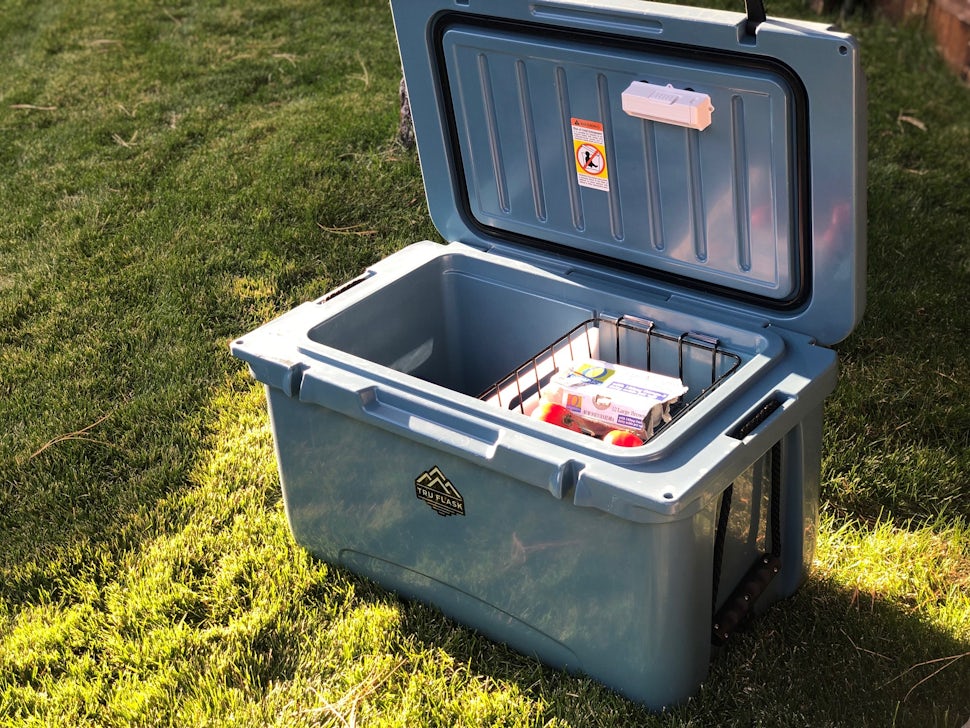 Everyone has different feature desires when it comes to their coolers. For some, having big wheels that can bulldoze through deep sand or mucky mud is a big priority. For others, the length of time food stays cold is the priority. For some, it's both. For me, while wheels can be nice, if I had to pick I'd choose cold storage performance any day.
I recently tested the TruFlask TruTemp 45L Cooler on a road trip through the Pacific Northwest. I also happened to be on a smoothie and anti-inflammatory detox diet while I was on the road trip. While the cooler actually made this easy to do (as we'll get to in my review), I do want to say that I would not recommend doing a detox while in a part of the country known for yummy, well-prepared food, and craft beer...
Let's start with the size. The 45L cooler was the perfect size for my 10-day solo (plus dog) trip. I was impressed at the amount of food (and pre-made smoothies!) that fit in the cooler, while being small enough to not overwhelm the back of my Outback; I still had a ton of space in my trunk for my gear and the rest of my belongings. I fit 5 days worth of smoothies (3 smoothies a day, so 15 pint-size smoothies) plus lots of other snacks and the makings for more smoothies. I debated between the 35L and the 45L, and I'm glad I went with the bigger size. It didn't take up that much more room in my car, it wasn't hard to move around by myself, and I'm glad I had the extra cold storage space.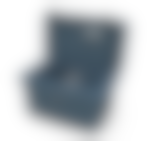 Now onto cooling. This is where this cooler shines. One note: You do need to pre-cool it for it to work best. I filled up old milk cartons with water, froze them, and then put 1 or 2 inside of my cooler for a few hours before I filled it. Once pre-cooled, I put my food in and then topped it with honestly just ice from 4 small-ish ice cube trays.
My food stayed cold. Really cold. For days. By the time I got to my halfway point 5-days in and I began to empty my cooler to refill it with my next batch of smoothies, I noticed that the ice cubes had finally melted, but the water that was left behind was still incredibly cold, and the temperature inside of the cooler was still cold. I carried around Pyrex dishes of fresh fruit, boiled eggs, and pre-cooked veggies the whole time and I never once felt the food was in danger of spoiling (nor did I get sick).
This was a big win for me. I do not own a YETI cooler (known in the market for being top quality for cooling), but I've used one before and have been impressed. This TruFlask cooler performed surprisingly similarly, and I was grateful I didn't have to deal with spoiled food on my trip.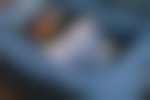 Now on to other design features:

There is a cutting board that slides into the cooler and splits up the cooler in half. Note - Water can seep through the edges, so it won't keep one side totally dry, but it's a nice addition to have, and the board is easy to remove if you need/want slightly longer storage space.

The dry food basket is something I love. Though not super unique these days in the cooler world at this caliber, it is one of my favorite features, and I'm glad TruFlask included one. It's perfect for things like lemons, avocados tomatoes, peppers, or even open hummus containers that you don't want potential cooler water to seep into. Food stays out of the inevitable melty water, and it's a great way for protecting food that is easily bruised, like avocados or tomatoes.

Motion-activated LED light. This is also a nice feature that you can turn on and off easily. If you're prepping food at dinner and in and out of the cooler a lot, it's nice to have a bit more light as you dig around to get what you want. But I also really like that you can turn it off if you're around a campfire and don't want to be distracted by someone opening the cooler for a beer.

The foam inside the cooler walls (and what helps the cooler stay cold for so long) also helps prevent the cooler from heating up from being in warmer temperatures. While like most coolers you don't want to leave it in direct sunlight, if you had to, you could without worrying about your cooler becoming an oven for your food.

The rubber closures keep the lid tightly closed, especially if the cooler falls or is placed sideways for whatever reason.

Finally, the handles make it super easy to carry (there are rope handles on the sides if you're carrying it with a friend, as well as handles on the lid if you're carrying it solo and want more control), I absolutely love the slate blue color, there are two cup holder indents on the lid, and ruler marks on the lid as well, just in case.
I've been seriously impressed by the TruTemp 45L cooler. Coming in about $80 less than the YETI 45L cooler, and with highly-effective features, a sleek design, and good color options, I'd absolutely recommend TruFlask and the 45L cooler to anyone looking for cold storage performance you'll be happy with. And, if you're not sure if 45L will meet your needs, TruFlask also makes this cooler in a variety of sizes: 20L, 35L, 45L, 60L, and 120L. The 120L comes with durable wheels and a pulling handle.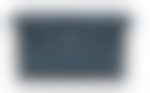 Photos courtesy of TruFlask

We want to acknowledge and thank the past, present, and future generations of all Native Nations and Indigenous Peoples whose ancestral lands we travel, explore, and play on. Always practice Leave No Trace ethics on your adventures and follow local regulations. Please explore responsibly!
Do you love the outdoors?
Yep, us too. That's why we send you the best local adventures, stories, and expert advice, right to your inbox.