Between Two Lakes
Between Lake Kachess and Lake Cle Elum, the 12-mile loop ended up being a race against the clock. Snow, ragging creeks, tree wells, wind, and rain created a recipe for adventure!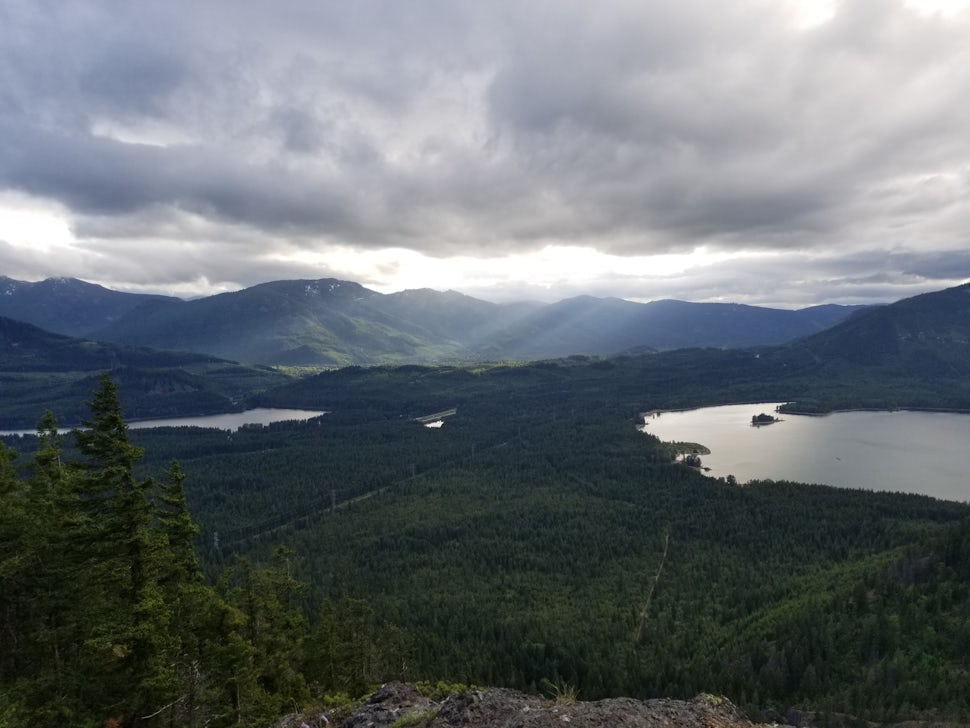 This was one of those times that if we knew what we were getting into we would have thought twice.
I found a twelve and a half-mile loop in an area we'd been curious about between Kachess Lake and Lake Cle Elum. I made the loop by connecting Kachess Ridge Trail, Silver Creek Tie, Domerie Peak Trail, and Easton Ridge Trail. It sounds like a mess but they flow from one to another like they're meant to be a loop. The start and end meet right at the parking lot; a true loop.
I chose to go clockwise to start with the easier climbing. We'd do five miles of mostly gentle climbing, then five miles of ridge walking ending with a steep two and a half-mile descent. Overall there is 5,000ft of elevation gain, which isn't bad over twelve miles.
The morning we chose to hike Ram had a client meeting so we didn't start hiking until 10:20 am. The first mile climbs 1,000ft, switchbacking through a lush green forest filled with beautiful flowers of all colors.
We had a slow start but it's normal during a climb. We took a break two miles in and had the intention of hiking faster now that the steep part was over. But, soon after our break, we hit snow and creeks; many, many creeks. The snow patches grew larger and larger until fields of white hid the trail forcing us to navigate. That meant checking the GPS every five seconds. Our pace slowed to one and a quarter miles an hour. So much for hiking faster.
Ram was dampening my good mood with complaints about the snow and creek crossings. In all fairness, he does posthole more than me.
During a creek crossing, one of Ram's feet broke through the snow and into the creek. With that, a bad feeling rose in me. "What did I get us into? Maybe we should turn back?" I thought.
We talked and decided to keep going until the next junction. There are route takes a sharp right onto a more southern facing slope. South-facing slopes get more sun so they have less snow. Maybe it will get easier we thought.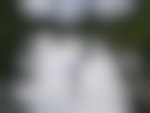 The snow got deeper but luckily it was firm enough to walk on. We passed the junction and had to backtrack a bit. There was no sign so we used our phones to find the turn. Soon we were back on track and heading east on Silver Creek Tie.
Our tummies were rumbling so when we came to a big bare rock overlooking Silver Creek we plopped down for lunch. I had a delicious smoked Gouda, tomato, and avocado sandwich on sourdough bread. Ram had hummus, pickles, and shredded chicken wraps. He said they were soggy but he doesn't care. I care greatly if my food is soggy so I stored the tomatoes separately.
We checked how much further and how long it would take based on our current pace. We had eight miles to go and eight hours of light left. Our pace was a little more than one mile an hour. It was theoretically possible to finish before dark. As we mulled it over we sat in silence. I wanted to go for it but uncertainty flooded my mind. I wondered if we would physically be able and I worried about possible dangerous conditions. The trail had already been rough with ragging creeks, downed trees, and snow. I was leery but eager with curiosity. Ram said he worried about our survival. We both asked ourselves if we were taking too much of a risk but it was impossible to know until we did the loop and found out.
"You want to go for it?" I asked Ram who simple and confidently replied "Yeah." "Good, because I want to." We trusted in our abilities and continued.
The snow persisted and was much worse. The slopes steepened and the tree wells were treacherous. Some times the tree wells were five feet deep walls that we had to climb down and up. We were slipping and sliding constantly. The more tired my legs became the more I slipped and slid. I never fall but on this hike, I fell on my butt, my knees, and through the snow until my groin stopped me. Eventually, I gave into the sliding and stopped trying to avoid it.
We emerged from the trees to see ourselves standing above a big gully. The gully was made of big rock faces and steep snow. Some of the snow was almost vertical. Shocked then concerned set in as we wondered how in the hell are we going to get around this?! We looked at the map and felt relieved to see the trail goes down into the gully. We were glad not to cross the hill but not happy to lose elevation just to climb right back up again. The hillside was steep but it was manageable. We stayed focused on the terrain and map to make sure we didn't end up at any drop-offs.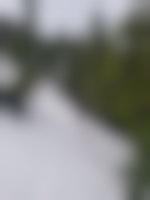 Our goal after leaving lunch was the ridge. We thought and hoped it might get easier and it did a little. It was a little less snowy in parts and slightly easier to navigate due to the terrain. After the hard climb up to the ridge, I felt relieved and proud to reach it. The trail stays on the ridge for five miles going up and down several peaks. I love ridge walks for the wide-open views. We could see the bottom half of Mount Rainier, the top half was in clouds. We could also see Mount Stuart; until black clouds rolled in. The sky darkened and with the darkness came wind and sprinkles of rain. The dark sky was ominous and it added to our feelings of vulnerability.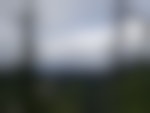 One great thing that comes from rain is rainbows! We got to see two :)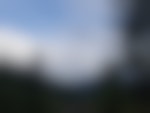 Did I mention that we did not cross paths with anyone else? Up to that point we hadn't seen as much as a footprint. At the trailhead, there were ten or so cars but I think they all went to Mount Baldy; which we'd pass only in the last two miles. We felt exposed to a vast wilderness. Even the trail was hardly visible when we saw it on occasion. By this point, I was fairly certain no one takes this loop.
After walking along the ridge for an hour or so we came to a small hill and I figured based on our general direction we needed to go down the snowy slope to the southeast. I was excited to slide down it and we did for a way until we stopped to check the map and realized at that hill the ridge splits and the trail follows the east ridge. What a bummer! To waste time and energy going in the wrong direction is disheartening. So we hiked back up the slope and across a steep rock field to get onto the correct ridge.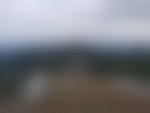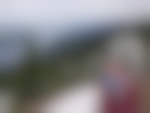 Mt. Thomas marked our last mentionable climb. Thomas was steep and packed with snow. Our legs were so tired that we climbed it heel to toe. Thomas Peak was around eight and a half miles into our hike and it took us over seven hours to get there.

Finally, after Thomas, we began to see signs of other life! Other footprints were in the snow and they made us feel less alone. Not long after the snow thinned. It was such a relief! It felt so good to walk fast and freely without navigating every few minutes. Now that we could hike and do less navigating we started thinking about food. There's a great burger Shack nearby in Easton called Mountain High Burgers. We began to have hopes of making it there before they closed at 8 pm. It was a long shot. We tried not to get our hopes up but it gave us the motivation to hike faster.

Once we reached the junction to Mt. Baldy the trail became wide and clear but also STEEP! It was brutal on our tired knees. My legs felt like limp noodles.
The sun was beginning to lower as it neared seven. We hoped to make it in time for burgers but we still had over two miles left. We half jogged and half walked the switchbacks down, down, down two thousand feet.

The long day and eagerness to eat didn't stop me from enjoying the beauty. We could see out over Lake Kachess and Lake Easton, both surrounded by a valley of rich green pines. The close views began to look as they did in the beginning; green and filled with flowers.

After clumsily making our way down the switchbacks the trail finally flattened giving our legs sweet relief. We crossed a wide wooden bridge over a magical moss-lined creek. Then we passed the sign for the trail we started on. Our loop was complete! I mentioned it and pointed to the sign but Ram said "I don't want to look at it." It was 7:40. We still had time to make it to the Burger shack.

Ram had a double swiss mushroom burger, I had a black bean burger and we both had fries. Because we couldn't go inside we parked in the back of the burger shack next to the forest. I felt proud of us for enduring that loop. We earned that meal and savored every bite.

It was an epic day. This loop was less hiking and a lot more mountaineering with the snow, the wind, the rain, the slow pace, the navigating, and the obstacles. Even with all those challenges, I enjoyed it. I had a good time. I didn't suffer. Something in me has shifted. Maybe it's the result of all the snowshoeing and backpacking we did over the winter? Maybe that upped my tolerance for rough conditions? Either way, I no longer resist the conditions or obstacles. They are what they are and it's all part of the adventure life that I love so much.
If it wasn't challenging it wouldn't be as fun or rewarding.
We want to acknowledge and thank the past, present, and future generations of all Native Nations and Indigenous Peoples whose ancestral lands we travel, explore, and play on. Always practice Leave No Trace ethics on your adventures and follow local regulations. Please explore responsibly!
Do you love the outdoors?
Yep, us too. That's why we send you the best local adventures, stories, and expert advice, right to your inbox.