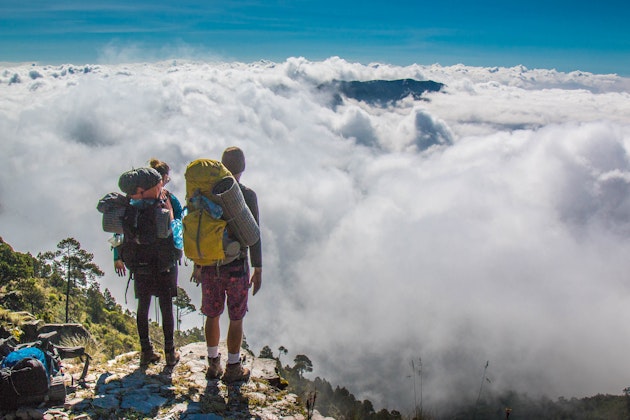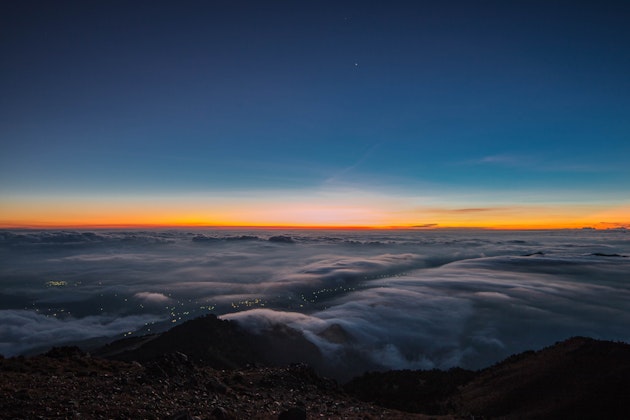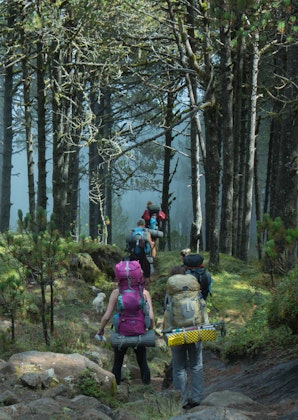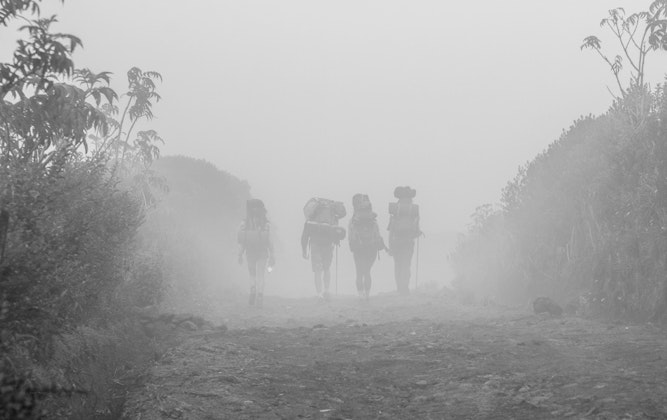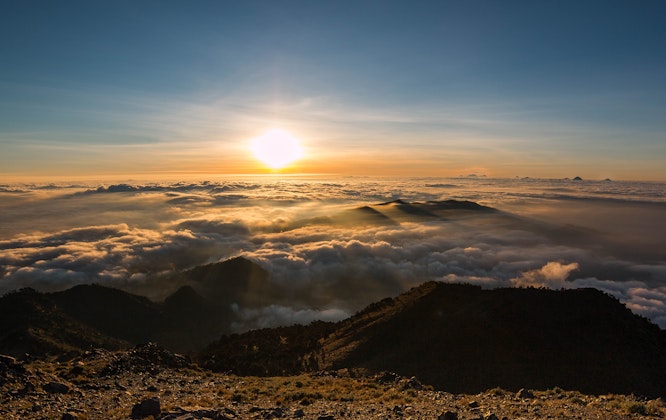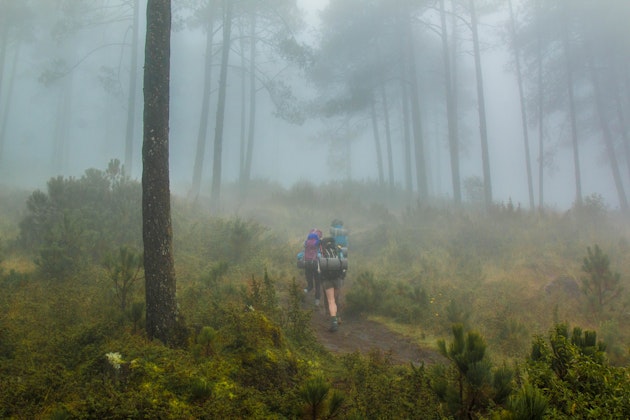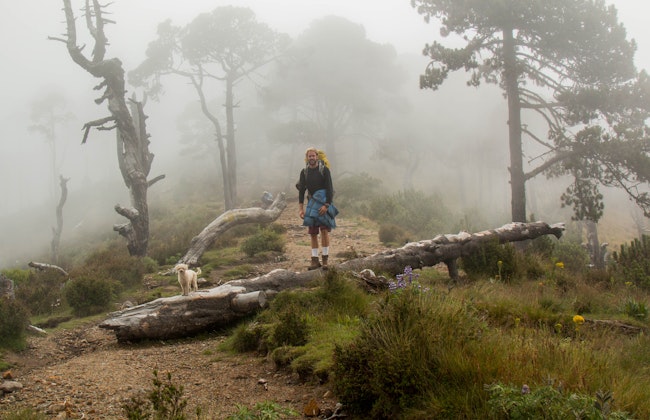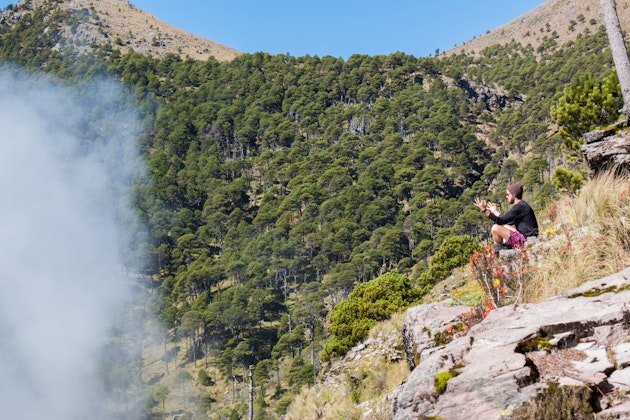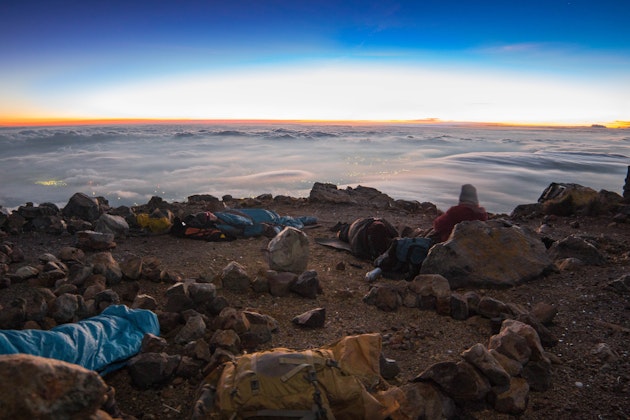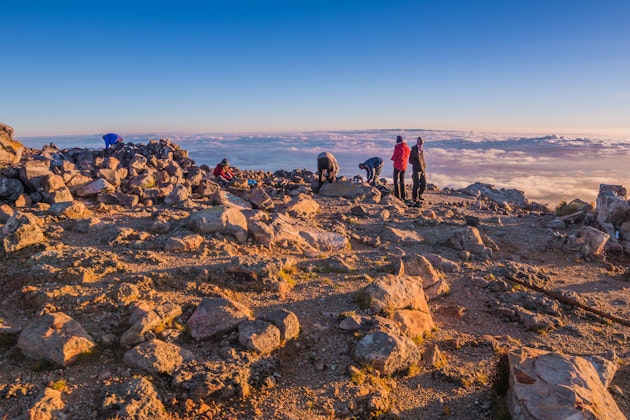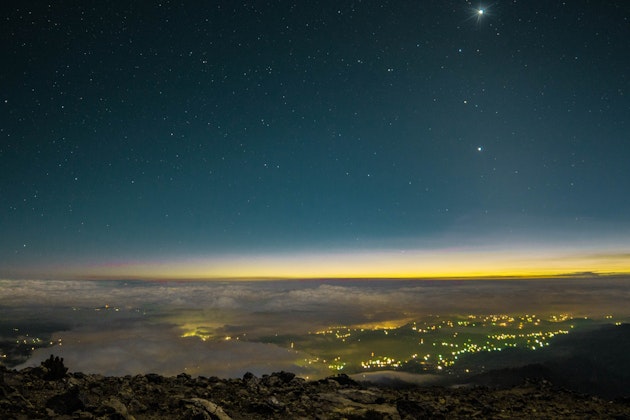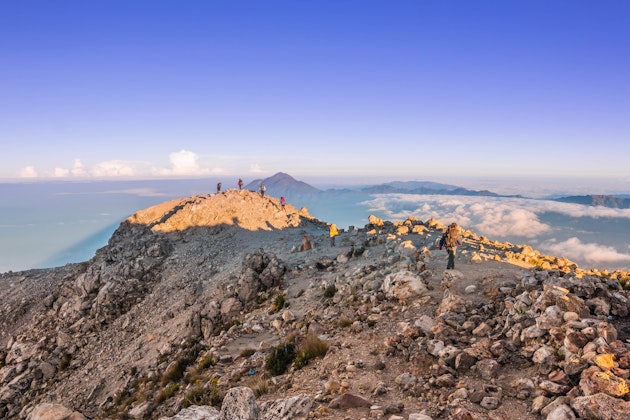 Added by Garrett Gossett
You can say you conquered the highest peak in Central America and climb to almost 14,000 feet! In addition you'll likely witness one of the most amazing sunrises you've ever seen in your life. It's challenging enough to kick your butt, but also doable for a wide range of people, even those with little or no previous hiking experience.
Looking for a challenging climb leading to the best sunrise you've ever seen in your life, well here it is. Enlist yourself in a two-day trek up Guatemala's highest peak, Volcano Tajumulco, standing at 13,845 feet tall. The journey will take you on a meandering single-track trail through fog immersed pine forests and meadows. As the trail pushes higher, you'll find yourself walking on clouds. The final steep push in the trail greets those worthy of the challenge with a spectacular view. Stars, clouds, a horizon full of other volcanoes going off, and the rising sun make for a remarkably sweet reward. While the trail is arduous, those with little or no previous mountain climbing experience can conquer the journey to the summit. You only need a strong mind or a stronger climbing partner to keep you focused on making it to the top. If a little poodle can do it, you can do it too!
Tajumulco can be conquered with or without a guide, but from my experience, I'd wager to say that the average person would find it easier to go with a guide. The trail is not always easy to follow so if the weather isn't perfectly clear, it could become quite difficult to remain on the right path. I'd recommend Quetzaltrekkers, a local non-profit, volunteer run organization, who invest all profits into the local orphanages in Quetzaltenango. At the time of writing, a two day trek cost $66 USD, and any or all gear needed for the trek, along with meals, were provided by the company.
Quetzaltenango, better known as Xela (Shayla), is the main launch off spot for all trekking adventures to the volcano. In Xela, go to the main bus terminal and find a bus headed towards San Pedro, which will take approximately one and a half hours. This bus will take you to the terminal in San Pedro, where you will then ask around for the bus heading to Tajumulco. The next bus up the mountain will take approximately 45 minutes, but the road is extremely curvy, so bring some medicine if you tend to get carsick.
The start of the road (trail) is clearly marked by signs on the side of the road. If you are on one of the local chicken buses, just mention to the driver where you are headed and he'll be sure to let you out at the right place. From there the hike takes you up a road through a couple small villages, until the road ends and turns into a single-track trail. Be sure to bring along a little money, as the locals might ask for a small entrance fee to the volcano.
The trail is relatively straightforward, although there will likely be some fog, in which case it can be a bit difficult to maintain your exact bearings. This is where having a guide, or someone who's hiked it before is beneficial. The trail will take you first through a forest, then through a meadow, and again through another segment of steep forest. Once you've made it through the second forest section, you will likely be above the clouds. At this point you should have a view of the summit of the volcano, which won't be too far away. When looking up at the volcano, to the left side there is another small summit, which is the sister of Tajumulco. The best area to set up camp is in the flat ground between these two peaks. You'll know you've made it there when you see several rock circled fire pits set up by previous climbers.
It should take a medium paced climber roughly four hours to reach the base camp, which is 200 meters below the summit. From there, there are trails on each side of the peak, which will take you to the top. On the right side of the summit, the trail is steeper and more arduous, while the left side offers an easier incline and nice views. I'd recommend taking the steeper trail on the way up, opting for the easier trail with nicer views on the way down. From base camp to the peak, at a medium pace it should take you about an hour and fifteen minutes.
The trekking groups typically wake you up at 3 in the morning to start the ascent to the peak. By around 4:45 you'll be at the peak and wait around for hour for the sun to rise. It's really cold on top of the volcano, often reaching near 20 degrees Fahrenheit at night, so be sure to pack the appropriate layers to keep warm. Gloves, a beanie and a headlight are mandatory.
The hike back down takes roughly 2 hours, and the buses run every hour.
This hike could certainly be done in one day, although you'd miss the sunrise, which is the most epic part. If you were interested in doing it in one day, you'd want to catch a 5am bus out of Xela to have the appropriate amount of time to get up the volcano and make it back before nightfall. In addition, it's common that people suffer from altitude sickness once near the summit, so plan accordingly.
Pack List
50L or larger backpack
Minimum 2 liters of water
Gloves
Beanie
Puffy wind proof jacket
Rain poncho
Rain cover for your backpack
Food
Headlight
Hiking shoes
Sleeping bag
Sleeping mat
Tent
Motion sickness medicine
Altitude sickness medicines


Added by Garrett Gossett
My wife and I are on a two year road trip from San Diego to the tip of South America, living out of our Ford F350 and Lance Camper. For us, every day is an adventure and we are looking to share the things we learn about the places we visit with you! Follow our journey at aswegosouth.com or on instagram @_As_We_Go_
Follow
Activities:
Chillin, Camping, Photography, Backpacking, Hiking
Skill Level:
Intermediate
Features:
Dog Friendly
Forest
Scenic
Are we missing something?
Suggest an edit
More Adventures Nearby

Hike to the Indian Nose, Lake Atitlan
Guatemala / Indian Nose Trailhead
You start off in the town of San Juan La Laguna. The hike starts at lake-water level which is around 5,000 ft (1,500 meters above sea level). It goes up on a steep hill with plenty of stairs.

Hike Volcan San Pedro in Lake Atitlan
Guatemala / Volcan San Pedro Trailhead
The trail starts a few hundred ft above water level. There's a tourism booth on the road towards Santiago where you have to pay the entrance - 100 Quetzales (Guatemala's currency) or 13 USD.